Congratulations to Jake Weston, our newest Reviewer of the Month! Jake, who lives in Ontario, Canada, is a climber, hiker, and mountain biker, and has been a Trailspace member since 2011.
A member of Trailspace's Review Corps gear testing program, Jake recently has reviewed the Hilleberg Kaitum 4 tent, Fjallraven Bergtagen Woolmesh Sweater, Boulder Denim Athletic Fit Jeans, and Five Ten Team VXI climbing shoes, among other gear.
In thanks for his contributions, Jake wins a $300 prize pack from AlpineAire, Black Diamond, EMS, Katadyn, Klean Kanteen, and Sea to Summit. Check out his prizes and get to know Jake below.
---
Please tell us a little about yourself.
I am 33 years old, married with two children (both boys), ages 2 and 4, and two dogs (a Eurasier and an Italian Mastiff). So suffice it to say there isn't a dull or quiet moment in the house.
Throughout my whole working career I have always had a passion for working with children. I spent nine years teaching kindergarten before moving into small business ownership, and I now own a children's physical education program.
How did you become a Trailspace community member?
I don't remember exactly how I ended up on Trailspace originally. I've been a member here for seven years now. I'm willing to bet it was researching a purchase and looking for reviews. I'm the type that likes to look into things a lot (too much) before making the buy. I think that led me to writing my own reviews (please don't read the first couple, it's embarrassing).
How do you spend your time outdoors?
If it's outdoors, then I'm game. There isn't much that I don't enjoy as long as it's outdoors. I'm just as happy sitting with my sons floating sticks down a river as I would be climbing a mountain. I wouldn't really say I have a typical outing, it kind of depends on who I'm with and how long I have.
When and how were you introduced to the outdoors?
I was introduced to the outdoors by my dad, and reintroduced by my dog. My dad has a degree in Forestry and got me out exploring with him for as long as I can remember. Whether it was a family vacation to British Columbia whale watching, visiting the icefields and glaciers, hiking, or waking me up early on Saturday mornings to go mountain biking, there was always something cool to tag along on.
As I went into my teenage years I became "too cool" for those things and kinda fell out of it. It was only when I got my own dog (I think I was around 22) that I became interested again.
Rocky (the Eurasier) reminded me why I loved being outside again, and ten years later there's still not much that makes me happier than seeing him on the first snowfall of every year.
They're both hairy, kinda stink, and pant a lot, but I owe my love and appreciation of the outdoors to my dad and my dog.

Do you have a piece of outdoor gear you consider essential? Any favorites?
Nothing is essential. I think sometimes gear heads (myself included, I am far from immune to this) get a little hyper focused on the newest technology or development in gear and think that we "need" to have it. I, like most people I would imagine, started with cheap gear and that's all I could afford at the time. I'm lucky enough now to have some more expensive/better functioning gear, but it's far from essential.
That said I do have a couple favourites: Zamberlan Vioz, Hilleberg Unna, Hyperlite Mountain Gear Summit pack, and Wild Things Gear Custom Insulight Jacket would all get my highest praise.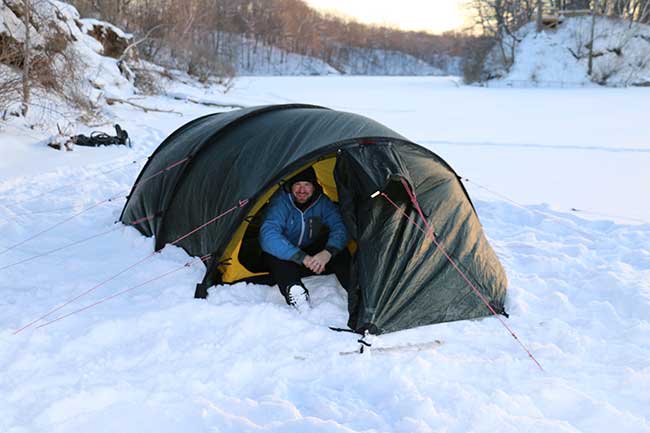 What advice would you give other reviewers?
The first piece of advice would be to just start writing. I think it can be a little intimidating at first (especially when you see some of the level of quality of reviews that the other Trailspace members and Review Corps are putting out). But if you go back and look at EVERYONE'S first couple they are far from polished.
The next thing is to just be honest in your review. Be upfront about how you've used the product, why you bought it, and how long you've had it. That gives everyone else more than enough context to make their own judgment call. Also, pictures tell a lot.
What's the one quality you feel best describes you?
I struggled to think of something at first so I decided to ask my wife, hoping she'd have some loving, endearing quality about me to share. Her answer? Structured. See, kids, romance never dies.
Do you have a trailname or nickname?
It's more of a nickname than a trail name but my dad has called me "Bear" for as long as I can remember. I also got called "Boom Boom" by a woman in a gas station in South Carolina last year. Coolest nickname ever. I've tried to get it to stick, but my family still refuses. Worst family ever.
What question would you ask other Tralspace members in a Q&A?
Would you rather fight one horse-sized duck or a hundred duck-sized horses?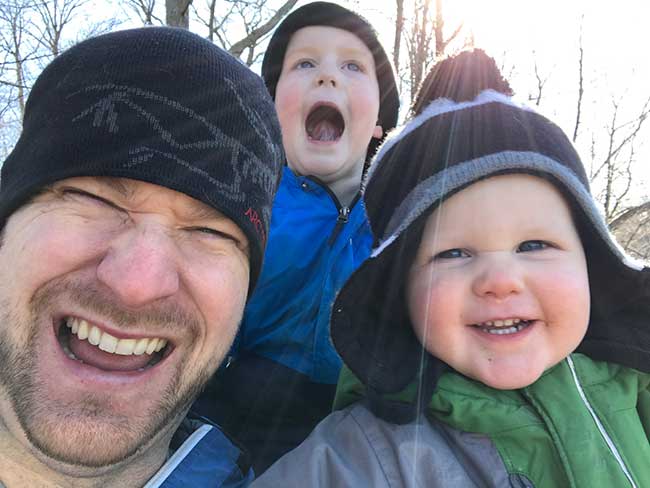 Wide Photo Captions:
Jake's dogs, a Eurasier and an Italian Mastiff, on a recent hike
Testing the Hilleberg Kaitum 4 in Canada
Jakes with his sons
---
2018 Reviewer of the Month Prizes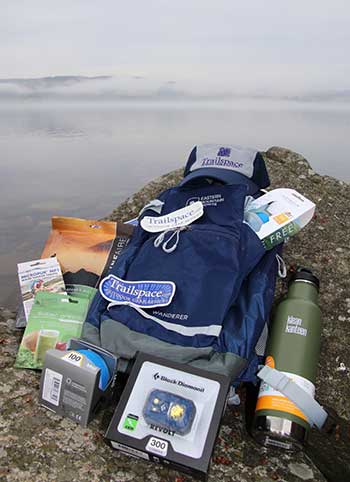 Congratulations, Jake (or should we say "Boom Boom"?)!
To thank them for their essential contributions, we're giving Jake and every 2018 Reviewer of the Month more than $300 worth of gear, thanks to these generous brands: