Congratulations to Charles Polidano of Malta, our newest Reviewer of the Month!

A member of Trailspace since 2016 and an avid long-distance hiker, Charles has reviewed his Berghaus Freeflow 40 backpack, Merrell Outmost Ventilator trail shoes, and Aquapac Small Stormproof Camera Pouch, among other gear.
In thanks for his contributions, Charles wins a $300 prize pack from AlpineAire, Black Diamond, EMS, Katadyn, Klean Kanteen, and Sea to Summit. Check out his prizes and get to know Charles below.
---
Cumbria Way in England's Lake District, May 2016
Please tell us a little about yourself.
I am 50 years old (turning 51 soon). My wife, Catherine, and I have three children. I live in the Mediterranean island state of Malta. I have lived here all my life apart from two years in Canada and three in England during the 1990s. I work as a civil servant here in Malta. Besides walking in the outdoors, I enjoy photography.
How did you become a Trailspace community member?
Like many other members of Trailspace, I came across this site when hunting for information about gear. Buying online, especially clothes, means taking a shot in the dark. Of course you can always send back products you don't like, but returning goods by mail from Malta is expensive.
So when I started buying gear I sought out every scrap of information I could find. Does it fit true to size? Will it last? Trailspace came up again and again in the course of my research. I started contributing reviews of my own in the hope that they would help others with the same thirst for information.
How do you spend your time outdoors?
Hiking is the activity for me. I've tried cycling and it didn't agree with my knees. I've tried kayaking and it didn't agree with my back. Walking is what the human body was designed to do, and it allows me to enjoy nature at my own pace. Rock climbing, abseiling, skiing, and so on hold little appeal for me—apart from the fact that they would mean buying more gear, and I've bought plenty already.
When and how were you introduced to hiking?
I took up hiking late in life. I used to think walking was boring, but around four years ago I found I liked being out in the open, especially in Malta's winters. You can make yourself impervious to the elements, and enjoy them all the more, if you wear the right kind of gear. This appealed to my technical side. I began researching gear intensively and accumulating purchases. And, having bought the gear, I became eager to use it.
In September 2014 I went on my first solo walking holiday abroad, to the Peak District in the U.K. I was familiar with this area because Catherine and I had visited it back in the 1990s when we were living in nearby Manchester. This trip made me realize that the further you can walk, the more you can see. Unspoiled places are usually isolated places, otherwise they would not remain unspoiled for long. Endurance is the key to discovering them. This appealed to the side of me that responds to challenges. I started to keep track of the distances I walked using a handheld GPS unit. I built up my stamina, walking progressively longer distances.
In 2015 I was walking on Malta's northeast coast and I spotted a tent tucked away on a fold of land. I thought to myself it would be nice to sleep under the stars. I had never camped in all my life, but I started buying camping gear with a view to doing a long-distance walking route abroad and camping along the way. In May 2016 I walked the Cumbria Way in England's Lake District, camping for three out of five nights en route.
I have found that walking is a means of staying fit and holding age at bay—not just physically, but psychologically. When you turn 50, as I did last year, you start wondering where the years have gone. You feel impoverished by the passage of time. Walking in open spaces takes away this feeling. It restores your faith in the future and your sense that time is still a giver, not a taker.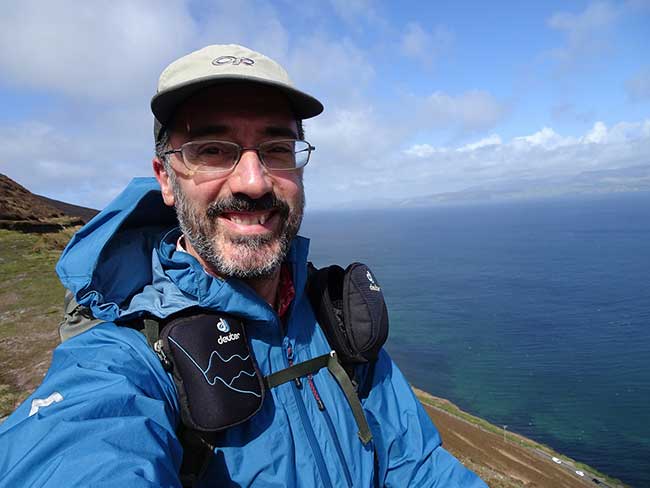 Kerry Way in Ireland, May 2018
How often do you travel for hiking?
Since 2016 I have done a long-distance walking route abroad once a year. In 2017 I walked the West Highland Way in Scotland [read his trip report], and this year I walked part of the Kerry Way in southwest Ireland [read his trip report]. In addition I might go on shorter walking holidays with Catherine. In September 2016, for example, we went to the Lake District, and very recently we have been on a weekend walking holiday in Sicily.
How would you describe hiking in Malta?
Malta has a surface area of just 122 square miles and a population of around 460,000, making it one of the most densely populated countries in the world. In spite of this there are still plenty of open spaces. There are no mountains or rivers, but the terrain is highly varied. Malta has been compared to an onion, with many layers, one behind the other. And indeed you can find yourself in a busy town one moment and a secluded valley the next.
There are delightful walks to be had. Travellers looking to do day hikes during a visit to Malta won't be disappointed—provided only that they avoid summer. Summer is too hot for walking, except perhaps for sunset walks, and it turns the countryside a drab brown. The walking season in Malta runs from October to May.
What's a typical outing for you?
The typical outing in Malta takes the form of an organized group walk lasting two hours or so. Thanks to these I've discovered some hidden corners of the Maltese countryside that I hadn't known about even though I've lived here most of my life.
In March and April I start doing progressively longer solo walks by way of preparation for my annual expedition abroad, which takes place in early May. The latter is the highlight of my year. These expeditions involve a week's walking, give or take a day or two depending on the route. I camped during my first two expeditions, but on my most recent one I stayed in booked accommodation so I could walk with a lighter load. This will be my preference for future expeditions, but I might still use my camping gear in future—for instance, if I want to do a walking route where accommodation is sparse.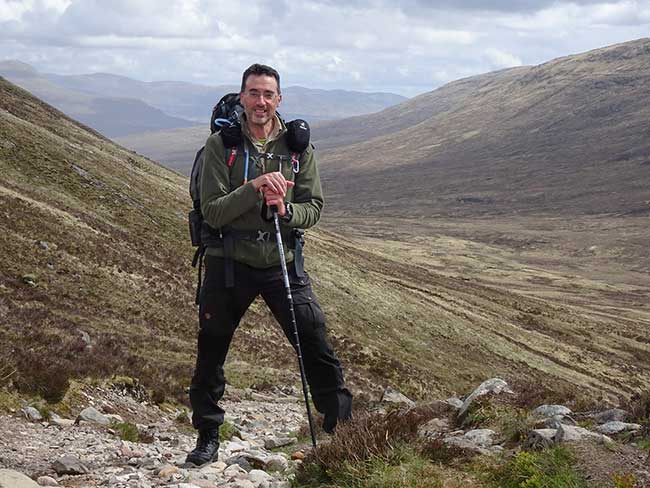 West Highland Way in Scotland, May 2017
Do you prefer to go out solo or with partners?
I prefer going solo on my main annual expedition abroad. This allows me to plan the expedition according to my own abilities, limitations, and preferences. Moreover, these walks are about immersing myself in nature, and being on my own allows me to be more attuned to my surroundings.
Being alone in the hills, with the wind whispering in your ears, is a special experience. It makes you look at time on a geological scale, the scale of the hills. You realise how puny your own lifespan is, and your life story with it—your hopes, your dreams, your accomplishments, your disappointments. And this is strangely comforting, because it means all the things you fret about are ultimately insignificant.
You realise too that even the hills will pass away. Plate tectonics threw them up, and wind and weather will wear them down. In this the hills are at one with the rhythms of the universe. Planets are consumed by their suns. Stars expire. Dying stars expel vast quantities of matter, from which new stars and planets form.
The rhythms of the universe govern everything around us: the seasons, weather, the ebb and flow of waves on a seashore. Us too. We are literally made of stardust; we are born, we produce new life, our bodies return to the earth. The hills stretch your sense of time in two directions: they make you aware of your transience and, simultaneously, your oneness with the eternal universe.
The hills make you ask: was this amazing Earth really born from dust and nothingness by chance? I have no coherent answer to this question, even if this were the place to offer it. All I can say is that when I am alone in the hills, I do not feel alone.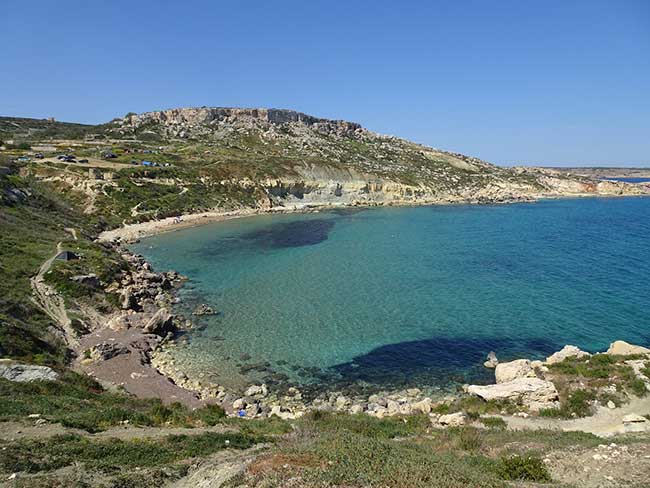 Imġiebaħ Bay on Malta's northeast coast
What's your favorite outdoor place?
Choosing one place is hard, so I will mention two. In Malta there is a stretch of coastline in the northeast running from Xemxija (pronounced Shemshiya) to Mellieħa, and taking in Mistra and Imġiebaħ (Imjeebah) bays. It is a delightful place to walk and it holds memories for me, because this is where I introduced myself to camping in preparation for the Cumbria Way in 2016.
Outside Malta, my favourite outdoor place is Langstrath Valley in England. It is the longest uninhabited valley in the Lake District. I came across it while walking the Cumbria Way. It was a spectacular sight as it stretched away into the distance with dramatic hills overlooking it. It felt primordial with little sign of human activity, barring a few sheep. The hills, the open spaces, the whispering wind, and the solitude seemed to resonate with something very deep within me.
I visited the valley again in September that year with Catherine, and I'd like to see it again one day. I've seen some other amazing places, but Langstrath has left a lasting impression on me.
Describe your scariest moment outdoors.
My scariest moment has to be when I was walking the Kerry Way and I sank waist deep into a patch of bog. I was on a very wet and muddy section of the trail and I was constantly testing the ground with my walking pole. This was the only time I didn't, and in I went.
I sank to my waist, not because I touched bottom, but because the mud was thick. I could feel it gripping my legs like setting concrete. Luckily dry land was within reach, so I was able to haul myself out. My boots, socks, and overtrousers were a mess. But my normal trousers were clean except for the hems of the trouser legs. I wondered at this, but most of all I wondered at my lucky escape. Had dry land not been within reach, I would have been in serious trouble.
My second scariest moment came on the Cumbria Way, when I was cornered by a herd of cows. As I was crossing a big field in which cows were grazing, I realised that some of them were following me. More animals joined the herd and they began overtaking me. I was heading for an exit at a corner of the field, but when I got there I found no exit. Now the cows had me hemmed in. They are big beasts when you see them up close.
I just stood there, avoiding sudden movements and saying "It's okay" in a soothing tone of voice—to the cows or to myself, I'm not sure which. After a prolonged standoff the cows lost interest in me and drifted away, and I was able to escape. Later I discovered that there had been incidents in Britain in which cattle trampled people, causing injuries and even deaths.
Do you have a piece of outdoor gear you consider essential? What? Why?
Any number of items can be considered essential—your rain jacket, for example, or your backpack—but if I had to pick one item it would be my boots. You can get away with a defective rain jacket as long as it doesn't rain too much, but if your boots are defective you'll know it straight away. Bad boots can bring your hike to a premature end. Good boots put wings on your feet.
Boots also need to keep your feet dry if the trail is wet. Waterproof boots bring out the inner child in me. They give me a feeling of freedom in wet conditions that is equaled only by the sense of disappointment if they start to leak. Unfortunately I have yet to find the ideal pair. I have described my troubles with boots in my reviews of the Lowa Uplander and Ecco Biom Hike 1.7.
What advice would you give other gear reviewers?
Don't wait too long before writing a review. I know the perceived wisdom is to thoroughly test a product before reviewing it. But think of all the people out there who need the product now and can only buy it online. A full review is better than a partial review, but a partial review is better than no review at all.
So if you know a long time will pass before you have the opportunity to fully test a product, go ahead and write a review based on your experience so far. The main thing is to tell your readers that you have limited experience with the product.
There is still much you can say. Do those clothes fit well? (Give your body measurements.) Is that tent easy to set up? Is it roomy? You can always update your review once you have more experience to share. Trailspace allows you to edit your own reviews, and in my opinion this facility should be used more.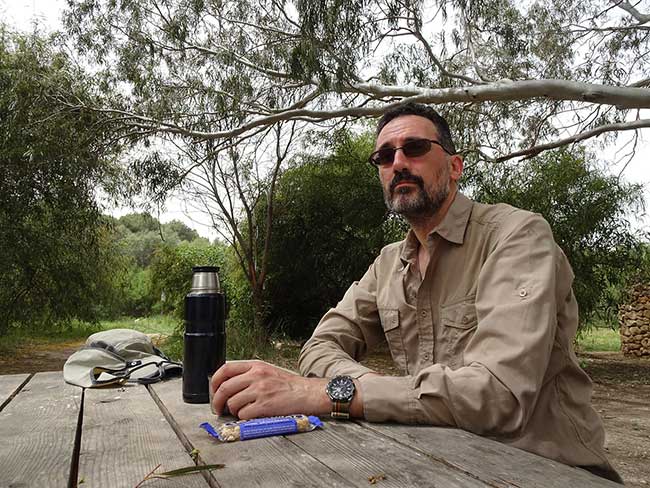 Rest stop at Kennedy Grove in Malta, while training for the Kerry Way, April 2018

---
2018 Reviewer of the Month Prizes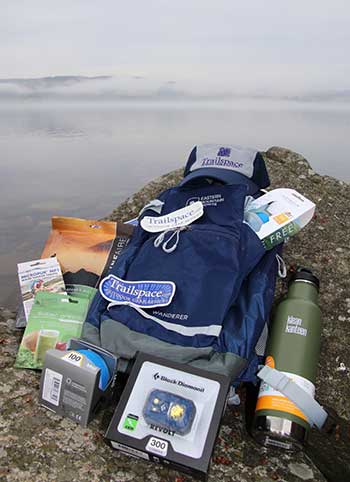 Congratulations, Charles!
To thank them for their essential contributions, we're giving Charles and every 2018 Reviewer of the Month more than $300 worth of gear, thanks to these generous brands: