For the past decade, Seth Levy has supported Trailspace and our outdoor community in a variety of evolving ways. While he started out as a freelancer writing articles, eventually we made it official and he joined our staff serving in a number of roles—community evangelist, helping coordinate the Review Corps gear testing program, and most recently media sales manager.
This month Seth moves on to become the Donor Engagement Officer at Maine Coast Heritage Trust. While professionally we'll miss Seth and his friendly, positive attitude, as fellow Mainers and supporters of local conservation, we're excited for him and for the land trust that gains him and his experience.
Thank you, Seth, for your many contributions to and support of Trailspace and its community! We'll miss you, but hope to see you outside on the trails and mountains of Maine soon.
In the meantime, readers can get to know Seth in our Q&A below:
---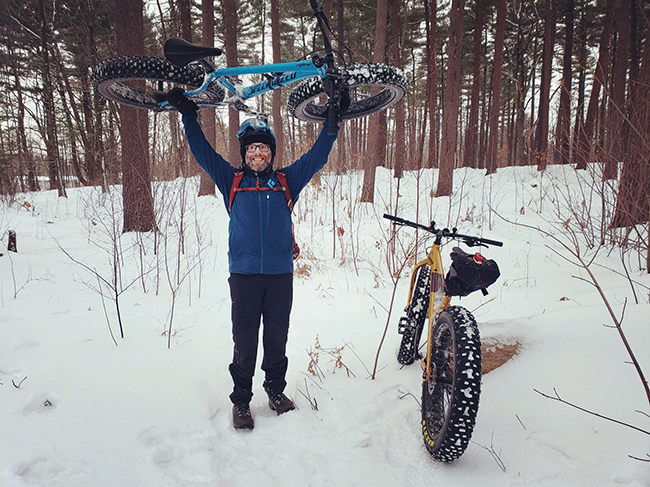 Seth celebrates an ascent of the Forest City Trail in Portland, Maine.
Please tell us a little about yourself.
I'm an outdoorsy guy. For as long as I've been able, I've sought the peace, challenge, and inspiration I find in moving through nature. I live on the coast of Maine, and maintain a growing pile of outdoor gear and a busy life filled with work, volunteering, and cat herding.
What do you like to do outdoors?
Everything! I'm particularly interested in lightweight backpacking, bike touring, gravel road riding, and am getting increasingly interested in fishing. In the winter, you'll find me on snowshoes or on my fatbike.
What is your dream outdoor adventure?
These days, I've been thinking a lot about a winter bike tour to Quebec. It's probably a ten-day ride, and I could take advantage of the snowmobile trails that wend through that region of Maine. During a time of increasing emphasis on borders and divisions, I like the idea of a journey that connects people and ecosystems.
Can you tell us about your bike collection and favorite gear?
I've got a few really fun bikes:
My Surly Cross-Check—My model is special because it's one of the last made in the USA. It's a steel-framed cyclocross bike, with oodles of braze-ons for racks and fenders, etc. I've got it set up with a double chain-ring up front, so it's set for gravel riding and touring.
My Surly 1x1—This is a steel-framed single-speed mountain bike. I've sold out a bit, and put on a suspension fork, but it's pretty barebones otherwise. It's only one speed, so I can blame my poor climbing skills on the bike!
My Trek 8200—This is a bizarre, carbon-frame single speed with dirt drops. It's a "monster-cross" bike, that looks kind of like a road bike and kind of like a mountain bike. It's one of my winter bikes.
My Specialized Fatboy SE—This is my winter bike and mountain bike. It features 4.8-inch tires that I can run as low as 1 PSI. It has really opened up the winter for me.
As for gear:
My MSR Titan kettle—This has been one of the most consistent pieces of gear in the last ten years for me. Almost every trip—winter or summer—this kettle has been my only cook pot. It rocks.
My Osprey Mira 25 pack—Day hikes. Snowshoeing. Mountain biking. Gravel rides. This pack does it all. I end up using it far more often than my bigger packs.
Do you have any favorite Trailspace memories?
I really enjoyed meeting Trailspace community members in the wild. I met one gentleman deep in the Wind River Range, and I met Leadbelly in the "wilds" of DC!
A few special memories:
Breaking the news that SOTO introduced the new MUKA stove. That was a treat.
Interviewing staff from the Department of Interior, in advance of a potential government shutdown.
Patiently explaining to a very angry Navy SEAL that our review of his product (which will remain unnamed) was honest, and objective, and that we wouldn't make it more positive.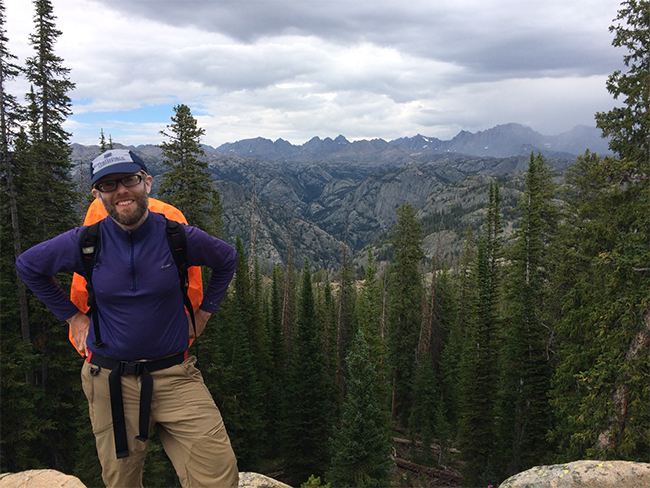 Midday hiking break in the Wind River Range
What would community members be surprised to learn about you?
I'm actually terrified of thunderstorms! During all of my major thru-hikes, I've spent at least a few hours of each one cowering, expecting lightning to evaporate me any minute. Also, my sense of direction is quite terrible in urban settings. Put me in the woods, and I'm OK, but ask me for directions in town, and you'll see a very lost, confused Seth!
What's your new role at Maine Coast Heritage Trust?
I'm serving as the Donor Engagement Officer. Essentially, I empower people to protect the resources and ways of life that make the Maine coast special.
How did you get involved in conservation work?
It probably started by noticing how good I felt when I went outside. When I was younger it seemed like there were two choices: team sports or video games. My first backpacking trip was a revelation. I was scared, excited, and hooked.
When I graduated from college, I knew that I wanted to help other people have those experiences, and that led me to work for organizations that protect the sort of places (or who review the sort of gear!) we need to go outside.
What should outdoor enthusiasts know about land trusts?
Land trusts are not-for-profit organizations that protect land through arrangements with willing landowners (donations of land, conservation easements, purchases, and other techniques) and managing the land for free public use and other purposes.
In Maine, land trusts are hugely important because we have so little public land. About 6.5 percent of Maine is public land, which is the lowest percentage of any state. Maine has more than 80 land trusts, that have permanently conserved more than 2.5 million acres—12 percent of the state. So if you like to hike, camp, paddle, or just be in nature in Maine, chances are the land you have these experiences on is managed by a land trust. Maine Coast Heritage Trust leads the Maine Land Trust Network as a means to support our vibrant community of land trusts.
Anything else you'd like to share with the Trailspace community?
I've learned so much from the Trailspace community over the years. Probably the biggest lesson is the importance of "doing the right thing." When you produce a product review website, each day there are opportunities to make money by compromising your values, being a little less than honest, or making up tortured rationales for diluting your mission.
In nine plus years, I've never seen us make ONE of those decisions, despite the potential for short-term financial reward. It makes decision-making a lot simpler, that's for sure! In this era when online content is the subject of (sometimes justified) mistrust, Trailspace stands out as a beacon of real people sharing the truth about their experiences. It's surprising that something so simple is so hard to find.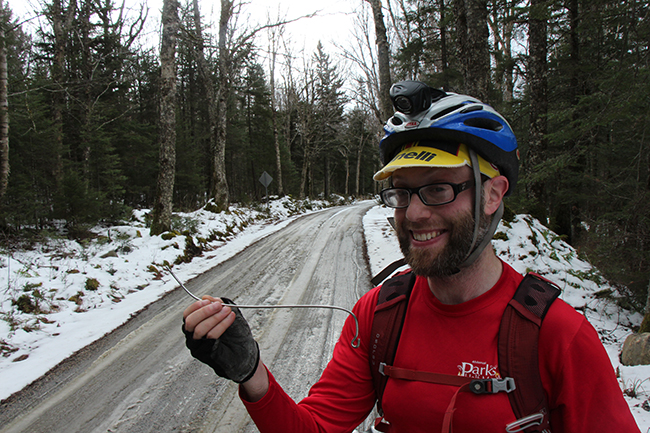 A broken fender strut. On a huge descent of the Jefferson Notch Road. In October.
Thanks for supporting Trailspace and its mission, Seth. We appreciate all of your hard work and know you'll continue "doing the right thing" for Maine Coast Heritage Trust. Congratulations!