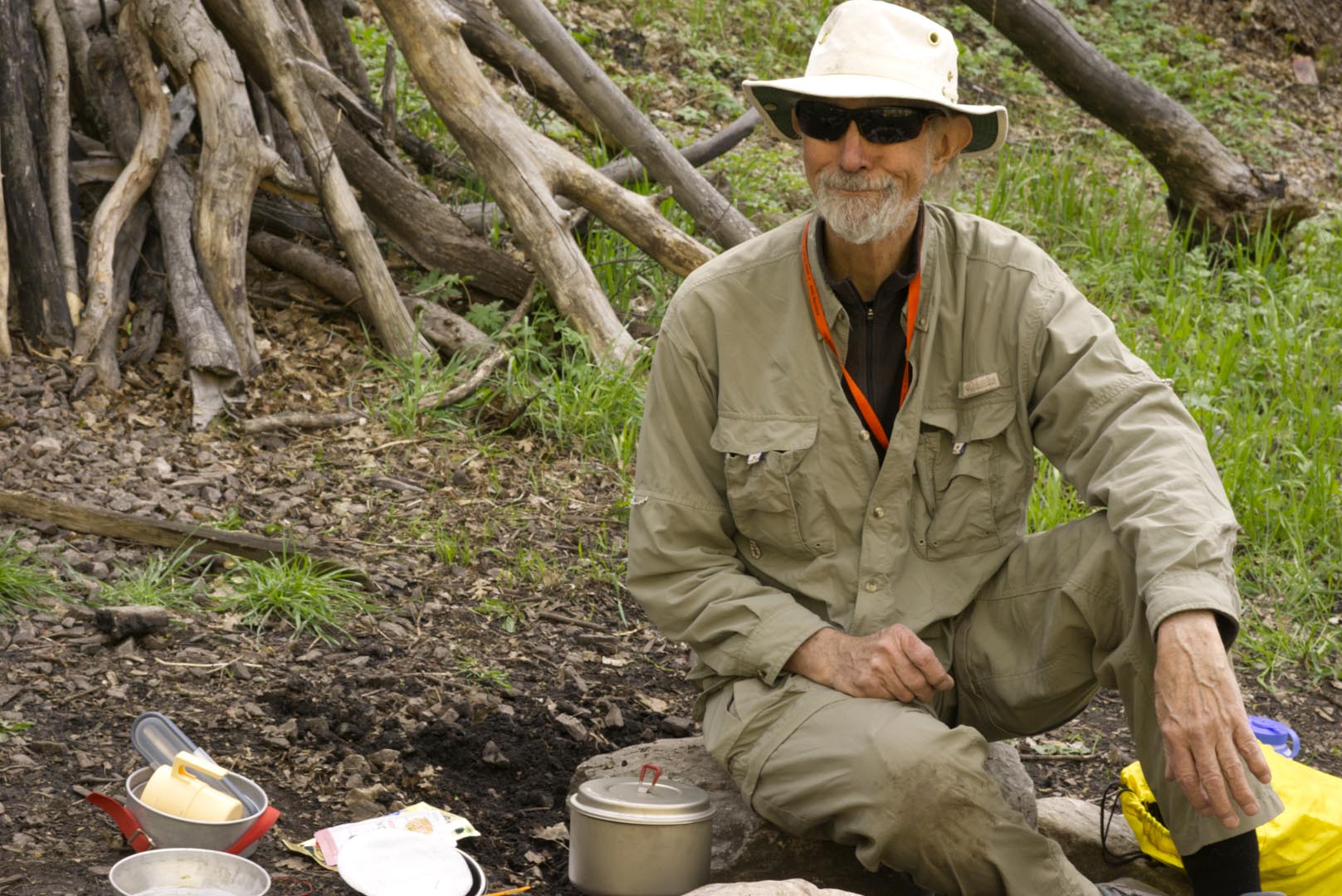 Congratulations to King Thurber of Utah, Trailspace's winner of a $1,200 backpacking gear prize from Cascade Designs, including a Therm-a-Rest sleep system, MSR shelter and stove, and Platypus filter.
King's review of his "light and compact" MSR Titan 2 Pot Set was randomly selected from all outdoor gear reviews submitted by Trailspace members May 1-30.
Meet King Thurber
King Thurber (occasionally Hike King) is a lifetime musician, recording engineer, producer, and hiker. "It is with much gratitude that I won the Cascade Designs gear. I'm over the moon," he said. We also learned he's still rocking a first-generation Therm-a-Rest pad for glamping.
We asked King to introduce himself to the Trailspace community:
I have from 6 years old with my father been an outdoors guy and am lucky to live in Utah with the Wasatch Front trails a mile from the house.
My earliest adventures were with Boy Scout Troop 4, a non-denominational group with leaders from the 10th Mountain Division (you know, the folks that back countried through the Alps on 30-pound hickory skis. Well, it was WWII, and they hadn't thought of carbon fiber yet) and other go-getters. They taught us real skills, which I still use today.
I made it to Life Scout and Order of the Arrow and then went to Jackson, Wyo., between junior and senior year in high school to be a musician while the rest of my buddies earned their Eagle. Needless to say, senior year was blah, but I graduated. I kept at music playing guitar, getting different tools for the kit—edumacation, live sound, studio work, assorted bands.
When I was lured to Alaska by friends, I renewed the Get Out There mentality with cross-country skiing (um, what's a groomed trail?), fly fishing (caught a salmon on a fly tied from my malamute's tail), and even had a real dogsled made of birch and tied with leather lashing (First rule in mushing—never let go of the sled. Second rule in mushing—never let go of the sled. When my dog chased a moose I didn't and still have the bruise on my shin.) Yes, some great experiences even above the Arctic Circle. No, I didn't even think of climbing Denali, but do have some nice slides buried somewhere.
After Alaska I lived in Costa Rica for about five years. Outdoor life was mostly camping at the beach in a Volkswagen camper van and fly fishing in the bays and rivers. I was very fortunate to be an engineer and musician working on demo material for a multi-platinum '70s music group. Sorry, out of respect I won't name them, but the experience was profound and every day I use something I learned.
Back in Utah in the '90s I rededicated to getting to the high country. The Wasatch mountain trails are steeper than average so good for the legs and lungs. I eventually fell in with a real mountaineer who at the time free climbed peaks all over the place, particularly the Tetons. But he was patient with me, and we backpacked the Wind Rivers and Uintas, and hiked lots of 11,000- to 13,000-foot Great Basin peaks. Well, I hiked, and he free climbed the chutes and we would meet at the summit.
I had more time on my hands in recent years due to the damndemic and started in with a renewed commitment to Music and Outdoors. I realized they were the same paradigm—have some goals and work every day to build towards them. My outdoor goals were to revisit some of the peaks and places I visited back in the late '90s.
Yup, I had to get in shape. Started walking, then hiking, then with weight in the pack. Further and higher and pretty soon was on the summit of Wheeler Peak in Great Basin National Park, a 13,000-foot beast/pussycat with my buddies. I accomplished more trips in the last year than it took in three years earlier. Turns out when my buddy and I backpacked to Titcomb Basin in the Wind Rivers, we camped in the same spot 25 years to the day from our first trip.
This year I decided on one volunteer commitment. Voila! Since I was a Get Out There guy and thoroughly enjoyed the Scouts of my youth, good old Troop 4 (103 years of continuous charter) was still there. I found the exact same caliber of leaders—real outdoors folks, a couple doctors (known for their drive), and other excellent people. Seems like a creative person like me can fit in after all. The best thing about this troop is all the leaders are excellent, committed parents resulting in a great group of Scouts. We get out on a camp or good hike at least once a month and are going to backpack the Sawtooths in Idaho in mid-July for a week.
Having been in the audiovisual business in Utah I also worked about seven cycles of the Outdoor Retailer show. It was a treat and a sustenance to be on the inside of the outdoor community. I made some friends and got to learn about all the upcoming innovative products like LuminAid, BioLite, Outdoor Coalition, and even shook Wayne Gregory's hand (I have a great 88L Shasta). So, I guess Utah "Is the Place," at least for the outdoor experience.
After a long-winded semi-bio, I am so grateful that I won the Cascade Designs prize. The lightweight, first-quality gear will make it easier on my, um, mature knees and stamina in the harness. As I have learned a lot, mostly about Countin' Ounces, I'll be posting more reviews during these adventures.
I truly have relied on Trailspace for sage real-world advice and always will support your endeavors and am appreciative from my soul. Our Creator sure gives us endless Outdoor Blessings!
Enjoy the new backpacking gear, King! We can't wait to see where you take it. We also recommend readers check out his music video "Gratitude" at https://vimeo.com/697792621
---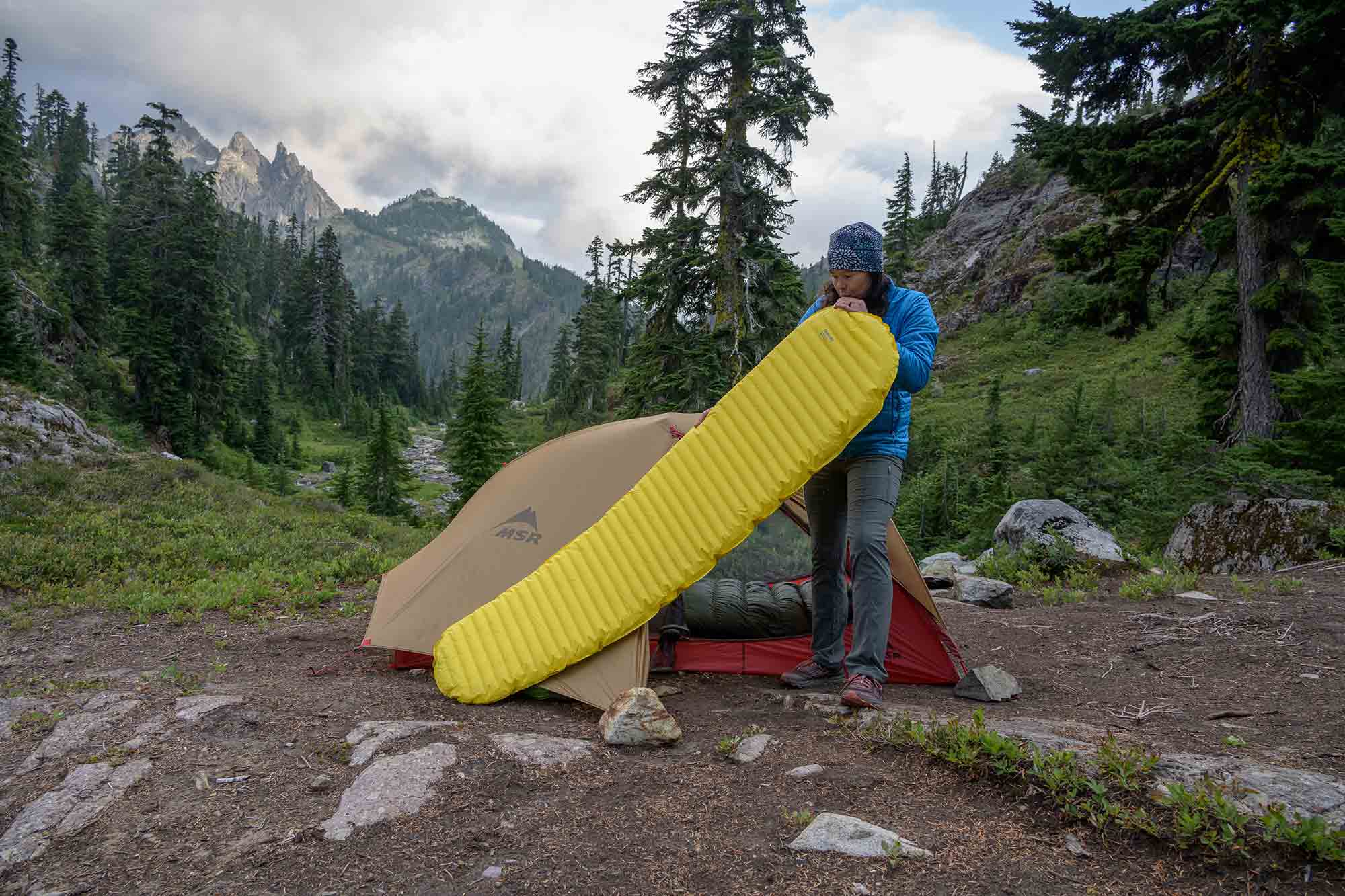 Cascade Designs Backpacking Kit
Thanks to the folks at Cascade Designs, King won the following:
Thanks to everyone who shares honest, independent gear reviews on Trailspace. Every review you share helps individuals of all experience levels and backgrounds access the outdoors safely and comfortably.