Exped Synmat WinterLite

Top 50 in unisex Air-Filled Sleeping Pads
The Synmat WinterLite has been discontinued. If you're looking for something new, check out the best air-filled sleeping pads for 2022.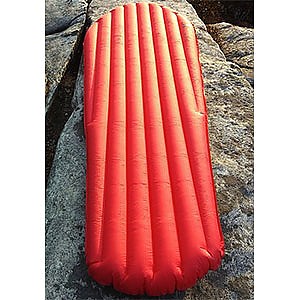 Specs
Regular
Long Wide
Price
MSRP: $189.00
Historic Range: $108.99-$199.00
Reviewers Paid: $156.00-$185.00

Weight
13.9 oz
20.3 oz
Dimensions
71 X 20 X 3.5 in
77.5 x 25.5 in 3.5 in
R-Value
4.9

Reviews
4

reviews

5-star:

1

4-star:

3

3-star:

0

2-star:

0

1-star:

0
Version reviewed: Long Wide
We all know that winter camping gear can really weigh our packs down. Exped thinks your winter sleeping pad shouldn't have to! This spring, they are releasing the lightest 4-season pad available, the 13.9 ounce SynMat WinterLite.

It boasts a 4.9 R-value that will keep you warm to 1 degree F. In addition to keeping you super warm, its extra-wide vertical baffles are a lofty 3.5 inches thick to keep your body away from the cold ground.

Best For: The Exped SynMat WinterLite is best for those who like to move fast and light, but want to stay warm and comfortable even in the coldest winter temperatures.

Pros
Very warm
Ultralight
Supportive
Very comfortable
Cons
Difficult to completely deflate and roll up
Ultralight 20D fabric means you have to be careful where you place it
No lifetime warranty
Some may consider it to have a high price tag ($189 M, $199 MW, $209 LW), but it is on par with similar competitors' pads
Specs:
Regular: 71 X 20 X 3.5 in, 13.9 ounces
Long/Wide: 77.5 x 25.5 in 3.5 in, 20.3 oz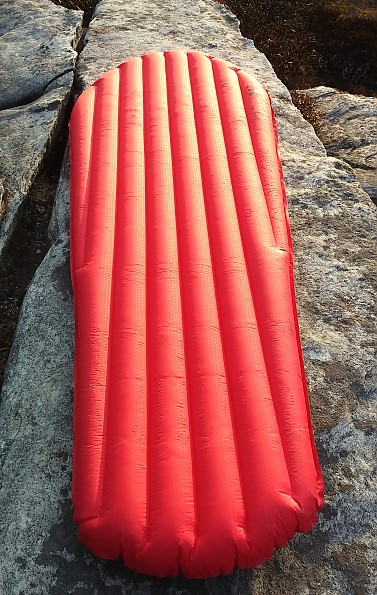 A good night's rest is not always easily attainable in the backcountry. I personally have a very hard time sleeping anywhere other than my bed, so finding the right sleep system is crucial to me. I am very picky when it comes to what I am sleeping on (no foam mats or even self-inflating 2" pads for this girl). 
The main features I look for when considering a sleeping pad are overall comfort, loft, warmth, and weight. So far, the Exped SynMat WinterLite has stepped up to the plate and made quite a positive impression on me.
Features/Design
Fabric
The WinterLite uses the same fabric as Exped's traditional UL SynMats, 20 D polyester coated with a TPU Polyether film laminate. This was the first Exped pad I've ever slept on, so I was not sure what I would think of the fabric. I found it to be very comfortable and to feel very nice next to the skin. 
I also noticed it to be substantially less noisy than a lot of other pads, which use nylon fabric. Don't get me wrong, it isn't silent, but I would definitely not classify it as noisy.
Typically, vertical baffled pads have a bad reputation for not being as supportive or as comfortable as horizontal baffled pads and sometimes causing a rebound effect when rolling over. I found the SynMat Winterlite' s wide vertical baffles to be just as supportive as horizontal baffled pads. I could be wrong, but I would attribute this to the lack of tall gaps between the baffles and the overall width of the baffles. The outer baffles are also about 2cm larger than the inner baffles, to prevent rolling off the pad.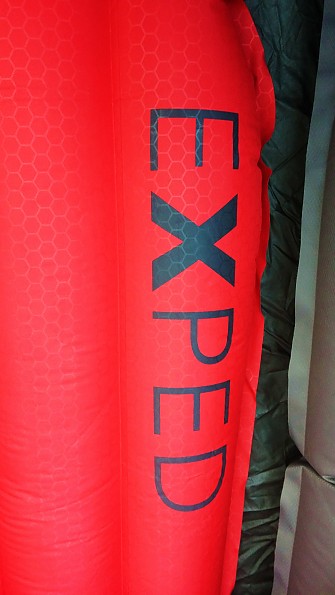 Since the pad is a mummy cut, I should also address a concern with most mummy cut pads — the collapsing edges. If you are familiar with the Therm-a-Rest NeoAir XTherm, you know that there is a major issue with the edges collapsing, which limits the total amount of usable space on the pad. The WinterLite does not have this problem as long as the pad is inflated properly.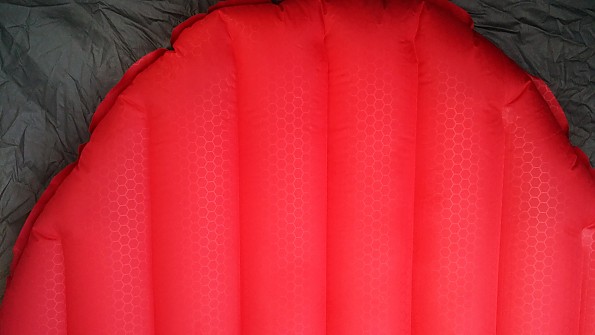 Valve:
One way that Exped was able to keep the weight of the WinterLite so low is by incorporating a two-in–one inflation/deflation flat valve. The valve has a flap which creates a seal and prevents air from leaking out both when inflating the pad and once the valve has been closed.
I found deflation and rolling the pad to be a little difficult because you have to physically push most of the air out and I had a hard time actually getting all of the air out of the pad when I rolled it back up. Exped recommended to me that I fold the pad in thirds and then fold it in half ("hot dog style") and then roll it. I found this to be effective, but I still had a hard time getting the air out at the very end of the roll.
On another note, I am highly opinionated when it comes to sleeping pad valves. I have spent too many nights waking up on the cold ground because of pads with leaky valves. I am very skeptical of twist valves. I was happy to see this flat valve with a backup seal incorporated in this pad. I loved having the extra insurance that I was not going to wake up on the ground due to yet another leaky valve.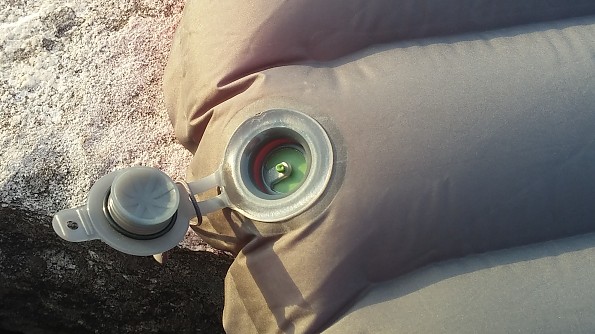 I can attest that the sample that I tested did not leak, even with the valve left open. Just make sure that when you close the valve that the back up flap is sealed shut.
Inflation/Deflation
When I first got the pad, I inflated it by mouth. The pad inflated relatively quickly and without a more than ordinary effort. I prefer to use a pump if possible though because I do not like to get moisture in sleeping pads if preventable (not to mention, using a pump makes inflation much faster).
Exped also sent me a Schnozzel Bag a couple of days after I received the pad. When I got it in the mail, I thought it was very nice of them to send me something to help ease inflation and keep my breath moisture out of the pad. I did not know what a complete gamechanger it would be or how much I would love it. It made a tremendous difference in inflation ease and speed.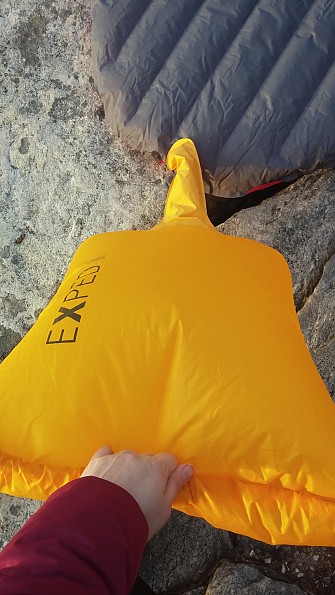 Two full bags of air fully inflate the LW sized pad effortlessly 
I have been using the Big Agnes Pumphouse for my pad inflation the past couple of years. I found it to be very helpful and I've been glad to have it. As much as I've enjoyed having the Pumphouse, the Schnozzel Bag completely blew it out of the water. I could go on and on about how much I love the Schnozzel Bag, but I guess I will need to do a separate review for that later. 
What you need to know is it weighs 1 oz and can be used as a waterproof pack liner/stuff sack (which I also just happened to be in the market for), a pad inflator, and if you stuff it with enough clothes it can be a full sized pillow. Trust me, if you have an Exped pad, you want a Schnozzel Bag. For the record, I never knew a $30 piece of gear could make me so happy!  
The Schnozzel lines my 50 L Osprey Aura perfectly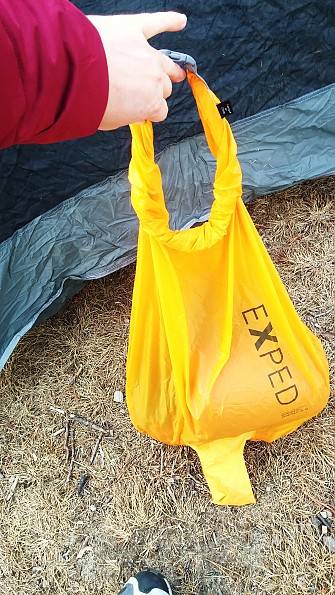 Qualities
Comfort
The combination of warmth that the pad provides, the soft polyester fabric, and the supportive vertical baffles results in a comfortable sleeping pad. I was very pleased with the overall comfort of this pad.
Warmth  
The WinterLite is exceptionally warm, as it sports a 4.9 R-value. I slept on it as low as 10 degrees and stayed super warm in a 15 degree bag. As soon as you lie on the WinterLite, you instantly feel heat. Even at 10 degrees, I could feel the heat radiating throughout the pad.
The WinterLite uses two thin layers of Microfiber insulation, which is laminated to top and bottom of the pad's interior surface and inside each baffle for maximum loft and warmth. This reduces cold spots and decreases both conductive and convective heat loss, resulting in you staying warmer.
Size
I was assigned the Long Wide (LW) version of this pad, as it was the only available sample option. Originally, if I had a choice, I would have picked the regular sized 13.6 oz version, but after sleeping on this wonderfully sized LW pad, I would choose it again without hesitation. I LOVED having that much room.
We've all had those "ah-ha" gear moments where we wonder how we ever got by without a certain piece of gear — this LW pad was one of those moments for me. I will gladly carry a few extra ounces to have more room and comfort.


Construction & Durability  
While the WinterLite's use of 20D polyester is great for saving weight, its long-term durability is something I personally would be concerned with. The fabric truly doesn't feel overly delicate. It seems to be durable enough for me. 
However, with a $189 price tag and no lifetime warranty I would not use this pad anywhere outside the tent. If you do, just make sure you are diligent in carefully surveying the area where you are going to place the pad. I am not saying you shouldn't get this pad because it isn't durable enough, just make sure that you treat it with extra care.
Sleeping Positions
If you are a side sleeper, you are probably like me — very suspicious of air chamber sleeping pads that claim to be comfortable and supportive. I found the WinterLite to be very supportive and comfortable when sleeping on my side. When sleeping on other pads, I usually wake from my shoulder going numb, but I did not experience any numbness when sleeping on the Winterlite.
I did notice soreness in my IT bands (hips), but that is something that I experience on every sleeping pad I've ever used. When side-sleeping, it was the most comfortable when firmly inflated.
I found the LW version of the WinterLite to really shine when I slept on my stomach. On my other mummy cut pad the Big Agnes Insulated Air Core, my elbows fall off the sides and make contact with the cold ground. This really makes me stay confined to my side all night because I don't like any part of my body being on the ground. When sleeping on the Winterlite, my elbows stayed on the pad all night. I slept most comfortably on my stomach. When stomach-sleeping, it was the most comfortable when firmly inflated.
I don't typically sleep on my back, but when I did on the WinterLite, I found it to be most comfortable when slightly less than fully inflated.
Testing Conditions/Performance   
I have tested this pad from October through January multiple nights in Pisgah National Forest, N.C., in temperatures ranging from 45 to 10 degrees F. The coldest three nights were 10, 13, and 15 degrees in the windy Linville Gorge. Each of those nights, I slept in my 15 degree Montbell U.L. Sprial Down Hugger #1 sleeping bag and Smartwool Midweight top and bottom. During each use, the pad only lost minimal air (not enough to need to be re-inflated in the night) and kept me very warm.
About the tester
I am a 5'4" female hiker/backpacker from Columbia, S.C. I primarily day hike and overnight hike in the southern Appalachian Mountains of S.C., N.C., Va., and Tenn. Comfort is my highest priority when considering gear.
Purchase Consideration Q's and A's
Is this comfortable enough for me?    Yes
Is this warm enough for me? Yes
Is this light enough for me? Yes
Is this the appropriate size for me? Yes
Is this supportive enough for me? Yes
Did I sleep well on this pad? Yes
Does the pad hold air throughout the night? Yes
Does this pad have a lifetime warranty? No, but it does have a two year warranty. If this is a concern of yours (as it would be with me), I would purchase it from a store or online retailer that has a lifetime warranty on it.
Do I recommend this pad? Yes
What I liked: Carrying this pad compared to my current winter pad, the Big Agnes Q-Core, lightened my load by 8 ounces, and gave me more room to stretch out, all while sleeping very comfortably. I personally can't ask for much more from a sleeping pad.
I love the LW size and I am not sure I can revert back to standard sized pads now. I also really like the supportive extra wide baffles.
What I didn't like: I don't like that this ultralight pad only has a two year warranty. I also don't like that it is only available in a mummy cut. I also wish that there were separate inflation/deflation valves.
Conclusion
The Synmat Winterlite provides winter pad warmth at summer pad weight. If you are looking to lighten your winter backpacking load and or expand your cold weather sleeping temperature range, I highly recommend that you consider the Exped SynMat WinterLite.
Thank you for taking the time to read my review of the Exped SynMat Winterlite. Thank you to Exped and Trailspace for giving me the opportunity to test and review this very comfortable pad and the Schnozzel Bag.
Source: received for testing via the Trailspace Review Corps (Sample provided by Exped for testing and review)

Extra light and compact mattress that suits a short camping trip.
Pros
Light
Compact
Warmth
Quality
Packability
Inflation valve
Cons
Very narrow at the feet—M size is short for people over 6 feet, feet often end up touching floor
Exped is a very reputable outdoor company and it doesn't disappoint on this winter light mattress. With the included inflating sac the process is very easy and prevents oral humidity from filling the inside. It is rated as close to 5 but it is warm enough in the coldest of grounds due to its 9 inches loft.
When packed it is a bit bigger than the factory measures. I pack it at 9 inches long by 11 inches girth thus, very close to a Nalgene 1 liter bottle and close to a pound weight or 450gr.  It is the right size for under 6 feet people. Otherwise your feet will hang out. Due to its narrow feet ending feet often touch the ground for back sleepers.
One gains a lot of comfort by setting a head pillow extending the top of the mattress. Inflation is brisk. Deflation under cold weather might be more complicated as it needs a lot of pressing to deflate completely. Isolation is tops.
Tested several nights under -40°F with a silicone tarp under it. While winter camping I do not fancy tents due to condensation. I use a tarp under and above for snowfall protection.
Otherwise, it seems quite resilient fabric wise and includes a repair kit which I never have used on any Exped products. 
Experience
Mountain Guide
Source: bought it new

This Synmat Winterlite WL is excellent. Is does not ''mummy taper" as aggressively as others, so Lside-back-Rside rolling is not going to worm you off at night. NOR do the side baffles collapse, in fact they taper convexly to keep you in. R value is INTELLIGENT in design as the mat does not conduct cold air due to the complete insulation perimeter.

Read Ashleigh's review: it's an excellent assessment.
Pros
Form factor — size comfort — low weight material
Orange, just makes you think warmer (...is the new black)
Does not lose pressure as ambient temperature falls
R value is accurate. No conducting heat away by air
Cons
Tougher to compress and remove final bit of air
A bit noisier than Downmat material
Packing volume takes a bite out of your BC ski pack
Ashleigh does an INCREDIBLY USEFUL review because of the factors she includes: sleeping, handling details she provides, and her size, sleeping habits. This is oh-so important as different sleepers have different needs. If you can sleep half standing like a billy goat on a rock wall in December, DO US A FAVOUR AND STICK TO REVIEWING CLIMBING GEAR.
I am 180 lbs 6'1" using the same pad as Ashleigh reviewed and I too could not be a happier Exped Wintermat user.
The other one I compare; my Downmat 7 is built tough and waterproof enough to raft a class III river — just don't get it wet inside, but the twist valve is its problem. The Wintermat has newer (great) flap valves with plug.
The 45 l full bag is now a must. The tiny down mat 10 L fill bag/pillow takes a LOT MORE time to fill 12-15x compared to 2x with the new $35 Exped add-on.
JG
Source: bought it new
Price Paid: $185

After trying five sleeping pads, this is the one! Lightweight weighing in at 18.6 oz for the medium wide 26 x 72" and 3.5" thick. R value 4.9 this pad beats all others I tried for warmth, comfort, lightweight.

I am a cold sleeper even in summer so I had to find a warm pad that was just as light as competitors' summer light pads out there. I finally found one that meets all my needs!
Pros
Warmth
Lightweight
Thick
Flat valve
Pump sack
Rapid inflation/deflation
I bought this pad after trying out multiple other pads. Found that I am a cold sleeper and sleep on my back, so I needed a warm lightweight wide in the shoulders pad and I found it with this pad!
Also it has a flat valve with pump sack capability which means not using your lungs at higher elevations and getting pad inflated rapidly. I also love how quickly it deflates and folds up EASILY compared to other pads. It actually folds up quickly and fits in its sack the first time! No fighting with it to get packed away, which means breaking camp quicker in the morning and getting on with the day.
Source: bought it new
Price Paid: $156

You May Like
Recently on Trailspace