Optimus Nova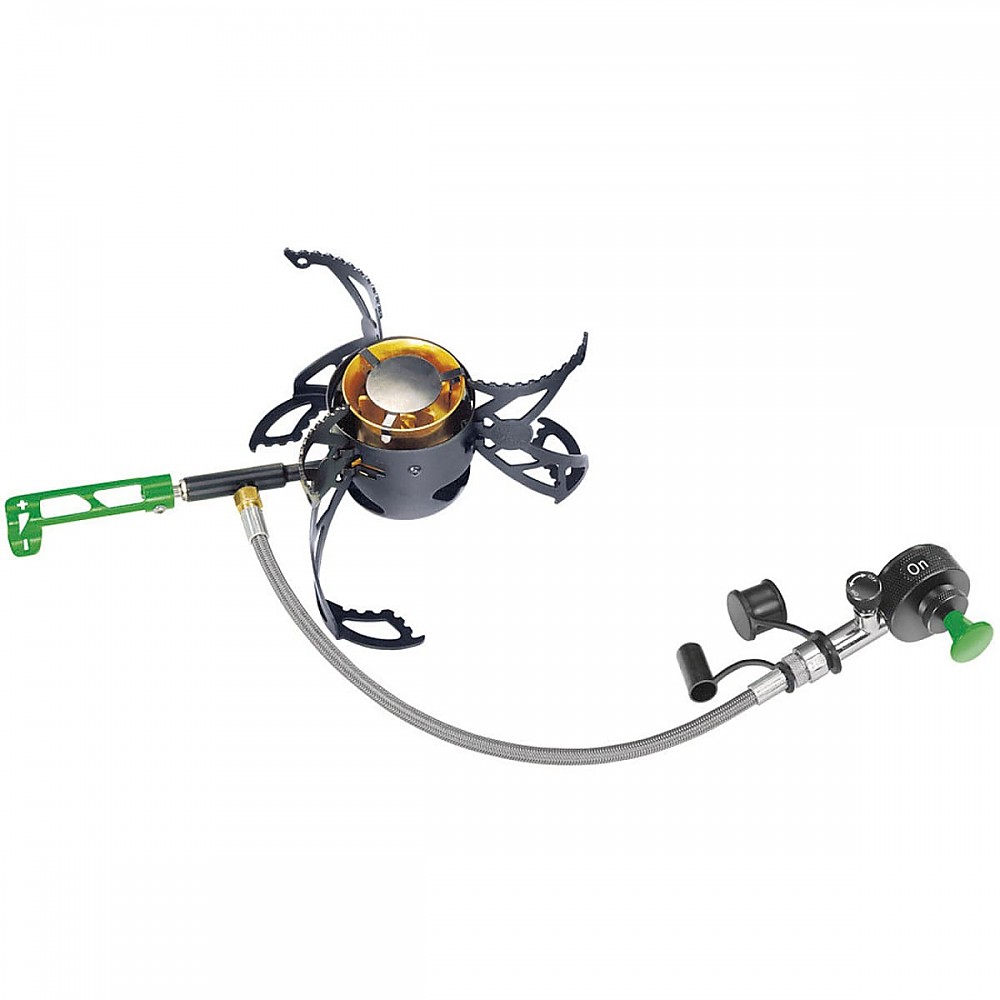 Purchased four or five years ago to replace a twenty-year-old MSR XGK — which is still operational, by the way.  In addition to the XGK and this stove, I have used the MSR SimmerLite, the Coleman Peak 1, and various small butane canister stoves over the years. 
This has been an outstanding stove for me. I have used it on a number of winter trips and many overnight hikes, and for a number of early morning day-hike breakfasts.
The stove consists of a burner with a manual fuel valve control, with a trio of stamped-metal curved "feet" that fold up against the burner when not in use, plus a woven metal hose.  the end of the hose clicks into the pump assembly, which screws into the top of a fuel bottle.  mine came with a repair kit (silicone grease, two small O-rings, and a multitool that can be used to disassemble the stove) and a heavy metal foil wind screen. 
I like the nylon bag that came with the stove — it unzips down the size, making it very easy to remove everything. I have only used it with white gas but believe it can be used with other types of fuel, so long as you can store the fuel in a bottle (it won't hook up to a butane can).  this is not super-heavy, but it is not an ultralight solution.   
PS - you should really use only Optimus fuel bottles with this stove.  The Optimus bottles have a flat round rubber washer, whereas MSR fuel bottles use O-ring seals.  The pump on this stove may not seal properly against the lip of the MSR fuel bottles.
Durability has not been an issue; I clean the gas jet periodically and grease the exposed O-ring, that's it.  I checked the appropriate website when I read about recalls, and this stove was not among the stoves that had problems. 
When the stove first arrived, the end of the woven metal hose did not have a rubber O-ring on it; I took one from the included repair kit.  Unlike many, i have not had a problem with this O-ring getting torn, and I still have one of the original spares in reserve. I will say this — it's worth using the silicone grease in the repair kit to lubricate the O-ring, and because it's a tight fit, inserting the end of the hose into the pump could tear the O-ring if you aren't careful.
For whatever reason, I feel like i have to pump this stove more than my MSR stove — for a typical meal, I do 80-100 strokes.  Once pumped, I open the valve a little to allow some gas to escape into the burner, then light it - it lights easily, i generally use a firesteel. initially, the excess gas makes the stove flame up. 
Once lit, the stove does everything well.  the three folding metal feet easily hold a large pot full of water and keep it stable; at full blast, the stove is loud and boils water quickly  (it is almost as loud as my XGK).  the  green valve control handle does an excellent job lowering the flame, and it rests outside the windscreen, so it is easy to use without charring your fingers.  this stove, more than most, does a great job cooking at low heat.  
The pump has a nice feature - when the fuel bottle is resting on the ground with the "on" side of the fuel pump up, you can cook; if you flip the bottle so the "off" side of the fuel pump shows, after cooking, you can release the fuel valve and vent pressure out of the fuel bottle, and virtually no gas escapes.  I like the fact that the fuel pump is virtually all metal and feels solid. 
So, if it works and doesn't have manufacturing flaws, this is an outstanding stove.  It has served me flawlessly for years. 
Price Paid: $108

Very well made and does what it says it will do!
Pros
Beautifully engineered
Efficient
Simmers
Own stuff sack
All metal pump
Have had an MSR WhisperLite for years as well as a Trangia and a canister Furno 360. Is it as easy to set up and go as a Trangia or a canister stove?  No.  Does it put out a lot of heat and will it simmer and hold heavy pots?  Yes!
Here we have a case of you get what you pay for. Unlike many liquid fuel stoves this will simmer as readily as it will boil. It will happily consume virtually any fuel with no need to change jets and it appears bulletproof.
I have camped and cooked for over 50 years and once you get past the initial purchase price of liquid fuel stoves over canister stoves and learn the ritual required to run them you won't turn back. Over time the ongoing costs begin to make a decent sized hole in the initial price difference. No canisters to buy. Just use the same fuel bottle over and over again. Shellite or white gas as it is called in some countries is cheap and easy to source. No more guesswork about how much fuel in the canister, simply unscrew the fuel bottle cap and look and top up!
At over 10,000 btu's this packs a serious punch and will boil water faster than you ever thought possible with a small backpack/camp stove.
The metal pump as opposed to the MSR plastic one is very confidence-inspiring and adds to the well-engineered bulletproof look of this stove.
If you are looking at liquid fuel stoves then I would definitely recommend the Nova.
Experience
Used liquid fuel stoves for over 30 years. Used various other camp stoves for over 50 years.
Source: bought it new
Price Paid: Aus $270

I was impressed when I received the stove. It is a work of art. I backpack 3 days a week, or more. I used the stove on two trips and noticed a leak where the fuel line connects to the stove. I tightened the nut and kept on using it.
Next issue - I noticed a lot sputtering and black sooting on bottom of pot. It took repeated pumping to keep the stove lit. On the next use I saw fuel coming out of the "open/close" valve. It did not catch on fire, but there was a lot of fuel. Inside the o/c valve on the pump there is an O-ring and mine was defective- obviously.
I called Katadyn and they are going to send me a pump when their parts order comes in - then I can return the defective pump. I also had to remove the burner plate and tighten the fuel nozzle - that stopped the yellow flame and, thus stopped the sooting on the pot.
The stove roars when cranked up, simmers as low as any I have ever had, and fires up every time. It is sturdy and well designed - just not put together very well. I have faith that I can work all the issues out of this stove and use it for a long time to come.
Check it closely when it arrives in the mail - make sure all is tight. Keep an eye on it for while to make sure nothing is leaking.

Update: February 2, 2010
Follow up -- Well Katadyn has terrible service. They were to ship me a pump when their backorder came in. That turned out to be untrue. I waited two months, spoke with them 3 times and they finally told me that the pump has been redesigned and that it will not fit the hose on my stove. Thanks. I have a leaky stove that is useless.
Campsaver is where I bought it and they directed me to deal directly with Katadyn. When I called them and told them the situation they told me they would have to charge a restocking fee of 50% because I was past my 60 days to return. It was their idea to try and deal with Katadyn, otherwise I could have returned it when it was only two weeks old. I feel like a sap.
Well anyways now I have to find a new stove and I am out 117 dollars. This time I will pay much closer attention to the reviews, and I will certainly use a store with a better reputation this time, like Campmor or REI. This is my first bad internet purchase experience and I hope it is my last. Buyer Beware.
Update: December 5, 2010
These have been made in China since Katadyn took over the North American rights. These stoves have been recalled. Some issues with the Chinese made stoves have resulted  the Consumer Protection Agency stepping in and mandating a recall.
Katadyn bought the US and Canadian rights to Optimus -- the results are not good. I would not recommend this stove. Lack of faith in Katadyn to be able to repair my leaking stove is why I am tossing it in the trash.
I should have bought something else in the first place.
Price Paid: too much

Works great, easy to prime, and IT WILL SIMMER!
Pros
Great temp control
Easy to start
Cons
Rather bulky when folded for packing
Used the Nova (NOT Nova+) recently on a winter backpack trip and my stove was the only one in our group that would simmer resulting in all the meals requiring simmering to be cooked on my stove. The reason is the fuel control valve is located on the stove and not the fuel bottle/pump. Cranks out plenty of heat when the fuel valve opened though.
I use alcohol to prime as it's much safer (no exciting flare-ups if too much used) and doesn't soot up everything.  The downside to priming this way is that it's hard to see the flame in the daylight
Use only an Optimus or Primus fuel bottle as the flat o-ring needs a flat surface to properly seat on and the inside of MSR bottles are tapered like a funnel.
This stoves runs on white gas/unleaded car gas, kerosene, jet fuel, diesel and the great advantage is not having to change the fuel jet for the different fuels!  It also has a magnetic jet cleaning needle built in!
I highly recommend this stove if two or more in the group, but prefer a Svea 123R or 8R if going solo.
Update on March 21, 2013
This has become my go-to stove even when solo camping. Super easy to use (once you've used it a few times) with excellent heat control. You will never have a problem finding fuel as it burns just about any liquid fuel and no changing jets. If it's really cold, I use gas to prime instead of alcohol as it lights easier.
Source: bought it new
Price Paid: $150

Purchased 1-3-2010. I've practiced using it to make sure it would work. The pump leather was a little too small. Would still pump but had flipped over backwards. I'd bought the spares kit
so I replaced it.
While using it here at home I scuffed the O- ring on the cable-pump connection (this stove has it on the male cable end). There was one extra with the stove and one in the spares kit (that I purchased separately). Now I have one left. SO THE O-RING MUST BE GREASED PLENTY EACH TIME IT'S CONNECTED. EVEN THEN YOU HAVE TO BE VERY CAREFUL WITH THE CONNECTION (have had the same issue with MSR stoves as well).
Katadyne USA has taken over customer service from A and H. I didn't send the stove back. Emailed Katadyne to get some extra O- rings and a pump leather on 1-12-10. Today (2-2-10) I checked back again and was informed it would be another 6 weeks minimum (I had offered to pay extra for a special order even though it is in warranty.) I find that long of a delay a bit hard to believe for a simple part as an o-ring. That is the reason for the 2 stars ( should it be 0 stars?) I'm baffled that a customer service department would operate that way.
The stove seems to work fine. If seems to work best turning it up a half turn quickly after the burner is lit. Have used it a half dozen times in the field with no problems. I would not take this on a lengthy trip without several extra o-rings for the cable-pump connection. This stove is still probably the best of it's breed which is why I decided to keep it. If you don't need the extra BTU's or the multifuel option stick with the Optimus SVEA 123R. They are pretty much trouble free and will still be my main stove.
If Katadyne gets their act together with spare parts, I could recommend the stove.
OTHERWISE, IT'S A DEAL BREAKER AS FAR AS I'M CONCERNED.
Update: February 23, 2010
Optimus Nova Review (Update) (see previous review)
I decided to disassemble the on/off knob at the pump to inspect the o-ring, since I had previously found a defective pump leather and a "rough" cable pump connection. The o-ring was off the shaft (where it belongs ) and was in the bottom of the hole. It had not leaked as yet, but most certainly would have. Would assume it was not assembled correctly at the factory.
Was able to contact Optimus customer service in Switzerland (in early Feb. 2010) for o-rings for the cable pump connection and some o-rings for the on/off knob on the pump (NOTE: THE O-RING FOR THE ON/OFF KNOB AT THE PUMP IS NOT INCLUDED IN ANY OF THE SERVICE/SPARES KITS). The Representative emailed a "fix" for the rough cable/pump connection. Basically using a phillips screwdriver to ream a burr from the aluminum where the o-ring slides in. I did this and it worked well.
I received the o-rings 2-22-10. Optimus customer service USA contacted me today, 2-23-10, and said they were sending a new pump leather. I understood the cable /pump burr problem has been corrected at the factory and would hope the other assembly issues also. So I gave it 3 stars instead of the previous 2.
As far as recommending the stove I'm neutral. If you buy one I certainly would recommend a complete disassembly and inspect each o-ring and the pump leather. As stated before, if you don't need the extra BTU's or a kerosene burner stick with the Svea 123R. You don't need a maintenance kit for it ( for several years at least). It will simmer over 3 hours on 4.5 ounces of fuel. It works every time no matter what.
Price Paid: $117

Compact and very portable heat source. Reliable if you take care of it and get to be proficient in how to operate it.
Cons
Could be finicky
Not for the faint of hearth
Jet turbine noisy
If you want a quick water boiler with Rolls Royce jet turbine engine sound this is it, don't look any further.
This Optimus stove is quite versatile in certain aspects. It is very compact  and packs well, also it will burn anything that you can think of liquid fuel: Kerosene, gas, diesel, stove fuel, I am quite sure that you can even use rum or vodka to run it in an emergency. It is also very frugal and sturdy build. On the other hand it can be very finicky to start and to control the flame.
The setup is easy once you get used to it, although I recommend using a small size bottle to feed it, otherwise you will be pumping quite often to maintain pressure and keep it going.
It can be finicky to start, definitely you need to follow the instructions, pump the bottle and then pump it a little more. Preheat it and so on. Also take care of the leather seal for the pump.
You need to be on top of it with the flame control, otherwise your breakfast or dinner can go up in a smoke very quickly. Is kind of an all or nothing deal most of the time.
Look for a flat surface where to set it up, otherwise this can definitely be a noodle dumper.
Also follow the procedure to turn it off and never ever ever, ever, did I already said ever? ever! try to open the bottle if the fluid is under pressure—you will get a nice spray of fuel!
A small bottle of fuel will last you for at least three days if not longer, considering three meals a day using a single pot.
I have use this stove for a while now and it definitely has a learning curve. It can be a fantastic primary source of heat for cooking when you are trying to minimize weight: in a solo trip, backpacking, or for mountaineering. Definitely a good backup once you figure out how to properly use it and that is how I see it for my trips, as a backup in case I can not get a fire going for cooking.
If you are looking for an everyday cooker at camp car camping just get a propane Coleman, it will be cheaper and easier to use.
Source: bought it new
Price Paid: 160 $ CAN

Used for nearly 20 years without a single problem.
Pros
Lightweight and durable
Compact size
Runs on most fuels you will encounter
I bought my Optimus Nova new back in 1996/1997 for a cycling trip across France. I have only ever run it on petrol and have never once cleaned it or used the magnetic cleaning tool. It has been across France twice, both times for around 3 to 4 weeks. It has recently done a tour of Scotland, also lasting 3 weeks, and in the spanning years there have been numerous weekend camping trips.
My model came in a triangular cordura type bag that enables me to fit the stove snugly inside my saucepan (whose lid doubles as a frying pan). My mug fits snugly around the fuel bottle, and both the pan and bottle are a cinch to take anywhere.
As I have said, I have never done any maintenance and the only item of note was the brass weight/filter falling off the plastic fuel hose inside the fuel container. I put it somewhere "safe" and have never seen it again, but the stove continues to function correctly without it.
Before purchasing this, I used gas bottle stoves of various types, but I wanted a stove that would enable me to use whatever fuel was to hand, regardless of where I was at. Unless I lose it, or somehow damage it, I can't see myself looking to purchase anything else.
Source: bought it new
Price Paid: £110

Love mine, but I do have an older model.
Pros
Works — every single time
Simmers — truly
Roars when you need it to
Can burn some pretty dirty fuel
Multi-purpose tool included for maintenance
Cons
Carrying case
Pump leaks when disconnected
Leather pump cup dries out (but I have a tip!)
Valve sticks if shut off (I have another tip!)
Flareups when starting
With a stove, reliability and robustness are my #1 criteria. This stove fits the bill entirely.
I should mention that I have an older model, which I believe is made in Sweden. I purchased it in 2002. It seems that newer models from China have a spotty reputation (go figure).
This stove will flare when priming....pump up some pressure in the tank, open the valve just a teensy bit, then close it off. This will allow just enough fuel and fumes to make lighting easy, and you will get a minute of burn to heat up the unit to optimal temp. Open the valve very slowly and allow the unit to come to temp before putting it on rock and roll, and that SHOULD mitigate the flaring. I will not use mine in a tent or vestibule because even after 10+ years of using it, I still have some flaring.
The throttle valve will stick if you let the stove go out in the 'all the way on' or 'all the way off' position. I experienced this early on, and have a buddy with the same stove who has the same issues. Once the stove is off, simply turn it up/down a quarter turn, so it isn't at one extreme or the other, and problem solved.
The leather cup for the pump will dry out, causing a loss of suction, which will prevent pressure from building in the fuel bottle. Simply take apart the pump, dip the cup into your fuel, and re-assemble. This has worked every time for me. 
Over time, my pump will no longer snap tite when I remove the male end of the fuel line. This means leakage, so I always take the pump out of the bottle, and replace with the fuel cap when I have to pack it up. Kind of a pain, but better than getting fuel inside your pack.
I only use white gas, but by the end of a week, there is a noticeable amount of junk in the bottle. I do my best to not run the bottle all the way empty (to avoid getting the big chunks into the fuel line), but sometimes it happens. The filter does a great job of protecting the burner, and the included tool works great for the rare occasions when I have to disassemble the line to blow it out. The tool also has a magnet which cleans the burner jet simply by placing it on the bottom of the burner (I think there is a spring loaded needle inside that moves back and forth when magnetized).  Pretty neat.
Despite all these flaws, I will stick with the stove, and try to find another on ebay when mine dies. Kinda like your Daddy's Ford, it may take a little bit of fiddling, and it's not the sharpest looking thing, but a little common sense in the operation and maintenance goes a long way (IE take care of your tools and they will take care of you).
Source: bought it new
Price Paid: $120

I bought mine in 2008 before the big recall and it has served me very well. It is light, efficient, easy to use, easy to fix/service, and takes up little pack space.
I bought a spare part kit and have not had to open it yet. As long as you tighten anything that loosens over time, and follow the operating instructions, it will give you many years of trouble free cooking any time of year, in any weather. Oh ya, it actually simmers.
Price Paid: $128

I bought the Optimus Nova stove, only to find a few days before a trip, there was a recall on my stove. To my dismay, I found out my stove had been manufactured in China rather than Sweden. I logged onto the Katadyn/Optimus site (I believe Optimus is now part of Katadyn as Brunton is no longer affiliated with them).
Anyway, after a few emails from me I recieved a personal phone call from Brent Whitnah. After explaining my dilema of needing to leave in a couple of days, Optimus overnight shipped my stove to them, and to my surprize I recieved my repaired stove on my doorstep the NEXT morning.
Wow, I've never had this kind of service before. Kudos to Katadyn/Optimus, and to Bret for their outstanding service. I also recieved some maintenance parts to field service my stove. What can I say, I love the stove; the design and materials are far superior to any other stove on the market. 
IMHO, the metal pump is way superior to the plastic ones found on competitors stoves; the service is second to none. The adjustability of the flame, the mulifuel capability, design, support what more could one want?
After this experience with Katadyn/Optimus, I'm an avid fan, supporter, user of their products!
R.K. Oregon USA
Price Paid: $158

I have had this stove for about three months now and have discovered a very serious problem. In the beginning I chose the Optimus Nova over the Brunton equivalent because there were fewer plastic parts. The Brunton comes with a fuel bottle, the Optimus didn't. That didn't bother me since I had an MSR fuel bottle.
The stove never ran perfectly for the last couple months at around 5,000 feet in weather down to 35 degrees. My brother, a serious mountaineer and equipment geek, took it apart and assured me that it was a work of art. He said it was probably my old fuel or less than perfect priming technique.
Just this last week we were out on the snow, 4500 feet, temperatures ranged around 25 degrees at dinner time. I was cooking in my tent. Much to my surprise, I looked down and my tent floor was soaked in white gas, about a foot square. Yes, the stove was running. Quickly shutting off the stove and putting it outside the tent in the snow, I said a few prayers. I am not religious...
I had already used the stove earlier to melt snow with no difficulty. Only thing different this time from the summer was that instead of packing the pump assembly separate, I had packed it screwed into the fuel bottle to save weigh and set up time. I had noticed that the gasket looked a little askew, but could not get it to seat any better.
Well, it turns out that MSR fuel bottle seal with an O ring and the Optimus stove has a flat washer. It works with the old Brunton bottle or the Sigg bottle. I assume this isn't a problem in much of the world were MSR bottles are not the norm. Here in the Northwest US MSR bottles are the norm.
Today I went the the store where I got my stove to get the proper fuel bottle. They had more of the stoves but no fuel bottles other than the MSR one. This is a serious problem and could lead to major injury, death or at least horrendous difficulty if someone's stove leaks like mine did. The Optimus Nova that I bought in August needs a fuel bottle with a flat surface for sealing properly. I didn't discover this until the temperature was cold and the bottle and pump assembly had been together for over 8 hours.
Please pass this caution along.
Price Paid: $139

Being a wildlife biologist primarily working in Africa I need a reliable multi-fuel stove. For years I have used the MSR-XKG, the granddaddy of them all with great pleasure. But, I have to admit, the plastic pump was not exactly reliable. Two years ago I switched to the Optimus Nova. I have extensively tested it on a variety of fuels (African (dirty) fuels that is!) and never had any problems.
You can switch between fuels without any problems, the pump is made of indestructible aluminium and the stove itself is stable and packs small. Power output is also very high and it is easy to tune the flame to a shimmering setting. Repairs are also fairly easy! I can honestly say that this is probably one of the best stoves out there. I used it without problems for months now in the African savanna, highly recommended!
Price Paid: 125 euros

The pump cup is leather and you will have problems with it, which will cost you a 30 dollar extra service kit. The pump rod is a soft aluminum alloy rod, it bends if you push a little hard.
If you have any problem with the pump itself, the new pump (just the pump itself) is 50 dollars, connection hose is 15. So, so expensive it is unbelievable.
Get a stove with better built parts and decently priced.
Price Paid: $99

This is my first liquid gas stove that I've bought, and judging by how sturdy this sucker is built it will be my last. It primes fairly quick and simmers like all get out. I use it at home all the time and have yet to get hassled by it. A wee bit on the expensive side, but a stern stove nonetheless...get busy with this stove and your belly-welly will thank you!
Price Paid: $149.99 Federal Reserve Notes

This is a great little stove and the customer service is first rate. I got the stove at Galyans now Dicks (DICK'S SUCKS but that's another story).
The first time I tried it it leaked, so I called them. The quick connect was bad. Cindy (I think) sent me a new one that day before I sent them the bad one.
After a week on the trail LBL Land Between the Lakes it was flawless. And when it was someone else's turn to cook I watched from my hammock as they had to hold the pot 6-8 inches off the stove to simmer :)
This is a great stove and I would recommend one to anyone.
Price Paid: $80

The stove that will rip you off and let you down — if it doesn't kill you or leave you in the burn unit first.
Cons
Stove leaks fuel, creating a death zone around itself.
Most of the fire stove creates is at site of fuel line leak.
Bought this item online from Amazon. From Optimus, I expected quality; what I got instead was cheap Chinese-made junk at an expensive, European-level price. The older (silver-bodied, un-numbered) model of this stove was near legendary for bulletproof reliability and build quality.  The current model, with its black legs and nasty green adjustment knobs, which I had, is a poorly made and assembled facsimile which only superficially resembles the older model. 
The fuel line connector immediately started leaking fuel during our first camping trip with it, and disaster was only averted by literally kicking the flaming stove away onto a nearby lakeshore, where the lapping water put out the flames before the bottle blew.  Fortunately, we were able to retrieve the overheated and quenched remains to return it. 
Stay away from Optimus/Primus/Katadyn, as they now only sell junk made in the far east, no longer stoves made in Sweden. This includes the Svea 123R. 
In addition, they do not provide good customer service, but aggressively will try to get you to accept their defective products instead of replacing them when you call looking for help. It seems they simply don't care about alienating customers from ever dealing with them again, or the ill will that they have created for a once great line of products.
Source: bought it new
Price Paid: $125 USD

Bought the Optimus Nova two years ago. Have used it on 3 or 4 trips and worked fine.
In getting ready for the last trip, the hose coupling on the fuel bottle has frozen open and fuel sprays all over everything as I attempted to attach the hose. A definite safety problem. Basically, the stove is now useless. Clearly a design or manufacturing flaw. 
Price Paid: $129

Your Review
Where to Buy
Help support this site by making your next gear purchase through one of the links above. Click a link, buy what you need, and the seller will contribute a portion of the purchase price to support Trailspace's independent gear reviews.
You May Like
Specs
Price
Historic Range: $14.20-$149.95
Reviewers Paid: $80.00-$158.00

EUR 149,95

Recently on Trailspace