TheTentLab Deuce of Spades
Rating:


Source: received for testing via the Trailspace Review Corps (already had bought own sample of the product)

Summary
Overall, the Deuce of Spades is a cleverly designed latrine trowel that is incredibly lightweight, very strong, and takes up a very minimal amount of space. Makes an excellent gift for the backpacker who has just about everything.
Pros
Lightweight
Durable
Clever design
Small footprint
Cons
Thin material digs into hand
May be pricey for some
According to the manufacturer:" The Deuce of Spades is an ultralight backcountry latrine trowel that's also the only trowel in the world that can be used right-side up AND UPSIDE DOWN. It only weighs .6 ounces but it's super effective and ridiculously tough."
Initial Thoughts:

As outdoor pursuits are becoming increasingly popular, it is more important than ever to minimize our impact in the backcountry. One major facet of that is dealing with the less popular topic of waste management. I think most can agree that burying waste is probably the least we can do to lessen our footprint in this regard. To do so, you need to have access to some sort of digging implement; some people like to use sticks (when sticks are available, ground is soft enough), some use tent stakes, and the rest use some type of latrine trowel.
In my opinion, a dedicated latrine trowel is the optimal choice as it can be used over a variety of soil, and in comparison with tent stakes is much more comfortable to handle.

Construction:

The first impression when looking at the Deuce of Spades is that, for a latrine trowel, it is oddly quite cute! Perhaps this is more influence by the very cheery lineup of colors provided by the manufacturer: red, green, orange (pictured below), yellow, purple, blue, and black. The build looks very clean thanks to the clever folding of the aluminum sheet.
The material is 7075-T6 aluminum alloy, which is primarily aluminum with components of zinc, magnesium and copper which has been tempered under specific conditions to yield the desired properties, which includes a high strength-to-weight ratio. These alloys are not cheap, so their use is restricted mostly to specialized equipment where lightweight and strength is required (transport applications, sports equipment, specialized firearms, etc..)
Of concern to ultralight enthusiasts, the product does come in at the as advertised weight of 17g. Even if you don't fancy yourself an ultralight backpacker, not carrying unnecessary weight or bulk should still be a somewhat attractive, albeit less critical feature.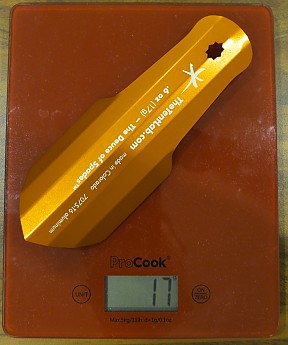 It is only fair to compare it to what I consider the standard in latrine trowels, the orange plastic Coghlan's Backpackers Trowel. I have used this for years, and was always frustrated by what I thought was its unnecessarily large size. At nearly 11" in length, it meant I had to factor in specific spaces for it, whereas the significantly smaller Deuce of Spades can just be packed away with tent stakes. The Coghlans comes in at a very reasonable 55 g and its construction of high impact polystyrene is more than tough enough to handle most soil.
However, to those concerned, the nearly 70% reduction in weight, and significant reduction in bulk is worth the upgrade to the Deuce of Spades.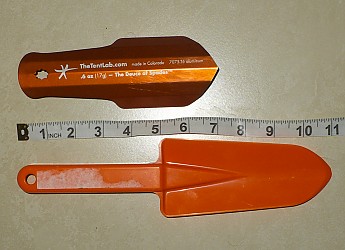 Another popular alternative is carrying an MSR Blizzard Stake (9.5", 32g, aluminum alloy construction). In most instances this is an excellent option, if a bit less comfortable to handle. It is particularly useful if you are carrying those stakes anyway for putting up shelter. Any item that can serve double duty is always a nice bonus for backpacking.
However, carrying a Blizzard Stake just for trowel use in the interest of weight savings is a lost argument compared to the Deuce of Spades which weighs nearly half as much.
Use in the field:
Ultimately, the weight, and space savings make no difference if the trowel cannot be used as intended. I have had the chance to use it over a range of soils (clay, grassy patches, sandy ground etc), but I chose to highlight the one I usually find most frustrating and that is densely packed gravelly earth. Pictured below is a 7" deep hole that took me about ~45 seconds to dig at a medium pace.
Because of its shape, and relatively thin material, the Deuce of Spades readily slices into all manner of soil. The result is a very fast and precise dig. The downside is, because of the thin material, the harder you grip, or the more resistance you encounter with the ground, the more the thin material will start to dig into your hand, resulting in fatigue.
This is something the manufacturer discusses on their website, which I suppose is a reasonable tradeoff for a significant weight savings. This could perhaps be addressed by dipping the handle end into rubber grip dip which would make it more comfortable, but add a bit of weight.
Also, in an emergency, you could easily use the trowel as a tent stake. Its large surface area means it has great hold in any type of ground, and the hole in the handle makes for a perfect tie-out
Ultimately, this product represents a clever idea, use of quality materials, and excellent execution. For an item that will simply be sitting in your pack 99% of the time, the additional cost of minimizing its size and weight compared to the standard (mass produced) commercially available alternatives is very reasonable.

This is a great product that I would highly recommend.
Where to Buy
sponsored links
Help support this site by making your next gear purchase through one of the links above. Click a link, buy what you need, and the seller will contribute a portion of the purchase price to support Trailspace's independent gear reviews.