TheTentLab Deuce of Spades
Rating:


Source: received it as a sample, freebie, or prize (part of my Trailspace Reviewer of the Month prize)

Summary
This is a very light, durable, and functional camp shovel with the added benefit of being very useful for a number of other applications around camp that might not be so obvious.
Pros
Very lightweight
Great for digging holes
Has a number of other useful applications
Takes up zero space in your pack
I want to first knowledge that I received my Deuce of Spades as a gift for being a past Reviewer of the Month here on Trailspace and I also want to confess (and I hate to admit...) that I was really excited to be receiving this "potty" shovel as a gift.
I have always been interested in gear and equipment and when I first saw the Deuce of Spades I thought it looked like a really cool shovel, but more importantly also thought that it could be very useful for a number of other applications which would make it a great addition to my pack.
The basic shovel is 6 3/4" long and about 2 1/2 " wide and a hair under 0.6 ounces and it is made from 7075-T6 aluminum, so while the shovel is nice and light the material and method of construction make it nice and stiff and there is little risk that it would ever bend during normal use. It's a very simple but elegant design.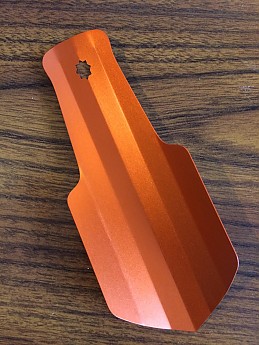 The next photo below shows the Deuce of Spades shovel next to my existing Coghlan's backpacking trowel that is a readily available low cost trowel that has done it's job well. I tend to modify gear if I don't like something or think I can tweak it to make it lighter or better in some way and with my Coghlan trowel I went on a hole drilling spree and got the weight down to 1 1/2 ounces, which I thought was acceptable, but in switching to the Deuce of Spades I'll be saving just about an ounce (whoopee!) which really isn't that significant, but it's in the right direction.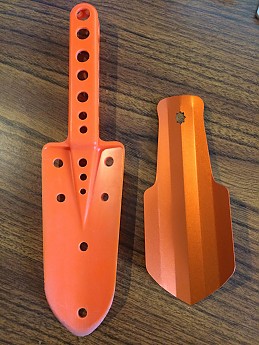 Before I go into the other not so obvious useful applications for the Deuce of Spades I thought I would touch on its basic function, which is digging holes. While I haven't had it out on a trip yet, I did take it out in the yard and dig a few holes. In my yard we have rocky/glacial till with a lot of fine surface roots and the shovel did fine with the thin construction easily cutting through roots and the tough 7075-T6 holding up well with the edge of the shovel holding it's shape with no signs of damage.
Due to the thin construction of the shovel I could see using a folded up bandana that I carry in my pack as padding between the end of the shovel and the palm of my hand if I were having to dig in harder soil, but overall the shovel did its job.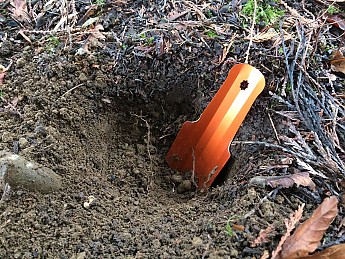 With respect to how well the shovel will stow away in your pack, it's nothing less than perfect in my opinion. I always carry a Smartwater water bottle in one of the side pockets on my pack and the Deuce of Spades nests just perfectly with the bottle and will free up the space previously taken by my Coghlan trowel. It's like they were made for each other!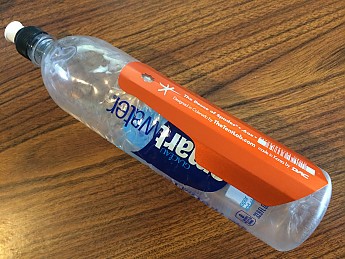 Now for some of the other applications I think the Deuce of Spades could be used for beyond the simple task of being a shovel.
Since the Deuce of Spades is made out of 7075-T6 aluminum it has the ability to withstand a significant amount of heat and I think it would help in a pinch as a windscreen for your stove. The picture below is of the Deuce of Spades stuck in the ground next to my MSR PocketRocket stove.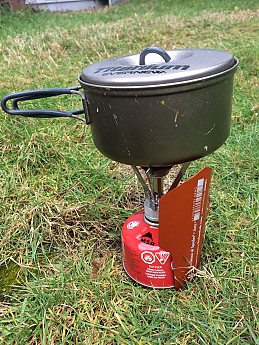 The Deuce of Spades quite possibly could also work as a lightweight fuel pellet stove which I intend to investigate further as over the last few years I have stopped caring a stove, but have started to look to see if I can find something light and simple enough to allow for a few hot meals on future trips.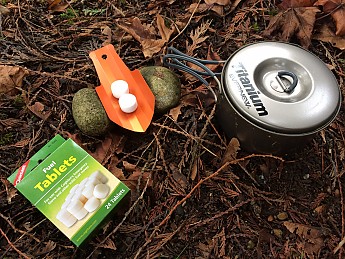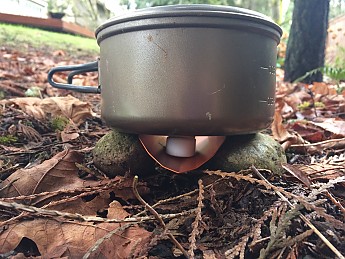 As I mentioned earlier I tend to modify equipment if I think it will make it better or useful for another application and I have already modified my Deuce of Spades to turn it into a platform to hold my iPhone for taking selfies and group shots.
To modify my Deuce of Spades I took a round file and made some slight scallops at the transition of the handle to the blade (the first picture below). This creates a simple shelf I can set my iPhone on when the Deuce of Spades has been stuck in the ground or trapped between some rocks. Since most people keep their shovel on the outside of their pack this makes a nice easily accessible iPhone holder for those shots you might not to want to take the time to dig around for that mini tripod you never use and wish you left behind.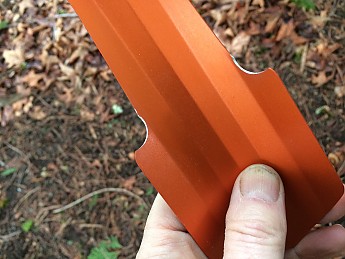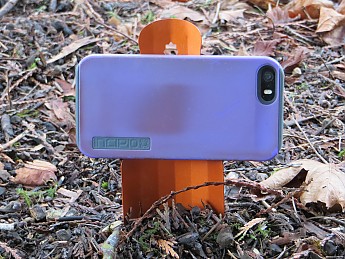 Probably the best alternate use I have found for the Deuce of Spades is as a shim to help make opening my Bear Vault BV500 just that much easier. Since the Deuce of Spades is made from fairly thin aluminum it makes a great tool for helping to open your BV500 on those cold days when it seems like a pain to depress the detents on the lid.
To use the Deuce of Spades, unscrew the lid until the detent on the lid is about a half an inch from engaging the detent on the main part of the jug (first picture below). Next insert the edge of your Deuce of Spades inside of the fixed detent on the jug and outside of the detent on the lid and then proceed to unscrew the lid and the two detents will pass like ships in the night...


A few other uses for the Deuce of Spades would be as a nice tray to hold tinder if you were trying to start a fire with a flint, as a blade screwdriver (and the rounded ears on the handle would be great to open a Garcia bear container...), and I think the Deuce of Spades would make a great lightweight finger or wrist splint from a first aid perspective.
As I continue to try and reduce the weight of my pack I always like to find gear like the Deuce of Spades that can perform more than a single function and be used in a pinch to help "MacGyver" a solution when something unexpected comes up.
I think the Deuce of Spades is a nice "potty" shovel, but more importantly, it is a very flexible piece of equipment that can be used for a number of existing and to be determined future applications.
I will always carry and be glad that I had the Deuce of Spades in my pack.
Where to Buy
sponsored links
Help support this site by making your next gear purchase through one of the links above. Click a link, buy what you need, and the seller will contribute a portion of the purchase price to support Trailspace's independent gear reviews.