Waymark EVLV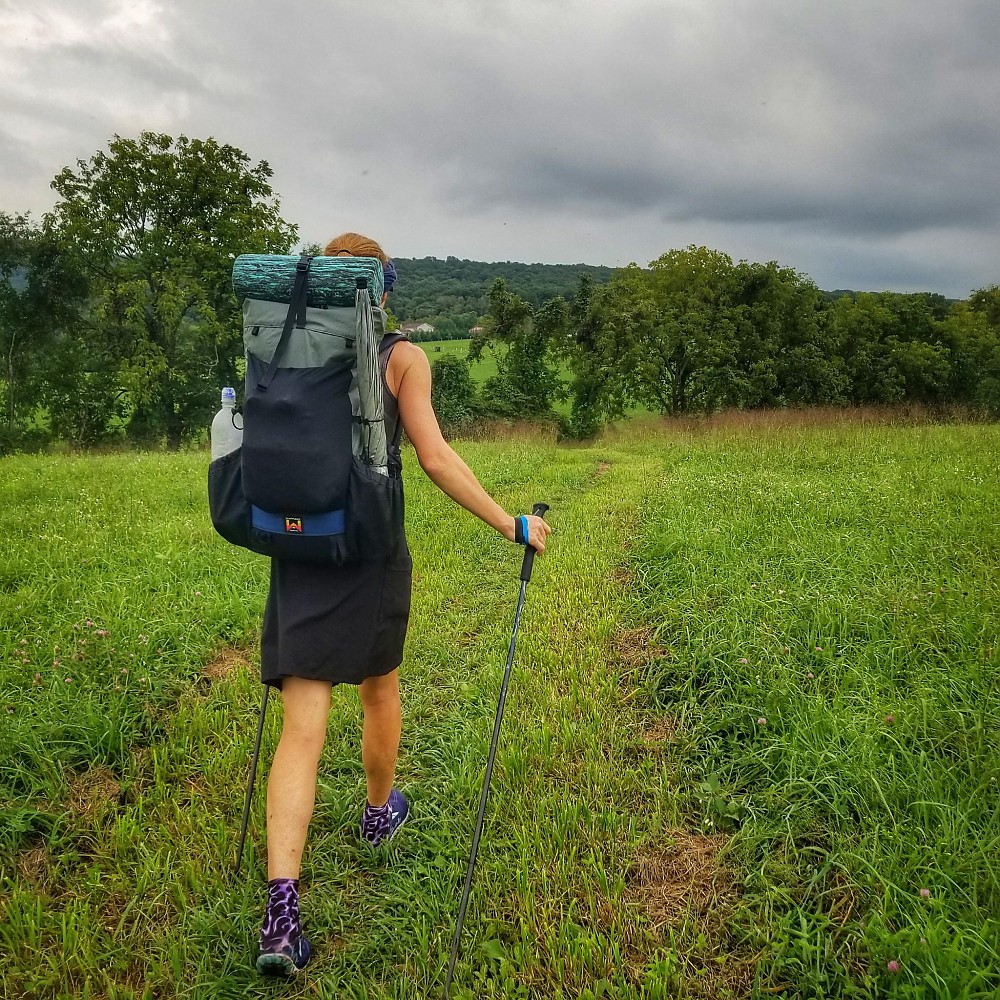 The Waymark EVLV is a functional ultralight backpack, with plenty of bells and whistles, despite its UL nature. It's frameless and hip-beltless, designed for loads under 20 lbs. My favorite features are the load-lifters, Xpac material, and deep and functional side pockets. I've used mine for several thru-hikes now, so it's showing a good bit of wear, particularly in the shoulder straps (padding is very compressed) and the back pocket mesh. Waymark has made many updates to the material and design of this pack since I purchased mine in 2021.
Pros
Generous room for a lightweight thru-hiker's gear
Excellent side pockets
Load-lifters on the shoulder straps effectively distribute the weight closer to the body
Xpac material is very durable
Made in the USA by a Utah-based small company
Cons
Not fully watertight (lacks seam-sealing)
Back mesh pocket material degrades from UV exposure (this has been upgraded on newer packs)
Shoulder padding becomes compressed over time, leading to decreased comfort
Background:
I haven't done a backpack review in a long time! That's because I've pretty much used just one backpack since 2017, my Hyperlite Mountain Gear 2400 Southwest. That pack finally had to be retired after my 7th long-distance thru-hike in the spring of 2021...it had seen over 7000 miles and was starting to fall apart.
Gearing up for the Appalachian Trail in 2021, I sought a frameless ultralight (UL) pack that could still handle a 35-40 liter load. I'd heard good things about the Waymark Gear Co packs and started looking into the many options they offered.
One of the selling points for this pack over the many other UL offerings by similar cottage manufactures was the load lifters. I'd used frameless packs before and didn't like how they allowed the load to sag off my back. I wasn't sure if the Waymark load-lifters would actually work without the pack having a frame...was this just a marketing gimmick? To my pleasant surprise, they did work and are now a feature I would want to have on any future UL pack.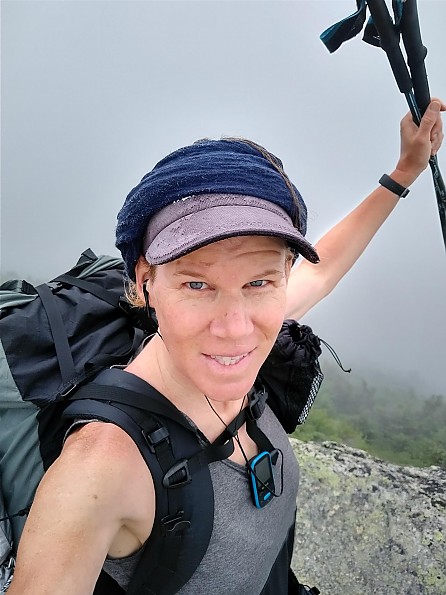 Specs:  I need to clarify that my pack was originally marketed as a standard built "Thru", which had the option of a frame or no frame. There were also several options in hip belts (padded of various sizes, 1" webbing, or none). Presently, all "Thru" packs have frames and hip-belts. My 2021 pack most closely resembles the options now available in the EVLV line. So even though the specs are slightly off, this would most appropriately be called an EVLV 38...
S/M 15-17" Torso (38 Liter), 30" Tall x 11" Wide x 6" Deep

Main body (minus 3" off pack height for roll top) cu/in 1782 = 29.2 Liters

Exterior pockets: cu/in 577 = 9.45 Liters

Total Volume: 38.65 Liters

Weight: 18.5 oz (by my scale).

I ordered  a 1" Removable hip belt: Standard Size (28" - 36") 

Front & Side Panel Color: Slate Gray VX21 & Dark Blue VX21.
Note: I added a Zpacks shoulder pouch, purchased separately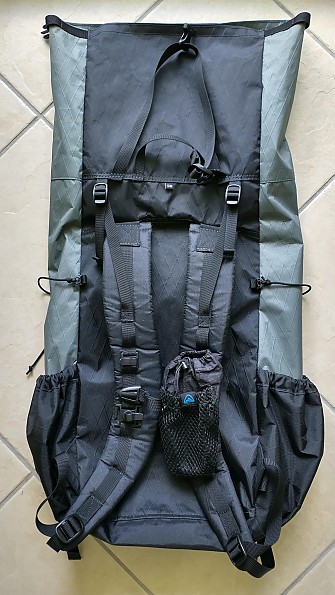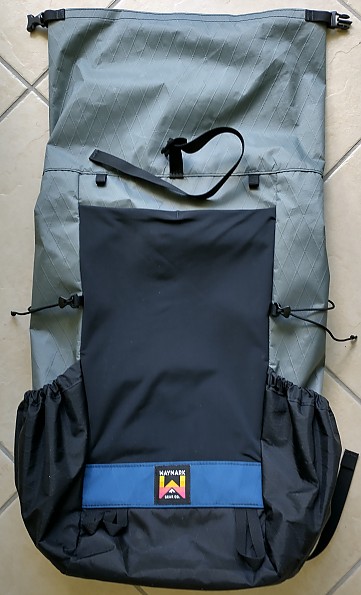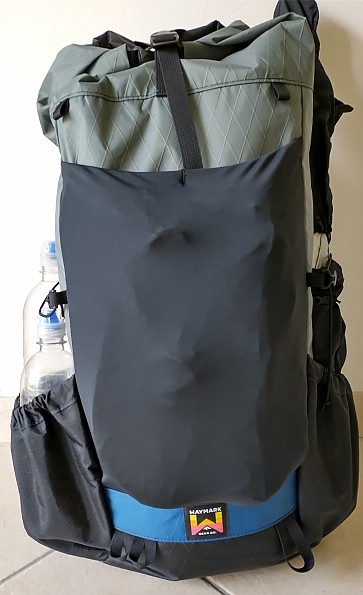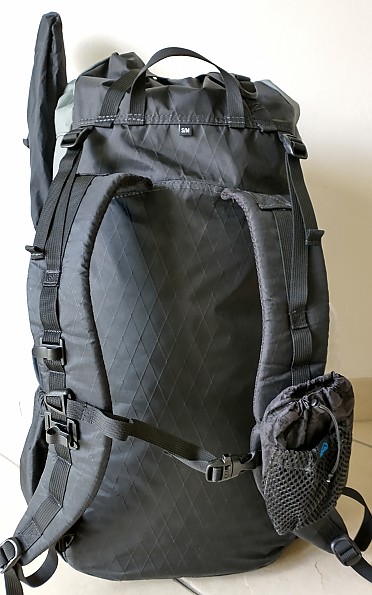 Conditions: I reference the trails I've used this pack for throughout the review, so I'll begin here. This pack accompanied me for 2,200 miles on a southbound thru-hike of the Appalachian Trail (AT) and for 1,250 miles on a thru-hike of the Pacific Northwest Trail (PNT: Montana, Idaho, Washington). I've also used it for section hikes on the Continental Divide, Appalachian and Florida Trails, totaling more than 220 miles.
As a day pack, it's climbed Mt Baker in Washington and also served as my primary travel bag on a three-week trip through the United Kingdom. In all these varied environments, it's been through many conditions: drenching rain, humidity, heat, wind, sun...and a dash of snow. Even though I only purchased it June 2021, it's seen A LOT of use in a year and half...nearly 4000 miles and counting!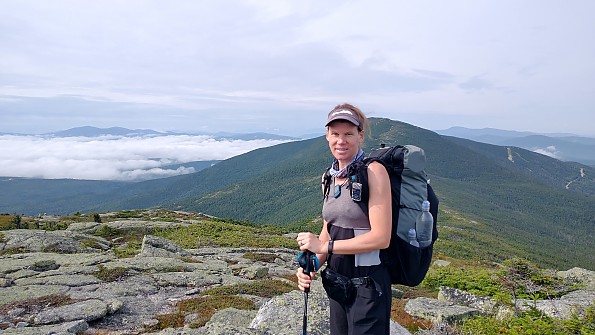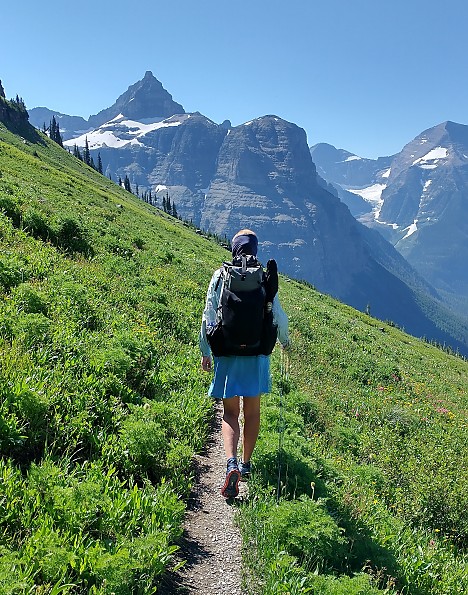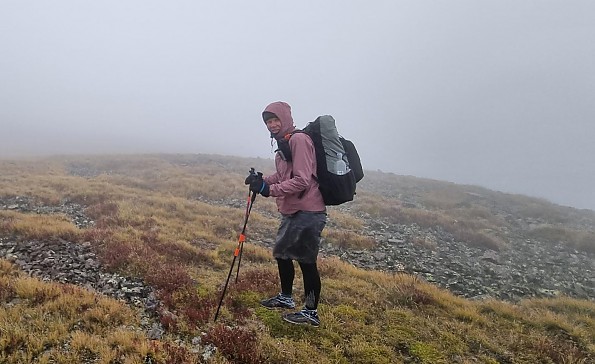 Fit & Comfort: This has been a great fitting pack from day one, never giving me any significant discomfort or causing any wear/rub spots on my skin. I've worn it with many layers underneath and with nothing more than my Purple Rain Adventure Dress...though if you read that review, you'll note that my dress did get rubbed completely through on the lower back during my AT thru-hike. It's common for thru-hikers to have such wear points on their clothes...the friction of thousands of miles takes a toll.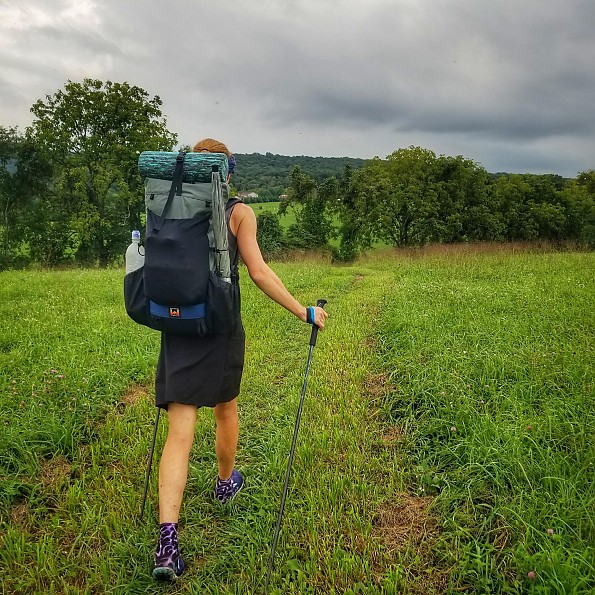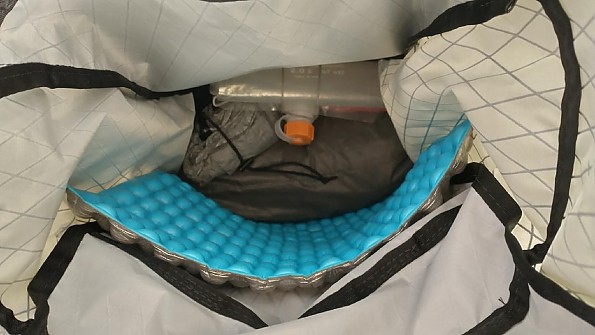 I suppose the foam pad makes the contact point on my back somewhat hotter, but I don't mind. Unlike many framed packs that are designed to have a gap in the back for ventilation, a frameless pack doesn't pretend to have such attributes. It's meant to be in full contact with ones back, which for me is what makes it stable and better at carrying a load. When I want to vent, I simply arch my back, which temporarily lifts the pack away from my lower back for a moment of reprieve. Not having a hip-belt aids greatly in the ventilation. I also vent by striking silly poses and singing loudly...the hills are alive!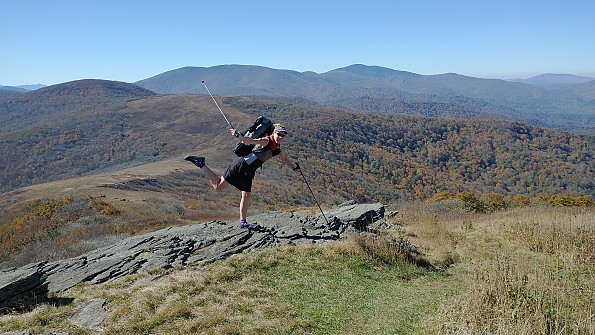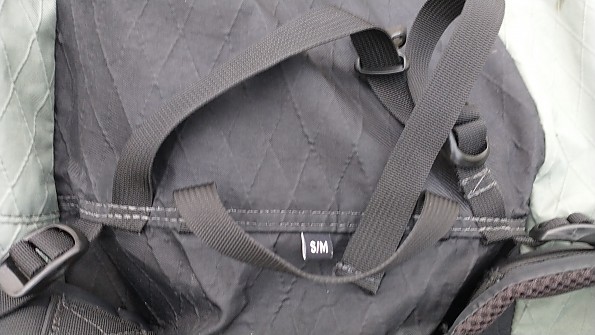 Ride: I've been very happy with the stability and ride of this pack. Of course, being such a basic and minimalist container with all the weight riding on my shoulders, this is very much determined by how well I pack it. I notice pretty quickly when I'm off balance, either from having more water on one side than the other or having heavy items too near the top of the pack. Many times, I've found relief from a heavy-feeling load by simply repacking my items. The heaviest stuff definitely needs to go to the bottom of the main compartment.
So in essence, this kind of pack requires a user to be pretty dialed-in with their gear and know where it best fits. This obviously starts with having an ultralight kit and some experience. My motto in backpacking: I wear the pack...it doesn't wear me.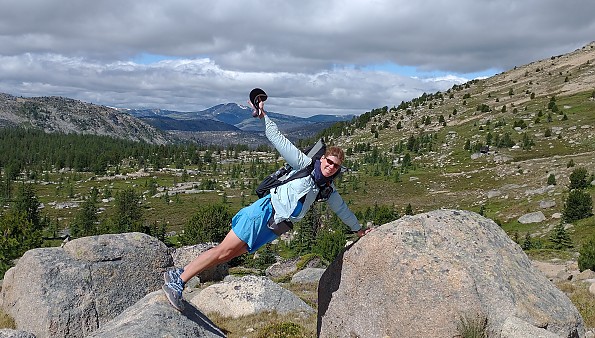 The ability to do some acrobatics came in handy on both the AT and PNT. Here I strike a silly pose at Cathedral Pass in the Pasayten Wilderness but I was often necessarily in such awkward positions while clambering over and under thousands of downed trees. The pack was also a nice fit through the infamous Mahoosuc Notch in Maine.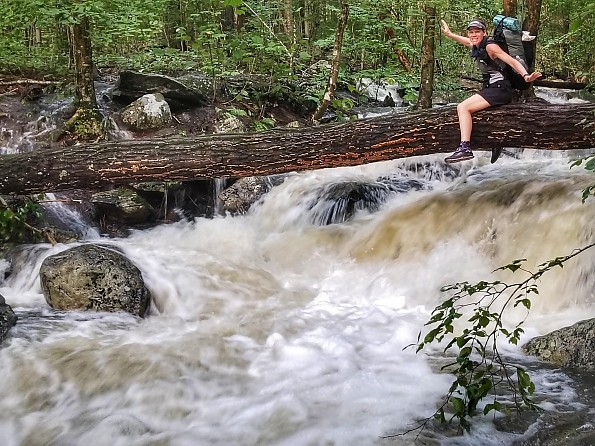 A 'simple' creek crossing on the AT in CT, after heavy rain from Hurricane Ida. Being one with your pack is a good idea in such situations.
By far my favorite feature on this pack are the load-lifters. They help to snug the pack against my back, noticeably reducing the instability (swaying) that a heavy load causes. They also greatly improve my comfort. I pretty much use them fully cinched down most of the time.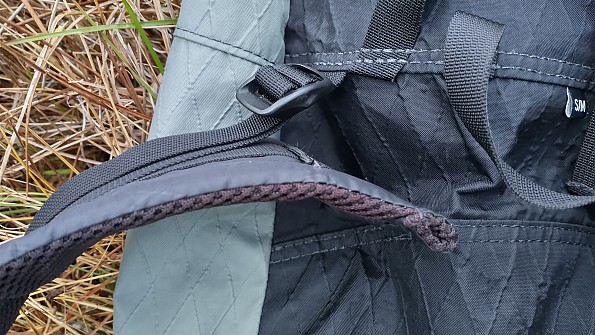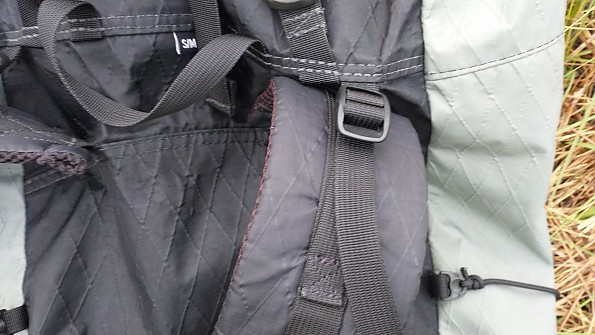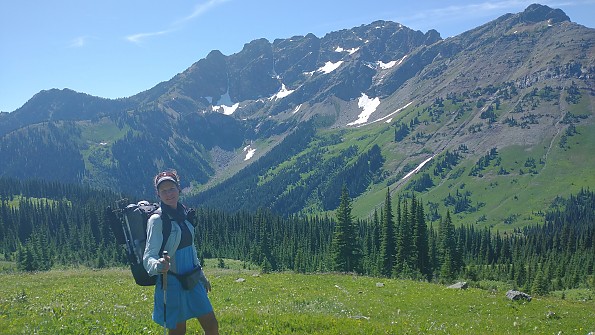 Capacity & Compression: This pack fits almost as much gear and food as my HMG 2400, so overall I've been very pleased with its capacity. This is especially surprising considering that it's designed to be a minimalist pack. I have no problem fitting all the creatures comforts such as a single-person tent, quilt, inflatable mattress, and even some luxury items.The main body is a bit narrow, but the side pockets are very generous in size. They can fit 2 water bottles each, plus some extras.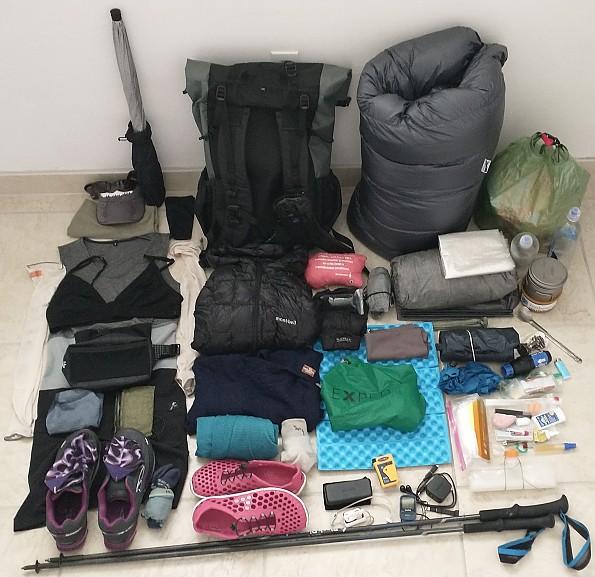 I was even surprised to find that I could fit a BearVault BV450 into the bottom of the pack (sideways), and still fit all my stuff AND was comfortable. I don't generally carry a bear canister, but one was required in Olympic National Park as I passed through on the PNT.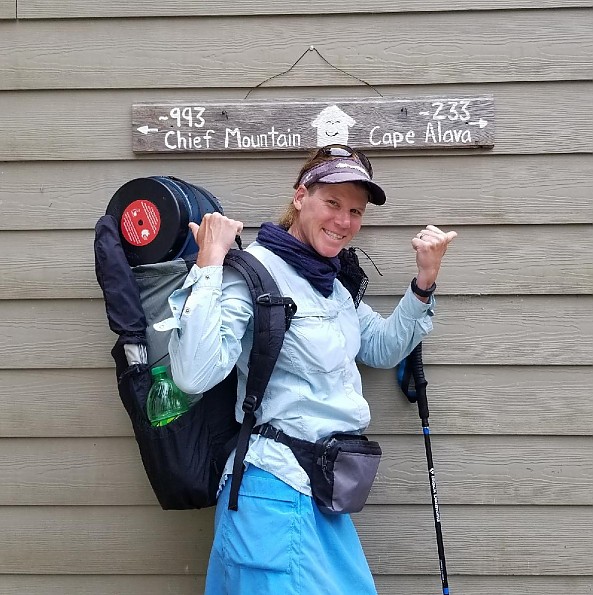 I have a rough list of the gear and conditions that are appropriate for this pack, but basically it meets my needs for my "summer kit." It would be a stretch to use it for the heavier gear I need in the shoulder seasons (a 22-degree quilt versus a 30-degree quilt, heavier layers, etc...though, I did make it into November with my summer kit on the AT). I've also carried 5 days of food on several occasions, but would not enjoy having to carry more than this. Not only would the weight exceed the pack's load capacity of 20 lbs, I would also have a hard time fitting that much food.
This is not to say that I've been entirely limited by such constraints, I've just had to get a little creative...or over-zealous. I covered a 150-mile remote stretch between resupply points on the PNT by counting on my ability to hike 30-mile days for 5 days straight. I also didn't need to carry much water, since it was plentiful. This left no wiggle room in a difficult stretch through the Pasayten Wilderness, but I made it. This strategy won't work for everyone nor for every route.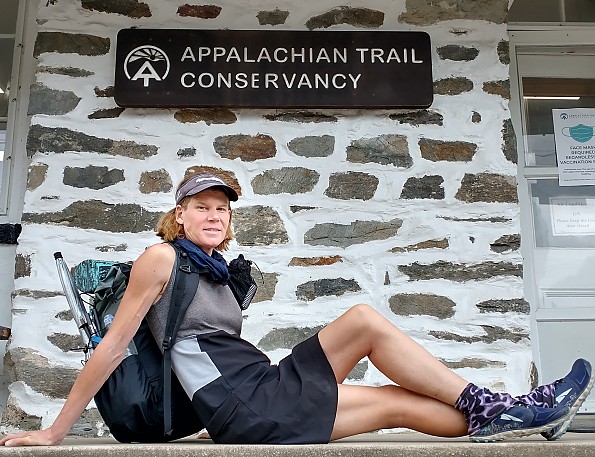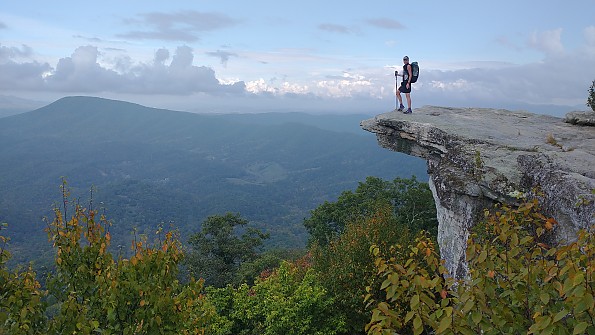 Organization, Accessibility & Ease of Use: This pack is as basic as it comes in these categories, but not totally lacking, either. I realized a long time ago that I had no use for a separate compartment for my sleeping bag or a brain to store small stuff on the top. A simple main compartment with a roll top, side pockets and a rear pocket are all I really need.
As with all my packs of late, I employ a 3-bag modular system inside the main compartment. I put my few extra clothes, quilt, and sleeping pad in a liner bag that goes on the bottom. Next comes my tent bag, then my food/miscellaneous bag. If the food is really heavy, I'll stack it in the middle and pack my tent on top. My water bottles, filter, umbrella, bear spray, and other small things I might need handy go in the side pockets. My camp/river shoes and sit pad go in the back pocket, along with a cold-weather layer or rain jacket.
I find the side pockets on this pack to be the most easily accessible and functional of any pack I've ever carried. I can easily reach behind with either arm to grab a water bottle and replace it, never having to take the pack off. I've even mastered the art of removing and replacing my umbrella on the go. I don't recall anything ever falling out of the pockets, even after miles of crazy antics through bushwhacks and blowdowns. The pockets held up to all that abuse too...some scuff marks but not one hole! They set the standard for what all packs should have!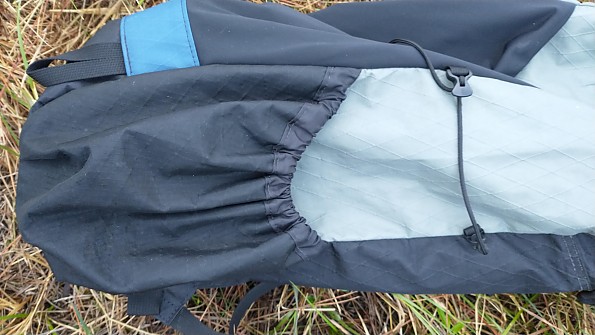 For this pack, I've incorporated the use of a fanny pack. I missed the storage options that hip-belt pockets offered, so a fanny pack fills the gap. I keep various small items, snacks, my phone, and my ID cards and cash in the fanny pack. Such a modular system has worked very well for me for the past couple thru-hikes. See my reviews on my fanny packs for more information.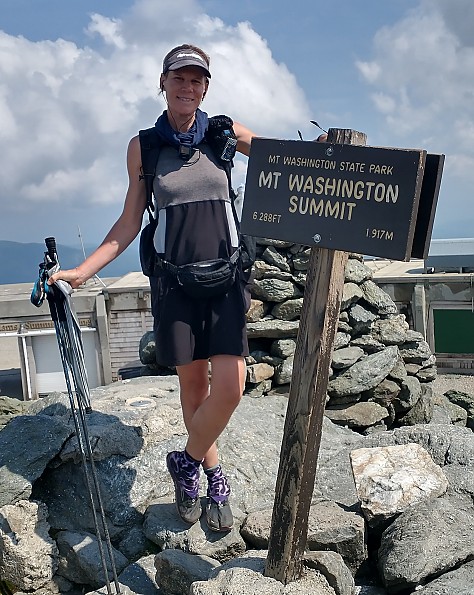 Partially, I think the torso length is a little too long to work with my body and also that such a thin 3/4 or 1" webbing belt just doesn't transfer a load suitably. I've always found it easier and more comfortable just to carry the load on my shoulders. As for stability, the webbing does keep the pack from flipping up if say, I jump off a log and over-rotate on the landing. But generally, I don't find this added stability necessary.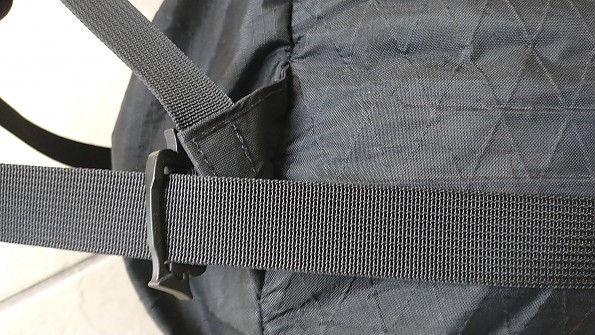 Construction & Durability: The construction of this pack is top-notch. I can't really knock a single thing, other than to advise that a better stretch material should be used for the back pocket...which the company has already incorporated. All the seams and stitches have held up perfectly. Bravo for handmade gear made in the USA!
I'll also add that this pack is extremely easy to hand-wash and could probably even be put through a machine washer. I've laundered mine in the shower probably dozens of times. This was especially helpful on the AT, where packs tend to take on the same nasty BO smells as your clothes. I take great pride in having a clean and non-smelly pack, which is even more important since I use mine as a pillow every night.
As would be expected after so much use, this pack has suffered some wear and tear. I struggle to accurately judge just how much is acceptable and warranted, given my extended uses. On the one extreme, some people can't expect much more than one thru-hike out of their packs. I see a lot of abuse ...people dropping their packs off their shoulders into the dirt, sitting on top of them, and letting them sit outside their tents, inviting the rodents to a free chew.
Not my pack. I'm on the other extreme, having coaxed my first HMG pack through the paces of multiple +2000 mile thru-hikes. I never throw or sit on my pack, placing it gently in the shade, up against a tree if possible when I take a break. I also always sleep with my pack securely inside my tent, under my head. My pack is a dear friend, and I treat it as such.
I somewhat expected the same heavy miles out of this pack, but it's also made from lighter and more delicate materials than my HMG. There's always a cost in terms of durability, so perhaps I needed to tailor my expectations. I'm listing all the issues I've had here, but really there are only two main concerns I have with the wear, which I'll discuss last.
When it comes to the main body material, the Xpac material has been far superior to Dyneema Composite Fabric (DCF). It hasn't shrunk, warped, or cracked at all. Some permanent wrinkles formed on the backside, which are slightly annoying but haven't led to further decline or performance issues. A clip from my fanny pack also rubbed a small abrasion in the back area. I eliminated the clip and the problem hasn't gotten worse. I tried reinforcing the area with a patch, but the patch rubbed off. There are also some wear spots on the inside, from where a tent stay was rubbing. I adjusted and patched the areas, problem solved.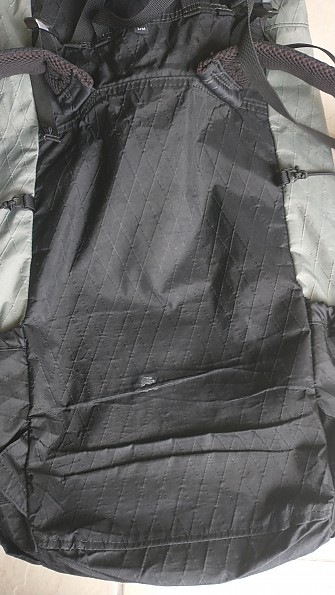 As for my biggest gripes, I'm most disappointed in how the back pocket mesh has held up. Clearly the sun has taken its toll, breaking down the elasticity of the mesh. This is unsurprising and obviously a common problem, since the company recently switched to a more durable stretch material.
I contacted Waymark about the problem but unfortunately they can't replace it. The mesh still functions, it just looks bad and is not as tight. I also stitched together a small hole (obviously my fault), which seems to be holding. How much more use will I get out of this pocket? Who knows. Maybe I'll learn to live without it or can fashion an add-on to replace it.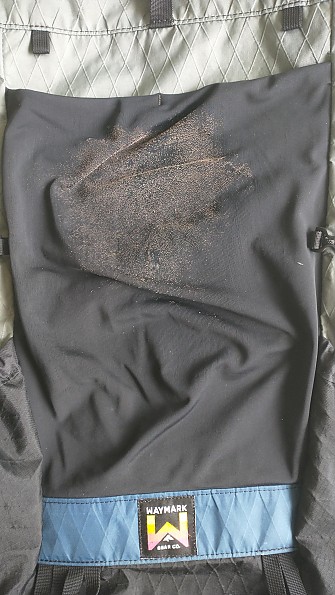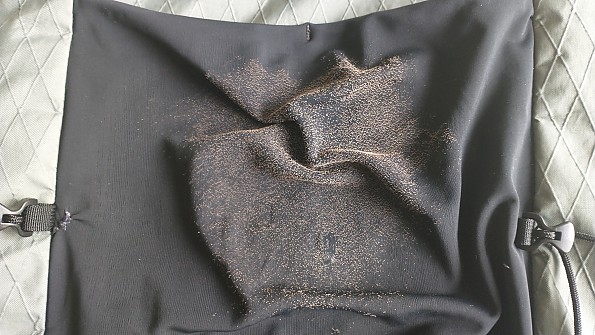 Experience
It's fitting that this pack is called the EVLV (and also originally the THRU). My first backpack, purchased in 2001 when I was in my early 20's, weighed 7 lbs empty and had a capacity of 70 liters. I've definitely EVLV'ed in my pack choices since then, thanks to all my THRU's. I only ever want to hike with a frameless, belt-less 18 oz pack for the rest of my days. It is the Way.
Source: bought it new
Price Paid: $240

Your Review
Where to Buy
Help support this site by making your next gear purchase through one of the links above. Click a link, buy what you need, and the seller will contribute a portion of the purchase price to support Trailspace's independent gear reviews.
You May Like
Specs
Price
MSRP: $250.00
Reviewers Paid: $240.00

Sizes
35L, 38L

Best For
1- to 3-day hikes / ultralight thru hiking, weekend overnight trips / base weight of 10 lbs or less

Max Carry Weight
18-20 lbs

35 Liter
14-16" torso inches, this is a gauge to help understand where the bottom of the pack will sit on your lower back. The EVLV 35 is also a great option for smaller hikers in this torso range.

38 Liter
16-18" torso inches, meant for taller hikers with a longer torso, but this size will fit a torso of 17" or longer.

Recently on Trailspace