A pole-less tent. A second-skin space suit. Inflatable shelters designed for mountains, Mars, or the moon.
In an outdoor industry continually claiming innovation, Cam Brensinger is a true visionary.
Brensinger, president of tent-making NEMO Equipment, founded his company in 2002 at the age of 26, but while he was young, he was no beginner. He had been hiking in the mountains of Vermont and New Hampshire since middle school. And he started designing his own climbing gear in college.
Brensinger got his first taste of the outdoors that would become his passion and livelihood as a child in southern New Hampshire.
"I had a good set of woods out back. Growing up I spent all my time outside," he said. "I watched very little TV. I'd much prefer to be out playing in the dirt with my Tonka trucks."
Later, in middle school, his science teacher got Brensinger and his friends access to the Dartmouth Outing Club's cabins in the White Mountains of northern New Hampshire. Here, Brensinger's interest in the outdoors began to take on a passion. By the time he arrived at Vermont's Middlebury College in 1994, hiking and backpacking in the Northeast had given him valuable outdoor experience. Then he found climbing.
At Middlebury, Brensinger and his friends "discovered" climbing techniques, somewhat haphazardly, but managed to survive. "When I started climbing in college, we tied together a bunch of short ropes and prusiks as a way of making it safe. We didn't even understand belaying," recalled Brensinger. "Most of what we ended up learning was from the back of the Petzl catalog and Mountaineering: The Freedom of the Hills. ... Honestly, ninety percent of what I knew about climbing in those first five years came from studying the Petzl catalog."
When the English major wasn't going to his creative writing, physics, and studio art classes, he was climbing. Then Brensinger began following in the footsteps of other gear pioneers, by making some of his own climbing equipment, mostly protection. For a particular climb in Vermont, "we needed some specialized protection to hook onto the shale," recounted Brensinger. "We scouted it beforehand and there were few tree roots that came out of the shale. So, I forged some metal hooks that we could use as protection."
By 1998, Brensinger had a Middlebury degree, had taught a month-long mountaineering and survival class to fellow students, but still had no idea of how he was going to make his way in the world.
The summer after graduation, Brensinger and three friends mounted an expedition to Denali, attempting the summit by the West Rib route. It was his first sojourn into serious climbing, but a combination of an El Niño year, an incredible volume of snowfall, terrible weather, and altitude sickness turned the trip into an epic adventure, says Brensinger. He turned back on summit day within a couple hours of the top.
Though he didn't summit, the Denali experience planted a seed in Brensinger, of combining his passion for the outdoors with a means of making a living.
"When I got back, a friend of mine who was then at Dartmouth's Engineering School and I started talking about starting our own business, and we wrote a really crude business plan. I showed it to my dad who runs his own business and he said 'You should check out industrial design.'" The fatherly advice could not have been more appropriate.
Brensinger entered the Rhode Island School of Design to earn a second undergraduate degree, with the express desire to learn as much as he could and start his own outdoor gear company.
Choosing the undergraduate degree over the graduate one was easy, says Brensinger. "The undergrad program wouldn't sound as fancy when you were done, but you'd be there for three and a half years and have a lot of classes in woodworking and modeling making," he said. "I really was there because I had this crude business plan and wanted to start an outdoor gear company. Every chance I could I worked on outdoor gear at RISD."
Brensinger's design work at RISD covered a range of outdoor gear. His initial thesis statement for New England Mountain Equipment, later shortened to NEMO, was to take a hard look at the backpacking system—backpack, tent, sleeping bag, pad, and cooking gear—and eliminate redundancy to design a more integrated package. "I'd done a lot of backpacking at that point and it seemed insane to me that you needed forty to fifty pounds of gear to have a comfortable extended backpacking trip," said Brensinger. "So initially, the intention of NEMO was to make a more streamlined integrated system."
To gain more practical experience designing outdoor gear, Brensinger interned at Black Diamond's Salt Lake City headquarters in the summer of 2000. During his internship he helped design the company's first line of headlamps and made loops of webbing, "runners" to climbers. The runners experience was a demystifying one for Brensinger. "As a climber you think that it must have some magic to it if it's going to save your life. It's not just some guy hot knifing a short length of webbing and hitting 'go' on a bar tack machine and it's suddenly a piece of climbing equipment. Because that's actually exactly what it is."
Back at RISD, Brensinger continued to work on a range of soft and hard good climbing equipment, including more protection. Soon his projects would lead him even farther afield than climbing and mountaineering.
In the fall of 2000 Brensinger began working on an inflatable element as a protection feature in apparel. At the Massachusetts Institute of Technology, architect and NASA consultant Guillermo Trotti and Dava Newman, an aerospace engineering professor, were working with graduate student engineers on the next generation of space suits. Trotti saw a presentation of the inflatable element by Brensinger and invited the young designer to join Newman's MIT team.
Funded by NASA's Institute for Advanced Concepts, the Bio-Suit project focused on lightweight, more mobile, second-skin space suits for human exploration of Mars. The project proved valuable for Brensinger, giving him additional design experience, in addition to his RISD work, as well as an income that would carry over into the early days of NEMO.
Designing earthly outdoor gear remained Brensinger's first interest though. A conceptual turning point came on a winter climb of New Hampshire's Mt. Washington.
Brensinger regularly ice climbed Mt. Washington's gullies. On this 2001-02 trip, the weather turned when Brensinger's group was about halfway up the mountain. The climbers ended up digging into the mountain to bivy.
"I was lying there in my Gore-Tex bivy with high winds, kind of half buried in the snow like a little kid in bed, terrified in the middle of the night," said Brensinger. "I remember lying there thinking that if I had four of the Therm-a-Rests that I was lying on welded together along all their long edges, you could make kind of a Therm-a-Rest tube and it would have structure, and it would be insulated, and it would be firm and quiet."
The pole-less, inflatable tent was conceived.
Brensinger pursued air-supported technology at RISD and his idea for an inflatable tent began to gel. Realizing that if the whole structure was inflatable it would be more prone to puncture, Brensinger eventually evolved the design to incorporate air support in the form of two cylindrical ribs, or air beams.
When it was time to graduate from RISD in 2002, Brensinger's senior project, the simply titled "NEMO Equipment, Inc.," included both hard and soft goods: an ice screw (Clinker), a rappel device (Wings), an ice climbing device (Vneedle), and two tents (Taco and Burrito).
When Brensinger moved NEMO into mill space in Nashua, N.H., after graduation, he knew he needed to focus. In his original RISD project proposal, he had written, "I will consider the oldest, most primitive techniques for shelter building and survival, and the newest, most sophisticated material to reinvent how we spend our overnights in the wilderness."
Aptly, Brensinger returned to his original project proposal and decided to concentrate on one of the most basic of human needs, shelter.
It took two years of perfecting NEMO's AirSupported Technology (the very first successful air beam took Brensinger more than 1,500 straight pins to hold together during sewing), and designing, prototyping, and testing shelters. When NEMO debuted its line of backpacking and mountaineering tents at Outdoor Retailer in summer 2004 there were five AirSupported Technology (AST) models and one pole-supported model. The latter was the Tenshi, which NEMO has continued to develop and still sells. Three of the original air-supported models are gone, while the company has retained and improved the Gogo and Morpho and added other versions.
For support, the AST shelters have either one or two air beams with internal bladders that are inflated using a four-ounce fabric foot pump, the Nemoid. NEMO also offers the ever-so-slightly-lighter Integrated Pump, which amplifies the pressure of your own breath to inflate the beams. The company says the AirSupported Technology gives the tents greater strength and wind resistance and faster and easier setup. The one-person Gogo claims a 15-second setup time; the two-person Morpho AR 45 seconds.
NEMO AirSupported Technology:named among the best inventions of 2005 by Time, Popular Science, Reader's Digest, and Men's Journal.
2005 ISPO BrandNew Award, Good Design Award from the Chicago Athenaeum, Design Distinction honor from I.D. Magazine, 2006 Bottom Line Design Award from Business 2.0 and Frog Design
Losi 3P: Gear of the Year, Outside Summer 2009 Buyer's Guide; Best All-Around 3-Person Tent, Backpacker 2009 Gear Guide; Gear of the Year, Men's Journal, December '09-January '10 issue
Tenshi: Best In Gear, Rock & Ice; Editors' Choice, Climbing; Editors' Choice, Backcountry
Of the all-weather Morpho, Brensinger says, "the Morpho is kind of our Porsche 911. I hope we just continue to refine the design and it always remains representative of our brand for its uniqueness and innovation."
That innovation was recognized quickly after NEMO's debut. The company was named the overall winner of the BrandNew Award, which recognizes the most innovative outdoor products, at the 2005 ISPO European trade show. That same year, Time named NEMO among its Most Amazing Inventions, and Popular Science named it among its Best of What's New. More outdoor industry and design awards followed (see sidebar).
To expand its creativity and expertise, NEMO performed specialized consulting work on the side. The company continued its involvement in the NASA/MIT Bio-Suit project into 2005. EXP-Arch, designing inflatable architecture for moon and Mars exploration, followed.
Military use was yet another area open to new design ideas. In 2006, NEMO began providing variants of the Gogo to Navy SEALs. The company's military work has ballooned since, says Brensinger. NEMO now designs and manufactures specialized shelters and other equipment for Special Operations Forces. "The most elite teams within the SEALs carry our tents, sleeping pads, pillows, and other items," said Brensinger. NEMO has an entire military product line, SOE (Special Operations Equipment). Last year, the company signed a research and development contract with Natick Army Labs to develop small shelters for the military.
In a short time, NEMO has become well known for its innovative designs. They are not, however, driven by the often gimmicky trends sometimes found in the outdoor products industry.
"We let our own ideal drive us and not trends in the market," says Brensinger. "If a piece of gear can be super light without compromising its durability and usability, that's great...We make some really lightweight tents, but we'll never use a fabric that has no tear resistance, that weighs almost nothing, just to get a tent to weigh a pound and a half on paper.
"I care about weight, but really only as one of a set of features that should improve a customer's experience in the outdoors. It's part of a matrix of decisions that include some antagonistic things like durability and usability...Design philosophy-wise I feel like the ultimate solution is always the simplest."
That philosophy of concentrating on both light and durable products is one that Brensinger sees as a bright spot for his company in today's economy. "Fortunately what's happened with the economy in the last year is really sobering up the lightweight debate a bit because I think that now, more than in the recent past, people are being thoughtful about how they spend their money and want their equipment to be an investment. They want it to last."
Today, NEMO manufactures a full line of backpacking and mountaineering tents and shelters and is set to increase its offerings from a dozen to twenty fabric shelters this year. In 2009, using their expertise gained with tents, NEMO added three sleeping pads and an inflatable pillow; two new pads are on the way. They also introduced the Nano OZ, a two-person backpacking tent made almost entirely (90 percent) from recycled or recyclable materials (the new Andi OZ will replace it in 2010).
The company is taking a greater role and and more responsibility in overseeing every possible element of their products, says Brensinger. "As we learn more about every little ingredient down to the chemistry of the polyurethane coating, we can control more and more of those pieces," he said.
In addition to the Nano OZ, NEMO has introduced bamboo tent poles, as a renewable alternative to aluminum poles. And users can buy repurposed NEMO tent samples and manufacturing seconds in the form of the Ditto tote bag, wallet, or backpack.
Unlike many of the behemoths in the outdoor industry, NEMO is still a small privately held shop of 12 employees, including Brensinger's mom, Caryl, who handles the bookkeeping (and is a race car driver). In the early days, Brensinger's sister helped with sewing, and his wife has assisted with internet marketing strategy. The company remains in its original Nashua building, though it has expanded its space from 2,500 to 8,500 square feet.
At its heart remains the philosophy of the company. "Our vision is to be a leading source of product innovation for outdoor recreation and survival," says Brensinger. "Our mission is to use our brains and creativity to inspire respect for our planet and our love for adventure...The NEMO message is to love your life and protect the people and places that make adventure possible."
With a NEMO shelter, that might be on a backpacking or climbing trip in the mountains, an elite military excursion, or even a mission to space.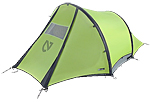 Read the author's reviews of the NEMO Morpho AR tent and Tuo Standard sleeping pad that he tested on a fall paddling trip of British Columbia's Bowron Lakes Canoe Circuit.