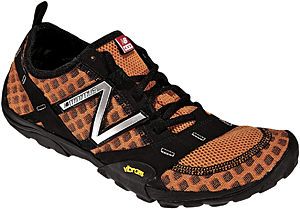 As barefoot and minimal footwear grows in popularity, more options are being offered for outdoor and trail use. Whether you're interested in going all in (barefoot) or want to ease into the idea (minimalist or lightweight), here are the latest trail offerings for 2011.
(Note: if you're thinking about joining the barefoot running or hiking crowd, start small and check out How to Run or Hike Barefoot on the Trail.)
Barefoot
What is it? Barefoot footwear is designed to allow the mechanics of the foot to function as they would when barefoot. These shoes are extremely lightweight, with little underfoot protection, and flex with every move of the foot. Barefoot footwear is designed for people who seek a barefoot sock-like feel, but want a thin layer between their foot and the ground.
Inov-8 has been designing minimal off-road shoes since 2003. Comprised of a singe piece of silicon, the Evoskin is reminiscent of Vibram FiveFingers and other toe shoes, but is even more minimal. The Evoskin foot glove weighs just 3.5 ounces.

"The main purpose of this product is to provide the wearer with a layer of protection, while they don't lose any sensation from their underfoot touch to the ground," explained Inov-8's Gina Lucrezi.

While this stripped-down lightweight toe shoe may appeal to many, it is only appropriate for grass and soft dirt trails.

Sizes: XXS-XL


Weight: 3.5 oz

MSRP: $65

Available: Spring 2011




While Vibram didn't create the barefoot running philosophy, they've certainly been at the forefront of the movement.

Using the same outsole and insole as the Bikila, released in 2010, the Bikila LS has been modified to accommodate wider feet and higher insteps. It also features an asymmetrical speed lacing system for adjustment capabilities.

For runners with larger feet, the stretchy uppers of many barefoot shoes are oftentimes too tight; this tongue and lace system is a preferable option for those individuals.

Sizes: men's 40-47, women's 36-42

Weight: 6 oz (men's 42)

MSRP: $100

Available: Now



The more athletic topline of the KomodoSport sets this model apart. In addition, heel and instep hook-and-loop closures and a nylon stretch upper fits the foot like a glove, which is exactly what's intended.

The KomodoSport's 4mm Vibram TC1 performance rubber outsole provides a more aggressive lug pattern than the Bikila. It's specifically built to provide greater traction on lateral cuts, ideal for more technical, winding trails.

Sizes: men's 40-47, women's 36-42

Weight: 7.1 oz (men's 42)

MSRP: $100

Available: Now

With a pliable but sturdy outsole, the 360s are ZEM's best models for runners. (There's also an H20 model for kayakers and sailors and an O2 model with more moderate protection.)

"It has a sole that is geared towards abrasive surfaces with greater durability on those surfaces while running," says Eric Cestero, ZEM Customer Service and Marketing Coordinator.

Keep in mind, however, that while the abrasion robust phylon outsole will protect your feet, this footwear is only appropriate on less-aggressive trails and roads.

What is different about the ZEM 360s compared to its competitors is that the sole reacts to the heat of your foot, allowing the shoe to mold to the contours of your foot. Along with the four-way nylon stretch upper, this shoe is designed to feel like a second skin.

Sizes: XXS-XXL

Weight: 2.5 oz

MSRP: $59.90

Available: Spring/Summer 2011

Like lobster gloves for your feet, the Split Toe versions of the Originals provides a sense of balance by leaving the big toe separated from the rest of the foot. ZEM's four-way stretch upper in the Split Toe and Round Toe series fit snuggly against the foot to cut down on chaffing.

The Round Toe model houses a five-toe compartment for a more mitten-like fit. Interestingly, the Molded High Frequency Tech Bands that cross over the midfoot are meant to provide a small amount of lateral support, something most barefoot-inspired footwear lacks. The outsoles, which are comprised of a soft molded rubber bottom, are said to be sturdy enough for the trails.

Eric Cestero, Customer Service and Marketing Coordinator says, "these are recommended for barefoot running because the sole will protect you from hazards." Available in Hi and Lo cut versions.

Sizes: XXS-XXL

Weight: 1.856 - 2.816 oz

MSRP: $29.90

Available: Now



Minimalist
What is it? Footwear categorized as minimalist represents the lightest weight traditional footwear on the market. The stripped down midsole is more flexible and lightweight than a regular shoe, but it still provides some underfoot protection. This footwear is designed for people who want a lightweight shoe that will flex with their natural gait pattern.
Founded by former running specialty storeowners, the Altra crew knows running shoes. After 30 years in the business, they decided to focus on zero drop, foot-shaped, gender-specific running footwear.

Altra's most minimal offerings, the Adam (for men) and the Eve (for women), have a 3.4mm siped performance rubber BareSole outsole and two optional insoles for versatility. The foot shape design, highlighted by a wide toe box, allows runners to feel like they are wearing the shoe, rather than the shoe wearing them.

Additionally, the breathable stretch upper with two straps over the top of the foot makes for a snug and adjustable fit.

These are best for minimalist hiking, trekking, and running. For a more robust offering, check out Altra's lightweight Lone Pine trail runner (below).

Sizes: men's 8-14, women's 6-11

Weight: 4.7 oz (men's), 4.5 oz (women's)

MSRP: $89.99

Available: Spring 2011

The Green Silence, a super lightweight trainer for roads and some trails, deserves a mention. Brooks was able to shed weight for both the runner and the earth. Using half as many parts as other shoes in its category, most of the shoe is comprised of recycled materials.

If you're self-conscious about the unique look of many barefoot options, the Green Silence sports an impressively trendy aesthetic. Never one to sacrifice performance, Brooks built this shoe for competition.

"We place the Green Silence in our lightweight/competition category," says PR and Marketing Manager, Rebecca Dorfman. "The design is inherently minimal so it works well for runner's looking for that type of shoe as well."

Sizing: unisex 4-14 (includes half sizes)

Weight: 6.9 oz

MSRP: $100

Available: now




While GoLite's Tara Lites are more robust than a true barefoot or minimalist shoe, they offer an interesting alternative worth considering.

"It is our belief that most of the minimal shoes in market are going to be too little shoe for most people," explains Vivian Lefebvre, Director of PR and Marketing at New England Footwear. "We do believe, however, that there is a lot of logic to the natural running approach, for example a zero drop, and we agree that trail runners could be much lighter."

Utilizing the company's new BareTech platform, the Tara Lite's Sticky Gecko outsole sports a zero drop and has over 350 tiny lugs for traction.

Most unique is its inner thong construction, inspired by the sandals worn by the Tarahumara tribes of Mexico. For better stability, the big toe is separated from the other four toes, which also gives a more optimal fit by keeping your foot in place.

Sizes: men's 7-13, 14, women's 5.5-10.5, 11

Weight: 11.2 oz (men's 9); 8.3 oz (women's 7)

MSRP: $120 (men's), $115 (women's)

Available: Now




Although not ideal for jagged terrain, like Inov-8's earlier released Bare Grip 200s, the Bare-X Lite is a good option for rail trails.

A true minimalist racer, this shoe has a 7mm midsole with a zero degree heel to forefoot differential. One of its best features is the tongue-less upper, which is made of one piece of stretchy air mesh, giving it a slipper-like feel and making it great for competition.

Inov-8's Gina Lucrezi says, "the anatomical last is shaped to follow the curvature of an actual foot, while most lasts are made a bit straighter." If you like the barefoot concept, but still want a shoe, Inov-8's Bare-X Lite 150s are a minimalist option.

Sizes: men's 5-13, women's 6.5-11

Weight: 5.3 oz

MSRP: $65

Available: Fall 2011

A unisex slip-on, the Kigo Edge has a mere 1.5mm midsole. Although it may be thin, the sole is made of a high-density rubber, the same as a hiking boot, so it protects feet from sticks and stones. The shoes also have a protective toecap to protect you from stubbing toes on the trail.

The designers worked with biomechanics experts, physicians, runners, and hikers in designing the Edges. It's clear the Kigo folks understand runners, as these shoes have a deeper foot hole than most to prevent chafing on the heel and Achilles, as well as a non-slip rubber outsole.

Kigo also has committed to using biodegradable packaging and post consumer and non-toxic materials.

As co-founder Rachelle Kuramoto explains, "we want to be proud of what we're doing, not just because we've created a stylish, minimalist shoe that is good for the body, but because we've done it in a way that's good for the Earth too."

Sizes: unisex sizing women's 6-14 (whole sizes only) and men's 4.5-12.5 (half sizes only)

Weight: 5 oz

MSRP: $69.99

Available: now

The trail-specific shoes in Merrell's new minimalist Barefoot line, the Trail Glove (for men) and Pace Glove (for women) don't fail to impress. In competition with the New Balance Minimus Trail (below), these can be worn on all types of trails.

Like any good minimalist trail shoe should include, the Trail Glove and Pace Glove have a zero drop heel to toe differential, an exceptionally wide toebox, and even a toe bumper. Stitched into the upper is a leather foot sling, providing a scant amount of stability in a very minimal shoe.

Not to be forgotten is a flexible forefoot plate system, which provides comprehensive protection against the cracks and crags of the trail.

Sizes: men's 7-12, 13, 14, 15, women's 5-11

Weight: 6.2 oz (men's), 4.7 oz (women's)

MSRP: $110 (men's), $100 (women's)

Available: Now

New Balance has thrown its hat into the minimalist ring with the Minimus series. The line includes trail running, road running, and wellness styles for various types of barefoot running.

"The NB Minimus trail shoe features a Vibram outsole for lightweight traction and durability, as well as a deconstructed Acteva midsole that provides high flexibility and light cushioning," says New Balance PR Manager, Kristen Sullivan.

The anatomically correct last has just a 4mm drop from heel to forefoot, whereas in traditional running shoes it's more like 12.5mm. The Minimus is more of a minimalist shoe that maintains some structure.

"We believe that building great minimal footwear is more than just stripping as much as you can out off a shoe or making a lightweight shoe and calling it 'minimal,'" says Sullivan. With the help of ultra champ Anton Krupicka, New Balance infused the Minimus with the latest in barefoot technology, for a minimalist performance shoe.

Sizes: men 7-13, 14; women 5-11, 12

Weight: less than 8.5 oz (men's 9.5)

MSRP: $100

Available: Spring 2011




STEM Origins Series

Replicating the elasticity of human skin, STEM's Origins Series of minimalist footwear uses a 6mm air-injected rubber sole. Sporting a wider toebox than most regular running shoes, this model allows the toes to splay apart, providing better balance.

Co-founder Andrew Rademacher describes the shoes by saying, "STEM is not just a minimalist shoe, it's an ultra-minimalist shoe with a Barefoot IDEALIST design."

The STEM Origins series is for the trail runner who wants a barefoot ride, but still enjoys the feel of a minimal shoe.

Sizes: men's 8-13, women's 6-1

Weight: 6.5 oz (men's 9.5)

MSRP: $84.99

Available: Fall 2011

Terra Plana is no stranger to the barefoot market, having developed its first VIVOBAREFOOT line in 2004. This year they introduced four new barefoot athletic shoes. The Evo and Evo II are considered the high performance barefoot trainers. Most notable to trail runners is the protection the sole provides.

"While the Evo sole is only four mm, it is a patented puncture resistant VIVOBAREFOOT performance sole," says U.S. Marketing Executive, Michelle Hinsvark. "It is made with a layer of DuraTex to keep the runners' feet protected, along with latex rubber and TPU abrasion materials."

A sweat-absorbing, antibacterial lining make this shoe especially easy to wear without socks for a truly barefoot feel.

Sizes: men's 40-49, women's 35-42

Weight: 8.2 oz (men's), 5.7 oz (women's)

MSRP: $160

Available: Now



Other Lightweight Options
Although it may seem like everyone is talking about barefoot running, it doesn't mean everyone is actually doing it or should be doing it. While minimal and barefoot footwear may work for some, it won't for others.
For those who are looking to lighten up somewhat, but aren't into wearing gloves on their feet, many traditional trail running companies now have lightweight options. These mean a lighter shoe with a less pronounced angle from heel to toe.
Ahnu's Sausalito and Haywards offer a lighter weight line that is recognizable by its old school street style.
Altra has a new trail runner, the Lone Peak, that feature a zero drop.
GoLite's Nimble Lite is not barefoot or minimal, but a lighter shoe than heavy trail runners of the past.
Keen is debuting the 9-ounce A86, which has a super light PU midsole.
Montrail's 7.4 ounce Rogue Racer is another option, designed with the help of trail running champ Max King.
Salomon is introducing the XR Crossmax, which is lighter weight, but still just as hard-gripping.
Saucony gets into the mix with its first truly lightweight trail shoe, the Peregrine. As does Brooks, with the new Cascadia.
Even companies like Vasque, who are known for heavy and highly protective hiking boots, are dropping weight. The Vasque Swoop and Medley offer minimal weight and reduced heel to toe differentiations.
Note: Even if the new lightweight and minimal trail options have you excited to hit the trail, don't jump in without examining your own injury history and easing into the use of minimal shoes. Barefoot footwear may not be everyone.
If you're thinking about joining the barefoot crowd, check out How to Run or Hike Barefoot on the Trail.