Outdoor Retailer: Exploring OR (Part 1)
Day Zero: Open Air Demo
Outdoor Retailer Summer Summer Market's Open Air Demo emphasized paddle sports, primarily. Not having done much paddling in years, I visited the other vendors, looking for new items likely to be of interest to Trailspace readers.
Sunblock: This was the first OR for my wife, Barb, who had numerous questions for thesunblock vendors, who were out in force at the Demo. Several of the brands rated highly in an article posted on Trailspace a few months ago had booths. Barb asked why these brands are so hard to find in our part of California; the basic answer seems to be that the national and regional drug store and grocery chains generally do not carry them, but stores with a more "green orientation" (at least in their ads, like Whole Foods) do.
DeLorme was showing its new PN-60 series, with the SPOT Communicator auxiliary unit. Alicia did a bit of a tryout of this. The PN-60 will come in several versions, including the wireless model that communicates through the SPOT system much as the original SPOT 1 and current SPOT 2.
The big change, based on the ads, is that this setup permits a dozen or so pre-programmed "OK" messages (such as "starting hike" and "back at car, heading home"), plus a free-form text message generated on the PN-60. The Help message to summon assistance from your "team" is still there from SPOT 1 and SPOT 2, as well as the "SOS/911" message and tracking (which your family and friends can follow in near real time). I have been testing a SPOT 2 and will report on it in a gear review here on Trailspace in a few weeks. SPOT 2 is far more sensitive and reliable at getting messages through (including several I sent from Easter Island, nominally outside the coverage area).
Magellan: We also went out on the Magellan geocaching course. Magellan, which has had a rough spot for a few years, is introducing the new eXplorist line, including the eXplorist GC, which is 100 percent dedicated to geocaching, as the "GC" in the name implies. The eXplorist GC can transfer geocaches straight to geocaching.com and stores up to 10,000 geocaches. The unit we used still has a few bugs to be worked out, including a color screen that is hard to see in sunlight (generally a problem with LCD screens, including the netbook I am typing this on).
Magellan also introduced the touch-screen eXplorist 510, 610, and 710 series. All come with a 3.2 mega-pixels camera, microphone, and speaker to attach photos, voice notes, and videos to waypoints, geocaches, tracks, and routes. The 610 and 710 include a compass, and the 710 includes City Series USA with turn-by-turn driving directions, among other features.
QuickPitch: I also got a look at the QuickPitch USA Pop-Up Tent from SpotBrands. This is not a backpacking tent, as it can't fold up small enough for a pack. However, it might have some interest as a fairly compact 2-person tent to carry in the car for a quick campground set-up at 11 p.m. after a long drive straight from work.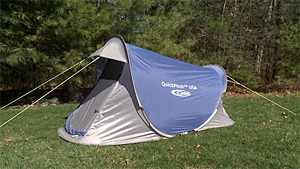 Setting the tent up consists of releasing the keeper band (like those spring-loaded sunshades for the car) and dropping it where you want it. In a couple seconds it is set up, and you have a single-wall, waterproof tent plenty big for two people (you do have to peg it down against winds). Folding it back up is similar to the sunshade, too. With a couple practice runs, I could do it in about 20 seconds (they had a contest; the winning time was 11 seconds). It weighs just over 5 pounds.
Weight: less than 6 pounds (about 2.55 kilos)
Groundsheet dimensions: 91 inches x 51 inches (7.6 feet x 4.25 feet), 41 inches high
MSRP: $89.95
Grip Socks: Given some recent posts about stream and river crossings, Barb and I were intrigued by trying on Vincere Grip Socks, which combine Lycra fabric with grippy, rubber-like soles. The vendor suggested they would be good for river and stream crossings and lounging around camp. We found them quite comfortable walking across most surfaces, including the sandy beaches at the lake where the Open Air session was held. They were a bit uncomfortable when walking on sharp rocks. The good grip did show promise for keeping the boots dry on stream crossings during spring run-off.


OR Day One
The day opened with the Industry Breakfast, where Interior Secretary Ken Salazar gave a talk that rose above the usual government bureaucrat stuff. It appears (at least from the talk) that Salazar is really serious about the environment and the place of outdoor recreation. A key part is getting more folks into the outdoors, especially youth, including those in the inner cities.
Personally, over my many decades of life, I have come to feel "I will believe it when I see it," when it comes to promises from politicians and bureaucrats. Still, I am fairly optimistic and somewhat less skeptical than usual.
Celestron: Then it was off to visit several vendors. My first was Celestron, the telescope maker (I am an astronomer by training and profession, after all). The interesting new item in their lineup is a small beginner tabletop telescope, priced under $50. It is quite portable, and directly aimed at beginners, but looks portable enough to take on the occasional backpack outing, weighing in at 4.3 pounds. It would also serve as a spotting scope.
Dark Skies: I stopped for a few minutes with the International Dark-Sky Association, which is dedicated to restoring the dark skies that many of us grew up with, but are fast disappearing as cities and suburbs expand. It bothers me that so many of the youth of the world are growing up with no concept of the beauty and grandeur of the skies and the size of our universe. Some simple changes to street lights and advertising signs can can bring the dark skies back, cutting energy usage while still providing plenty of lighting for safety in cities (and for the billboards).
Victorinox: The highlight of our visit with Victorinox (pronounced correctly as vik-TOR-inox) gave Alicia and me a chance to make our very own custom Victorinox knives, including our signatures (hidden under the plastic handle covers). This gave me more insight into how they keep the quality high. See Alicia's post for an in-depth report.
At Suunto, I got caught up on the main current series of wrist-top computers. The "t" series is intended primarily for training; the higher-end t6 targets elite athletes. Suunto also sells several auxiliary "pods" for measuring performance against customized training programs for runners and bicyclists. The "M" series is more for people needing guidance in getting in shape or for recovery. The Core series is more like the older Suuntos that many of us have had over the years, with altimeter, barometer, compass, and other navigation functions. The X10 adds a built-in GPSR as well.
Goal-0: I also happened across a new company in the solar power field, Goal-0, which Tom will report on next week. Goal-0 claims its solar panels are considerably more efficient than their competitors, and that their storage options allow power received during daylight hours to be used overnight and for other uses.