Congratulations to community member Erich, author of March's most helpful gear review. The Trailspace community voted Erich's review of his Optimus Svea 123 March's most useful review. He wins a Trailspace goodie pack for his efforts.*
Write your own helpful gear reviews with Trailspace's redesigned and enhanced "write a review" form, and you might be next month's most helpful reviewer.

Meet Erich
When and how did you get interested in going outside?
I got started hiking with my parents about the age of 5 or 6. These were day hikes: at the beach in Washington, on the Oregon Coast, in the Cascades. By the time I was 8, I had my first backpack (a Kelty B4, which I still have) and went on my first overnight. My father's idea of a vacation wasn't fancy, just going out with the family on a weekend hike or driving north into Canada.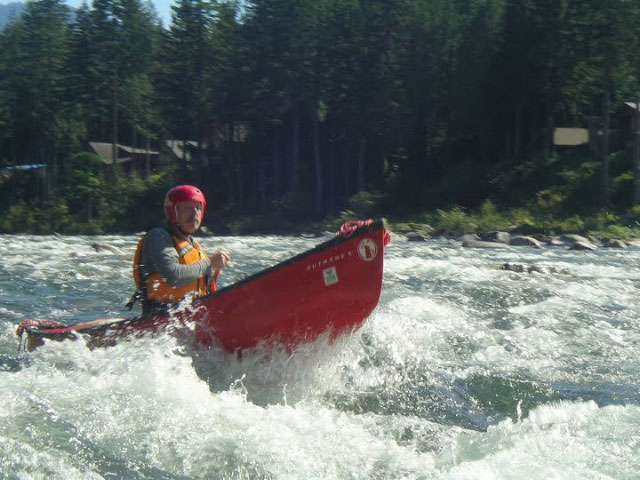 You identify yourself as a "canoeist." When and why did this become your outdoor identity?
Actually canoeing is just one of the things I like to do. Although I do a lot of canoeing, I would say that I am more like some of the old explorers like Lewis and Clark, who were canoeists, snowshoers, and horse packers. Each was used as a means of efficiently traveling through natural lands.
I use a lot of means of transportation, I've even horse packed when it was appropriate. I often choose a canoe because they hold a lot of supplies on extended journeys. Unless it's frozen, a canoe is the best to explore the vastness of the Barren Lands.
I first started canoeing when I was 16. I was doing some whitewater kayaking then, and I had heard about the Bowron Lakes canoe route in B.C. A school chum and I went and had a decent experience overall, but had to deal with some pretty poor gear choices. This was 1971, and dome tents were just coming out. Eddie Bauer had one, made both in coated nylon and Egyptian cotton versions. I had chosen the cotton because we didn't need light weight, and for canoeing, cotton tents were still pretty common.
However it was a horrible tent. First off, the poles were not shock corded, so sections would fall apart as you were erecting the tent. Then once the fly was wet, it had shrunk so you couldn't stretch it across the poles. We ended up just laying it over the top of the tent most of the trip. We knew nothing about Duluth packs or tump lines then, being West Coast boys, and so we took external frame packs. What a mistake that was.
After that trip, I couldn't find any others out here who were interested in canoeing into the remote places of Canada. Remember, recreational canoeing expeditions in Northern Canada were new then. I continued to climb, ski, and hike for many years, until I got back into canoeing about ten years ago.
Why were you motivated to review your Optimus Svea 123?
When I first started backpacking with my parents, we had those little Bluet canister stoves, which worked OK. But when I started climbing in the late sixties, a friend of mine had a little Optimus, a 00, which burned kerosene and was a really cool with all the polished brass. I ended up with the SVEA 123R and have never regretted it.
There are a lot of other stoves out there, most with separate fuel bottles. They have their advantages, and I've used a friend's XGK since the early '80s, but they are what I like to call "erector set" stoves, with some assembly required and some parts to lose and break. The 123R only has two moving parts and, as a testament to its reliability, there are a lot that are still going strong after 50 years and with no new parts.
What are some of your other favorite pieces of equipment?
I have a lot of gear that many would consider old, but still continues to function. I've got an Optimus 111C that I like, but I'd love to find a 111T or B. Because I'm out for more than a month at a time on my canoe trips, I like gear that doesn't require much (if any) maintenance, and is bomb proof.
In today's outdoor market, a lot of gear is made quite light and functions well within fairly narrow parameters. I've got some gear like that, but the tradeoff is that it often won't last as long or needs more care.
Another favorite, which I sold about ten years ago, was my Bibler Impotent. I knew Todd and his then wife Becky through a good friend that I climbed with. At the time, Todd was sewing his tents in the living room of his apartment. It was a great little tent and I used it a lot. Finally, the coating on the floor died.
What is one of your favorite outdoors destinations?
There are so many great places, but one really unique place is the Spatsizi Widerness of Northwestern B.C. It is a truly special place with an intact ecosystem. Biologist David Suzuki has called it "North America's Serengheti." Unfortunately, Shell Oil wants to drill coal bed methane wells in the area.
I have photographed and written about the Spatsizi for various publications. I was fortunate to paddle with Ali Howard, who swam the Skeena River from its headwaters in the Spatsizi to the Pacific Ocean. She did it to protest the resource development planned by Shell and others.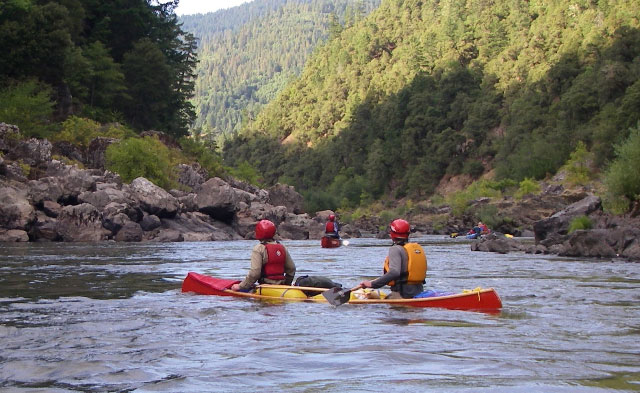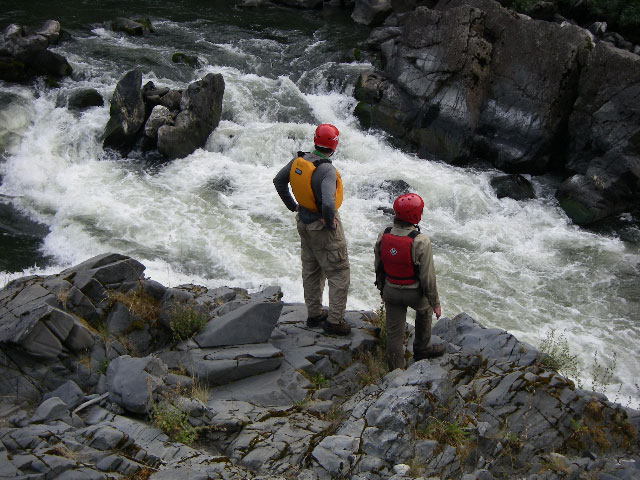 Photo: Erich and son Ned scout Oregon's Rogue River in 2010. Erich's grandfather was the first to paddle the Rogue in a canoe in the 1920s. Erich and Ned recreated that journey in a small tandem wood/canvas canoe, seen in photo above. (All photos Erich Volkstorf)


Anything else you'd like to share with the Trailspace community?
There are a couple of things that I would like to share. Although a lot of us are gear heads, and I know I fall into that category, I think it is important to remember that the gear is just a tool for us to use to enjoy the natural places. We shouldn't focus too much on the gear and forget that we are there to experience those wonderful surroundings. Often, I think gadgets can separate us from common sense.
On an expedition I was guiding in the Yukon, I took a hike with a couple from Ontario who were on the trip. He had a brand new GPS, and had noted campsites on our trip, all very useful. However, on this one short hike of less than a mile, we had the river to our left about 300 meters, and a cut bank on our right about 200 meters, both clearly visible through the sparse forest of aspen and spruce. And yet, he had to stop every 100 meters or so to get coordinates to find our way back to camp. He lacked the common sense to take his gaze from the gadget and look at his surroundings and know where he was.
The other thing I might share, is that I think it is so important to get people of all ages to experience the outdoors, especially young children. I was fortunate that my parents took me out when I was young. I spelunked and hiked with my son when he was 5 and when he was 7 we took our first canoe trip together for ten days. He is now seventeen and a counselor at a camp in Northern Ontario this summer.
If we don't expose our kids to these places, they won't know anything about them and won't miss them when they're gone, or feel the need to protect them.
---
Great job, Erich!
*Besides Trailspace glory, Erich gets a goodie pack with an Ibex Zepher Skull Cap with Trailspace logo, a Trailspace Trail Runner Cap, a Trailspace pint glass (for après-backcountry use), stickers, an array of energy bars from Clif, ProBar, and Olympia Granola, and a Nalgene water bottle, tastefully adorned with a Trailspace sticker.
Help recognize the best reviews on Trailspace by clicking that "Yes" button after "Was this review helpful?" whenever you read a truly helpful review. You'll not only recognize good reviewers, you'll help highlight the best reviews.

Wondering how you can be as lucky as Erich? Write a great gear review of your own with Trailspace's redesigned and enhanced "write a review" form. Next month someone else will be recognized by the community, and it could be you and your review.