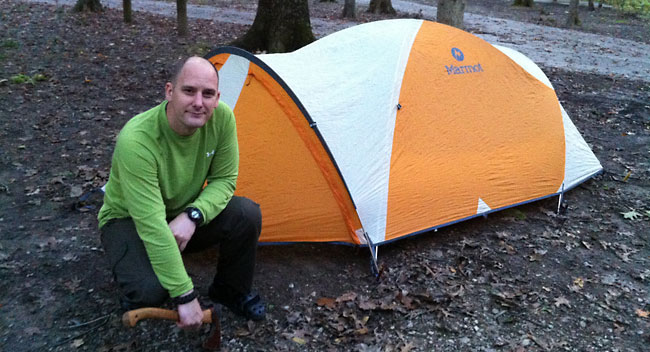 Congratulations to community member Arson (aka Anson Herrington). Arson's Killer Review of the Therm-a-Rest NeoAir XTherm sleeping pad was voted October's most helpful review by the Trailspace community.
Congratulations, Arson! You win a goodie pack of gear from Trailspace, GU, ProBar, and Travelon for your most recent effort.*
Write your own helpful gear review and you could be next month's most helpful reviewer.
Meet Arson/Anson

How did you get started exploring outdoors?
My father started me out with the outdoors at a very young age. Even before I was 6, I was in the woods hiking and camping. The outdoors has been there my whole life.
An early memory that I'll never forget is going out with my dad, off-trail, with a map and compass to tag pheasants for the Department of Natural Resources. I was about 9 years old. He let me navigate that day, and it made me feel like I was a valuable part of the team. In hindsight, I'm sure he knew where we were the entire day.
What do you enjoy doing outdoors?
Right now my favorite outdoor activity is fly-fishing. I turned 40 this year, along with my stepbrother, and together we took a fly-fishing trip into northern Michigan near where we grew up to celebrate being "over the hill."
We hired a guide for the first time ever to pamper us on the Pere Marquette River, and it was great. I think we are going to try to make it an annual trip. Sometimes it's nice to have someone else cook your dinner right from the drift boat.
When the NeoAir line came out from Therm-a-Rest I knew I would have to have one. The weight and performance compared to other inflatable mats were incredible. When Trailspace.com offered one up for testing I practically fell over my computer to reply and get one.
It's not a piece of equipment I would normally get until my old pad was trashed, because of the cost. And my other Therm-a-Rest pad is still in great shape after 15 years of service. Now that I have a new NeoAir, I have to say, I should have got one sooner. It's a great piece of equipment.
What are your favorite pieces of outdoor equipment? Why?
My favorite piece of outdoor gear is an easy one to name. It's the Princeton Tec EOS headlamp. Why? Because it got me out of the woods one night when it was below freezing, and I had taken an unexpected swim. I was soaked, cold, angry, and six miles on the wrong end of a very technical trail. I don't like hiking at night, but the thought of digging-in and trying to dry out wasn't something I wanted to do, and thanks to my super bright headlamp, I didn't have to.
My partner only had a wide spread beam headlamp and he could barely see the trail. He followed right behind me, and we both used the beam of the EOS to hike out of our bad situation. We made it out just shy of midnight, but it beat shivering next to a fire watching our clothes drying on some paracord. Thanks, Princeton Tec!
A close second is also a light. It's the Black Diamond Orbit stand light. I take it with me every time I go out into the woods, and use it for food prep at night and hang it from the inside of my hammock or tent. It's durable and adjustable and I love it.
Yes, both of my favorite items are lights and that's no mistake. When the sun goes down, you had better be prepared for anything. If you can't see what you're doing, then you're in big trouble. Both of these lights have gained my trust.
Tell us about your favorite outdoor destinations.
Living in Indiana has its outdoor challenges. I grew up in Michigan, and get back there every chance I get. My favorite outdoor spot is the Manistee National Forest in the autumn. It's in northern Michigan and only a six-hour drive from my front door.
Oregon is second on my list. I might have moved there when I was young if it weren't for my close connection with family. I couldn't move halfway across a continent just for the fishing and hiking. My family would have killed me. The irony of this is that my wife's brother moved to Portland, Ore., shortly after we married, so I still have a connection there when I want to go visit.
Anything else you'd like to share with the Trailspace community?
Being part of the Trailspace.com community has been a great experience. I've learned, laughed, and made connections with other outdoors people from around the world.
Being chosen to be part of the Review Corps has been a great honor, and being voted the most popular reviewer of October is great surprise. Thanks to everyone who voted for me, and I hope to be able to serve you for many years to come.
---
Great job, Arson!

*Besides Trailspace glory and appreciation, Arson gets a goodie pack with a Trailspace Trail Runner Cap, a Trailspace pint glass (for après-backcountry use), a selection of ProBars, GU Recovery Brew Drink, a Travelon waterproof phone pouch, and Trailspace stickers.

Wondering how you can be as lucky as Arson? Write a great gear review of your own. Next month the Trailspace community will recognize another reviewer (who'll win prizes), and it could be you and your gear review.
Help recognize the best reviews on Trailspace by clicking that up arrow whenever you read a truly helpful review. You'll not only recognize good reviewers, you'll help highlight the best reviews of products for other members looking for outdoor equipment.