Meet Gonzan, Trailspace's Reviewer of the Month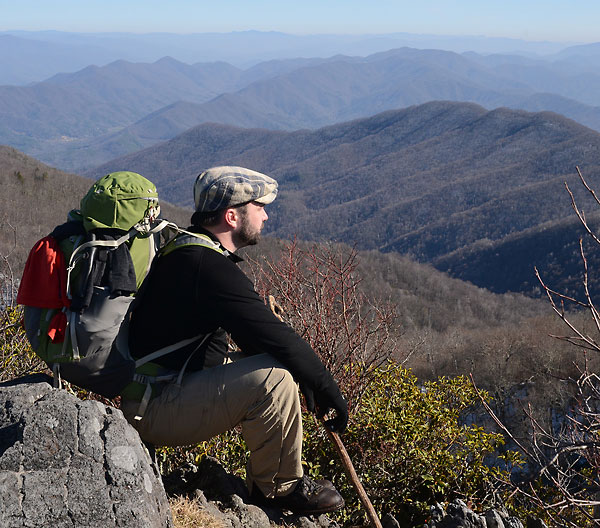 Congratulations to community member Gonzan (aka Caleb Goggans). Gonzan's Killer Review of the Sierra Designs Zissou 30 Lite seeping bag was voted November's most helpful review by the Trailspace community.
Congratulations, Gonzan! You win a sweet goodie pack, chock full of gear from Trailspace, Innate, Injinji, Probar, and GU for your most recent effort.*
Write your own helpful gear review and you could be next month's most helpful reviewer.
Meet Gonzan/Caleb

How did you get started exploring outdoors?
My enthusiasm for "outside" began quite young, maybe at 5 or 6. My dad was always taking us hiking, fishing, and exploring old train tracks or ruins of old buildings. I had two older brothers, and we were always playing outside! We built forts, climbed trees, and rambled all over whatever woods and streams we could get at.
One of my earliest experiences of having to rely on myself and my wits came when I was maybe 7 or 8. We were at a friend's house, and decided to walk through a suburban area of woods and a cemetery to visit my aunt who lived nearby. It was after dark on the way back, so my brothers and the older friends conspired to run off and leave me in the cemetery.
I didn't find it too funny at that moment, ha ha! After an initial few moments of terror, and a few more minutes waiting for them to come back, I roused my courage and carefully recalled from memory how we had come, slowly retracing the way back to the friend's house. What are brothers for, ya' know?
But really though, things like that with my brothers are so precious and invaluable to me. We learned a lot from our antics, even if we didn't know it then!
What do you enjoy doing outdoors?
Everything! I enjoy hiking, backpacking, fishing, hunting, sledding, canoeing, rock climbing, canyoneering, and just about anything else. I still love climbing trees, too.
I wanted to try out this new water repellent down, as it is so fresh on the market and relatively untested. I have used a couple different synthetic bags, and also own a stellar quality Valandre, so I was curious how it would perform.
My wife probably thinks I am insane. No, scratch that, I KNOW she thinks I am crazy! She gives me the best looks when I tell her something like, "Honey, I think this is the only night I'll have with cool temps and rain, so I need to go sleep outside tonight." She may tease me, but I am very blessed to have a girl who supports and appreciates my need to get outside.
What are your favorite pieces of outdoor equipment? Why?
At this point, much of my gear has been carefully chosen and saved for, so it's hard to choose a favorite. I love my DIY alchy stoves, and my Valandre Bloody Mary is a thing of finely crafted warmth and beauty.
Tell us about your favorite outdoor destinations.
The Citico and Slickrock are companion wilderness on either side of the Tennessee-North Carolina border in the Appalachian Mountains, and are my most frequent haunts. The deep shady fells of the mountains, filled with laurel, moss and Rhododendron, and the high ridges, heaths, and balds are all grafted into my person and soul now. I am most at home there.
The hundreds of ravines and canyons along the Cumberland Plateau are pretty fun and amazing, too, and several of them are practically in my backyard.
I'm pretty fond of northwest Wyoming as well, but that is a very different landscape, and it affects me very differently.
Anything else you'd like to share with the Trailspace community?
I am a fine artist, a traditionally trained painter, so you might find me out on the trail painting or lugging my supplies up a mountain!
People and our relationship with nature are important themes in my work, so getting outside is important to me. It feeds, informs, and clarifies my vision as an artist.
---
Great job, Gonzan!

*Besides Trailspace glory and appreciation, Gonzan gets a goodie pack with a Trailspace Trail Runner Cap and a pint glass (for après-backcountry use), a pair of Injinji Performance Crew Socks, an innate Doppio Tumbler for his coffee, a selection of ProBars and GU Recovery Brew Drink, and Trailspace stickers.
Wondering how you can be as lucky as Gonzan? Write a great gear review of your own. Next month the Trailspace community will recognize another reviewer (who'll win more sweet prizes), and it could be you and your gear review.
Help recognize the best reviews on Trailspace by clicking that up arrow whenever you read a truly helpful review. You'll not only recognize good reviewers, you'll help highlight the best reviews for other members looking for outdoor equipment.