As Outdoor Retailer wound down this weekend, here are a few more outdoor gear highlights from the show:
Two-Two-Two
The Easton Si2 Cuben tent is a single-wall expedition tent made of Cuben fiber and waterproof-breathable eVent, supported by a freestanding carbon fiber pole system.
Originally shown as a concept tent at a prior show, the Easton folks had to scramble to make it production-ready when retailers showed significant interest in actually stocking their high-tech creation.
The production version of this two-person mountaineering shelter weighs in at just over two pounds and will retail for a jaw-dropping $2,000.
Eyes All Over
If you're a frequent headlamp user, you know that the light doesn't always shine exactly where you're looking. You end up adjusting the tilt on the light, or making awkward head movements to aim the light where you want to look. This is because when you change the direction of your gaze, you move your head some in that direction, but you move your eyes further, and the beam of the headlamp doesn't keep up.
Snow Peak has a novel solution to this problem in the new Mola headlamp. When you shift your gaze up or down, the light in the Mola will tilt slightly further than your head does, more closely matching the movement of your eyes. This trick is accomplished via a small counterweight inside the headlamp; Snow Peak is calling the technology "optic motility."
Nate Borne gave us a brief demonstration of the technology in action:
Bits and Pieces
Adventure Medical Kits

will soon be stocking its kits with a new type of adhesive bandage. AMK's Easy Access Bandages allow for simpler and more sanitary one-handed application.

Asolo has a long history of producing burly mountain boots. The company isn't jumping on the minimalist bandwagon, but trying to bridge the gap with its "Natural Shape" series of hiking boots and shoes. These feature a more flexible, relaxed-feeling sole, while retaining the support and protection of a light hiker.
Cocoon

showed us a few new sleeping bag liners and pad covers for 2014. Of particular interest: the company is now making liners from Merino wool, and will also be introducing a sleeping pad cover treated with InsectShield mosquito repellant.

Granite Gear

has redesigned its ultralight frameless

Virga

pack, reducing the weight by an ounce while adding features, including a partially-padded hip belt, a large stretch-mesh outer pocket, and a roll-top closure.

Mountain Hardwear

has taken the unique approach of placing the doors of its new Optic tents on adjacent sides of the shelter. This allows you to open up two sides of the tent for panoramic views and a really open feel.

Outdoor Research

is introducing a line of lightweight gloves and mitts for cool-weather trail running. Thin nylon shells block the cold wind, and then tuck away into their own cuffs when not needed.

Users of

Suunto's Ambit

watch/GPS/heart rate monitor have created more than 6,000 customized apps for the device, including one that tells you how many beers you've earned after a hike, run, or workout.

A SportsOneSource study released during Outdoor Retailer showed that among "outdoor participants" (already a thin slice of the general population), only six percent participate in stand-up paddleboarding. Yet we counted no fewer than 40 companies at the show making and trying to sell paddleboards. Will participation grow to support all these companies, or are many of them doomed to failure?
If you haven't already, please check out the Trailspace Twitter feed, Facebook page, and YouTube channel, where we've been posting additional photos, notes, and videos from the show.
That's all, folks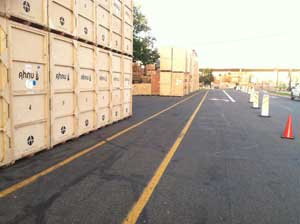 And that concludes our on-site Outdoor Retailer coverage. Thanks for tuning in!
The show halls were quieter Saturday morning, as attendees began departing Salt Lake City. Later in the afternoon exhibitors began breaking down their booths and packing them into crates, trucks, and trailers for transport to storage or their next destination.
We'll do it all again at the winter show in just six short months, and you can help. Let us know what you liked, and what you didn't like, about our show coverage.
What would you like to see more or less of? What did we miss? Please let us know in the comments or on social media: Twitter, Facebook, and YouTube.