Congratulations to Chris Myers, Trailspace's newest Reviewer of the Month!
Each month we recognize and get to know a different member of the Trailspace community. This month it's Chris, a Kentucky backpacker and mechanic who "hopes to share some useful knowledge I have gained about my gear while enjoying my love for the outdoors."

Congratulations, Chris! Thanks for sharing your gear reviews with us, including five Killer Reviews since June, including reviews of your ZPacks Pillow Dry Bag and Solplex, Jetboil Zip Cooking System, and MontBell UL Down Vest.
For his contributions, Chris wins this month's featured Reviewer of the Month prize, a pair of Traveler Stretch Shorts and a Diablo Short Sleeve Shirt for hiking and travel, thanks to our friends at Royal Robbins ($130 value).
On top of that, we're sending him a pack of goodies including gear from the TentLab, Nikwax, Outgo, Polar Bottle, Elemental Herbs, plus energy food, a Trailspace Trail Runner Cap, and more.
---
Tell us a little about yourself.
My name is Christopher Myers, but I like to go by Chris. My trail name is "Cletus." Was branded with that nickname growing up and it followed me onto the trail!
I was born in Ohio, but moved around a lot until finally settling near the capital city of Frankfort, Ky. I am a simple guy and it does not take a whole lot to make me happy.
What do you like to do outdoors?
I just like to be outside. The open space, the fresh air, the scenery, the songs of the birds, the coolness of the wind, the feel of the sun on my face. So many different things that stimulate and overwhelm all of my senses.
How did you get started exploring outdoors? Earliest memories?
My earliest hiking memory has to be with my grandmother sometime before the first grade, hiking up a steep wooded hill in the middle of the fall. I remember the crunching sound of the fallen leaves as I took each step.
When we reached the top there was on old farmhouse in a small clearing. We walked all around exploring every thing we could. My grandmother always encouraged my curiosity and she is the reason that I began hiking and will continue to hike as long as I can!
What's your favorite outdoor place?
I really like the Grayson Highlands in Virginia. The scenery and views are spectacular. The ponies are awesome. One of them licked me, it was hilarious!
Describe a memorable time outdoors.
One of my most memorable times outdoors was while I was on the Appalachian Trail in 2014, camped on top of Big Cedar Mountain (Georgia) on night 3 or 4. Woke up early, fixed a hot cup of coffee, hiked a small trail to the summit, found the perfect rock with the perfect view, laid back, kicked my feet up, and watched the most amazing sunrise I have ever seen in my life.
I don't think it gets much better than that.
Any outdoor goals you'd like to share?
One day I would like to hike outside the U.S.—China or Europe maybe.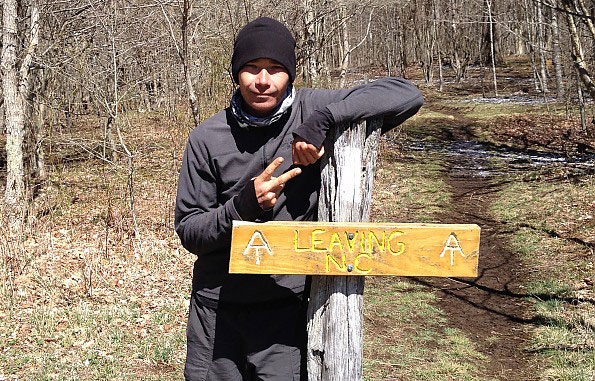 What motivated you to share your reviews with Trailspace?
Doing searches online trying to find gear reviews for myself I found a lot of great information. There were also several questions I had that I could not seem to find the answers for. That led me to start doing my own gear reviews online to try and help inform other hikers looking for information.
I like to see lots of photos and get loads of information before I buy new gear, so in my reviews I try to include good photos and useful info.
What's your favorite piece of outdoor gear? Why?
My favorite piece of outdoor gear is simply enough my neck gaiter. It goes on every single trip with me and is usually on me or in my pocket while out camping or hiking. It can be used in several different configurations and is the only thing in my pack that never changes.
What's in your backpack right now?
My pack right now is a ZPacks ArcZip 54L. Inside I have a ZPacks 10-degree sleeping bag with the fleece-lined pillow stuff sack, ZPacks SoloPlex tent, ZPacks roll top stuff sack with most of my hiking clothes, ZPacks food bag that still has some food in it, Arc'teryx Beta AR Jacket and Pants, Montbell UL Down Vest, Mountain Hardwear fleece, Smartwool and Darn Tough socks, Outdoor Research gloves, my gaiter, and a beanie. Sunglasses, of course. My Jetboil Zip, a small sack with my phone charger, extra batteries, and a small notebook and pen, and another small sack with my hygiene items.
I have been know to go a bit overboard with this by carrying deodorant, camp soap, wipes, toothbrush, etc. I always pack it out and am careful not to contaminate any water sources! Leave NO Trace!
I am sure that I am forgetting a few things. It still has all of my winter gear in it. I have been experimenting with a hammock setup this summer and have not taken much out of it yet.
What's your favorite book?
One of my favorite books is Frankenstein by Mary Shelley. Nothing really to do with the outdoors, I just like that book!
What's your favorite quote?
I have lots of quotes I like:
"Dream as if you'll live forever. Live as if you'll die today." —James Dean
"The wisest men follow their own direction." —Euripides
"Rock it 'till the wheels fall off" —Unknown!
Anything else you'd like to share with the Trailspace community?
I think that the trail, hiking, and just being outdoors in general brings out the best in people.
I have never experienced so much kindness, selflessness, and generosity anywhere else. Maybe it is something physical, mental, or spiritual.
I know there is nothing like it. It brings me joy and a divine sense of peace that allows me to be a better person, the person I want to be!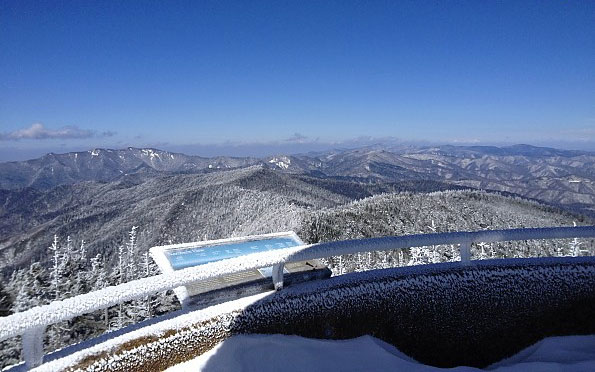 ---
Royal Robbins Reviewer of the Month Prizes
Congratulations, Chris!
Besides Trailspace appreciation, Chris wins this month's featured Reviewer of the Month prize, a pair of Traveler Stretch Shorts ($65) and a Diablo Short Sleeve Shirt ($68) for hiking and travel, thanks to Royal Robbins.
We're also sending Chris a pack of goodies including a TentLab Deuce of Spades lightweight trowel, Nikwax BaseFresh, Sandal Wash, and Tent Gear & Solarproof; an Outgo PT Pod microfiber towel; an Avalanche Stretch Beanie; a Polar Insulated water bottle; Elemental Herbs lip balm and sunscreen; energy food from Bakery on Main, Clif, and Navitas Naturals; and a Trailspace Trail Runner Cap and stickers.
Join the Trailspace community in recognizing other helpful reviewers by voting up the reviews you find most useful.
Write your own helpful gear reviews and you could be one of our next Reviewers of the Month.
Wide photos above: 1) On the Appalachian Trail headed out of North Carolina 2) Chris's cold view from Clingmans Dome in the Smokies. "I hiked 18 miles that day to make it to Newfound Gap and hitched into Gatlinburg. Up to three feet of snow in some spots and it all fell overnight. The Smokies, what a blast."

P.S. "Wait!" you say. "How did Trailspace have two Reviewers of the Month in the past two weeks?" We were behind a month.