Congratulations to Sheila Bergin Goss, Trailspace's newest Reviewer of the Month!
Each month we recognize and get to know a different member of the Trailspace community. This month it's Sheila, who (depending on the season) can be found paddling, hiking, biking, or skijoring in Vermont most days with husband Duncan and dog Griff.
Congratulations, Sheila! Thanks for sharing your gear reviews with us, including ones of your Astral Bird Dog canine PFD, Carlisle Magic paddle, L.L.Bean Packable Bucket, and Sea to Summit X-Pot.
For her contributions, Sheila wins this month's featured Reviewer of the Month prize, a Midori 2 backpacking tent, thanks to our friends at Eureka! ($159 value).
On top of that, we're sending her a pack of goodies including gear from the TentLab, Nikwax, Balega, Injinji, Outgo, a Trailspace Trail Runner Cap, and more.
---

Meet Sheila
Tell us a little about yourself.
I am fortunate to live in Vermont, in an area where outdoor recreation is encouraged, supported, and readily available. I grew up in the suburbs of Boston, but came to college in Vermont, and never left.
I have recently retired after my second 10-year-period of teaching special education; in between those periods, I spent 20 years as a state trooper, retiring in 2003 (which surprises quite a few folks!).
I have always loved outdoor recreation activities, and now that I am retired, and our kids have fledged, my husband and I spend nearly all our free time outdoors.
How did you get started exploring outdoors?
I was a kid who just loved summer camp! I attended every summer until I was old enough to then be a counselor. After college, one of my first jobs was to develop an outdoor recreation program for students with special needs. That was the first opportunity I had to make numerous equipment purchases, and to be responsible for choosing gear that was durable, functional, and reasonably priced. I still have some of the gear I purchased back then, though much of it is obsolete.
My husband grew up in a family that always camped a lot. As our own kids were growing, we encouraged and supported their participation in a variety of sports, recreational outdoor activities, and summer camping experiences.
What do you like to do outdoors?
We now get out in the canoe three to four days per week, for either day paddles or canoe camping trips. We always have our two Vermont Paddle Pups with us, whether we are using our solo boats or our 16-foot Swift Kipawa.
I have also started taking some short overnight solo trips with my dog Gryphon. Since I purchased a solo canoe this summer, I have a bit more opportunity to paddle during the week, when my husband is working.
We also hike nearly every day, usually on local trails for short day hikes. For longer hikes, we tend to head to the Northeast Kingdom, as the trails here in the Stowe (Vermont) area become congested, and we prefer to find solitude on trails, rather than crowds.
If I am going for a solo hike (well, not really solo, since my dog Griff is always on the hikes) I usually stay on nearby mountains, and am usually hiking by 6 a.m.
I also try to get out on one of my bikes every day (I have two road bikes, one mountain bike, and one winter/bikejor bike). For five years after my cancer diagnosis, I quite proudly rode a metric century each year in the Prouty Bike Ride in Hanover, N.H.
My highest yearly number of days ridden in a year is 310; however, since becoming a much more avid snowshoer and skijorer, my bikes now get a "rest" from December 1 to March 1.
My husband and I really enjoy getting out for winter hikes, using snowshoes or trail traction. The dogs also both love snow, and it is fun to get a different perspective on the trails we use in the summer.
We also get out skijoring with the dogs, which is really quite a hoot! I had always found cross-country skiing a bit boring, but since we began to skijor, we realize that it really is enjoyable, and a great workout. The two dogs also work great as a team, pulling a recreational kicksled. We can pretend that we are real mushers. We even attend a yearly mushers trade show, and we and our lab mutts hang out with genuine sled dogs.
We also still alpine ski on occasion, as we both began skiing as toddlers, and we each spent many years as members of the National Ski Patrol. In fact, my husband and I met through the patrol. I also play in a women's ice hockey group. A bunch of us women started the group when our kids were playing. I was coaching the youth hockey kids, the other moms were freezing in the stands, and we decided we wanted to get in on the action!
A few years ago, my husband and I were having so much fun on our adventures, that we wanted to share stories of our exploits with friends and family. The Vermont Paddle Pups blog was born, and we continue to expand our reach into the social media world...Facebook page, blog, Twitter. I really think that meets our needs, so we have not pursued additional avenues.
We also are members of local citizens groups that work to protect our natural environments; we love our lakes and trails, and feel it is our duty to help encourage responsible use.
Describe your ideal day outdoors.
I love my "paddle, pedal, and perambulate" days...one activity at sunrise, one midday, and one at sunset. The ideal setting for such a day is when we are camped on the shores of a quiet waters lake, in a remote section of northern New England, with a nearby peak with great views, and miles of backcountry bike trails.
I have driven and camped across the U.S. twice, and have also visited the Canadian Rockies, but those trips were when I was young and single. Well, I am no longer young, and have not been single for 29 years, but maybe someday we can return to some of the gorgeous locales in the West.
What motivated you to share your reviews on Trailspace?
When we started to resume increased outdoor activities, we realized that our '70s era gear was probably a bit outdated. Bit by bit, we have upgraded our gear arsenal, helped along with a few nice contest wins.
We discovered the Trailspace site, and I really liked the fact that regular folks were writing reviews, and that the community was respectful of various experience levels.
Since we were fortunate enough to acquire some really fine gear, I thought we should share our impressions via reviews. We always check Trailspace before we buy gear, and I hope that our honest and frank reviews are of assistance to others. I am also "of an age," and I believe that it is important that we mature folks are also represented in the gear-user community.
Since we are so active with our dogs, in many different outdoor pursuits, my dog and I also became Brand Ambassadors for backcountryk9.com. On many of the Facebook groups to which I belong, questions are often asked about dog gear recommendations, and I thought that would be a good way to test gear and share my results. Many of my gear reviews for Trailspace are also designed to assist other owners of outdoor dogs.
What's your favorite piece of outdoor gear? Why?
My favorite piece of gear is my Bending Branches limited edition paddle. This double bent-shaft paddle not only paddles beautifully, it is an actual work of art. It is made of roasted basswood, and once paddling season ends in November, it assumes a place of honor upon our wall.
Of course, the fact that I received the paddle for my 60th birthday (MUCH better than a string of pearls) also makes this my most prized gear.
Do you have a favorite quote?
"There is power in me yet. My race is not yet run." (from Les Miserables)
Do you have a favorite book?
Into the Silence: The Great War, Mallory, and the Conquest of Everest by Wade Davis
Care to share anything about your online usernames?
I use my full name on Trailspace, but for other sites, I have two user names: 1) "portagepup"...the reason should be fairly obvious, though we have yet to figure out how the dogs can portage the boat, and 2) "trailsnailmud," from our family mountain biking days, when the rest of the clan had to wait for me ("trailsnailmom" was taken!).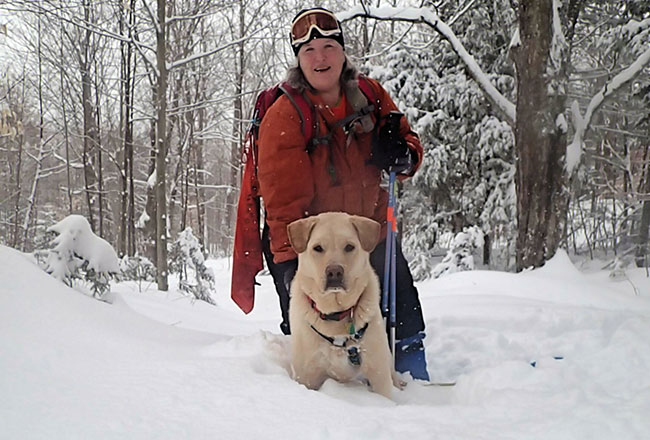 ---
Eureka! Reviewer of the Month Prize: Midori 2 Tent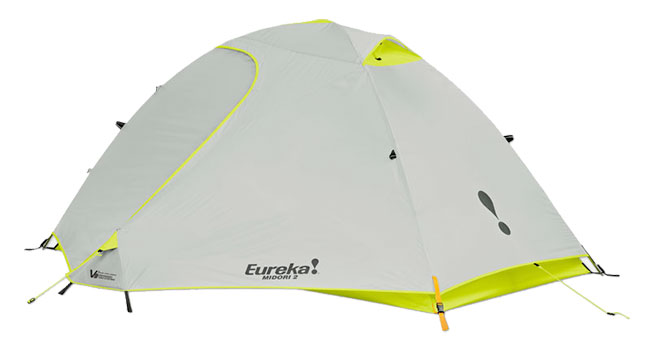 Congratulations, Sheila! Besides Trailspace appreciation, Sheila wins this month's featured Reviewer of the Month prize, a Midori 2 backpacking tent from Eureka! ($159 value). Featuring the V3 enhanced tent system for the ultimate in volume, venting, and versatility, the Midori 2 also features a large door and vestibule, and side entry.
We're also sending Sheila a pack of goodies including a TentLab Deuce of Spades lightweight trowel, Nikwax cleansers, socks from Balega and Injinji, an Outgo PT Pod sport towel, a pair of 32north STABILicers traction devices, an Avex water bottle, food from Bakery on Main and Navitas Naturals, Skin by Nature skin care products, and a Trailspace Trail Runner Cap and stickers.
Join the Trailspace community in recognizing other helpful reviewers by voting up the reviews you find most useful. Write your own helpful gear reviews and you could be one of our next Reviewers of the Month.
Wide photos above: 1) Sheila and Gryphon on one of their sunrise hikes up the Stowe Pinnacle, Vt.
2) Snowshoeing with Gryphon on local trail networks in Stowe, Vt.