Patagonia Footwear advocates for local nonprofits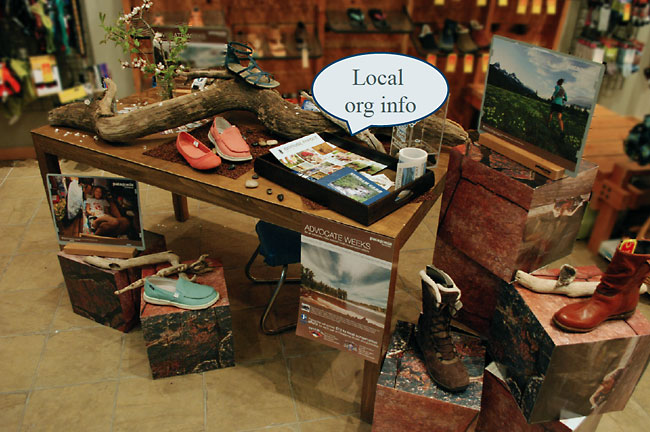 Have you ever seen employees of a retail store creating music videos and social media campaigns about a product in their free time, just because the brand or program inspires them?
You might during Patagonia Footwear's Advocate Weeks. Held for two weeks each spring and fall, the Advocate Weeks program is an innovative engagement campaign that is part of Patagonia Footwear's membership with 1% for the Planet (Disclosure: Trailspace is also a member of 1% for the Planet).
Businesses that are members of 1% for the Planet commit to contribute one percent of sales (not profit) to environmental groups around the world. During Advocate Weeks, for every Patagonia shoe sold through its independent retailers, Patagonia Footwear donates $10 to local environmental nonprofits selected by the employees of each store.
Patagonia's Advocate Weeks program empowers retail store employees to support their local nonprofits working on environmental issues. And it's been a huge success in terms of employee-community engagement, while boosting comparable weekly sales by more than 300 percent in some stores and generating tens of thousands of dollars for local environmental organizations.
For an example of engagement from one of Patagonia Footwear's independent retailers in Arizona, watch this entertaining, two-minute music video:
The employees of Mountain Sports in Flagstaff, Ariz., created this video and coined the phrase "Patagonia is the first to admit, you're only cool if you're an advocate" as part of this project. I would think that is pretty darn cool, even if I didn't work at 1% for the Planet.
As a member of 1% for the Planet, one percent of Patagonia Footwear sales already goes to environmental nonprofits. Patagonia Footwear created the 1% for the Planet co-branded Advocate line of footwear to serve as a conversation starter, both at retail and when the consumer wears the shoe. The Advocate Weeks program brings the "Advocate" culture to every shoe in Patagonia's portfolio, while localizing and socializing the environmental benefits to engage customers and employees around local nonprofit organizations.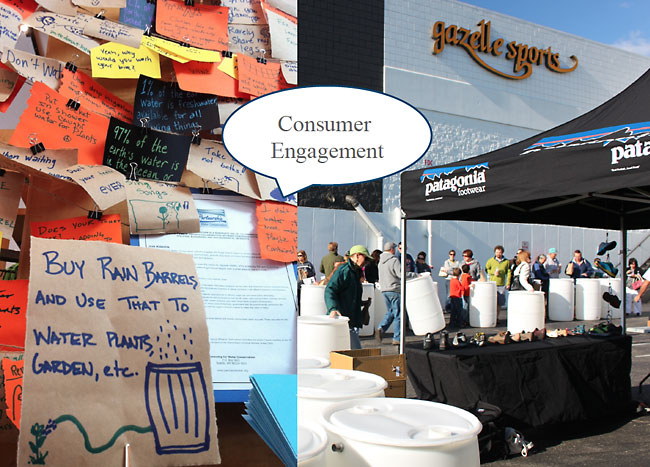 Each spring and fall, retailers select two weeks within a three-month window to run their Advocate Weeks. During these weeks Patagonia Footwear makes the program and promotion materials available to their independent retailers.
"Our business has an impact on the environment," said Patagonia Footwear Marketing Manager Sue Harvey Brown. "We wanted to offset that impact and give back to the environment, while creating a program that empowers and engages employees and local communities."
Two years after the program was launched in 2010, the Advocate line of 1% for the Planet co-branded footwear usually has at least one product in Patagonia's weekly top ten, and the number of retailers participating in the Advocate Week program has grown from 11 to more than 75, says Harvey Brown. The Advocate line of products is also growing much faster than the overall Patagonia Footwear business.
"The Advocate weeks have been a great value added program for us and our retail partners, both in terms of being able to educate consumers and raise money for local nonprofits," said Patagonia Footwear Sales Director Jamie Barbor.
Imagine the impact that could be made if more brands and products developed "advocate" style engagement campaigns where each transaction creates a contribution to a relevant environmental cause.
Imagine what business could do for environmental causes while engaging employees and customers if more companies took this "contributory consumption" approach.
OK, now stop imagining, and figure out how you can make something like this happen in your world. Be an advocate!
About 1% for the Planet

Gaelan Brown is Marketing Director for 1% for the Planet. 1% for the Planet builds and supports an alliance of businesses financially committed to creating a healthy planet. Member companies—more than 1,300—contribute one percent of sales to environmental groups around the world. Trailspace has been a member of 1% for the Planet since 2006.
Visit www.onepercentfortheplanet.org to find 1% member companies and 1% approved nonprofits. Or "like" 1% on Facebook to help support its mission.