Congratulations to Rick Strimbeck (Big Red), Trailspace's newest Reviewer of the Month!
Each month we recognize and get to know a different member of the Trailspace community.
This month it's long-time community member, backcountry skier, hiker, plant professor, and all-around inspiring guy Rick of Trondheim, Norway (latitude 63.4° North).
Congratulations, Rick, and thanks for sharing your many helpful gear reviews and trip reports with us over the past decade.
Rick reviewed seven pieces of gear in August alone, including his Big Agnes Pumphouse, Sea to Summit Ultra-Sil Day Pack, and U-Dig-It Folding Hand Shovel.

For his contributions, Rick wins this month's featured Reviewer of the Month prize, a Grayl Water Filtration Cup and G3+ Purifier cartridge. Plus, we're sending him a pack of goodies including a Soto Pocket Spork, energy bars from A3, Clif, and Kind, and a Trailspace hat for his collection.*
---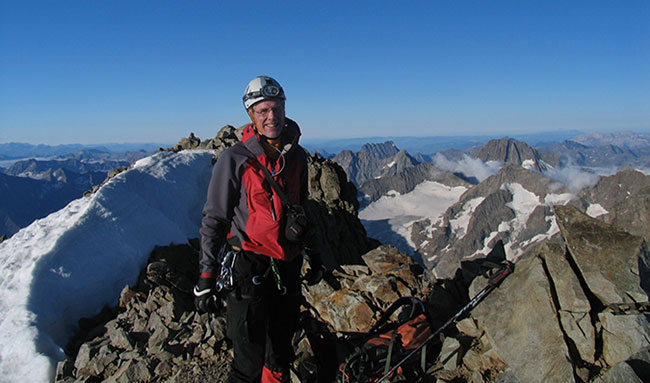 Meet Rick
Tell us about yourself.
I'm a plant ecophysiologist at the Norwegian University of Science and Technology. I'm especially interested in the winter ecophysiology of spruce, pine, and other conifers. I moved here in 2002 from our previous home in Vermont with my wife Nancy and daughters Molly and Zoe, then 11 and 7. Ralphie, the Best Dog Ever, joined us in 2003.
What do you like to do outdoors?
Backcountry (both telemark and randonee) and cross-country skiing, trail running, hiking, canoeing, kayaking, outdoor photography, a little mountaineering.
How did you get started exploring outdoors?
I grew up on the Massachusetts north shore, spending most of my summer days on the beach or in various wooded areas around town. Started downhill skiing in the White Mountains when I was 8, car camping with my dad a little later.
I really got the bug when we day-hiked Chocorua when I was 15, and toward the end of that summer my dad and I had a hilarious (in retrospect) misadventure on Franconia Ridge where we did all the right things wrong, but survived and learned from our mistakes. By the end of the next summer I was a backpacker.
Any favorite stories?
See my contribution to the "Share your crazy travel stories" thread.
[Editor's Note: It's a great campfire-worthy tale.]
What's your favorite outdoor place?
There's a piece of my heart at Lake Mintaro, in the shadow of Mt. Balloon near Mintaro Hut on the Milford Track in New Zealand, where I was the hut keeper for two seasons in '78 to '80.
Describe your happiest moment outdoors (and/or proudest or hardest).
Happiest? That's a hard choice. Maybe it was summiting said Mount Balloon on a rare rainless day in Fiordland, with my Kiwi friend Paul and Mike G., a Coloradan that happened to be staying at my hut at the time. It's a class 4 climb up a beautiful steep knife edge, and by then I had been looking up with longing at the mountain for a season and a half.
Or maybe it was a canoe trip on Lake Umbagog [New Hampshire] with my (now) wife, back in our earliest courtship days.
Proudest: Summiting Mt. Washington via Tuckerman Ravine on a pretty windy day with Molly when she was 7. We've shared many summits since then, but that was the first big one, and we did it in somewhat rough conditions. We descended via Lion's Head and were late for dinner at Pinkham (not the last time we were late for dinner for similar reasons).
I have had many similar proud moments with Zoe (or both or the whole family), and she really showed her stuff on the John Muir Trail this summer, where she proved to be one of the strongest in the group.
Hardest: The 60 km ultra I ran with Molly shortly after my 60th birthday in June.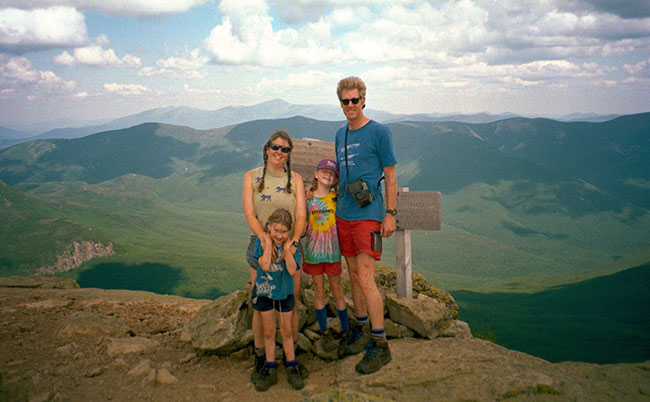 Do you have any outdoor regrets?
I can be impetuous and so have done some stupid things leading to near-epics, but I've never stayed an unplanned night out, and so far have lived to tell the tales.
Do you have any outdoor goals you want to share?
A list as long as my arm. Visit a Venezuelan tepui. Hiking in Iceland. Romsdalshorn, Stetind. The Haute Route, in summer and on skis. More alpine summits, not Mont Blanc, but maybe another try at Monte Rosa. The Wind Rivers. More slot canyons. Patagonia. Go back to New Zealand and Nepal with my family.
Describe your ideal day outdoors.
An early start on a ski ascent to a picturesque summit with good views, followed by a flawless descent in good powder or corn, with family or one or two good friends.
What motivated you to share your reviews with Trailspace?
Actually, I posted my very first review [in 2004] to get some leverage on Dana because they were giving me the runaround about warranteeing a Bomb Pack. Because I live in Norway, they said I had to go through the international department, which just ignored me. The pack had already been repaired once and failed in exactly the same way, and it cost me a pretty penny to ship it to the U.S. for the unsuccessful repair.
I posted an honest account of my experience, sent the link to Dana, and within a day or two got an email promising me a new pack. I posted a comment under the original review to let people know that they finally decided to stand behind their product. Thanks for the help, Trailspace!
But over the years since I have benefited from TS reviews, and so started paying back (or forward), although I'll admit I'd just as often rather be out using products than writing about them!
What's your favorite piece of outdoor gear? Why?
Gear comes and goes. It's best not to get too attached. But my oldest piece of gear is the last remaining pot form my original Sigg Tourist cook set, purchased in about 1970 when I first started backpacking with my dad. It's been literally around the world with me, and is crusted with fire black from a lot of different places. My wife thinks it's disgusting.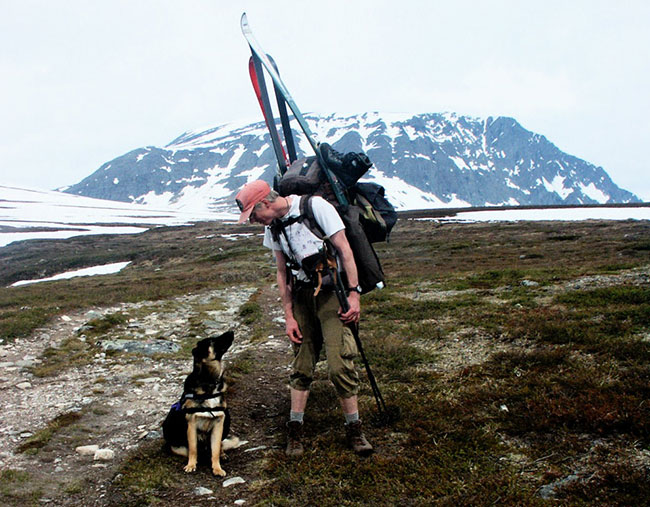 Got any good, bad, funny, or epic gear stories?
The time my wife's old Trucker ski broke spontaneously while crossing a dip in the trail, as we were coming out of Carrigain Notch [New Hampshire] late one winter afternoon, a long but routine day trip. I gave her one of my skis and we continued with me on one ski, scootering on the flats and balancing while running out the remaining easy downhills.
My ski leg got tired to the point of cramping, so I started switching legs by forcing my 75mm boot toe into the wrong binding, the old three-pin, round bail type. After we hit the unplowed Carrigain Notch road in near darkness with three or four easy miles to go, I heard a ping and felt my foot come free, thought the bail had popped, but found that the binding had cracked clean through and a big chunk fell off.
So we were down to two and a half skis for four feet, but managed to get down by scootering and double poling the rest of the way, barely able to see the track. Thirty years later, the 75mm boot is still the norm for most backcountry tele skiers, but I was an early adopter of NNN-BC.
What's in your backpack right now?
All the backpacking gear is neatly put away after debriefing and cleaning up after our JMT trip this summer, but I have a day pack ready to roll with rain gear, hat and gloves, compass, some trail bars, and probably a half-eaten chocolate bar down in there somewhere.
Who or what has been the biggest influence on your life?
The "who" is my dad, for coming back into my life at the right time and providing guidance, in his own reserved way, when I needed it. And the "what" is definitely the outdoors, which is where I always have gone to get back to my center.
What's your favorite book?
Ken Kesey's Sometimes a Great Notion, my nominee for the Great American Novel. I read it in high school, again while living in my hut in New Zealand, and again in the months before our trip west this summer.
In the non-fiction category I'd say Marc Reisner's Cadillac Desert is pretty righteous stuff, but there are many more.
What's your favorite quote?
"I don't see it [the jungle] so much erotic. I see it more full of obscenity. It's just — Nature here is vile and base. I wouldn't see anything erotical here. I would see fornication and asphyxiation and choking and fighting for survival and... growing and... just rotting away. Of course, there's a lot of misery. But it is the same misery that is all around us. The trees here are in misery, and the birds are in misery. I don't think they — they sing. They just screech in pain." — Werner Herzog, on location filming Fitzcarraldo.
I don't agree 100 percent, but it's a purified extract of one aspect of rain forest ecology, and eloquent, and funny.
Where does your username come from?
My wife started calling me Big Red before we were married, and still does.
What would Trailspace members be surprised to learn about you?
I was born in New Jersey.
Anything else you'd like to share with the Trailspace community?
Don't let all that gear get in the way of having a good time outdoors.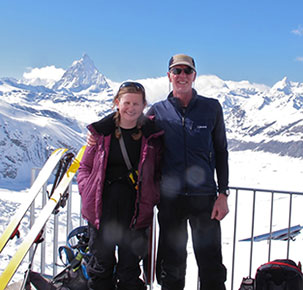 ---
Thanks, and great job, Rick!
* Besides Trailspace appreciation, Rick wins& this month's featured Reviewer of the Month prize, a Grayl Water Filtration Cup ($69.95 MSRP) and G3+ Purifier cartridge.
Plus, we're sending him a pack of goodies including a Soto Pocket Spork, energy bars from A3, Clif, and Kind, plus a Trailspace Trail Runner Cap and stickers.
Join the Trailspace community in recognizing other helpful reviewers by voting up the reviews you find most useful.
Write your own helpful gear reviews and you could be our next Reviewer of the Month.
Photo credits from top: 1) On Le Pelvoux, Les Écrins, 2009; 2) With the family on Mt. Lafayette, New Hampshire, around 2000; 3) With Ralph under Blåhø mountain, Norway, 2004; 4) With daughter Molly and the Matterhorn, 2013; 5) With daughter Zoe on Le Grand Van near Grenoble, France, 2013.