Congratulations to Brian (CO_west) Trailspace's newest Reviewer of the Month!
Each month we recognize and get to know a different member of the Trailspace community. This month it's backpacker, teacher, and gear reviewer Brian of Grand Junction, Colo.
Congratulations, Brian! Thanks for joining Trailspace and sharing your helpful pack reviews of your Kelty Continental Divide 5300 external, Cold Cold World Chernobyl climbing pack, and Mountainsmith Tour TLS lumbar.
For his contributions, Brian wins this month's featured Reviewer of the Month prize, a 2-liter Ultimate hydration system, thanks to Source ($55 value).
Plus, we're sending him a pack of goodies including Nikwax gear treatments, a Nalgene water bottle, NiteIze Doohickey and gear ties, a Mountain House meal, Stoneridge Orchards dried cherries, energy bars from A3, Clif, and Kind, and a Trailspace Trail Runner Cap.*
---
Meet Brian
Tell us a little about yourself.
I'm 27 years old, and I teach social studies and English for grades 7 to 12. I enjoy my job, and I enjoy reading and writing in my spare time, but mostly I love the mountains. I'm married to a fellow teacher, and we make full use of our summers off!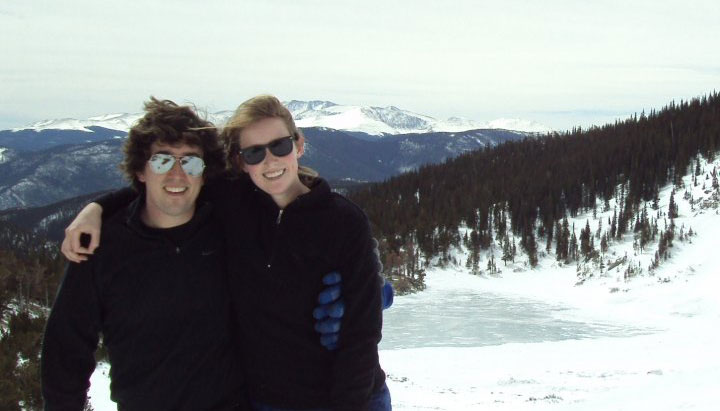 What do you like to do outdoors?
I love backpacking more than just about anything. I am always working to improve my skills in mountaineering. In the winter, I also ski (downhill and cross-country) and snowshoe. Living in western Colorado, it was a requirement that I take up fishing and hunting as well!
How did you get started exploring outdoors? Earliest memories?
I grew up in Colorado, so the mountains have always been special to me. I joined the Boy Scouts when I was a teenager with the sole purpose of spending more time outside. I learned to camp, hike, and climb, and had cool opportunities to go to places like the Philmont Scout Ranch in New Mexico.
Any favorite stories?
I climbed Longs Peak with some friends during college. We camped out in a boulder field, high above tree line, on the night of a spectacular meteor shower. It was awe-inspiring.
What's your favorite outdoor place?
The Grand Mesa is a flat-topped mountain that rises to about 10,000 feet just east of Grand Junction. It is covered with lakes, aspens, and the occasional moose.
I love to go up and hike, fish, or just enjoy the cooler temperatures in the summer months. The West Elk Mountains nearby are spectacular and uncrowded.
Describe your happiest moment outdoors (or proudest or hardest).
I spent a summer working at a camp in the mountains near Leavenworth, Wash. My job was to run a ropes course and a climbing wall, and I led a few hikes in the Glacier Peak Wilderness. I was very proud that none of our campers or staff were injured or put in any danger that summer.
Do you have any outdoor plans you want to share?
I broke my leg last April, and being unable to walk for a couple of months got me fantasizing about walking! I want to celebrate my recovery from that injury by hiking the Colorado Trail with my wife either this summer or the next.
Beyond that, I really want to focus more on backcountry skiing, technical climbing, and glacier travel. I'd love to spend a summer climbing the Pacific Northwest volcanoes.
What motivated you to share your reviews with Trailspace?
Trailspace has helped me make a lot of gear choices, and I figured it was about time for me to contribute!
What's your favorite piece of outdoor gear?
For sentimental reasons, I'm tempted to say my old external frame Kelty Continental Divide backpack. I made a lot of memories with that heavy old thing.
These days, I use my Mountainsmith Tour lumbar pack pretty much all the time. It is sturdy, comfortable, and it's actually not that dorky!
My current go-to pack is an Osprey Volt 60, which is simple and lightweight.
My go-to tent isn't actually a tent at all. It's the Mountainsmith Mountain Shelter LT—an amazing value.
I put a lot of thought into my gear purchases, and I'm prone to buyer's remorse and returning things. So if I still have an item after more than a couple months, it means I really like it!
Got any good, bad, funny, or epic gear stories?
On a windy day on Quandary Peak back in 2004, the wind yanked a Helly Hansen jacket out of my hands and carried it off into the sky! If any of you happened to find it, let me know!
What's in your backpack right now?
I'll usually bring a pair of extra merino socks from Costco. It's mind blowing how good they are. I have an ACR personal locator beacon that I hope I never have to use. I think the classic Swiss army knife is maybe the best piece of lightweight gear ever invented, and I always have mine attached to the key clip in whatever pack I'm using.
Who or what has been the biggest influence on your life?
My parents have influenced me the most. I grew up hearing my dad's stories about backpacking in the '70s, and both of my parents shared with me a love for the outdoors.
What's your favorite book (outdoors or not)?
Woodrow Wilson Sayre wrote a book called Four Against Everest that is a classic. It's out of print, but it's well worth seeking out.
I'll also read anything by John Krakauer or Jack London.
Where does your username (CO_west) come from?
I grew up in Denver, but now I'm embracing life in western Colorado. This is a beautiful place to live, far from the crowds of the Front Range.
Anything else you'd like to share with the Trailspace community?
I just want to say thanks to all the people who contribute to Trailspace. I think this website promotes quality, innovation, and good customer service in the outdoors industry, so keep up the good work!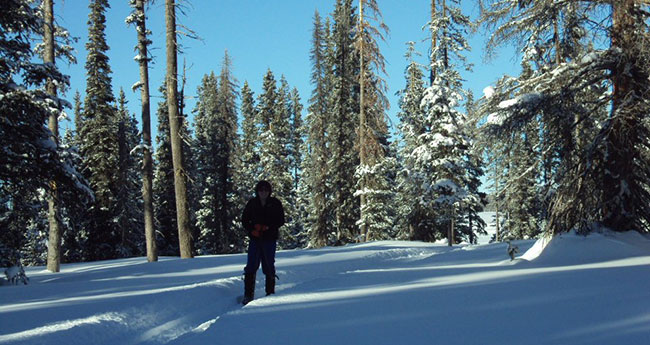 ---
Congratulations and thanks, Brian!
* Besides Trailspace appreciation, Brian wins this month's featured Reviewer of the Month prize, a 2-liter Source Ultimate hydration system ($55 value).
Plus, we're sending him a pack of goodies including Nikwax Polar Proof, TX.Direct Wash-in, and BaseWash; a Nalgene Silo Water Bottle; NiteIze Gear Ties and DoohicKey; a Mountain House Pasta Primavera Pro-Pak; Stoneridge Orchards Montmercy Cherries; energy bars from A3, Clif, and Kind; and a Trailspace Trail Runner Cap and stickers.
Join the Trailspace community in recognizing other helpful reviewers by voting up the reviews you find most useful.
Write your own helpful gear reviews and you could be our next Reviewer of the Month.
Wide photo captions above: 1) Brian and his wife at Saint Mary's Glacier near Idaho Springs, Colo. 2) Snowshoeing on the Grand Mesa. All photos copyright and courtesy of Brian.