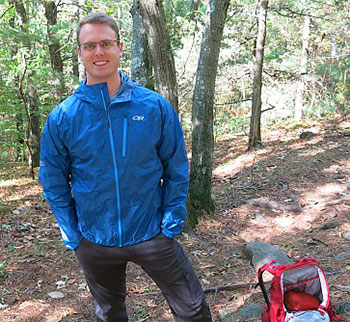 Congratulations to Brent Mills, Trailspace's newest Reviewer of the Month!
Each month we recognize and get to know a different member of the Trailspace community. This month it's Brent—lifetime hiker, former member of the Navy, and current software architect. Brent has been hiking, rock climbing, canoeing, kayaking, and camping since he was about 6.
Congratulations, Brent! Thanks for sharing your gear reviews with us, including recent ones of your Gransfors Bruks Hand Hatchet, Kammok Roo hammock, Morakniv Companion Heavy Duty Knife, REI Trail 40 pack, and Snow Peak GigaPower Auto stove.
For his contributions, Brent wins this month's featured Reviewer of the Month prize, a Rig 700M hydration backpack, In-Line Crypto Filter, and Nano Drink Tube, all thanks to Geigerrig ($188 value).
On top of that, we're sending him a pack of goodies, including a Trailspace Trail Runner Cap.*

---
Meet Brent
Tell us a little about yourself.
I'm originally from Kansas and moved to New England to be closer to family after a stint in the Navy. Today I work in devops architecture all day and spend my free time disappearing into the outdoors and getting far away from the buzz of electronics.

What do you like to do outdoors?
I spend most of my time hiking, rock climbing, cycling, canoeing, and kayaking.
How did you get started exploring outdoors? Earliest memories?
My earliest outdoor memory was a fishing and camping trip with my father when I was a little kid back in Kansas. I clearly recall the campfire at night followed by waking up in our old dome tent and eating Hostess cupcakes for breakfast with my dad.
A few years later I started spending my summers at Winona Camps for Boys in Maine, where I quickly got hooked on rock climbing, backpacking, and kayaking.
Any favorite stories?
I've found that mornings are often the most interesting in the woods, or at least that's when the local wildlife is the most friendly.
To begin, the first time I climbed Mt. Katahdin was as part of a group hike with Camp Winona. I woke up in one of the lean-tos at the Chimney Pond campsite to what I thought was spitting rain. I looked up to see a giant furry nose sniffing me and my friends. A moose had wandered into the campsite to investigate us! After a few good whiffs he decided we weren't as interesting as the pond itself and moved along.
Years later, actually just two years ago, I was hiking with my friend Bryan in the Smoky Mountains when I was woken up by what I assumed was Bryan tugging on the guylines of my hammock. A young elk had seen my giant green hammock and decided it looked tasty. Bryan witnessed the whole thing and, rather than shoo the elk away, grabbed his camera and caught it on video.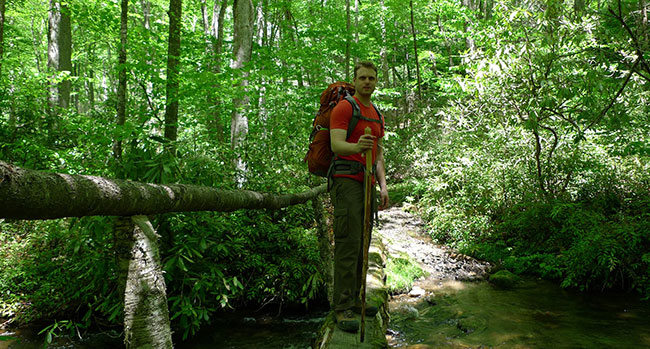 What's your favorite outdoor place?
My favorite spot outdoors is actually a remote dock on Moose Pond in Bridgton, Maine. When I was a counselor at Winona Camps, I used to spend my evenings lying out on the dock and watching the stars. Being so far out into the woods, we were completely isolated from the light pollution of nearby cities. This is the best view of the night sky that I have ever found.
Describe your happiest moment outdoors.
A few years ago, I was climbing Mt. Katahdin (in Maine) with a few friends when a sudden storm rolled in and covered us in cloud. Our visibility on the summit went down to about twenty feet, and all around us the mountain appeared to transform. Something about the diffuse light of the fog brings out the colors in the rocks and alpine plants.
What had appeared to be gray stone was suddenly a mixture of pink rhodonite and granite. Plants began to stand out bright and green against their rocky background. The fog continued for the whole length of the Hamlin Ridge Trail until we started our descent. At this point, the clouds finally broke and gave us one of the most spectacular views I have ever seen.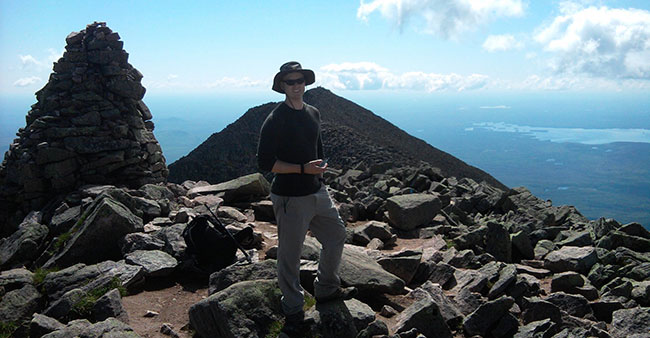 Do you have any outdoor plans or goals you want to share?
I have always wanted to hike through the Highlands of Scotland.
Describe your ideal day outdoors.
On my ideal day, I would hike into the woods until my legs refuse to carry me any further. I'd find a clearing and set up a small campsite. I'd sit in my tent or hammock and read until the sun started to set, and then I'd sit by the campfire and relax with my hiking partners until it was finally time to drift off to sleep.
What motivated you to share your reviews with Trailspace?
I have always been a bit of a gear and gadget junkie. I enjoy trying out new gear, but also really enjoy sharing my experiences with other hikers, cyclists, kayakers, etc. If I know of a product that will help people enjoy the outdoors, I like to share it.
What's your favorite piece of outdoor gear? Why?
My favorite piece of gear would have to be a Mora knife I received as a groomsman's gift from one of my best friends. Of all the pieces of gear that I own, a solid knife has always proven to be the most useful. This one has stood up to a fair amount of abuse and has sentimental value to boot.
Got any interesting gear stories?
Several years ago, I decided to go ultralight, but did so without proper gear knowledge or testing. I abandoned my incredibly heavy, but thoroughly weatherproof, North Face Fat Frog tent in favor of a small Tarptent Rainbow. This was a fantastically comfortable little tent that set up in no time at all. Unfortunately for me, it was my first foray into tents for which seam sealing was an option. An option I had not selected.
On our first night in the woods it poured rain. Shortly after going to bed, I felt a little drip. After a few minutes, the drip developed into a steady stream of cold water. Several failed attempts to patch the leak from the inside only proved to make matters worse and damage the tent, so I attempted to fix it from the outside.
At this point I snagged my rain pants on a tree and tore the leg open. After a few moments of jumping around swearing profusely, I ended up tossing the now-destroyed rain pants over the peak of my tent and spent a grumpy and chilly night inside. For the rest of the trip, our campsite consisted of one Coleman dome tent, one Eureka bivy sack, and one Tarptent with a pair of torn rain pants duct taped to the outside.
What's in your backpack right now?
Who has been your biggest influence?
As far back as I can remember, my father told stories about his adventures in nature. He taught me to appreciate and respect the world around us.
What's your favorite book?
Bill Bryson's A Short History of Nearly Everything
What's your favorite quote?
"It suddenly struck me that that tiny pea, pretty and blue, was the Earth. I put up my thumb and shut one eye, and my thumb blotted out the planet Earth. I didn't feel like a giant. I felt very, very small."
—Neil Armstrong
What would Trailspace members be surprised to learn about you?
I left the military in 2010 due to a spinal injury. At the time, I couldn't bend at the waist and it was believed that I would never be able to bike or kayak again, let alone carry a heavy backpack.
One week after surgery for protruding disks, I started physical therapy again and also started seeing an acupuncturist. She was a miracle worker, and her treatments did more for my recovery than anything else I tried. Less than a month after my surgery, I managed to get back into a kayak. A few months after that, I did a short backpacking trip back up Katahdin (also my first foray into "ultralight hiking").
Now I try to get out hiking at least once a week, I kayak a few times each year, and I average a few thousand miles per year on my bike (including an annual ride over Crawford Notch (N.H.) and Killington (Vt.). I do still have some small amount of back discomfort these days, but no worse than when I used to play football in high school.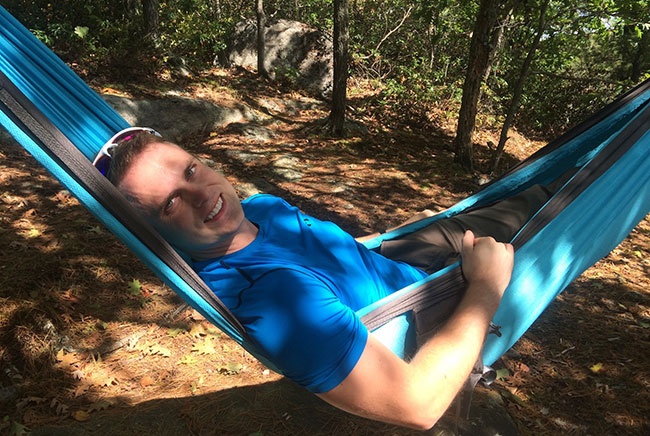 ---
Geigerrig Reviewer of the Month Prize: Rig 700M Pack & Hydration
Congratulations, Brent! You win this month's featured Reviewer of the Month prize: a Rig 700M hydration backpack, In-Line Crypto Filter, and Nano Drink Tube, all thanks to the folks at Geigerrig ($188 value).
The Rig 700M—the faster and stronger younger brother to the Rig 700—features the 70-ounce award-winning pressurized Geigerrig Hydration System, which allows you to spray water to hydrate, share, clean, or cool off. It also features 700 cubic inches of cargo capacity, a diagonal Molle webbing system, and durable 600 D Polyester material ($140).
The In-Line Crypto Filter is rated to filter up to 50 gallons of water and remove more than 99.9 percent of cryptosporidium and giardia ($28).

The Nano Drink Tube is a pressurized tube that delivers ample water through a tiny 4mm diameter tube for lightweight, positionable hydration ($19.99).

*We're also sending Brent a pack of goodies including a Klymit Inertia X Frame sleeping pad, The Wood Fire Handbook by Vincent Thurkettle, socks from Balega and Injinji, Gear Aid Freesole Shoe & Boot Repair and Tenacious Tape flex patches, water bottles from Avex and Innate, food from Bakery on Main and Navitas Naturals, and a Trailspace Trail Runner Cap and stickers.
Join the Trailspace community in recognizing other helpful reviewers by voting up the reviews you find most useful. Write your own helpful gear reviews and you could be one of our next Reviewers of the Month.
Wide photos above: 1) Brent hiking in the Smoky Mountains. 2) Brent on top of Maine's Mount Katahdin. 3) Brent hanging out in Massachusetts' Leominster State Forest.