Congratulations to Gary Leatham (TrailFrog), Trailspace's newest Reviewer of the Month!
Each month we recognize and get to know a different member of the Trailspace community.
This month it's Gary who lives in Washington State, "east of Puget Sound, Lake Washington, Lake Sammamish, and the submerged volcano growing offshore of central Oregon; south of Mt. Baker; and north of Mt. Hood, Mt. Adams, Mt. St. Helens, and Mt. Rainier."
Gary and his wife Margo can be found exploring any one of those areas most weekends.

Congratulations, Gary! Thanks for sharing your gear reviews with us, including ones of your Asolo Power Matic 200 GV backpacking boots, BodyGlide Anti-Chafe, Nikwax Conditioner for Leather, and Outdoor Research Ghost Rain Hat.

For his contributions, Gary wins this month's featured Reviewer of the Month prize, a SteriPEN Ultra UV water purifier ($99.95 value).
On top of that, we're sending him a pack of gear goodies, including a Trailspace Trail Runner Cap.*
---
Meet Gary
Tell us a little about yourself.
What I believe "I am" is the ability to be, experience, learn, and contribute. My "importance" to others is judged by that beholder, and my environment, through what I share with them. I'm a friend, husband, father, coworker, and at times a sole contributor.
My technical Ph.D. (some call this "Pile it Higher and Deeper") side includes a biochemistry major and botany minor. I was a University of Wisconsin-Madison then USDA R&D research scientist in microbial physiology, development of higher fungi, and environmental degradation. While a U.S. Forest Service scientist, I earned a USDA Superior Service Award for "Technology Transfer to Cultivate Shiitake Mushrooms (in the USA), Creating Jobs in Rural Economic Development."
Later, I worked on toxic waste remediation in soil by microbes and helped establish international guidelines for the compostability of biodegradable plastics. I then transitioned into executive recruiting (pharmaceutical and biotech).
I also helped a friend start his company Woodsounds, by helping him sell high-end, best in class Native American-style flutes. I'm currently a college recruiter helping others enter into technical careers.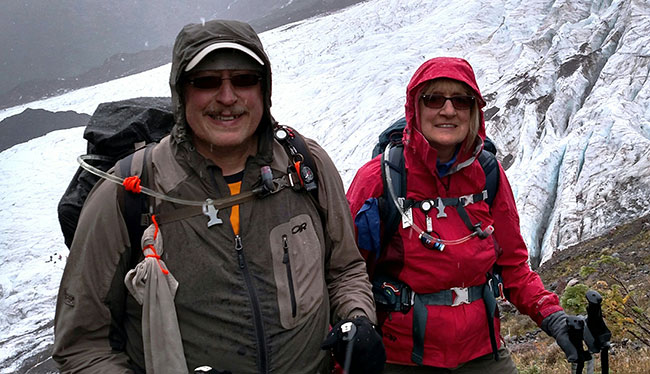 What do you like to do outdoors?
My wife and I, together or with family members or Meetup groups, hike, snowshoe, cross-country ski, bicycle trails, sea kayak, snorkel, and more. We like to capture mobile phone photos and videos along the way and share them.
How did you get started exploring outdoors? Earliest memories?
On my father's shoulders on Utah hikes. We started my daughter's nature experiences this way too.
Any favorite stories?
Many! One that comes to mind is from my first backpacking trip. I was about 24-years-old and in college as an undergraduate. A graduate student friend and I drove from Pullman, Wash., to Mt. Rainier to enjoy three August days on the Wonderland Trail.
I was fortunate to be with James Talmadge, a four years older, experienced hiker and caver from Virginia. We arrived just before 10 a.m. at the Ranger Station to scope out arrangements. We soon discovered that permits were needed to camp at designated sites, and the first two campsites were already booked! We signed up for one of the spots left at the third. Our first Wonderland day thus became a 21-mile long hike with over 24,000 feet combined elevation gain and drop. And there were hungry bugs too.
I stumbled into camp an hour or two before dusk, coasting on fumes. I remember feeling that, if the wind blew, I could just blow over, and not soon get up. I also felt that, if there had been a cold snap right then, this might be dangerous for me. In thinking back, we didn't eat enough and I had less than half of the water that I actually needed.
Our topographical maps and compasses proved essential. We lost the trail a time or two on snowfields. We had to find our own route and scramble up or down to find the trail. Fortunately, I was young and in shape, and I had worked hard the week before to break myself into heavy new black leather "Trappeur" French mountaineering boots.
The third day we left our backpacks in the tent at Cougar Rock Campground and hiked up to Paradise. From there we passed small troops of heavily packed mountaineers on a shared path to Camp Muir at 10,000 feet. It was easy to pass the troops. We just had water bottles to carry!
And, oh my god, that rocket fast glissade back down those snowy slopes, in stiff soled boots, was like nothing else I've experienced before or since! The slushy August snow was amazing. What took hours to ascend, seemed to take minutes to descend. Lucky for us, on that clear sunny day, we took no wrong turns and did not tumble over cliffs, like history reports has happened to a few others.
What's your favorite outdoor place?
That's a tough one! Last week's hike? The excursion planned for next week?
More specifically about past events: Looking down the throat of the Masaya Volcano in Nicaragua? Snorkeling and scuba diving the first time in the Caribbean, along Cozumel, Mexico?
Hiking around the Mayan ruins at Chichen Itza? Discovering for myself that there really is a magical place called "Hon-a-lee," that a mythical dragon named "Puff" might like, on Hawaii's Kauai Island?
Utah alien looking red rock country in Moab, Canyonlands, and Zion? Hiking Chimney Rock or other sacred vortex rockscapes near Sedona, N.M.?
Maple Pass and Heather Pass Loop in Washington's North Cascades? Many stunning places on Mt. Baker and Mt. Rainier (e.g., Coleman Glacier, Skyline Divide, Park Butte)?
Will it be our upcoming trip to Barbados in a few weeks? Or someday getting to Dominica or around the Great Sphinx and Pyramids of Giza on foot? Hmm...my daughter wants to go back to Machu Picchu and hike the Mayan Trail with us!
Outdoor Earth really is amazing, and it shapes us and the culture around itself!
Describe your happiest, proudest, or hardest moments outdoors.
Happiest: Brown Basilisk lizards running across the Palo Verde River in Central Costa Rica with us and them not being eaten by all those crocodiles! Ziplining in the same country (not over the river!) and watching monkeys balance in midair on top of stabilizer cables, walking freely, anywhere they wished.
Seeing fresh pumice stones on top of the Masaya Volcano cone, looking down right into sulfur fumes coming up the throat, without those rocks being thrown up at us! Seeing why some fish in the Caribbean are called Puffers. Seeing and understanding why ocean rays and skates are shaped that way and how the heck they eat.
That pitch black night in Cozumel, when my wife talked me into night snorkeling, to see all those fish oddly hiding...and not seeing sharks! (One suddenly feels like a fool, free swimming offshore, in 30-plus-feet of deep water, with flashlights that shine out forever, attracting things from the depths...potentially big hungry things!)
Proudest: Coming back in one piece, so far...and being able to share.
Hardest: Not be outside more of the time.
Do you have any outdoor regrets?
Oh, yes, and so far, mostly on Mt. Rainier!
That first trip on Mt. Rainier's Wonderland Trail, not putting more sunscreen on. The morning we were to drive home, my whole front upper torso turned pink and purple and got itchy. As we drove back the three hours, all of my front side, from waist to neck, water blistered badly.
Upon my return, the college clinic nurse put antibiotic cream all over the burned area, and said that, if it infected, I'd be in the hospital (she said it was over 20 percent of my skin).
My second trip backpacking Wonderland Trail about 25 years later. My older hiking friend came up lame during our third day out, and I had to carry out both packs five to six miles (about 90 pounds total).
My third hiking trip again to good old Mt. Rainier, a decade plus later, again to Camp Muir, this time with my fiancé (now wife). My one heavy application of clear waterproof 60-plus sunscreen sweated or got rubbed off, and my face skin totally burned. A day or two later all of my face skin peeled off, quickly this time and more than one layer deep! And I needed to go to work the next day!
My fiancé had a tube of aloe gel. I knew aloe was supposed to be healing for burns. So, I risked putting a little on a small skinless patch. Then after an hour or two, basted the rest of my face, heavily. There's total life-changing magic in that plant. We now grow a live one! However, I will monitor my face for signs of skin cancer to spot treat for the rest of my life.
The take-home lesson is to reapply sunscreen every few hours, like the label says!
I've enjoyed many more hikes to Mt. Rainier, Mt. Baker, and other challenging locations, often weekly, with no further personal troubles. On group trips I often see challenges beginning for others and offer suggestions or lend extra gear to help solve it. Generally folks only need help on a given topic once, and then most adjust their behavior accordingly.
It's so satisfying to see them go on and also help train others. I will continue to learn much from others, hopefully rather than learning it the hard way on my own.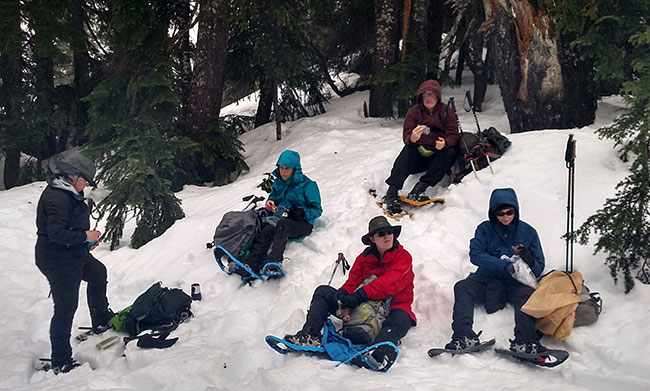 Do you have any outdoor plans or goals you want to share?
Yes! Watch for them in new reviews, as well as in ongoing updates to old reviews. And I am looking forward to sharing your insights too.
Describe your ideal day outdoors.
There are four levels:
First: No rescues are required and everyone lives another day.
Second: Getting lots of exercise, coming back only needing rest and not stitches, bandages, or other medical help.
Third: It's beautiful or at least an interesting day (rain is beautiful in GoreTex and Nikwax protected gear; snow is beautiful in snowshoes; cougars and bears look best in photos, not atop one's buddies * ; 100 percent DEET is generally enough for most bugs; etc.).
Fourth: I got to assist another, helping them to create their own more ideal day.
*My solo hiker, lone wolf sighting on Steven's Pass story will soon be in a snowshoeing gear review. The right gear can help protect you.
What motivated you to share your reviews with Trailspace?
Most motivation? In my Asolo Power Matic 200 GV review read the little story about the lady whose foot broke off internally.
Next? I read a couple of poor equipment rating reviews on my current favorite boots by others, which suggested to me that the writers had little hiking experience with the boots, and perhaps lacked some common sense. This allowed me to put in another perspective.
What's your favorite piece of outdoor gear? Why?
Vehicles! Footwear and sea kayaks. If I have the right ones, they empower me to get to anywhere I want, and often safely too.
Got any good, bad, funny, or epic gear stories?
When oversleeping and running fast to depart for a hike, do not put on men's underwear briefs backwards! Later, on the trail, when after waiting too long to go potty, it can become a humorous, even epic, experience.
Read my Osprey Hydraulics review about how to, and why not to, cross threads when mounting your filling cap. And there will be an upcoming gear review for sea kayaking, where I get rescued from tipping over in a sea kayak solo, a half mile off of Oahu, Hawaii! I lucked out that time, but missing a little simple piece of safety gear, could have cost me my life.
What's in your backpack (or kayak) right now?
All consistently used items that do not needing airing out, drying, or refilling are already therein. The rest are staged in bins, a walk-in closet (hiking), or garage shelves (kayaking).
The two Mariner kayaks (II and XL) share a narrow bladed Tradewinds and a broad bladed Mariner Kevlar paddle, already in the boats, along with rescue float and boat flotation bags. And hopefully there is not an undetected banana peel in a backpack or hobo spider hiding in a kayak (you try getting a creepy spider quickly off of your bare thigh, without tipping over offshore)!
Who or what has been the biggest influence on your life?
In order of introduction to me: my mother, father, grandfather, wife, several supervisors that I've worked with, daughter, other collaborators, and Meetup acquaintances.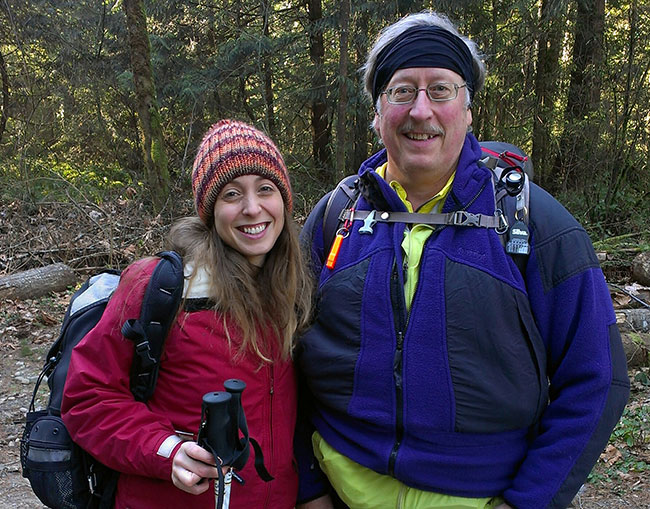 What's your favorite book?
Harvey Manning's Backpacking: One Step at a Time and Derek C. Hutchinson's Guide to Sea Kayaking.
What's your favorite quote?
Master Yoda from Star Wars: "Try not. Do... or do not. There is no try."
Where does your username, TrailFrog, come from?
My favorite animals are frogs and I really do like land and water trails. TrailFrog combines this.
What would Trailspace members be surprised to learn about you?
In my 50s, I founded a collaborative music group called "Ancient Sounds", named for the core of ancient woodwinds used. I play world woodwinds, from many cultures, and my wife plays Australian didgeridoos and light percussion.
We've performed more than 400 engagements! Our first CD received a 2009 Nammy Nomination, in the Native Heart (inspired by Native Americans) category. Our CDs "Resonance" and "Future Unfolding" are listed on CD Baby.
In the video below, I experienced playing a Buckeye Burl Native American Style Flute at Arches National Park's Fiery Furnace.
In the 1990s, there was a website called "Web Shots" where anyone worldwide could post photo collections for others to view. If you enabled it, others could make prints from them. I actively posted to travel and nature/botanical macrophotography. Once each year, they picked a Photographer of the Year. I was surprised and humbled to win it one year!
My neighbors and coworkers would think of me more as an Outside Garden and Indoor Light Garden zealot, often seen in hiking boots, especially when leaving. We have more than 40 kinds of hydrangeas and many unusual plants.
Anything else you'd like to share with the Trailspace community?
I am no worse/better, no dumber/smarter, no more incapable/capable, no unluckier/luckier, no more unentitled/entitled than anyone else. I attempt to keep an open mind, work to understand others, and risk sharing to help/protect others. Another person's wisdom may well help keep us both safe!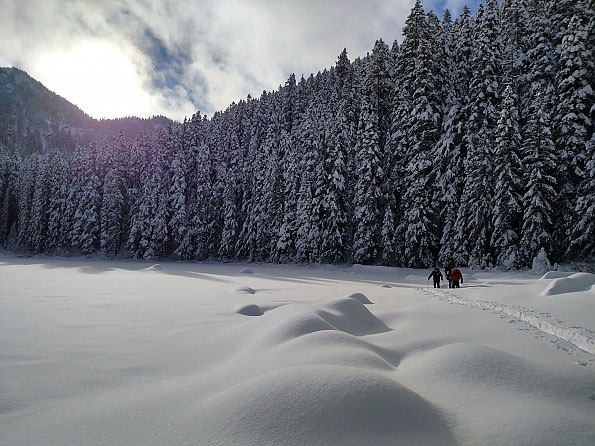 ---
SteriPEN Ultra Prize
Congratulations, Gary! You win this month's featured Reviewer of the Month prize: a SteriPEN Ultra UV water purifier ($99.95 value).
The SteriPEN Ultra eliminates more than 99.9 percent of bacteria, viruses, and protozoa that cause water-borne illness. Featuring an OLED (Organic Light Emitting Diodes) display, the Ultra is rechargeable via a computer, outlet, or portable solar panel. The Ultra's UV lamp treats up to 8,000 one-liter treatments.
*We're also sending Gary a pack of goodies, including the book "From the deep: the Petzl adventure," a Heliograph Smart Phone Camera Case and Motus water bottle from Innate, socks from Balega, Gear Aid Freesole Shoe & Boot Repair and Tenacious Tape Mini Repair Patches, an REI Grande Double-Walled Cup, and a Trailspace Trail Runner Cap and stickers.
Join the Trailspace community in recognizing other helpful reviewers by voting up the reviews you find most useful.
Write your own helpful gear reviews and you could be one of our next Reviewers of the Month. And stay tuned for an all-new Reviewer of the Month prize format in 2016.
Wide photos above:
Gary and wife Margo Milandin Leatham above Coleman Glacier, Heliotrope Ridge, Mt. Baker, Wash., in September 2015.

Meetup hiking group having lunch during a snowshoe at Artist Point, Mt. Baker, Wash., late winter 2015 (clockwise from left: Jenny, Gabriele, Gary, Judi, and Michelle) (Photo by hike leader William).

Daughter Teresa and Gary at Tiger Mountain, West Summit, Tiger Mountain Trail, near Issaquah, Wash., in 2013 (Photo by Margo Milandin Leatham).

Photo by Gary of s

nowshoers at Lanham Lake, Lanham Lake Trail, near Steven's Pass Summit, in December 2015.