Congratulations to David Link, our newest Reviewer of the Month! David, a Trailspace member since 2010, lives in Sacramento, California, and is a Sierra hiker and backpacker, road cyclist, and professional church musician.
He's reviewed the Packit Gourmet Southwest Black Bean & Corn Salad, Good To-Go Oatmeal, and Rab Vertex Pants, among other items.
David wins a 10 Essentials prize pack worth more than $350 for his contributions. Check out the 2017 prizes below or see "Essential Gear for our 2017 Reviewers of the Month."
---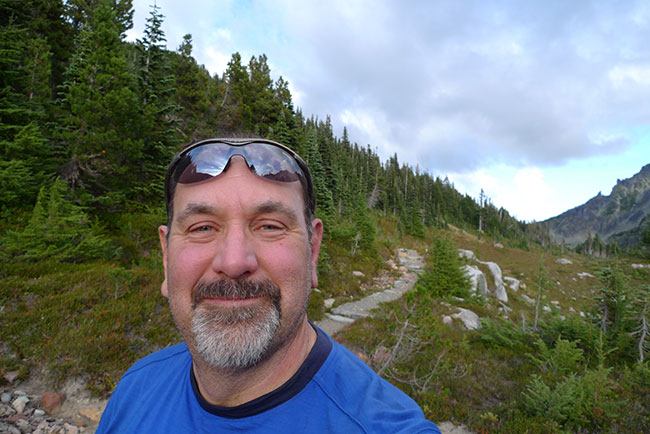 Please tell us a little about yourself.
I am a father of three grown women, and newly married to Sharene. I have been the full-time Director of Music (organist and choirmaster) at Trinity Episcopal Cathedral in Sacramento for thirty-three years. A lover of dark coffee, craft beer, and good wine. And granite under my boots.
In my duties at the cathedral I play the pipe organ and piano, and direct three choirs. I have a soft spot for the music of Johann Sebastian Bach. And also for Bruce Springsteen! My favorite part of the job is working with my choirs, and helping them to achieve something they didn't think that they could. I truly love my work.
How did you become a Trailspace community member?
I first came across Trailspace, while looking for reviews of something or another (maybe a pair of boots?). I found the site very interesting, with reviews from real people in the real world. As a self-professed gear junkie, I decided that I wanted to share my experience with gear that I love (and some that I don't).
How do you spend your time outdoors?
When outdoors, I love to hike. With a two-hour drive to the east I can be in the Sierra, and to the west on the coast. I am also an avid road cyclist, and enjoy riding in the Sacramento River Delta wine country. For the last seven years, I have participated in NorCal AIDS Cycle, a 300-mile bike tour which raises funds for agencies supporting those with HIV/AIDS in our community.
When and how were you introduced to the outdoors?
My parents took me, my brother, and my sister on long road trips each summer, which always included camping and hiking. I have great memories of those days. During my young adulthood, I spent virtually NO time in the outdoors, and gained quite a bit of weight.
In 1995 at the age of 40, I suddenly had an "aha" moment. Driving home from work one day, I could see the snow covered Sierra off in the distance. At that moment, it felt like the mountains were calling my name, and I had a strong urge to go to them. I arranged for a winter weekend trip to Yosemite Valley for my wife and two children, and it was an amazing experience. We went on a couple of hikes, and I was completely hooked.
What's a typical outing for you?
These days, my schedule being what it is, my hikes are most often day hikes, though I do manage to get out for overnights a few times a year. A typical outing might be a long day hike in the Tahoe area Sierra. Perhaps a hike to an alpine lake or a summit somewhere.
Do you prefer to go out solo or with partners?
I hike alone more often than not, though occasionally I can coax a friend into coming along. I also hike with a hikers group started by some Sacramento County employees years ago, which can be fun. Usually a "recovery" stop at a foothill winery or brewery on the way home is in order!

Any favorite outdoor stories?
One of my traditions for the last several years is a two- to three-day backpack trip following Easter. My Holy Week schedule is usually very busy and exhausting, so I will take a few days after to empty my brain. These trips are almost always solo. I love the solitude, and not having to worry about anything other than walking, drinking, eating, and sleeping. The Hetch Hetchy area in Yosemite has become a favorite place to do this, as the trails are relatively snow-free in the spring, and delightfully uncrowded (by Yosemite standards, anyway).
Speaking of Hetch Hetchy, a couple of years ago, on New Year's eve, a buddy and I were hiking to Lookout Point, which has sweeping views of the reservoir and waterfalls, with a relatively easy hiking investment. As a side note, this is the area which was burned in the "Rim" fire in 2014. A sign at the trailhead warned that it was a burned area, and that there might be hazards along the way.
It was a fairly breezy day, and ascending the trail up to a ridgeline, we heard a tree crack loudly directly upslope in front of us. We stopped… "is that thing gonna fall??" And then a loud crack as the tree started to fall straight into our direction.
My friend was behind me, and managed to scoot out of the way. My brain was trying to calculate if the tree was tall enough to reach us (it was), and I tried to figure out where I could go to get out of the way. The tree fell and clipped me on my right side, knocking me off of the feet. As I realized that I was going to be hit, I thought, "So this is how it ends..."
Fortunately, I didn't get hit directly, but had some cuts and abrasions, and developed a large hematoma on my right elbow. We felt very fortunate. If we'd been ten feet closer, I would have likely been killed.
What are some other unforgettable outdoor experiences?
In 2004, the cathedral granted my first ever sabbatical. That meant that I had the entire summer off. I decided to fulfill a long time goal, and do something completely crazy. Climb Mount Kilimanjaro. Another friend had talked about it as well, so he joined me. Through a common acquaintance, I connected with a Tanzanian guide, and got it on the calendar.
Leading up to the hike, I spent every weekend doing the hardest hikes I could find, both in the Sierra and the California coast range. And prior to leaving for Tanzania, spent two solid weeks in the Tahoe and Yosemite areas, hiking every day, bagging every peak I could.
The first day on Kilimanjaro, I thought, "Well, that wasn't that hard. I think I've got this nailed." By the end of the second day, I was thinking… "what in h**l have I gotten myself into??" But I was determined to do it, and on July 19th, we both made the summit, despite our altitude sickness. It was an outrageous epic achievement, and the most difficult physical thing I have ever done, which I will never forget.
On my next sabbatical in 2010, another friend and I did the High Sierra Trail in Sequoia National Park, starting in Giant Forest and ending at the top of Mount Whitney. It was an amazing and challenging hike, with incredible scenery every single day.
Another favorite, was a trip two summers ago in Mount Rainier National Park. I had been trying to reserve a permit to do the Wonderland Trail, but that summer they'd had a record number of applicants, and I didn't get one. But I called the rangers, and managed to put together a five-day solo loop trip around "Mother Mountain," which included stunning "Spray Park" area, and a side trip up onto the Northern Loop trail. This was by far the most fun I'd ever had on a backpacking trip. The scenery was new and stunning, and a much wetter than the usual dry summer conditions of the High Sierra.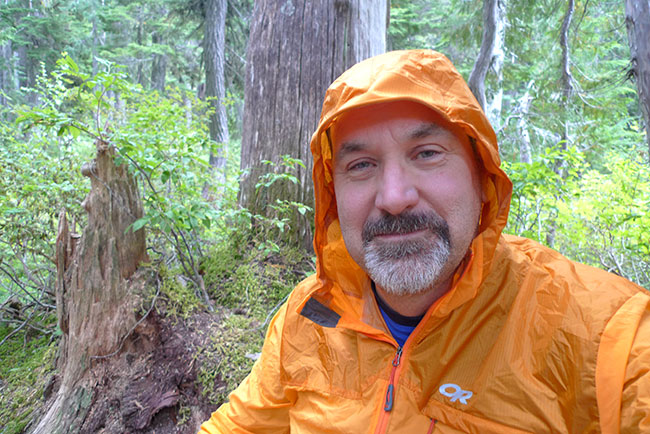 Do you have a piece of outdoor gear you consider essential? What? Why?
My current "big four" backpacking kit is an Osprey Aether 60 backpack, Big Agnes Fly Creek UL1 tent, Montbell UL Down Hugger bag, and a Sea-to-Summit Ultralight Insulated mat. I don't consider myself to be an ultralighter by any stretch, but I am mindful of how much I carry, especially as I get older. At this point, I am pretty happy with this basic setup, so most adjustments are made elsewhere.
Do you have a favorite piece of outdoor gear? What? Why?
Favorite stuff, in no particular order:
What advice would you give other gear reviewers?
My best advice to other gear reviewers...live with the gear for a while before reviewing. I found that I might be really enthusiastic about something initially, and then become disappointed over time. And be detailed and brutally honest. Sometimes I've found that I really like a piece of gear, but there might be one feature or aspect of it which doesn't quite cut it. Be sure to include that.
What advice would you give other outdoor enthusiasts?
I recently have begun a daily short yoga practice in my life. I have found that it really helps my hiking skills, and I've built up some good core strength. It's not a huge thing, and I'm probably not very good at it, but I have found that I have a lot less body pain doing it every day, including on the trail.
My other advice is to just get out as much as you can. Even if it's only for a day, I look for the physical challenge, solitude, and beautiful scenery as often as possible. It's worth it, and makes my quality of life better.
What's your favorite book?
My favorite book. That's a toughie, because there are so many I love. I recently enjoyed and reread Backpacking with the Saints: Wilderness Hiking as a Spiritual Practice written by Belden Lane, who is a retired Theology Professor from St. Louis University. It describes solo wilderness treks he has made, accompanied by a little light reading...Kierkegaard, Rumi, Thomas Merton, and the nature of solitude. I have read it a couple of times, and it has definitely become a favorite.
What's your favorite quote?
Dirty Harry in Magnum Force—"Ya know, a man's got to know his limitations." Classic.
Do you have a life philosophy?
My life philosophy would be something like this: Try to leave the world a better place today than it was yesterday. Not particularly easy these days, but it is always my goal in life.
Do you have a trail name or nickname?
My username is just my name, but I often go by "Sierracanon." I was given the honorary ecclesiastical title of "Canon" by our Bishop some years ago, so combined that with my favorite mountains in which to hike.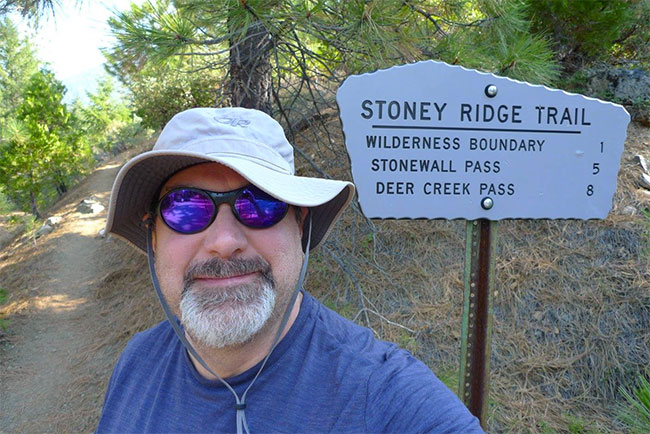 Wide Photo Captions Above:
Hiking Windy Gap in Mount Rainier National Park
Celebrating New Year's in Yosemite National Park in 2014-15
Hiking in the rain in Mount Rainier National Park in 2015
Backpacking the Stoney Ridge Trail in the Trinity Alps in 2017
---
Essential Gear for 2017 Reviewers of the Month
Congratulations, David!
To thank them for their essential contributions, we're giving David and every 2017 Reviewer of the Month the following prize pack, thanks to these generous brands. Worth more than $350, it's filled with examples of what to carry into the backcountry. For more on the 10 Essential prizes read "Essential Gear for our 2017 Reviewers of the Month."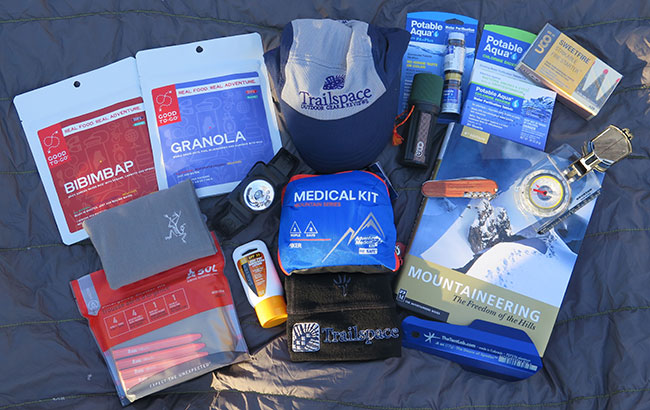 #1 Navigation


#2 Sun Protection


#3 Insulation

#4 Illumination


#5 First-Aid Supplies


#6 Fire

#7 Repair Kit and Tools

#8 Nutrition


#9 Hydration


#10 Emergency Shelter


#11 Know-How