Congratulations to Bruce Etter of Pennsylvania, our newest Reviewer of the Month!

Bruce has thru-hiked the Appalachian and the Pacific Crest trails, biked across the country, and has served three different terms with AmeriCorps. A member of Trailspace since January, he has reviewed his La Sportiva Wildcat 3.0 trail runners, LightHeart Gear Solo tent, ULA Equipment Circuit pack, and Enlightened Equipment Enigma quilt.
In thanks for his contributions, Bruce wins a $300 prize pack from AlpineAire, Black Diamond, EMS, Katadyn, Klean Kanteen, and Sea to Summit. Check out his prizes and get to know Bruce below.
---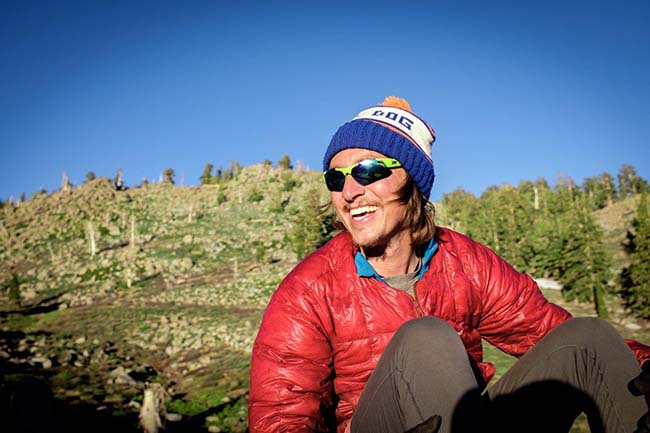 Entering the Sierra on June 4, 2017, while hiking the PCT. (Photo: Cody Simmons)
Please tell us a little about yourself.
Greetings all! My name is Bruce Etter, though most of my outdoor friends call me Drumsolo. I work in the market research field and spend most of my working hours hanging out with numbers or conversing with clients. I try and get outside as much as possible with my two dogs, who are even more ambitious with their outdoor time. I grew up in Pennsylvania, currently live in Northwest Connecticut, but will be moving to Northern New Hampshire next spring.
How did you become a Trailspace community member?
I first heard about Trailspace while I was on the Pacific Crest Trail in 2017. Long-distance trails often attract a lot of folks who love the idea of backpacking for months on end, but lack the experience and gear knowledge to feel confident tackling an endeavor like a thru-hike. A few folks used Trailspace as a resource to help fill in some of those holes.
What led you to start reviewing gear on Trailspace?
Honestly, I thought the concept was really sound. Gear is expensive, even the not-so-great products. After my last decade of backpacking I can't tell you how many pieces of gear I've purchased because I thought they would be perfect, only to find issues that I overlooked or realities that I hadn't considered.
Any resource that can help keep money in your pocket and increase your capabilities in wild spaces is good by me.
What do you do when you're not on Trailspace?
Most of my free time is spent hiking, playing with our dogs, skateboarding, rock climbing, working out at the gym, or watching The Great British Bake Off.
When were you introduced to the outdoors?
I was introduced to the outdoors at a young age. My mom always encouraged me to play outside in the forest and fields next to our house. As I got older I found more enjoyment being outside, particularly with my friends exploring places we were consistently relearning.
Who has influenced your outdoor life?
A big shout-out here to Purple Lizard Maps. They are a small company in Central Pennsylvania that make the best maps in the world. The maps include a slew of purple lizards across them, which are defined in the legend as a cool place, local legend, nice view, or nothing at all.
Without those maps, and those lizards, I never would have explored my home woods as much as I did. A large percentage of my love for the outdoors is directly related to those maps.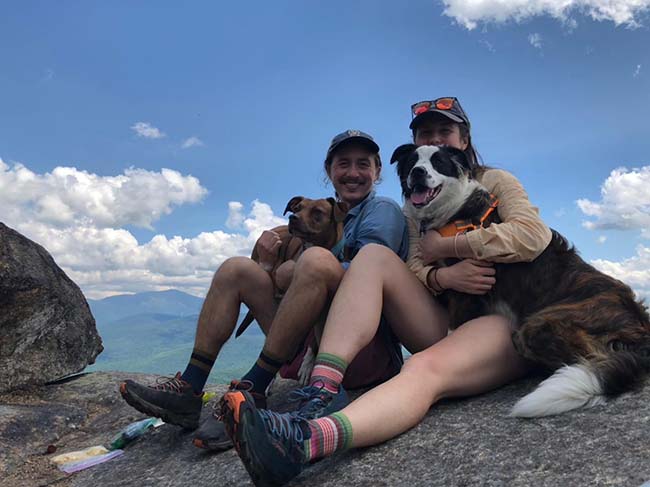 On the Cohos Trail in New Hampshire with Hitch, Nala, and Django, during the summer of 2018
Can you tell us about your AmeriCorps experiences?
I've been lucky enough to have three different opportunities to be an AmeriCorps member, all of which were focused on conservation. The first opportunity arose in 2013 when I was looking for an outdoor job that would take me somewhere I hadn't been before. I ended up finding an opportunity through the Student Conservation Association to work in the Frank Church River of No Return Wilderness Area in Idaho as a backcountry ranger.
I spent the entire summer with another AmeriCorps volunteer and an awesome mentor/ranger. The three of us spent the summer using crosscut saws and pulaskis to clear downed timber from wilderness trails. It was surreal. Every other week we would return to base-camp to receive our groceries by plane and have a few days off.
In 2015 I volunteered to join American Conservation Experience (ACE). I was based in Flagstaff, Arizona, and was able to travel all over the state working with various land management entities to tackle a variety of projects including trail building, native species protection, and invasive species removal.
Once my term in Arizona was over I volunteered for ACE's Utah branch based in Hurricane, Utah. While in Utah I was able to become a Class A sawyer through the guidance of some of the high-quality professionals on the ACE staff. I spent the next six months working on a variety of projects across the Southwest including the Grand Canyon, Zion National Park, four different national forests, and a wildlife refuge. I wouldn't trade my time with AmeriCorps for the world.
What is your favorite outdoor place?
Without question my favorite outdoor place is Rothrock State Forest in Central Pennsylvania. It may not be the grandest outdoor spot, but man do I love those woods. Many of my favorite memories and experiences happened within the confines of that forest.
Describe your happiest moment outdoors.
This one is impossible, but the first thought that jumps to my mind is when I finished the Appalachian Trail in 2011. When I got to that sign I just fell to my knees and wept. I'm tearing up just thinking about it. That was the culmination of a lot of emotions for me.
If you could go for a hike with anyone who would you pick and why?
If I could go on a hike with anyone living or dead, I'd have to say my great grandfather who I never met. I have a photo of him in Yosemite in 1922 and the walking stick that is in the picture with him. He improved the trajectory of my family greatly and I'd like to ask him a few questions.
Describe your dream outdoor adventure.
My dream outdoor adventure is one that never stops. If I could bike, hike, and paddle across the world and all that it has to offer I would be eternally grateful.
Can you tell us about your AT and PCT thru-hikes?
I started the AT in 2011 when I was 19 years old. Myself and two of my lifelong friends were all going to college in the town that we grew up in. We wanted to get out for a little while and do something that would be memorable. I took the spring semester of my sophomore year off and started at Springer Mountain on March 12.
The beginning was a dream. I didn't know what the hell I was doing. I had blisters for the first 200 miles. I lost feeling in my left thigh from crushing a nerve (still have yet to totally get that back). I had never hurt so bad and yet I loved it.
I reached a mental low in the beginning of Virginia. I wouldn't allow myself to quit, even though I wanted to, so I thought to myself the only way I am getting off of this is if I get injured. Right when I was thinking that I took a bad step over a log and felt my knee pop. It was at that point that I realized just how lucky I was to be doing what I was doing and what a tragedy it would be if I couldn't finish the trip.
Luckily my knee was alright and I grinned the rest of the trail soaking up every bit of companionship and challenge that a long-distance hike presents.
In 2016 I started toying with the idea of a year without boredom. It wasn't necessarily something I wanted to do, but something I had to do. I felt like I was just spinning my wheels in the world and wanted to do something that when I am old and frail I could look back on with fondness.
My biggest fear at the time was waking up and realizing that I was 50. As a sidenote, I understand 50 isn't that old, but when you're 25 anything north of 35 seems old.
The original goal was to bike across the country, hike the PCT, and then sail to New Zealand. I started the southern tier in St. Augustine, Florida, in early January 2017 and began peddling west on my trusty steel steed named "The Beige Ghost" and lifelong friend Paul. Biking was an entirely new phenomenon to me that presented its own highs and lows. We reached San Diego, California, in mid-March after countless hours of peddling, laughs, and a few unpleasant drivers.
The timing wasn't perfect as my permit for the PCT was at the end of April, so I flew back to Pennsylvania for a month. I started the PCT on April 25, 2017, after staying at Scout and Frodo's house (a big thank-you to them and everything they do for the PCT).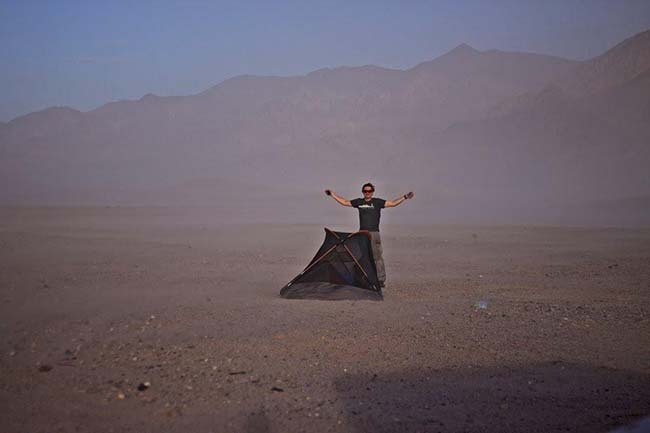 Sandstorm in Death Valley National Park in 2016. (Photo: Toula Papadopoulos)
After moving relatively quickly through the desert I arrived in the record snow-packed Sierra. I went through the snow for a few days with my friends and lived deeply. This was my first real experience with significantly dangerous river crossings, which was both terrifying and exhilarating. I took the first exit through Kearsarge Pass and spent a few days kicking around my next move. An unseasonably warm heat wave was rolling through, which in turn created tremendous flooding.
I opted to flip up to Oregon and hike south with my trail family. We spent the rest of the trail dodging forest fires and hitchhiking around to ensure that we completed every patch of trail that was open to the public. It was amazing, and I wouldn't trade my experience for anything.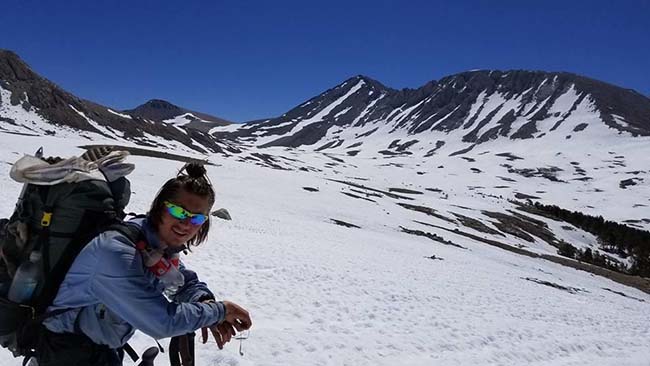 In Kings Canyon National Park in 2017. (Photo: McLies)
Do you have a piece of outdoor gear you consider essential?
I don't know if anything is truly essential per se, everyone has their own take on what to bring. For me, having the right gear to remain comfortable when I'm not moving is essential. That includes my entire sleep system (pad, bag, clothes) and my frisbee to ensure that good times are had by all.
Do you have a favorite piece of gear?
For me, I hate going anywhere without my Therm-a-Rest NeoAir. Nothing is more important than a good night's sleep. Additionally, it functions quite well as a floatie when you want to hang out on a lake.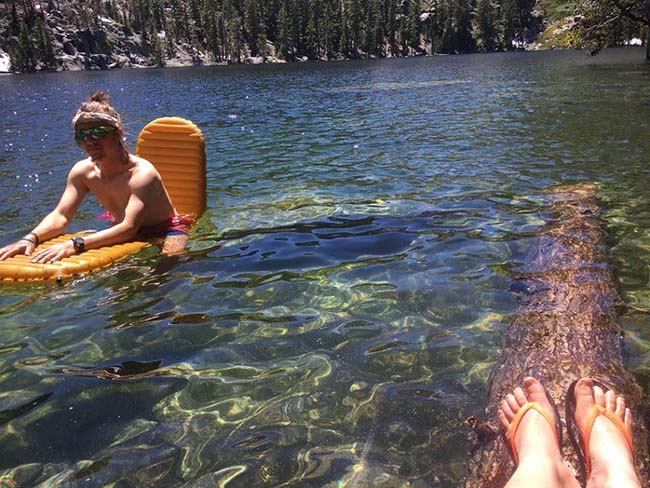 NeoAir floating on Porcupine Lake in California in 2017. (Photo: Dos Tacos)
What's the best outdoor or gear advice you've heard?
My dad used to be a professional mountaineer. He routinely told me when I was young that the most important tool you have on any outdoor adventure is between your ears.
As far as gear goes, my advice would be talk to as many people as you can and don't spend more than you can afford. Good gear doesn't always have to cost an arm and a leg. It's about what you're willing to carry. Of course, it is nice to save a few ounces on everything, but it isn't always worth the price tag. Additionally, if you take care of your gear it can last you a long time, which allows you to build your inventory little by little.
Have any advice to other gear reviewers and outdoor enthusiasts?
To my fellow reviewers, keep in mind that everyone is different. What is perfect for you may be terrible for me. People still did thru-hikes in the 1950s. You don't need a sub ten-pound base-weight. It sure does make some things easier though.
Do you have a question for other Trailspace members?
What do you carry in your pack that you think others don't?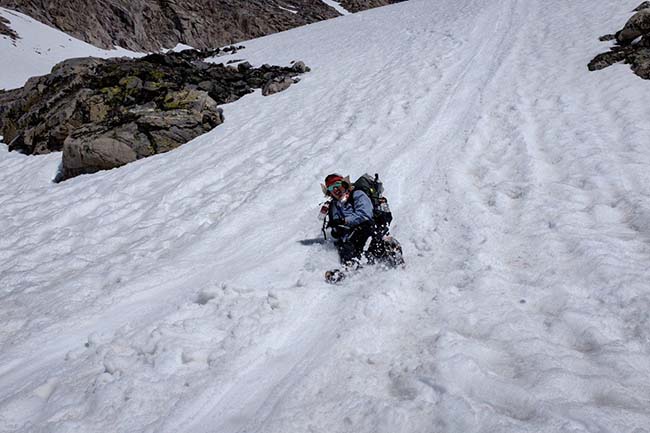 Glissading in Sequoia National Park in 2017. (Photo: Cody Simmons)
---
Reviewer of the Month Prizes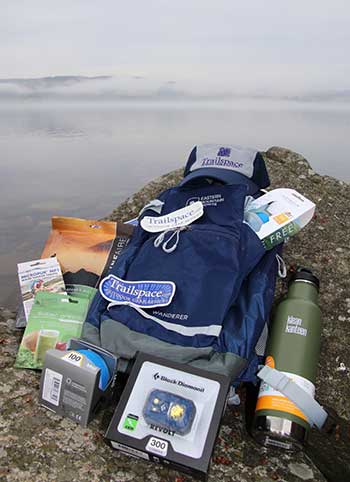 Congratulations, Bruce!
To thank them for their essential contributions, we're giving Bruce and every 2018 Reviewer of the Month more than $300 worth of gear, thanks to these generous brands: