Congratulations to Jim McCann of Bethlehem, New Hampshire, our newest Reviewer of the Month! Jim has been a member of Trailspace since 2009 (happy 10 years, Jim!), is a member of the Review Corps gear testing program, and has reviewed the Patagonia Middle Fork Packable Waders, Tecnica Forge GTX boots, and Montane Quattro Fusion Jacket, among other gear.
In thanks for his contributions, Jim wins a $360 prize pack from AlpineAire, Black Diamond, EMS, Katadyn, Klean Kanteen, Sea to Summit, and TheTentLab. Check out his prizes and get to know Jim below.
---
Please tell us about yourself.
I work in the educational assessment field and have had the opportunity to do so remotely since 2010. This has allowed me to live in an area I love while still doing work I am interested in.
How did you become a Trailspace community member?
I was searching for a good source of non-biased product reviews as well as a group of people having great discussions about the outdoors.
What led you to start reviewing your gear on Trailspace?
I joined Trailspace in March of 2009 and after a year of taking advantage of reading other reviews I decided it was time to jump in with my own.
What do you do when you're not at Trailspace.com?
Depending on the season I will be out mountain biking, fat biking, fly fishing, or skiing. I am also part of a group that has formed to build and promote trails for non-motorized use in our town.
How do you spend your time outdoors?
I used to think of myself as primarily a hiker or mountain biker, but over the last few years I have shifted to a more generalist approach. I just like to be outside, whether it is biking, skiing, fly fishing, or sitting around the fire; it is all better than being stuck indoors.
When and how were you introduced to the outdoors?
I was fortunate to grow up next door to a town park with many trails, so I spent a lot of time exploring those starting at an early age. There was also a state forest nearby with some outstanding mountain bike trails which allowed me quick access to learn the sport.
Do you prefer to go out solo or with a partner?
This depends entirely on the activity. If I'm biking or skiing I would rather be with other people, preferably with my wife, OutdoorKelly! If I'm fly fishing, I would rather be by myself.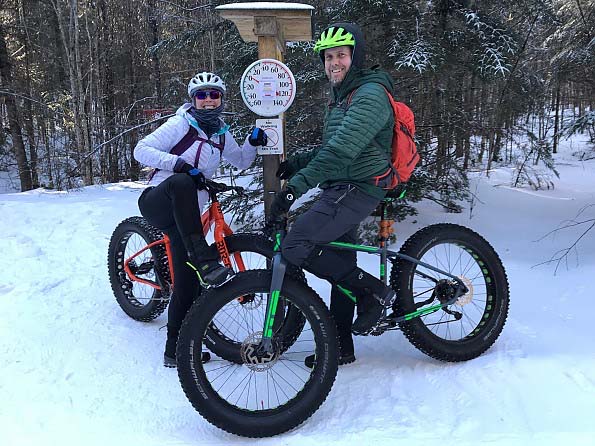 Kelly and Jim fat biking in Vermont
Describe your ideal day outdoors.
The ideal day would start with a ride on the local trails right from the house with a stop along the river to throw a line, followed up by an evening by the campfire.
Describe your happiest moment outdoors (or proudest, hardest, scariest).
One of my hardest and most enjoyable moments outdoors was during a multiday bikepacking trip put on by an area club. The second day was 40 miles of rugged overgrown trails and steep ascents. Pushing through to the end was taxing but worth it.
If you could recreate outdoors with anyone, whom would you pick?
I would want to go fly fishing with Yvon Chouinard. I am currently reading a book he helped write and I appreciate his simplistic approach to the sport. He also has a wit and sense of humor I would enjoy.
What is your dream outdoor adventure?
I have had the chance to dip my toe in what the western part of the U.S. has to offer, and it would be great to get a chance to spend a few months exploring the biking and fishing in more depths.
Any plans on your horizon?
I am always thinking about short getaways that take me places I haven't been to yet. Living in Northern New Hampshire provides the opportunity to not only explore my state but easily visit Vermont, Maine, and Canada. I would like to get north of the border more this year to check out what is going on up in Quebec.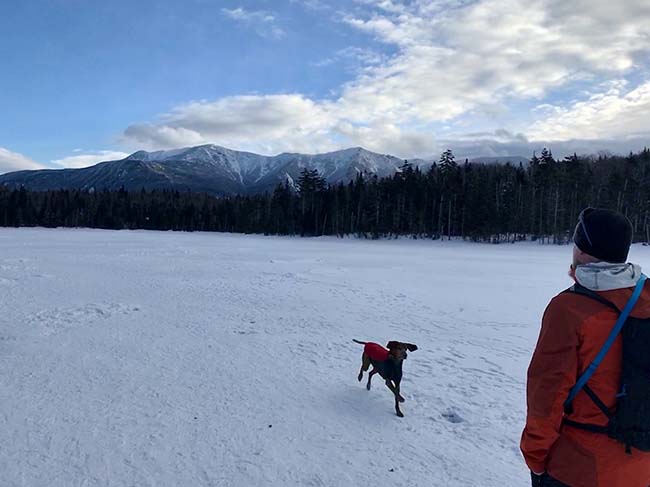 Jim and Roland on Lonesome Lake, Franconia Notch, N.H.
Do you have any outdoor regrets?
My only regret was not summiting Rainier in the summer of 2017. The weather and conditions were perfect, but my head wasn't in it.
Do you have a piece of outdoor gear you consider essential?
I always carry a small multitool with me when I'm outside. I have been saved more than once by my Leatherman Juice S2.
Do you have a favorite piece of outdoor gear?
My favorite piece of gear is my Limmer boots. I wear them most of the year because they work for almost everything. I just got them back from Limmer where they were having new soles put on. I was at a loss for what to wear on my feet for a month.
What's in your backpack right now?
Nothing! I use the same bag for winter fat biking, Nordic backcountry skiing, and alpine touring. I empty it after each trip since the gear needed for those activities doesn't always overlap and it is usually needing to dry out.
What's the best outdoor or gear advice you've heard?
Get the best piece of equipment you can afford to prevent needing to buy something twice.
What advice would you give other gear reviewers?
Focus on the claims the manufacturer is making; see if they hold up.
What advice would you give other outdoor enthusiasts?
Figure out a way to get outside as much as you can. I know that is a cheesy answer, but it is too easy to fall into a habit of talking about going outside and not actually going outside.
Do you have any gear regrets?
I don't have any regrets because even bad decisions when it comes to gear help inform my next gear purchase.
What's your favorite quote?
"It's not the load that breaks you down. It's the way you carry it."
What's your favorite book?
Fahrenheit 451 by Ray Bradbury is one of my favorite non-outdoor books.
The Feather Thief: Beauty, Obsession, and the Natural History Heist of the Century by Kirk Wallace Johnson is also a fascinating dive into the world of salmon fly tying.
What would Trailspace members be surprised to learn about you?
I spent last summer fixing up a vintage trailer with OutdoorKelly to use for a base of operations when we go on outdoor adventures.
Not really that surprising, but it was one of the few times I was successful at purchasing an antique and actually turning it into something useful!
Anything else you'd like to share with the Trailspace community?
I am one of the founding board members of the non-profit Bethlehem Trails Association based in Bethlehem, New Hampshire. We are building a network of non-motorized trails for mountain biking, trail running, skiing, and snowshoeing.
We have access to around 1,000 acres and have built six miles of trail at this point. We are still growing, but there is a lot of energy and enthusiasm in the area. Reach out if you are in the area and I can show you around!
---
Reviewer of the Month Prizes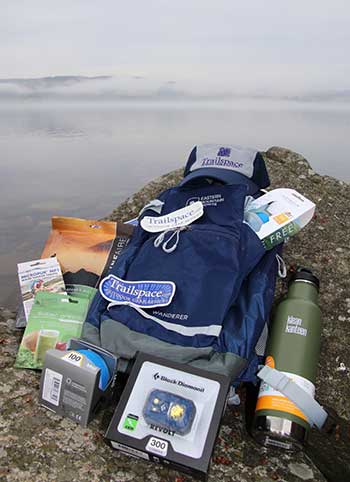 Congratulations, Jim!
In thanks for his contributions, we're giving Jim more than $360 worth of gear, thanks to these generous brands: