Congratulations to Lori Lindsey, our newest Reviewer of the Month! Lori lives in Tennessee and is a hiker, hammock camper, and photographer. She has reviewed her 3F Gear Lanshan 2 tent, Katadyn Gravity BeFree, Eagles Nest Outfitters HouseFly Rain Tarp, and Live Infinitely Hammock Mosquito Net.
In thanks for her contributions, Lori wins a $300 prize pack from AlpineAire, Black Diamond, EMS, Katadyn, Klean Kanteen, Sea to Summit, and TheTentLab. Check out her prizes and get to know Lori below.
---
Please tell us a little about yourself.
I call myself a cubicle monkey. I work 40 hours a week at a desk job and constantly dream of being out on a trail somewhere.
How did you become a Trailspace community member?
I believe I was just googling gear reviews and happened upon the site.
What led you to start reviewing your gear on Trailspace?
I thought if the reviews had helped me that I would share my own experiences with my gear.
What do you do when you're not at trailspace.com?
When not at work or actually on a trail I watch a lot of YouTube for reviews of hiking trails and gear. I have also been watching a lot of the Appalachian Trail thru hiker videos.

Do you have plans for doing the AT or another thru hike?
I do plan on doing the AT, but am just not sure when it will be possible. It may be something that is after retirement. I hope not, but that's just life. I would also love to do the John Muir Trail.
How do you spend your time outdoors?
Hiking, camping, kayaking, and doing photography.
When and how were you introduced to the outdoors?
I have played in the woods since I was a kid. However, I did not start really backpacking until about ten years ago. I actually started it out of boredom. It was just something to do on the weekends. I joined a hiking Meetup group and started hearing about all the different places to hike.
What's a typical outing for you?
Hiking someplace with either a waterfall or view.
Do you prefer to go out solo or with a partner?
Depends. I like either.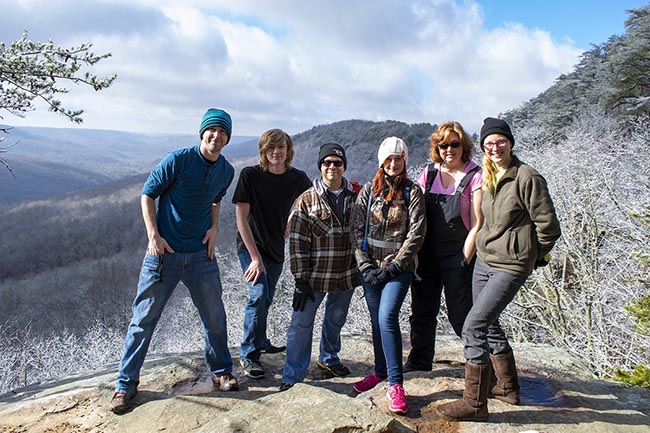 Lori (in pink) with her husband, nieces, and nephews on a New Year's Day hike at Virgin Falls in Sparta, Tenn. "Virgin Falls was the very first hard hike I did. I thought I would die. Literally. Swore I would never do it again. I have now done it over 15 times and I still swear each time is the last time."

Any favorite stories?
I don't know if it is a favorite or not, but I do have a good one of a friend who had to be rescued on a trail in Tennessee. The hiking app I used had the wrong mileage listed and instead of being a six-mile trail it was over 12 and extremely strenuous. Her IT bands on her legs locked up and she couldn't walk. It took about 24 volunteers to carry her out on the wheel, which is like a unicycle stretcher. I wrote a blog post on the rescue, "A Savage Rescue."
Noteworthy history or skills?
Just trying to not die while I am out there. Is that a skill?
Who has influenced your outdoor life?
This is going to sound really hokey, but...the first person was Cody Lundin. When Dual Survival came out I could not watch enough of it. That's what really started my googling things that led to backpacking and then YouTube where I found Shug and his videos on hammock camping. I just kept going down the rabbit hole and now have many favorites on YouTube.
What drew you to those videos?
It really is a rabbit hole. So, it started with Dual Survival. Then I started getting on YouTube looking up survival videos, which led to bushcrafting videos. About the same time I had signed up with Nashville Hiking Meetup on Meetup.com and went on a couple of hikes. That got me started youtubing local hikes and just hiking in general.
On a lot of the videos I was watching, the guys—and it was always guys at that point—were always mentioning some guy named Shug. It was "Shug said to hang your hammock this way," "Shug said this and that," and "WHOOO Buddy," which is something Shug always says. Finally, I was like who is this Shug person and why has every outdoors person heard of him?
So I looked him up, and, just in case you don't know who I am talking about, here he is: "Hammock Hangin' How-To Essentials For Noobs". I would lie in bed at night and watch his videos and just die laughing. My husband thought I'd lost my mind.
Oh, almost forgot, also a movie called Mile...Mile & a Half. That was the one that got me thinking about longer hikes.
I will also say that this was the same time my kids were graduating high school and I realized that once they were gone I didn't know what I would do. Hiking, camping, and photography literally saved my life. I had been in a depression and these three things pulled me out of it. I could write a whole blog post on that alone.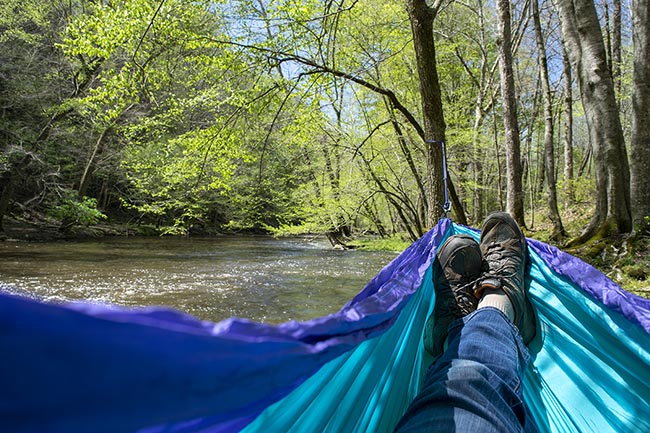 Lori in her hammock at Old Stone Fort State Archaeological Park, Tenn.
"I take it sometimes even when I am not camping just to toss it up and relax."
Can you tell us more about your photography?
Ahhh Photography. I actually met my husband while taking photography classes in 1985. It started with just landscaping and now has grown into portraits and weddings. I have sold a few of my landscape photos commercially. I have an Instagram for it (lorilindseyphotography) and a separate one for my hiking (thecairnchronicles), plus a website for my photography (lorilindseyphotography.com).
What's your favorite outdoor place?
Gosh, in Tennessee there are so many. I love Laurel Snow Pocket Wilderness and Virgin Falls. I also love Grayson Highlands in Virginia.
Describe your happiest moment outdoors (or proudest, hardest, scariest).
Proudest moment was doing the 16 miles on the AT from Carver's Gap to 19E. It is a spectacular hike.
My scariest and probably the hardest hike was when my friend had to be rescued on the West Collins Trail in Savage Gulf.
Describe your ideal day outdoors.
Fall, mid-sixties or lower. Sunny day. Campfire and lots of friends.
What is your dream outdoor adventure?
Not enough time to list all of them. I have a friend who just got back from Iceland and after seeing her pictures it is definitely on my list. She did the Ring Road. Also, I would love to backpack across Scotland.
Any plans on your horizon?
Just lots of fall hiking and camping.
Do you have any outdoor goals?
I am going to try and become one of the members of the 900 Miler Club. That is someone who hikes all of the Great Smoky Mountain trails. Not many have done it. I also plan on doing the Appalachian Trail at some point.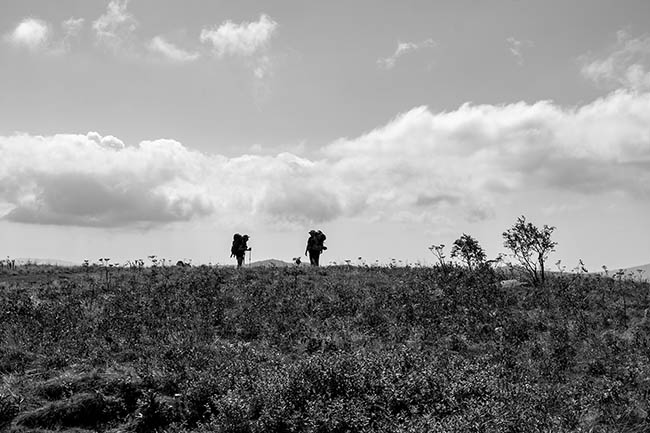 A 2018 hike on the AT, Carvers Gap to 19E section of the Roan Highlands. "It was difficult and so gratifying."
Do you have any outdoor regrets? Fears? Mistakes?
Really no regrets. If I make a mistake I am learning. Fears? I am afraid of cougars/mountain lions. That is really the only thing that scares me.
Do you have a piece of outdoor gear you consider essential?
My Black Diamond trekking poles. They have saved my life on more than one occasion. I never hike without them.
Do you have a favorite piece of outdoor gear?
Aside from the trekking poles I guess I would have to say my ENO Housefly Rain Tarp. It is massive and not heavy and gives me complete coverage.
What's in your backpack right now?
Everything from my last camping trip: hammock, tarp, sleeping bag, stove, etc.
What's the best outdoor or gear advice you've been given or heard?
For outdoor advice—if backpacking, ALWAYS check with a ranger on the difficulty of a trail and for trail conditions. The websites are nice, but everyone has a different degree of difficulty. I have seen some trails rated as easy that were anything but. I have learned this one the hard way.
For gear—you have to do what works for you. Not everyone is going to love the latest gadget that is the "it" thing. Just do what feels right for you.
What advice would you give other gear reviewers?
Just be as honest.
What advice would you give other outdoor enthusiasts?
DO IT. But research the areas you are going to and ask questions of others. Join a hiking group on meetup.com and get to know others that are doing what you want to do.
Do you have any gear regrets?
A few. My first trekking poles were cheap ones I got on eBay that broke the first time out. Then a second pair from Walmart that didn't last much longer. You get what you pay for.
What's your favorite book?
I am not a huge reader, but I did read one a year or so ago called Up: A Mothers and Daughter's Peakbagging Adventure by Patricia Ellis Herr. Fabulous and very inspiring. Also, To Kill a Mockingbird.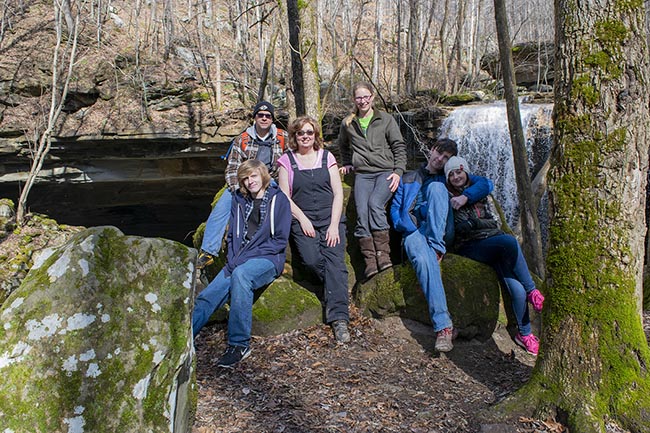 Lori with her husband, nieces, and nephews at Virgin Falls in Sparta, Tenn.
What's your favorite quote?
"The woods are lovely, dark, and deep. But I have promises to keep, And miles to go before I sleep..."
—Robert Frost
What's the one quality you feel best describes you?
Inquisitive
How would others describe you?
Fun, outgoing
Do you have a life philosophy?
Do as much as I can now so when I am old I won't look back and say "I wish I had done..."
What would Trailspace members be surprised to learn about you?
I am 53 and didn't start this journey until I was 43. Age does not matter. I also started out by going solo on most trips. I did go on a few with a hiking group, but they moved too fast for me.
Do you have a trail name, and if so where does it come from?
Trail names: Slo-Lo, because, well, I am slow, and DarnIt because I tend to say that A LOT.
What question would you ask other Trailspace members in a Q&A?
How does your spouse feel about your outdoor adventures?
Anything else you'd like to share with the Trailspace community?
I have a hiking blog on Wordpress, The Cairn Chronicles.
---
Reviewer of the Month Prizes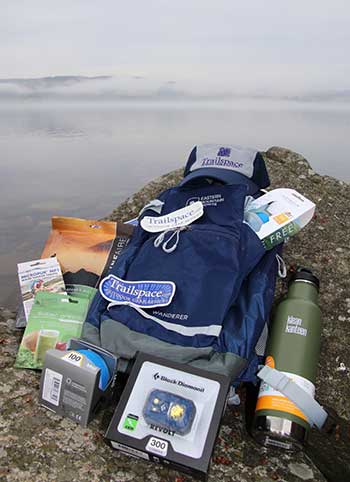 Congratulations, Lori!
In thanks for her contributions, we're giving Lori more than $360 worth of gear, thanks to these generous brands: