Meet Trouthunter, May's most helpful reviewer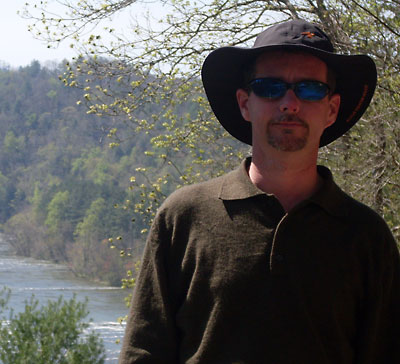 Congratulations to community member Trouthunter (aka Mike Gartman), author of May's most helpful gear review.
The Trailspace community voted Mike's review of the MSR WhisperLite Universal stove the most useful review of the month. He wins a Trailspace goodie pack for his efforts.*
Write your own helpful gear review and you might be next month's most helpful reviewer.

Meet Trouthunter/Mike
How did you get started exploring outdoors?
I grew up in South Carolina and there always seemed to be woods near our house. Like many kids who grew up with woods nearby I spent many Saturdays with friends building forts, riding my bike on trails, and other mild mayhem. Of course I ventured out only after my favorite cartoons were over.
When I was an older teenager I would go camping with friends in the woods behind our house. We would head out with crude gear, whatever food we could wrestle from the pantry, and a lot of optimism. We would return with bug bites, practically no sleep, missing items, and sometimes hangovers.
These early adventures provided some of my most pleasant memories growing up and helped solidify my love of nature and the outdoors.
In 1984, at the age of 20, I moved to Tennessee and it wasn't long before I met some people who went backpacking in the mountains. After a couple trips I was hooked. Then along came hiking clubs, outdoor gear stores...and the spending of money.
Some peopledon't think of South Carolina as a hiking mecca. How has the flatter, coastal terrain changed the way you experience the outdoors?
In 2001 I moved back to South Carolina, with my own family this time, and found myself in the coastal plain region.
To be honest, I was a little less than enamored with my local outdoor prospects in comparison with the beautiful terrain of the Southern Appalachian mountains. The coastal plain is flat; I often refer to it as being two dimensional regarding its lack of elevation change.
I have learned though that if you focus on what is missing you can overlook what is present. The coastal plain offers things that I have come to really admire, such as the incredible biodiversity found in both the southern bottomland hardwood swamps and cypress swamps with virgin stands of cypress and tupelo trees.
In addition, South Carolina borders the Blue Ridge Escarpment in the extreme northwest section of the state. This is where the Southern Appalachians of North Carolina abruptly stop and fall off into the foothills and eventually the Piedmont section of our state.
Often called the "Blue Wall" this steep escarpment area has some of the most beautiful waterfalls and deep gorges found in the East, as well as a biodiversity that rivals any place in the world. It also holds the only temperate rainforest west of the Rockies, Jocassee Gorges, with rainfall upwards of 100 inches per year.
Regardless of where I live, I have learned to look for what is there, not despair over what isn't.
You reviewed the new MSR WhisperLite Universal stove as a member of Trailspace's Review Corps. Any special motivations for volunteering to review this stove?

My first backpacking stove was a WhisperLite I bought at a local outfitter in the late '80s. Up until then I had cooked over a fire, 'cause you know, I was camping. I just figured that's how you did it.
I actually got pretty good at cooking over a fire. I learned how to pull the coals aside and cook on them, how to smoke, how to bake, etc. Boy was it a lot of work though, gathering wood, tending the fire, extinguishing the fire, and so forth.
I went on an overnight hike one spring with a local hiking club and all of the members had stoves. I remember questioning all of them about their stoves. I probably annoyed a couple of them, but I couldn't help it.
As soon as I got my next paycheck I went to my local outfitters and looked at all the stoves. I was soon confused and bewildered. I thought the WhisperLite looked cool, so I picked it. I got it home and then realized I also needed a fuel bottle, so back to the store I went (what was the sales guy thinking?).
I remember lighting it for the first time while camping with a buddy. I let the priming flame burn out before opening the fuel valve, so I repeated the entire priming procedure. I held my head over the hot stove as I lit the fuel in the priming bowl, WOOSH it went. I didn't realize that the generator tube was hot and gas had been released through the burner as I lit it. My buddy said the stove was a dangerous contraption; he was right.
Many years later I can laugh about that. If only there had been someone to guide me through picking and using a stove. Well, today we have the internet. So if you are willing to do a little reading or ask questions on a web forum you can learn an awful lot.
Being a member of Trailspace and reviewing gear is just my way of giving back and helping others. I had a lot of help from patient people through the years who did not have to take the time to give me advice or show me how to do things but did anyway. We can all contribute in our own time and in our own way.
What are some of your favorite pieces of outdoor equipment?
I have a lot of gear, some for summer, some for winter, some for UL trips. I have to say though that my favorite gear is gear that I had a special experience with. Odd maybe, but true.
For example, my favorite tent is a Mountain Hardwear Skyview 2. It's the first real storm-proof backpacking tent I bought. I have spent many wonderful nights in this tent on backpacking trips in river gorges with my dog. It has a huge vestibule where the dog slept.
Sometimes I still take this 8+ pound tent on shorter trips for nostalgic reasons, sadly minus the dog.
I also love my FGL (full grain leather) backpacking boots by Alico of Italy; an oldie but goodie backpack by VauDe; a Swiss Army Knife I got as a teenager; a Camping Gaz lantern I have had forever that my dog used to carry, though it's mostly used for car camping now; a Suunto MC-1 compass, and my favorite new piece of gear is my Delorme PN 60 GPSR 'cause it rocks.
Tell us about your favorite outdoor destinations.
I love secluded river gorges deep in the mountains that are hard to get to. I love fast flowing mountain streams, standing in the off cast from a waterfall, sweet overlooks on the hike in or out of these places, the shade and cool breezes offered in summer, and the challenges offered in winter.
I have backpacked along the Cumberland Plateau Escarpment of Tennessee, in the beautiful Tennessee-North Carolina state line area, and along the Blue Ridge Escarpment near the North Carolina-South Carolina state line.
If I absolutely had to pick a favorite it would be for personal reasons and not because it was the most spectacular or famous place I have ever been. I would have to say the North Chickamauga Creek Gorge near Soddy-Daisy, Tenn., because that's where I really learned how to backpack and went on many trips exploring the area and using my newly acquired backpacking gear. Just a lot of great memories.
Anything else you'd like to share with the Trailspace community?
Once I felt like I had the whole backpacking thing down (had the gear, basic skills, etc.) I started hiking some of the longer trails in the area. It wasn't long before I was doing a lot of miles per day and trying to learn how long distance hikers operate so efficiently. I remember I even started using the stopwatch feature on my wristwatch, recording my times from point to point.
Now, there's nothing at all wrong with putting a bunch of miles behind you. It requires fortitude, is admirable, and is the only practical way to hike a long trail. However if I have learned anything at all it is how important it is to take some time to slow down and closely observe the more obscure or small things.
Things like how the water moves across the rocks, how clouds change shape, watching shadows slide up and down cliff walls as the sun rises and sets, the bug crawling in the leaves next to where you are sitting, the songbird singing its heart out while you pack up, an early morning fog rolling across a trout stream.
These are the things that I have found mean the most to me when it's all said and done. I don't remember if it took me two hours 15 minutes to reach a ridge or two hours 45 minutes. I remember what I experienced along the way.
It is the experience that has enriched my life, not the stopwatch.
---
Great job, Trouthunter!
*Besides Trailspace glory, Trouthunter gets a goodie pack with an Ibex Zepher Skull Cap with Trailspace logo, a Trailspace Trail Runner Cap, a Trailspace pint glass (for après-backcountry use), a selection of energy bars from Clif Bar, Olympia Granola, and ProBar, and Trailspace stickers.

Help recognize the best reviews on Trailspace by clicking that "Yes" button after "Was this review helpful?" whenever you read a truly helpful review. You'll not only recognize good reviewers, you'll help highlight the best reviews of products.

Wondering how you can be as lucky as Trouthunter? Write a great gear review of your own with our "write a review" form. Next month the Trailspace community will recognize another reviewer, and it could be you and your gear review.