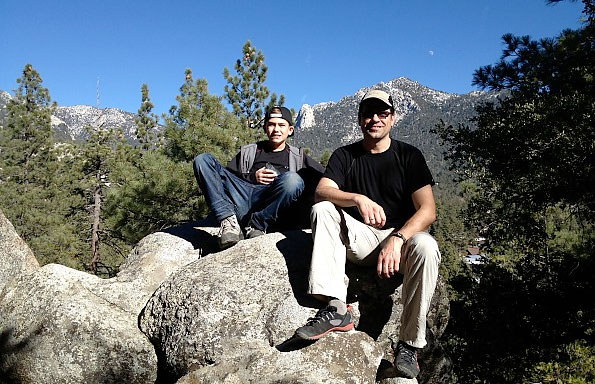 Congratulations to community member XterroBrando, Trailspace's newest Reviewer of the Month!
Each month we recognize and get to know a different member of the Trailspace community, and this month it's California trail runner and hiker XterroBrando (aka Brandon Idler). XterroBrando's Review Corps reviews of the Sierra Designs Cloud Layering System—Cloud Airshell, Cloud Windshell, DriDown Cloud Puffy—were among the highest rated by the community in November.
Brandon, a hiker, mountain biker, and trail runner, hopes to develop his mountaineering and climbing skills over the next 10 years, along with his son, who has joined him on a path to climb a peak with an elevation gain of 1,000 feet every year until they get to Kilimanjaro.
Congratulations, XterroBrando! You win this month's featured Reviewer of the Month prize, a pair of custom Keen Newport H2 sandals ($130 value). Plus, you get a goodie pack from A3, Clif, GoBites, Kind, and Trailspace for your contributions.*
Join the Trailspace community in recognizing other helpful reviewers by voting up the reviews you find most useful. Write your own helpful gear reviews and you could be our next Reviewer of the Month.
---
Meet Brandon/XterroBrando
How did you get started exploring outdoors? Any favorite stories, memories?
When my father took me to the summit of Mount Laguna in San Diego, I was awestruck at the view from 6,000 feet in the sky. Thereafter I pined for the mountains just to the east of my home as much as I did the waves of OB that danced in the glow of the sunsets in the Pacific.
I had my first camping trip to Yosemite in my junior year of high school, and I was officially hooked on the outdoors. I was introduced to mountain biking and backpacking while attending college on the California Central Coast near Hearst Castle, and would sleep out under the stars almost every weekend on the coastal sand dunes in Montaña de Oro State Park, overlooking Morro Bay.
What do you enjoy doing outdoors?
Hiking, mountain biking, trail running, backpacking and camping, fishing, scrambling, and now I aim to climb with my son.
Tell us about your favorite outdoor areas/places
West Fork Trail in Oak Creek Canyon, Arizona. Also, the Pacific Crest Trail to San Jacinto Peak via Devil's Slide Trail near Idyllwild, Calif.
What's your perfect outdoor day?
A challenging spring trail run that sees the snow dusted summit of a mountain here in SoCal.
What are your favorite pieces of outdoor equipment? Why?
Guyot Designs Microbites Utensils. Simple, effective, compact, and versatile. See my review:
"I have purchased many products for the outdoors over the years, and this one of the best designed and executed items I've ever seen. Absolutely recommended, and without peer...particularly for the price."
Have any stories to share about your favorite (or least favorite) gear? Good, bad, funny gear experiences?
Early last winter on a snow day with my family I left behind my Snow Claw in a remote forest area. I returned three months later to retrieve it and it was still there after the melt!
What motivated you to share your outdoor gear reviews with the Trailspace community?
After doing a web search for some information and reviews on a piece of gear I was looking for, I found this wonderful community back in 2008. I realized then that it is a great resource and place to be.
Where does your username come from?
I used to race Xterra All Terrain triathlons and my dad always called me Brando, so I combined the two. He was there for my first race and cheered me on by that nickname, so I thought it was fitting.
Anything else you'd like to share with the Trailspace community?
I am blessed to be an executive of Popeye Energy Drinks. I get to play with cartoons all day!


---
Great job, XterroBrando!
*Besides Trailspace appreciation, XterroBrando wins a pair of custom Newport H2 sport sandals, thanks to Keen, plus a goodie pack with bars from A3, Clif (including a rare seasonal bar), GoBites, and Kind, and a Trailspace Trail Runner Cap, Pint Glass (for après-backcountry use), and stickers.
Wondering how you can be as lucky as XterroBrando? Write some great gear reviews of your own. Next month we'll recognize another reviewer (who'll win a great prize), and it could be you!
Help recognize the best reviews on Trailspace by clicking that up arrow whenever you read a truly helpful review. You'll not only recognize good reviewers, you'll help highlight the best reviews of products for other members looking for outdoor equipment.