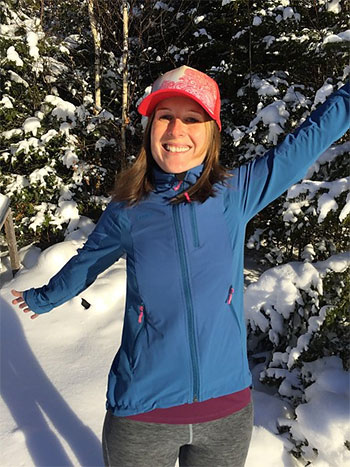 Congratulations to Kelly McCann (OutdoorKelly), our newest Reviewer of the Month!
A Trailspace member since 2014, Kelly lives in a cabin in the mountains of northern New Hampshire, where she hikes, bikes, skis, and paddles. Among other gear, she has reviewed the Outdoor Research Skyward Jacket, Trew Up Jacket, and Mammut Comfort Low GTX Surround trail shoes. She also is a member of the Trailspace Review Corps gear testing program.
Members like Kelly are essential to the Trailspace community. In thanks for her contributions, she wins a 10 Essentials prize pack worth more than $350.
Kelly, and every 2017 Reviewer of the Month, will receive examples of each of the 10 Essentials of outdoor gear, thanks to Adventure Medical Kits, Arc'teryx, Brunton, Good To-Go, Mountaineers Books, Potable Aqua, Sawyer, SOL, The TentLab, UCO, and Victorinox.
Check out the 2017 prizes below or see "Essential Gear for our 2017 Reviewers of the Month."
---
Please introduce yourself.
I'm a mountain biker, yoga teacher, backcountry (and occasional front-country) skier, psychologist (with a small private practice), hiker, knitter, and owner of two nearly polar opposite dogs, one of whom is a Trailspace gear tester! I hope to someday consider myself a baritone ukulele player and a rock climber if I can work through my phobia of heights and general musical ineptitude.
How did you become a Trailspace community member?
Peer pressure ;-) My husband, Jim, convinced me to join, but the amazing community of outdoor adventurers has made me a Trailspace junkie for life!
What led you to start reviewing your gear on Trailspace?
I got tired of being put to shame by Jim's gear-related expertise.
When and how were you introduced to the outdoors?
I was raised in a small town on the eastern edge of the White Mountains in what began as a 16- by 20-foot cabin built by my mother and renovated and expanded upon by my father over the years. My family spent essentially every weekend doing something together outdoors.
When my brother and I were too small to backcountry ski we were pulled in a sled behind the family dog. I learned to run when I got tired of straddling the frame of my dad's bike as he peddled us along (in a time before bike trailers).
There were days when I loved being outside, and there were less idyllic moments when my fingers froze or I threw my bike to the side of the path in frustration. These memories of time spent outdoors as a child elicit deep gratitude for my parents alongside a sense of "what were they thinking?!"
I'm still learning how to be outside, how to meet myself and my surroundings in whatever condition we find ourselves in on a given day, but adventure after adventure, weekend after weekend, I continue to practice.
Do you prefer to go out solo or with partners?
I wish I were one of those people who enjoyed solo outdoor adventures, but I'm just not. My husband, Jim, and our two pups are my most frequent outdoor companions.
I also want to give a shout-out to my friend Molly Maloy, who has finally succumbed to the pressure from Jim and I and joined the Trailspace community!
Molly instantly became one of my favorite outdoor companions when, on our first hike together, we realized we had only one pair of trail spikes between the two of us, and despite the fact that the entire trail was essentially a skating rink, decided to split the pair rather than turn around. During one particularly dicey portion, Molly went ahead with both spikes and then tied them to my dog, Roland, who returned them to me. Trailspace adventuring at its finest!
Describe your happiest moment outdoors.
My first backcountry ski tour! Jim had started backcountry skiing a few years earlier, but I'd been a Nordic skier all my life and had little interest. I hadn't so much as put on a pair of alpine ski boots since college. However, Jim was persistent and eventually his promises of skiing powder in near solitude appealed enough to my inner hermit that I agreed to give it a shot.
We ventured out with a couple of friends into the first big storm of the season. It was a mid-week storm, which gave us the freedom of being the only people on the trail. I slogged my way to the top, passing the time by chatting with friends as the snow fell around us.
And then we began the descent...
Two turns and I was hooked! My feet, floating through powder, felt as though they'd left this earth and entered into something other-worldly. Everything was lit up with color, and life before backcountry skiing faded to gray. I laughed the whole way down!
How did you end up living in a cabin in the mountains? Any surprises?
In a word: impulsivity...although I like to think of it as a sense of adventure. Realistically it's probably a combination of the two.
My husband, Jim, and I discovered the cabin after we bought our first home. We lived on the side of a small mountain, partway down a long dirt road. In the summer we used to walk to the end of the road and follow a grass path to a little cabin at the edge of a clearing. We'd sit in that field and watch the sun set over the Vermont mountains.
We had no intention of selling our house, and while the cabin wasn't occupied (its owners lived out of state) it also wasn't for sale. However, in 2013, a series of coincidences (that I won't get into) resulted in us selling our home and moving into that same 16- by 24-foot cabin we had been visiting over the years.
At that time, the cabin had no electricity or running water. Just a generator, a wood stove, and a shower stall and a kitchen sink that drained into the earth. Our plan was to live in the cabin for a few months while building a home elsewhere on the land.
Six months later, we were met with another series of coincidences that caused us to abandon our building plans and make the cabin our home. We've been here for nearly four years now and, thanks to some renovations, presently enjoy the modern comforts of the 21st century (water and electricity), but the exterior walls of the cabin remain unchanged. The partially-formed foundation of the home we were planning to build has been turned into the earth and replaced by a summer vegetable garden and what will soon be a chicken coop and pasture for goats and sheep.
I moved to the mountains to try to find my way home. But when I think about our little cabin in the woods, it feels as though home found its way to us.

Any plans on your horizon?
Yes! Spring is on the horizon, but still hasn't reached the White Mountains. So I've been passing the time by trip planning. We're doing a mountain biking road trip to Nashville in May. What's not to love about mountain biking and live music? ...And possibly some bourbon sampling? Then in June we're traveling to Vancouver Island for another mountain biking adventure.
If anyone out there has lived in or visited these places, I'd love for you to share your recommendations!
Do you have a piece of outdoor gear you consider essential? What? Why?
A headlamp for three reasons: First, Jim refuses to allow me to venture outside without it. He will literally sneak it into my pack if I try to leave it behind. Second, because having to turn back prematurely when daylight fades is the WORST reason to not finish what I've started, and third, as irrational as it may be, I'm completely and utterly afraid of the dark.
What's in your backpack right now?
Nothing. One of my dogs, Casper, broke into my pack while I was out last night and ate my Kind bar and my fruit leather! Apparently he had to empty my pack to get to the good stuff!
What's your favorite book (outdoors or not)?
Outdoors: We Took to the Woods by Louise Dickinson Rich
Not Outdoors: Lisey's Story by Stephen King. For those who aren't fans of horror, worry not—there are no scary clowns in this one!
How would others describe you?
Jim lovingly refers to me as "a determined little thing." The phrase is from a movie we saw a while ago. Neither of us can remember the name of the movie now, but the phrase has since become a running joke.
Wide Photo Caption Above:
View from the summit of the mountain Kelly and Jim live on.
---
Essential Gear for 2017 Reviewers of the Month
To thank them for their essential contributions, we're giving Kelly and every 2017 Reviewer of the Month the following prize pack, thanks to these generous brands. Worth more than $350, it's filled with examples of what to carry into the backcountry. For more on the 10 Essential prizes read "Essential Gear for our 2017 Reviewers of the Month."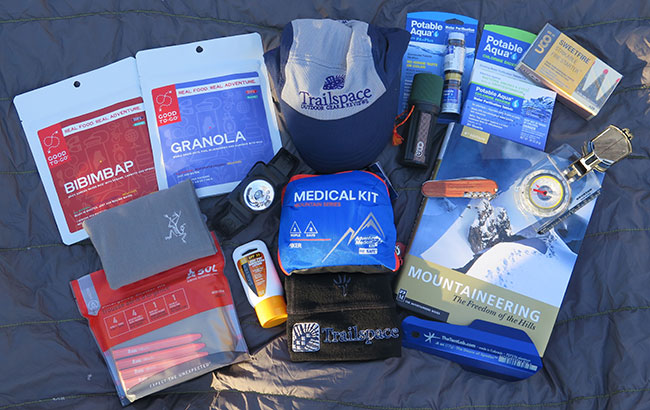 #1 Navigation


#2 Sun Protection


#3 Insulation

#4 Illumination


#5 First-Aid Supplies


#6 Fire

#7 Repair Kit and Tools

#8 Nutrition


#9 Hydration


#10 Emergency Shelter


#11 Know-How