Congratulations to Oliver Brotherton, our newest Reviewer of the Month! Oliver lives in Hampshire, England, and enjoys hiking long distance trails in the British Isles, practicing bushcraft, and trying out stoves. Since joining Trailspace in 2013, he has reviewed his Fjallraven Barents Pro Trousers, Gransfors Bruk Splitting Hatchet, Six Moon Designs Lunar Solo tent, Solo Stove Lite, and Vargo Hexagon Wood Stove, among other gear.
In thanks for his contributions, Oliver wins a $360 prize pack from AlpineAire, Black Diamond, EMS, Katadyn, Klean Kanteen, Sea to Summit, and TheTentLab. Check out his prizes and get to know Oliver below.
---
Please tell us a little about yourself.
I am a teacher with 25 years of experience working in inner city schools, so the opportunity to get out into the unique rolling countryside of the South Downs or to the mountains of Wales is always a welcome one.
I have been involved in mountain sports since I was at college and I was president of a popular local British Mountaineering Council (BMC)-affiliated Climbing Club some years ago before I had children. I used to climb a lot in my younger days, but focus more on hiking now.
I have made several trips to the Alps and climbed some epic mountains over the magic 4,000-meter mark. I've hiked parts of the GR11 in the Pyrenees and explored the interior of Madeira and the Serra da Estrela in Portugal. I am equally at home in the forest and I have enjoyed doing my Forest School training this past year.
How did you become a Trailspace community member?
Completely by chance! I was after a new sleeping pad so looked up some reviews online and I came across Trailspace.
What led you to start reviewing your gear?
My obsession with gear. I've always appreciated innovation ever since I bought a Therm-a-Rest in 1991. That was a real game changer for me. I followed that purchase with a Saunders Spacepacker—the first single hoop tent—a pair of Brasher boots, and an MSR WhisperLite. Happy days!
I collect wood-burning stoves and alcohol stoves as I am fascinated by the different designs and specs. I appreciate quality and enjoy using a well-crafted tool or cleverly thought out piece of equipment. It all comes in useful, so why not share my experiences of it good, bad, or indifferent with the online community?
What do you do when you're not at Trailspace?
Plan trips, walks, and cookouts. Right now, I am focusing on getting my Forest School Level Three qualification, which means I will become a practitioner and be able to lead my own sessions and/or even set up my own school!
You've mentioned Forest School in several reviews. What is that?
Forest School is a grassroots movement based on a Danish way of learning in the outdoors. Today, it is an inspirational process, that offers ALL learners regular opportunities to achieve and develop confidence and self-esteem through hands-on learning experiences in a woodland or natural environment with trees. It is particularly beneficial to young people who do not get the opportunity to experience life beyond the city to engage with nature and, most importantly, themselves.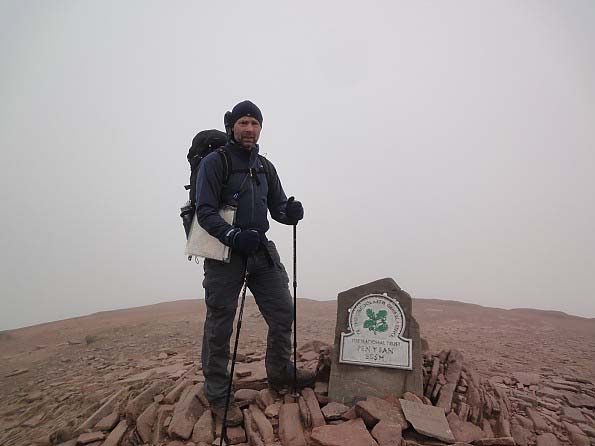 At the highest point of the 95-mile Brecon Beacons Way footpath, Wales
How do you spend your time outdoors?
We are on the edge of the South Downs National Park, so we get out for a long walk every weekend, sometimes more. In the school holidays I get to go on more extended trips. I like walking long distance trails such as the Jurassic Coast with lightweight (not ultralight) gear. I never seem to take the same gear twice! In longer holidays we go further afield to the Snowdonia National Park or the Brecon Beacons. We know the mountains to climb and the trails to walk that avoid all the crowds. Then there are all the gear shops in Betws-y-Coed...
How were you introduced to the outdoors?
That was a hilarious experience! Fresh out of college and I signed up for a weekend away in Snowdonia with a local climbing club. In the mad scramble to find a climbing partner in the morning I ended up partnered with an army corporal who looked like Super Mario and was about as short!
He dragged me up a trad-climb called "Gashed Crag," on the east face of Tryfan—750 feet and a dozen pitches of granite hell! I reached the penultimate pitch too exhausted to do anything. I feebly tried to toss my backpack onto the ledge above me, but failed miserably. The bag went hurtling down the crag, narrowly missing an instruction group from Plas y Brenin, the UK's National Mountain Centre.
Mario gave me the hugest telling off and ordered me to retrieve it while he walked all the way back off the mountain in his climbing shoes (ouch!). I told myself that was my first and last trip to the mountains, but somehow I found the bag buried lid deep in a bog. I had a cup of coffee from a very bashed up thermos flask, munched on a Mars bar, and declared the whole trip a roaring success. I was hooked! For some reason Mario did not ask to climb with me again though. Can't think why.
Do you have any noteworthy history or skills?
I was president of a BMC-affiliated climbing club and I organized a whole of the club meet in Cornwall. Over 50 people attended for the long weekend and I climbed a classic route, "Doorpost," an alpine style route on Bosigran Ridge. It was used for training by the commandos during the Second World War.
What's a typical outing for you?
Up at the crack of dawn on Sunday to go for a three-hour romp on the South Downs. If it's a long weekend, chuck all the gear in the back of the car, drive in the evening to Snowdonia or the Brecon Beacons to go scrambling on a classic ridge or an overnight hike and hang out at our favourite campsite, Dolgam, which is just outside Betws-y-Coed.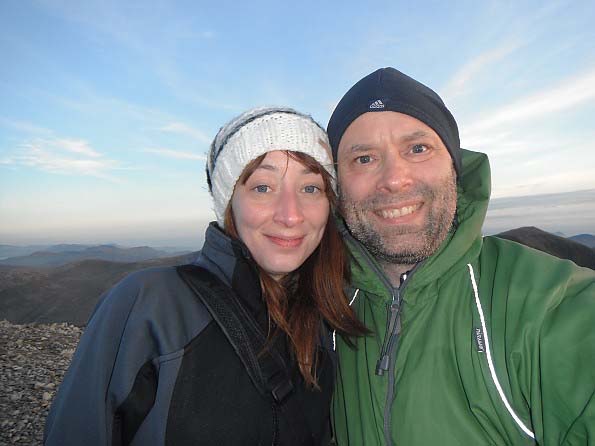 Oliver and his wife hiking Carnedd Llewelyn mountain in Wales in 2017
Do you prefer to go solo or with a partner?
Both. I enjoy the solitude, but equally, I enjoy sharing the experiences big and small with my wife. Time in the woods with "The Brotherhood" is also special. It's a chance to discuss anything and not be judged. Mostly we just talk bollocks though!
Any favorite stories?
I climbed Le'Eveque in the Swiss Alps with a couple of mates from the climbing club I used to be a member of. Three quarters of the way up, having just climbed the crux, we reached a ledge and decided to stop for lunch. The leader put his bag down and I watched in slow motion as it rolled off the edge and tumbled one kilometer into the bergschrund below.
My immediate thought was "you'll laugh about this in six months..." Desperately trying not to think of the desperate situation we were in, we summited before spending several hours cutting steps in the ice for our packless hapless leader as his ice axe and crampons were in his bag. Once on the glacier he went to search for his belongings. Meanwhile, I sat on the ice and watched in wonder as a butterfly flew by me. Such a beautiful thing. Unfortunately, he did not find his bag.
The following year we returned to the same venue. While we were there, we got a call from the polizei to say a German climber had found his bag at the snout of the glacier, so we went to the station to collect it! And yes, I laughed about it six months later and still do!
You mention bushcrafting trips in some of your reviews. What do those entail?
I am lucky enough to have access to several private woodlands. Time spent in the forest is very healing both on my own and with friends. We often do jobs to manage my friend's woodland then build a fire and cook food in my Petromax Dutch oven or on the coals. We talk, drink, and enjoy great food long into the night.
It encourages me to slow down and do things at a slower pace. We spend time in the woods in every season. Fashioning tools and equipment out of wood, hammocking, cooking, and fishing in the creek are all ways I find help me relax. It led me to becoming involved in Forest Schools so I can pass on my enjoyment and skills to the children I teach.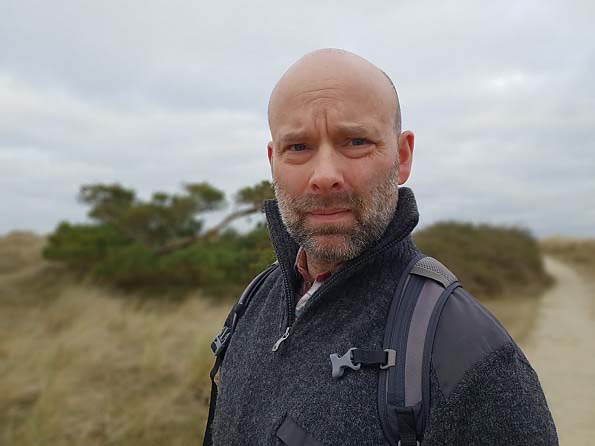 West Wittering Beach, March 2019
What's your favorite outdoor place?
If I can see the sun but I cannot hear any traffic, then that is my favourite place.
Describe your happiest or proudest moment outdoors.
Crossing the finish line of the South Downs Way Trail Marathon. I was exhausted after an injury put even starting in doubt.
Who has influenced your outdoor life?
A certain English former margarine salesman* has had a significant impact, as has [British bushcraft expert] Ray Mears. He led to my alter ego, "Reg Smears," who wrote for the climbing club journal for a while. [British rock climber] Johnny Dawes, but that led to disaster (see below).
If you could go for an outdoor adventure with anyone, whom would you pick?
Gandhi, he loved to walk so we could talk about walking as activism. My wife, she is my favourite walking partner. I'm so lucky to have a partner who is happy to rough it with me in the mountains for a few days.
Describe your ideal day outdoors.
Wake up in a tent somewhere hidden. Break camp before tackling a classic Welsh or Scottish ridge. Spend all day walking and scrambling. Pitch tent and doze for a while before dinner with a sunset and a grandstand view. Chill out in a warm evening, play with a new stove, and appreciate the solitude. Small flask of twelve-year-old Glenlivet to round off the evening.
Do you have any outdoor regrets?
I regret attempting to be Johnny Dawes (legendary British climber who put up the infamous "Indian Face" route in Snowdonia), thinking I could climb anything and be invincible, only to peel off a climb on Dartmoor and end up being air-lifted to hospital.
Yikes! What was the extent of your injuries?
I was extraordinarily lucky with my injuries—just bruises (my backside turned purple), a broken shoulder blade, and a few stitches on my head. It was not a comfortable ride home.
What is your dream outdoor adventure?
I really want to walk the entire length of the [522-mile] GR11 in Spain. I have walked sections, but it would be great to complete a really long distance trail all in one go.
Any plans on your horizon?
Yes, my next UK walk is the [87-mile] Ridgeway, which is a chalk ridge that runs from Avebury, site of a Neolithic stone circle, and finishes in Ivinghoe Hill. I like walking in the footsteps of my ancestors. It is an ancient Bronze Age and Roman trade route. Also, do more sections of the South Coast Walk. And the Jurassic Coast is a World Heritage site and it is stunning.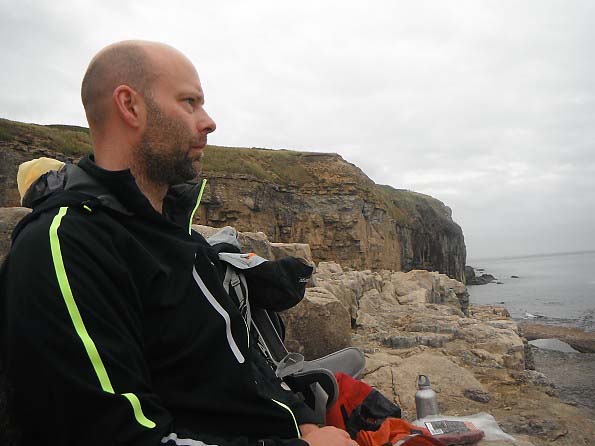 On England's Jurassic Coast, a World Heritage Site, in 2015
Any other outdoor goals?
Ultimately, I want to walk the Monarch's Way. It is a 625-mile trail that supposedly follows the escape route taken by King Charles II after being defeated at the Battle of Worcester. I'll write a book about my experiences afterwards.
Do you have a piece of outdoor gear you consider essential?
My Meindl boots. They let me clock up the miles. I suffer really badly from blisters if I don't get my choice of footwear and socks right.
Do you have a favorite piece of outdoor gear?
My MSR Titan Kettle. My wife bought it for me as a gift and I use it most trips.
What's in your backpack right now?
It changes so much it's hard to tell! A smelly pair of merino wool pants and socks probably!
Do you have any interesting gear stories?
I was surprised how robust my pack and flask were after their tumble down the east face of Tryfan.
Do you have any gear regrets?
Klymit Inertia X-Frame. It made me realise the ultra-lightweight approach to trekking is beyond my aging bones.
What's the best outdoor or gear advice you've heard?
Climbing with supplemental oxygen turns an 8,000-meter peak into a 6,000-meter peak (Reinhold Messner). I agree.
What advice would you give other gear reviewers?
It's not about the gear; it's about being active and enjoying being outdoors. The reviews will follow.
What advice would you give other outdoor enthusiasts?
Adventures can be found in many ways. It could be a balmy summer evening walk after dinner, a month-long trek, or a wander along a forgotten path. Get to know your own backyard—you'll be pleasantly surprised.
What UK spots would you personally recommend to our non-UK members?
The South Downs Way passes through gorgeous downland countryside—England at its best. The Brecon Beacons Way follows the ridge of the Beacons and offers a surprising amount of solitude. The Jurassic Coast in Dorset is just stunning.
I love the Cairngorm National Park at any time of the year, and I have done some fantastic routes there. The Isle of Skye is majestic. The Quiraing and the Cuillin Ridge are very impressive.
Also, it's been a while, but I loved the interior of Portugal, the Serra da Estrela.
What might our non-UK members be surprised to learn?
Though not the highest mountains, the impressive rugged beauty of our mountains is worth the effort. Its patchwork of countryside has a very different, softer, and more tranquil beauty, and the coastline is one of the longest in Europe.
What's your favorite book?
Danziger's Travels by Nick Danziger. He describes a walk through Afghanistan funded by a grant from the Royal Geographical Society—impossible now.
What's your favorite quote?
My favorite quote is from Henry Rolls and Charles Royce—"Quality is remembered long after the price is forgotten."
What's the one quality you feel best describes you?
Sincerity
How would others describe you?
Thoughtful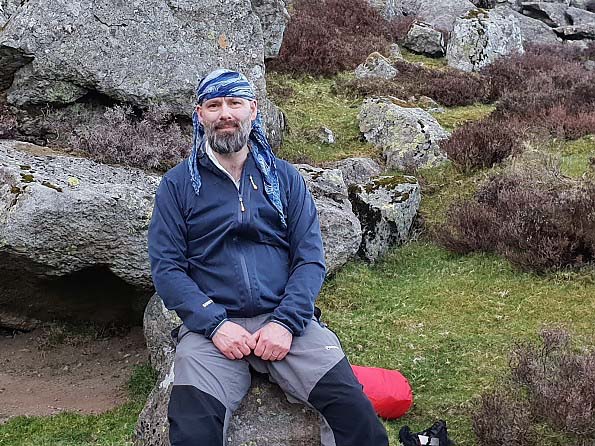 Moel Siabod mountain in Snowdonia, North Wales, in 2019
What would Trailspace members be surprised to learn about you?
My son and I have an interest in steam trains.
What question would you ask other Tralspace members?
Is titanium really worth the extra cost per gram?
Have you explored your own backyard? If so, what did you find?
Do you have a life philosophy?
Live modestly and take only what you need. Wear secondhand clothes and eat lots more vegetables—you'll live longer to enjoy more adventures.
Anything else you'd like to share with the Trailspace community?
Tread lightly.
*Legendary British mountaineer Chris Bonington
---
Reviewer of the Month Prizes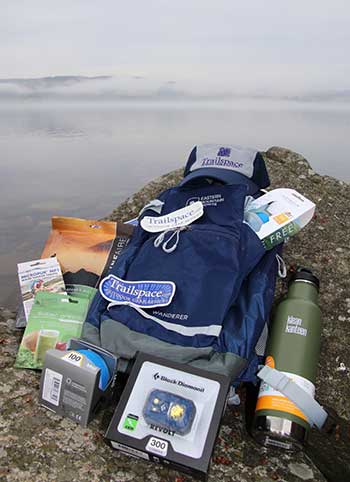 Congratulations, Oliver!
In thanks for his contributions, we're giving Oliver more than $360 worth of gear, thanks to these generous brands: