Congratulations to Jesse Maloney (Go Time), Trailspace's newest Reviewer of the Month!
Each month we recognize and get to know a different member of the Trailspace community.
This month it's Jesse of Shoreview, Minn., a father of five, science teacher, and artist, who somehow manages to fit backpacking, cross-country skiing, cliff jumping, edible foraging, and more into his outdoor life.

Congratulations, Jesse. Thanks for sharing your helpful reviews with us, including Killer Reviews of your Mountain Hardwear Trango 2, MSR PocketRocket, and REI Thaw Bivy.
For his contributions, Jesse wins this month's featured Reviewer of the Month prize, an Air Chair Compact from Crazy Creek ($79 value) for when he's finally ready to sit down and relax.
Plus, we're sending him a pack of goodies including "Trail Tested" by Justin Lichter, a Nalgene water bottle, Nikwax cleansers, a Mountain House meal, energy bars from Clif and GoMarco, and a Trailspace Trail Runner Cap.*
---
Meet
Jesse (Go Time)
Tell us a little about yourself.
I have many interests in life. I find life very interesting. By trade, I am a science teacher. I am married to a wonderful and supportive woman. I have five children. Spirituality is important to me.
Some of my favorite things are:
Oil painting and drawing

Cooking

Introducing youth to the great outdoors (I have opportunities to do this through my job and through scouting.)

Traveling to new places to be among new people (I am a people person.)

Family time and family adventures

I like to fix, modify, and/or make things.

I love any kind of adventure and going outside my comfort zone.

Swimming
What do you like to do outdoors?
I love to push my personal limits in the outdoors. I like trying to climb things that scare me, jump off things that give me goose bumps, backcountry hike into areas of little familiarity, etc.
Each time I go out, I make new goals and try to achieve them. In the evenings, I like to reflect on life, throw a fishing pole into the water, and find a shooting star before I cash in the chips.
These days, I do a lot of cross-country skiing and backcountry four-season hiking and camping.
How did you get started exploring outdoors? Earliest memories?
My mother and father were outdoor enthusiasts in sort of a utilitarian way. We were poor growing up. Even though we lived in the city, we used to go outside of town to cut wood to heat our house with the wood-burning stove.
My dad would give my bother and me 22 caliber rifles to small game hunt while he would go off with his friends to hunt larger game. We would go on annual smelting trips on Lake Superior during the smelt runs (smelt are little fish like sardines that you haul in by the gallons with seine nets).
My mother was very good at identifying edible flora. Each spring we had a Memorial Day tradition of heading north to gather fiddlehead ferns and wild asparagus.
In the summer we would visit our family's secret black raspberry patches. In the fall, we would pick apples from abandoned groves.
It seemed we always had an abundance of fresh foods in all seasons.
Any favorite stories?
My uncle Kevin was a big influence on me when it came to the outdoors. He would take my brother and me on big adventures. Once, when I was 8, he took us on a two-week tour to see how many Minnesota state parks we could visit in 14 days.
We were on some hiking/horse trail when he asked me to hold his two dogs' leashes while he did something. The silly dogs saw a deer and darted after it. They drug me belly down along the trail for 100 yards. I started to scream and a horse apple (fecal ball) went right into my mouth. I remember the texture and taste of the cud on my tongue as I spat it out.
We did make it to 32 parks that summer.
What's your favorite outdoor place?
Most definitely the North Shore of Lake Superior.
I've been to most states and nearly a dozen other countries, but for me, there's no place like home.
Do you have any outdoor regrets?
Yeah, I pooped too close to a river once. I felt pretty bad about it. No lie.
Do you have any outdoor plans or goals you want to share?
I made some goals for myself to meet before I reached 40. It took me a couple of years of mental prep to achieve them, but I did them.
One was back flipping off a 30-foot cliff on Pellet Island into Lake Superior. The second was jumping off the 66-foot Carlton Reservoir Bridge into the St. Louis River.
I am currently contemplating whether to start slowing down (I'm 40) or to keep going for gold. If I do decide to go for it, I would like to learn to gainer (a forward running back flip) into the water from a cliff. I would also like to get better at mushroom identification. I am too scared to make a mistake with shrooms.
Describe your happiest moment outdoors.
My happiest moment outdoors came after I couldn't find my 6-year-old son when we were hiking around a cascading river in northern Minnesota. I was getting a bit nervous, but when I rounded a bend, there he was sitting on a rock by himself, quietly staring at the river.
I waited and watched him. He didn't move. I snapped a photo and then slowly walked up behind him. I asked him what he was doing. He smiled and said, "Just watching the river."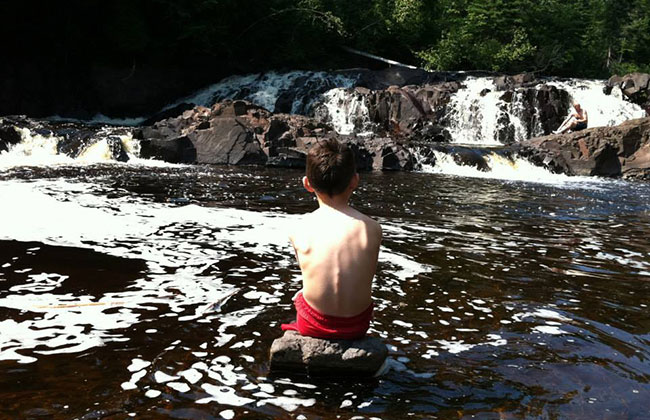 Describe your ideal day outdoors.
A solo trip to my favorite spot, an island on Lake Superior. There's a small isthmus that connects the island to the mainland at low tide. [Lacking a kayak] I have to scale 40-foot palisades to gain access. When you get to the top, it is an Eden of wild edibles and unparalleled views. No one goes there. It is my favorite spot.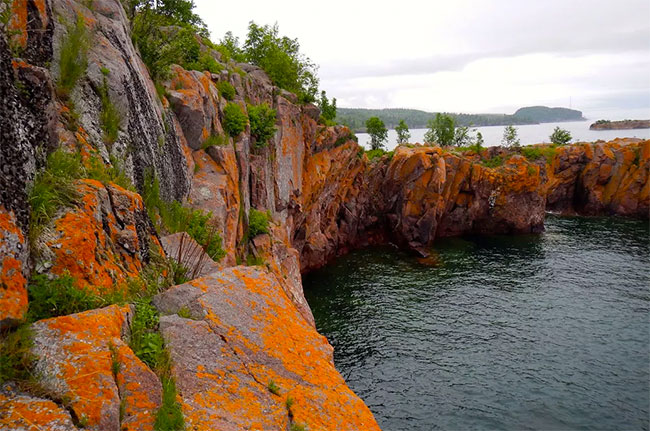 What motivated you to share your reviews with Trailspace?
I used to post reviews on another online site, but they would only allow posts of gear that was in their database. As soon as the gear was a few years old, they would dump the links.
I love to test and learn about all gear, new and old. I am fascinated by the transformations, the looping of old ideas, and the pioneers that take things to the next level. Trailspace has an excellent platform for gear, information, and resources, past and current.
What's your favorite piece of outdoor gear?
My favorite piece of outdoor gear was an old Big Horn brand pup tent (at right) that I used for 20 years. It was used by my brother for 10 years before that.
It weighed about 2 pounds, was water tight, and set up in about two minutes. I used it until the material looked like my daughter's baby comfort blanket when she turned 6.
Got any good, bad, funny, or epic gear stories?
I often go snorkeling in the local "inner tubing" river to find things that people lose. Each season I probably find 10 to 15 credit cards, the same number of driver's licenses, innumerable sunglasses, etc.
The saddest part is when I find a waterproof camera (usually about 5 to 10 a season). When you turn them on you can see all of the photos leading up to the moment it went into the drink.
Who or what has been the biggest influence on your life?
My wife.
What's your favorite book?
Book of Mormon.
What's your favorite quote?
"A great cap'n is ne'er made in a safe harbor me lad." —Old sailor
What's in your backpack right now?
Mountain Hardwear Lamina 20 sleeping bag, Therm-a-Rest Trail Lite pad, MSR pot and PocketRocket stove with fuel canister, Sierra Designs Vapor Lite 1 tent, Leatherman Sidekick, some salt for fish, baby wipes for numero dos, Styrofoam cups for fire starters, and Ajax cleaner for my pots (Just kidding, settle down!).
Where does your username (Go Time) come from?
My trail partners think I'm crazy and have bionic prosthetics. When it's time to get busy, I say, "It's GO TIME!"
What would Trailspace members be surprised to learn about you?
I'm a really easygoing person who likes everyone. I like to serve others. I will eat anything that is non-life threatening. I lived in France for two years and therefore am fluent in French.
Anything else you'd like to share with the Trailspace community?
J'aime Trailspace et je vous aime tous!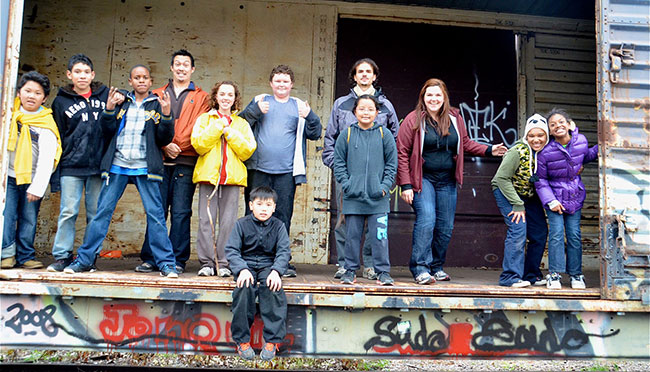 ---
Congratulations and thank you, Jesse!
Besides Trailspace appreciation, Jesse wins this month's featured Reviewer of the Month prize, an Air Chair Compact camp chair ($79 value), thanks to Crazy Creek.
Plus, we're sending him a pack of goodies including "Trail Tested: A Thru-Hiker's Insights Into Hiking and Backpacking" by Justin Lichter, a Nalgene Silo water bottle, Nikwax Fabric & Leather Proof and Footwear Cleaning Gel, a Mountain House Beef Stroganoff with Noodle meal, energy bars from Clif and GoMacro, and a Trailspace Trail Runner Cap and stickers.
Join the Trailspace community in recognizing other helpful reviewers by voting up the reviews you find most useful.
Write your own helpful gear reviews and you could be our next Reviewer of the Month.
Wide photos above: 1) Jesse's son watching the river. 2) Lake Superior lichen. 3) Jesse (fourth from left) on an adventure with his students in an abandoned box car by the Mississippi River.