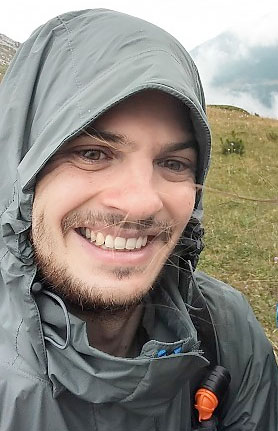 Congratulations to Yuval Kadan, our newest Reviewer of the Month!
Yuval lives in Israel and has been a Trailspace member since 2012. He most recently reviewed his Primus OmniFuel stove, Outdoor Research ActiveIce Sun Sleeves, and Meindl Softline TOP GTX boots.
Members like Yuval are essential to the Trailspace community. In thanks for his contributions, he wins a 10 Essentials prize pack worth more than $350.
Yuval, and every 2017 Reviewer of the Month, will receive examples of each of the 10 Essentials of outdoor gear, thanks to Adventure Medical Kits, Arc'teryx, Brunton, Good To-Go, Mountaineers Books, Potable Aqua, Sawyer, SOL, The TentLab, UCO, and Victorinox.
Check out the 2017 prizes below or see "Essential Gear for our 2017 Reviewers of the Month."
---
Meet Yuval

Please introduce yourself.
I'm an agronomist doing a master's degree in plant science and agriculture. My thesis subject is the effects of desalinated seawater irrigation on crops.
How did you become a Trailspace community member?
I'm not sure. I think I just found you on Google.
What led you to start reviewing your gear on Trailspace?
Acknowledging how helpful a good review can be.
How do you spend your time outdoors?
Mostly overnight hikes or day hikes, but my true passion is long distance hikes.
I've traveled in many parts of the world, for long and short periods. Up until a year ago I hiked mostly two- to three-day hikes, and then I went and walked most of the Israel National Trail (1100 km), that took me two months, continuing to the Peaks of the Balkans Trail (192 km) in Albania, Kosovo, and Montenegro, and finishing at the GR 20 (180 km) in Corsica.
The Israel National Trail (INT) took me two months, but I didn't complete it. I missed the last ten days. I plan to do it again, only this time from start to finish. The Peaks of the Balkans took me fourteen days, though it's only ten segments. I split some segments and took my time there. It's a magnificent trail.
The GR 20 took me twenty-one days (!!!), which is also a lot for this trek, but that's because I had to stop for four days due to a thunderstorm, and the other hikers I hiked with needed more rest days than I thought.
When I'm not hiking I spend my time at the local boulder gym.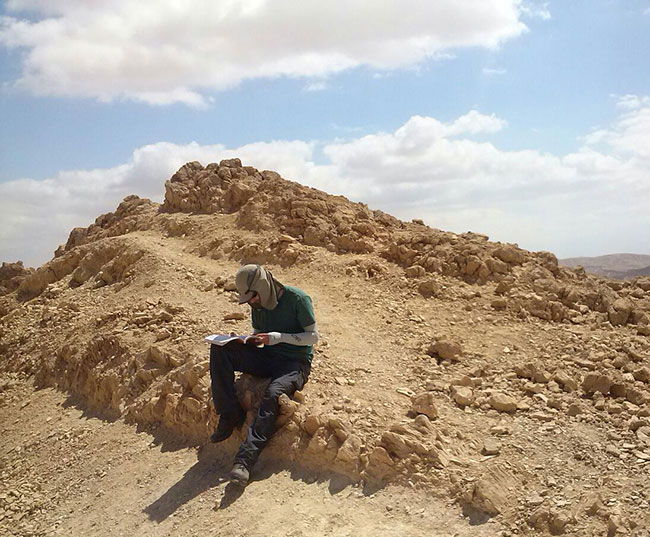 When and how were you introduced to the outdoors?
Both of my parents are former travel guides, though they had stopped working as guides before I was born and turned to agriculture. We lived in a small village in south Israel.
They've been taking me and my brother on hikes and trips even before we could walk. We used to hike a day hike each weekend, sometimes with a sleepover. We also used to travel to Sinai a lot as my father was a 4x4 tour guide there when it was still under Israel's territory (before 1982). Sinai is astounding. The most memorable trip we had was a five-day, off-road 4x4 trip, sleeping each day completely in the outdoors, and getting to very remote parts of Sinai.
Besides that we used to travel a lot worldwide ever since I was 6 years old. We've been to many parts of Europe, U.S.A., Canada, Africa, and so on.
What's a typical outing for you?
When I'm home: Getting to a camping spot in the afternoon and hiking the next day.
When I'm abroad: two- to three-day hikes.
Where do you typically go hiking in Israel for? How about abroad?
The beauty of Israel is in its diversity, both cultural and natural. In one day you can travel from the Red Sea, which is in the heart of the desert, to Mount Hermon, which during winter is covered in snow. In between you have different climates and landscapes. My favorite areas are the south, which is the desert area, and the north, which is more woody, with small streams and valleys.
If you want to go abroad to neighbor countries, as an Israeli citizen you have two options—Jordan and Egypt. Egypt, including Sinai, is less friendly and less safe for Israelis. Sinai in particular has turned into a chaos for the last years. Jordan on the other hand is still OK. People are very friendly and the landscapes are breathtaking.
Other than that you have to take a flight, and Europe is the closest option. Turkey and Greece are only a one-and-a-half hour flight away. Old Europe is about a four-hour flight.
Israelis are known for their passion of traveling and you'll find many Israelis all over India, the Far East, South America, Australia. Usually they're young people in their early 20s who finished their military service (three years mandatory male and female) a couple of years before.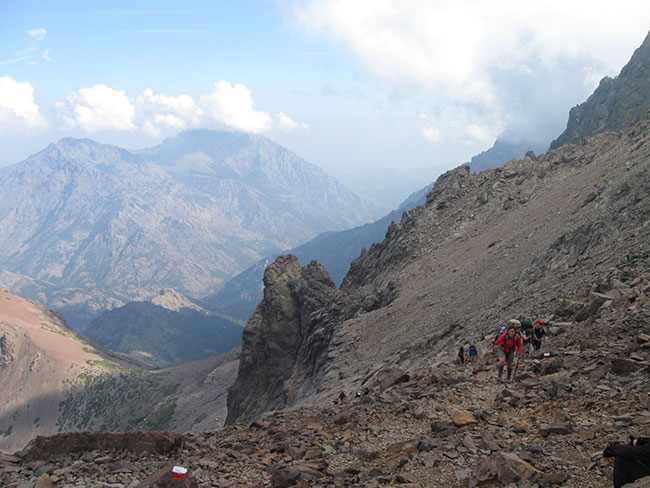 Do you prefer to go solo or with partners?
Partners.
For the INT and the GR 20 I hooked up with people via an online hiking forum (two separate occasions), and it turned out great. We got along really well. Other than that I hike with my friends.

When did you get interested in long distance hiking?
I guess I always had it in me—the wish to go on a quest and wander for a long period of time. The first long distance trek I did was the Annapurna Circuit, which doesn't feel like a long distance trek too much, more like a village hike.
Last year I took a year off between my bachelor's and master's degrees, and I had many different plans for the year. Somehow I ended up going to the INT, though I never was too interested in hiking it before. Today I am so glad I did. It was such a deep experience for me. I loved the atmosphere and mindset out there, being all day, every day, just out in the wild.
Describe your happiest moment outdoors (or proudest, hardest, scariest).
Hardest: Day four on the GR 20—getting to Monte Cinto, a dreadful ascent.
Scariest: Walking into a blizzard on the way to Tilicho Lake on the Annapurna Circuit. Also, walking during a thunderstorm while being at peak height and on completely exposed ground during the Israel National Trail.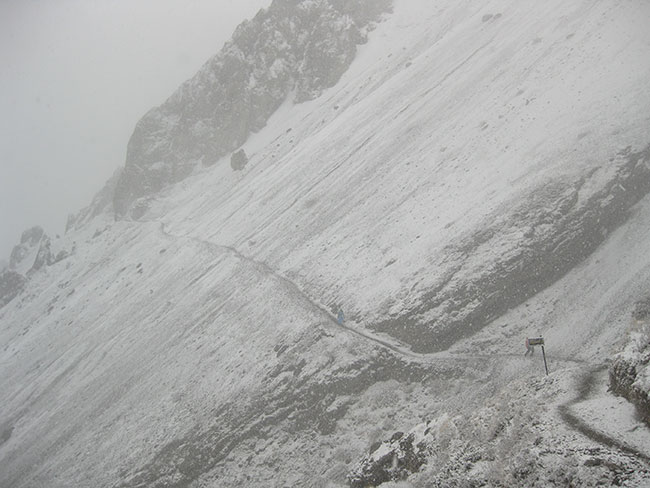 What is your dream outdoor adventure?
Te Araroa trail in New Zealand
Any plans on your horizon?
Training my canine to hike with me.
My dog is a mixed breed, mainly Belgian shepherd. She's 1.3 years old and very adorable. I take her for walks in open areas, but still haven't hiked a real trail with her, but that's my ultimate goal. A lot of trails in the desert, including parts of the INT, have bolts and ladders though, so I'll need to figure that out.
Do you have a favorite piece of outdoor gear? What? Why?
Mountain Hardwear Dual Fleece Jacket—it's the coziest thing I ever wore.
Do you have a piece of outdoor gear you consider essential? What? Why?
Trekking poles (Black Diamond Trail)—they make such a huge difference in overall comfort and fatigue.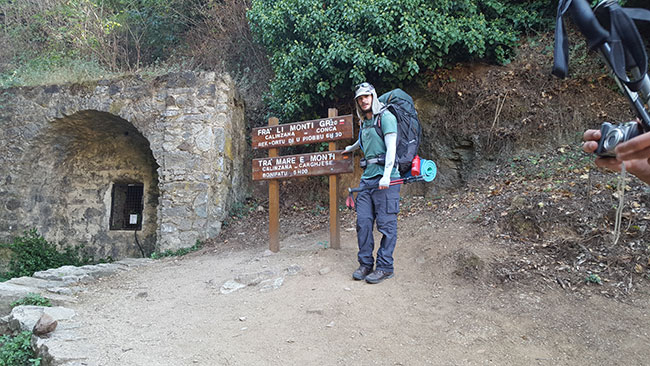 Do you have any gear regrets?
Deuter Dreamlite 500 sleeping bag
I wanted a spring sleeping bag to replace my winter bag during the INT in order to save a lot of weight and volume. I actually had a Ferrino sleeping bag, which was brand new, but a little oversized for me. So I sold it, luckily for the same price I bought it, and bought the Dreamlite, which was more compact, with a lower temp rating and lighter, which seemed like the perfect deal.
Unfortunately, as it turned out, the bag didn't deliver in mild temperatures. The only temps I could feel comfortable in it were 20+C, which makes it unnecessary altogether. So now I have a sleeping bag for conditions I don't need a sleeping bag for. I love Deuter. I think they are a reliable high quality manufacturer, but this bag just failed completely
What's in your backpack right now?
Main items: Mountain Hardwear Pinole 20, Primus Omnifuel, Black Diamond Spot, MSR 1.5L pot, Outdoor Research Sun Runner Cap, and Outdoor Research ActiveIce Sun Sleeves.
What advice would you give other gear reviewers?
Take photos of the gear when it's new and after it has been used. A solid review should be taken after testing the gear for a long period.
What's the best outdoor or gear advice you've been given or heard?
Pack only what you really need and as much as you will need it.

What would you want others to know about backpacking in Israel?
I would love to see more tourists coming to Israel for hiking. We have a very developed hiking culture, though not like in the U.S. or Western Europe, but the trails are very well marked. It's easy to find good maps, guides, and information, and the sense of security is high. By that I mean that if you had an accident and you needed medical help or evacuation, you will find it quick. In matters of medical services Israel is like any other Western country, so no worries there.
Israel has many gorgeous trails, with some unique geological phenomenons. The INT is one of the longest trails in the world. The southern part of it is rough and tough, and pretty wild. It's the first trail to be completely photographed by Google and you can view all of it with Google Street View. Besides the trails themselves, Israel can offer huge cultural diversity, excellent food (it's a vegan's paradise), and hospitable people.
The major downside is, of course, the reputation of the security state, but mostly you won't feel any different than in the U.S., specially if you hike in the outdoors.
What advice would you give other outdoor enthusiasts?
Research, plan, and execute. As much as it can take out the spontaneity, good planning makes the hike more carefree and enjoyable.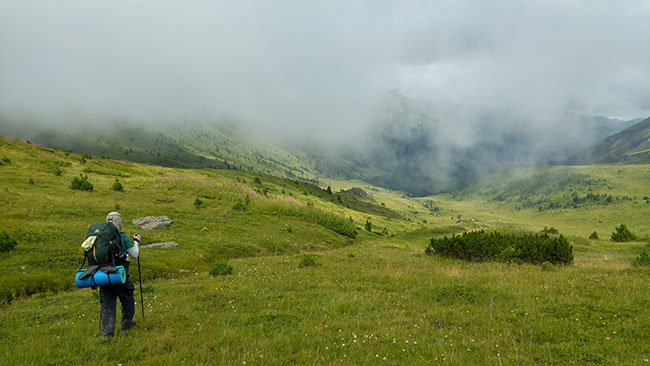 Wide Photo Captions (from top):
Yuval checking times in his guidebook while hiking the Israel National Trail (INT).
Yuval's fourth day on Corsica's GR 20 trail, on the ascent towards Monte Cinto.
Yuval and some of his hiking partners on the INT.
Heading to Tilicho Lake basecamp in Nepal on the Annapurna Circuit. "This picture was taken just before we started to cross, and as you can see the blizzard was already kicking in," says Yuval.
At the start of the GR 20 trail in Corsica, next to the entering (or exiting) sign at the northern trailhead.
A panoramic view of the south side of the Ramon Crater in the Negev desert in south Israel on the INT.
Walking in a meadow on the Peaks of the Balkans Trail. "As you can see we are a bit lost, but that's usual on that trail," says Yuval.
---
Essential Gear for 2017 Reviewers of the Month
To thank them for their essential contributions, we're giving Yuval and every 2017 Reviewer of the Month the following prize pack, thanks to these generous brands. Worth more than $350, it's filled with examples of what to carry into the backcountry. For more on the 10 Essential prizes read "Essential Gear for our 2017 Reviewers of the Month."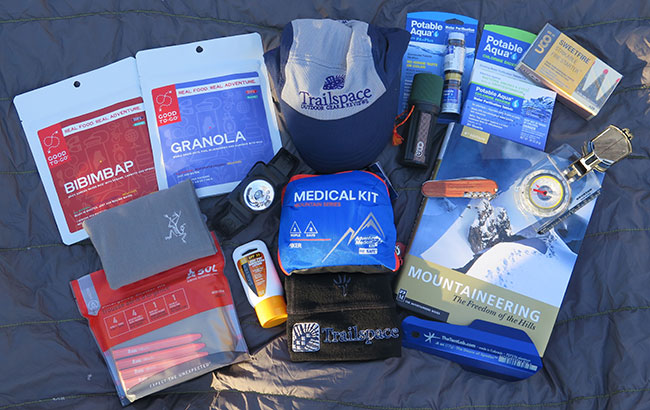 #1 Navigation


#2 Sun Protection


#3 Insulation

#4 Illumination


#5 First-Aid Supplies


#6 Fire

#7 Repair Kit and Tools

#8 Nutrition


#9 Hydration


#10 Emergency Shelter


#11 Know-How