Congratulations to David Eckel of Ottawa, Ontario, our newest Reviewer of the Month!

David is a cyclist, downhill skier, canoeist, angler, and geocacher. He also likes to hike and portage. A member of Trailspace since 2017, he has reviewed his Eureka! Terra Cotta Canoe Barrel, GSI Outdoors Highland Fifth Flask, MEC Deluxe Pillow, and MSR SweetWater Siltstopper.

In thanks for his contributions, David wins a $300 prize pack from AlpineAire, Black Diamond, EMS, Katadyn, Klean Kanteen, and Sea to Summit. Check out his prizes and get to know David below.
---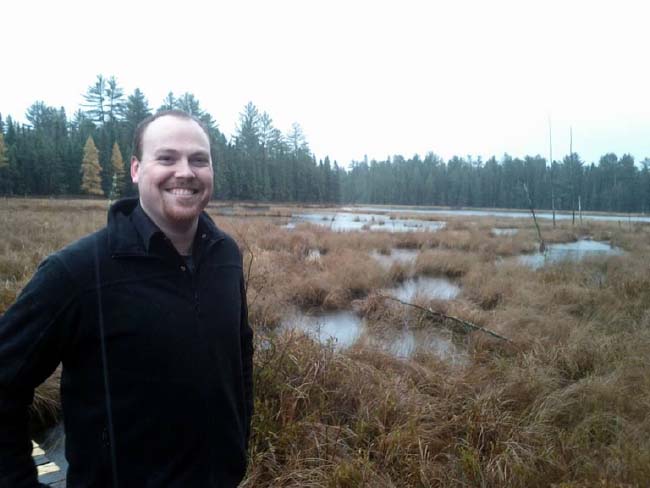 David at Bat Lake Trail, Algonquin Provincial Park, Ontario (2013)
Please tell us a little about yourself.
At the moment, I'm 32 (I'm an '86er). I grew up in southwestern Ontario, and when my sister and I were young, my dad would always take us car-camping in the Provincial Parks on the Lake Huron coast. We would usually take two or three short trips per summer, but one trip would usually be a full week.
We had a Jayco tent trailer at the time, but I would always set up my dad's old A-frame tent and sleep outside. My dad always told me that tent was older than I was, but I still have it, and I make a point of using it from time to time!
As I grew up, I was a member of Christian Service Brigade, then Boy Scouts, and lastly Air Cadets. With those groups, I went on a bunch of camporees, summer camps, and outdoor training/survival exercises, and I really developed a love for being outside.
In the summer, I try to get out cycling as much as I can. I've made a habit of participating in the annual MS BIKE fundraiser tour from Ottawa to Cornwall and back. I also just bought myself a canoe this year (it's a Coleman Expedition 146 DLX), so I've been trying to go paddling on my spare weekends.
In the winter I can't get enough of downhill skiing! I make good use of my season night-ski pass at Camp Fortune Ski Hill, and usually make a trip or two up to Mont Tremblant for some big-mountain skiing.
I also like snowshoeing, even though I don't get out to do it much. If it's nice enough to snowshoe, then chances are I'm already at the ski hill, ha ha! Besides that, I'm also a casual, infrequent geocacher. I like geocaching because it gives you a reason to go to those remote places that you'd otherwise never even know were there.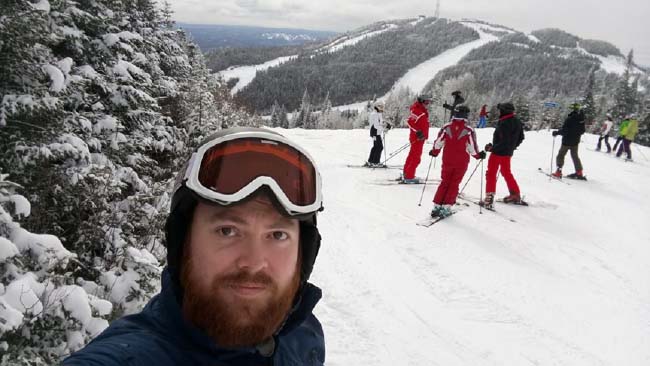 David at Mont Tremblant Ski Resort, Quebec (2018)
How did you become a Trailspace community member? What led you to review your gear?
I had never been to Trailspace until about 16 months ago when I purchased my first "decent" tent (a Sierra Designs Lookout). I bought it from an online classified ad. After buying the tent, I was actually trying to research what model it was and how old it was. I stumbled upon Trailspace in the process, and found a couple reviews, which pointed me in the right direction to find out more about my tent.
By the end of my research, and after a couple outings with my tent, I thought I could offer a bit more information than what I had previously read on Trailspace, so I wrote my own review. Before I knew it, I had written a couple hundred words and added some photos, and I thought to myself "that wasn't so hard, why don't I review some of my other gear?"
Once I had acquainted myself even more with Trailspace, I noticed there were a lot of products that had no reviews. It turns out I had a few of those products too, so I started to prioritize the blanks. Before long, it almost felt like my civic duty to let people know if I had a particularly good or bad experience with a piece of gear that nobody had commented on before.
Plus, the more reviews I read on Trailspace, the less it felt like "just reviews," and more like a community forum with valid and trustworthy opinions and experiences.
Any favorite stories?
As I said in my intro, cycling is one of my favourite summer hobbies. Back in my college years I combined my love of camping with my cycling hobby, and went on two 400-kilometer bicycle-camping trips. I found those to be particularly challenging because everything must be compact and lightweight. Some things you simply can't bring with you! Packing light was a very liberating experience. I liked the challenge of reducing my pack size and weight, but I still prefer having a few luxuries that just aren't practical to bring on a bicycle.
As for the trips themselves, I think the cycling trip through New Brunswick was one of the best trips of my life. Three of us started in Moncton and we biked for nine days along the St. John River all the way to Grand Falls. The scenery was some of the nicest that I've ever experienced. There were quiet hardpack rail trails that followed the river for a lot of the trip, and the landscape was almost always picturesque. We eventually had to end the trip due to repetitive strain injuries, but I would go back there in a heartbeat!
The other occasion was a solo trip from Ottawa to Peterborough, Ontario, over the course of about six days. I got to travel through a lot of the nice lake country along the way, but I found that I didn't enjoy the trip as much without company. I did, however, get to meet a bunch of people at the camps and stops along the way, that I wouldn't have met if I had been with friends.
I stopped at a summer camp, where they invited me in to join them at supper, and the camp councilors made the kids perform for their food. Another night, at a different campground, they had a pair of resident peacocks that roamed the grounds and squawked in the morning. Not my first choice of alarm clock, that's for sure!
You also get really well acquainted with your gear on a solo trip. When it's 100 percent you, with 100 percent your gear, you learn really fast what you do and don't like about using it.
Who has influenced your outdoor life?
Well, I'm continually impressed (and sometimes even surprised!) that my high school friends still want to hang out whenever possible. Some of us have moved far away for school or work or family, but that only seems to have strengthened our resolve to keep in touch. In the years since we graduated college, we've made a tradition of taking a 3-4-day weekend or a week-long vacation together.
We started by renting cottages in the Kawartha Lakes and Muskoka regions, and just fishing and lounging at the cottage—a typical leisurely vacation. But recently we've replaced leisure with exertion, and upgraded to backcountry canoe trips. Our first backcountry canoeing trip was in 2017. We covered 85 kilometers in five days in Algonquin Provincial Park. We managed to get six guys to commit, so we took three canoes into the park, and had an awesome and exhausting time. We got a taste, and now we're hooked!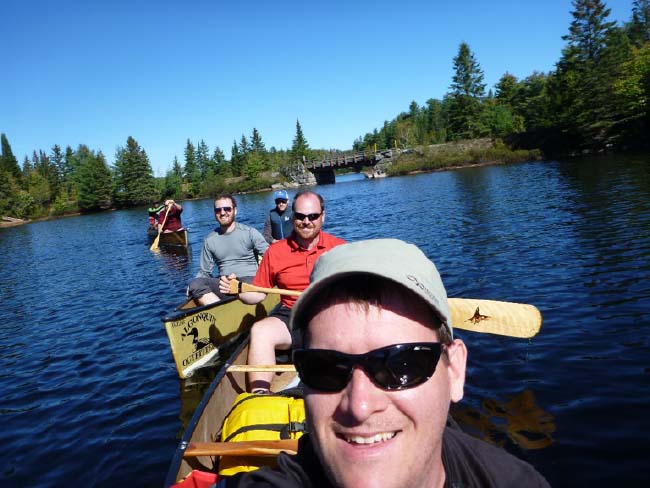 David and his high school friends canoeing out of Joe Lake, Algonquin Provincial Park, Ontario (2017)
It's only one year later, and we've done another two trips since! We found an awesome double-beach peninsula campsite on crown land in the Temagami area earlier this summer, and then we did a four-day route in Algonquin Park this September. I'm looking forward to many more canoe trips in the summers to come!
Describe your perfect moment outdoors.
If I were to capture it in a snapshot, it would be: a perfectly silent lake in the Canadian Shield, right after dawn, when the water is like glass, small granite islands topped with pine trees, the old-growth forest in autumn colours in the distance, silhouetted against the blue sky on the horizon, little wisps of fog coming off the water, and sunbeams streaming through the trees. Just holding that picture in my mind, everything else melts away.
If you could go for a hike/run/ski/paddle with anyone, whom would you pick? Why?
A year or two ago, some friends of mine mentioned a YouTube personality called "KCHappyCamper." His real name is Kevin Callan, and he's renowned for canoeing in every corner of Ontario, and publishing a variety of books on the subject. He's also a bit of a local celebrity for his YouTube videos ranging from gear reviews to canoe camping Tips & Tricks, and trip highlights from his backcountry excursions.
HappyCamper is probably the most recognized name in canoeing in Ontario, with Jeff of "Jeff'sMap" being his only real competition. In his videos, he's very enthusiastic, he's always having fun, and his sense of humour is right up my alley. It didn't take very long for me to become a fan! I think it would be a blast to go on a deep interior canoe trip with Kevin into Algonquin Provincial Park or up into the Temagami region!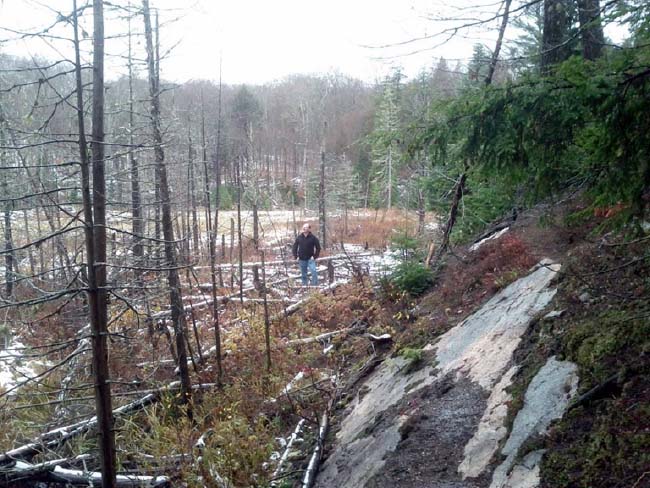 David making his own trail near Bat Lake, Algonquin Provincial Park, Ontario (2013)
Do you have a piece of outdoor gear you consider essential?
I think if there's any one item you should invest time researching and be willing to spend money on, it's probably your pack. Whether you're backpacking across Europe or portaging to the next lake, your pack is going to make or break the trip.
That being said, I think a lot of manufacturers hype up things that really don't make a difference. At the end of the day, find something that feels good on your back. I bought my pack at Mountain Equipment Co-op. They not only let you try on their packs in store, but they have pillows and weights to test-fit your pack. You can load up the pack to represent your gear.
My recommendation: find a retailer that will let you fill up the pack in the store. Load it as heavy as you expect you'll carry in the field, and then walk around in the store for fifteen minutes. You'll get a feel for the fit of the harness, any pressure points that might not be immediately apparent, and you can determine if the pack's overall volume and organizational layout is going to suit your packing needs.
To be honest, I own a women's Gregory Deva 70L pack (No, not the almost-identical men's Baltoro). In my case, I knew that the so-called women-specific harness didn't mean "incompatible with male physiology." In all likelihood, it probably meant: 1. more padding (awesome!) 2. Lighter weight (excellent!) 3. Generous chest dimensions (I'm a big barrel-chested guy, what can I say?).
In this case, I didn't let some purple stitching get in the way of a purchase that suited me really really well. Bottom line: try on all the packs! Load up the contenders to see how they really feel, and buy the one that works for you (regardless of cosmetic appearance).
What advice would you give other outdoor enthusiasts?
I'd say it's important to trial an important piece of gear before buying, especially when it's an expensive item. If you can borrow or rent one before making your purchase, I would strongly recommend doing so! Sometimes it just isn't enough to see a review or watch a video or even touch the item in the store. I've had a couple occasions (like with my Gerber Freescape Saw) where the inadequacy of the product wasn't readily apparent until you're relying on the tool in the wilderness, and then it doesn't perform up to your expectations.
On the other hand, when you rent or borrow gear, you can decide without making that upfront commitment of the whole purchase price. I have specifically sought out plenty of gear after renting or borrowing, just because I had a great experience with it. If I hadn't had the opportunity to try before I bought, I probably would have purchased an entirely different product. I think roughly a third of my gear was bought because I had borrowed a friend's and decided that was exactly what I wanted.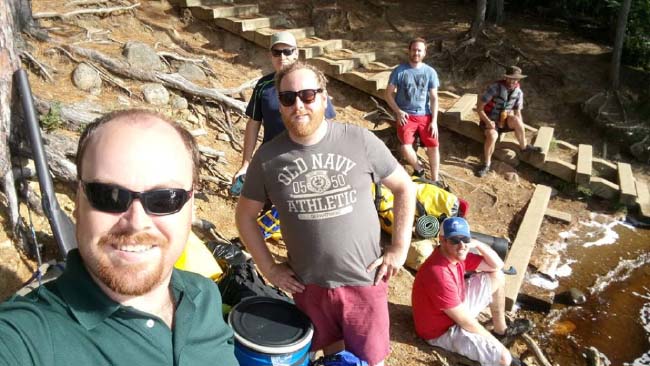 David and his high school friends portaging into Ink Lake, Algonquin Provincial Park, Ontario (2017)
Where does your username or trailname come from?
It's not exactly an alias that I've adopted, but on one of my more recent canoe trips, some friends dubbed me "Gear-Guy Dave." Apparently, I have a reputation for not only collecting gear, but talking and talking and talking about new gear after the purchase. I just can't contain my constant analysis and comparison of things, fueled by my acute attention to detail.
I suppose there are worse things to be known for (and as far as online handles go, "Gear-Guy Dave" has a nice ring to it!). I enjoy sharing my experiences and my opinions of different pieces of gear. I feel like the more we discuss the pros and cons, the better the gear will continue to get.
Classic conversations like "What type of stove should I get: white gas versus propane versus alcohol versus IsoPro?" will always be around because each system has its own benefits, and I enjoy engaging in those kinds of discussions. If nobody had those discussions, I feel like we would never have emerging technologies like hybrid-fuel stoves such as the Optimus Polaris OptiFuel or the MSR Whisperlite Universal (to suit the example above).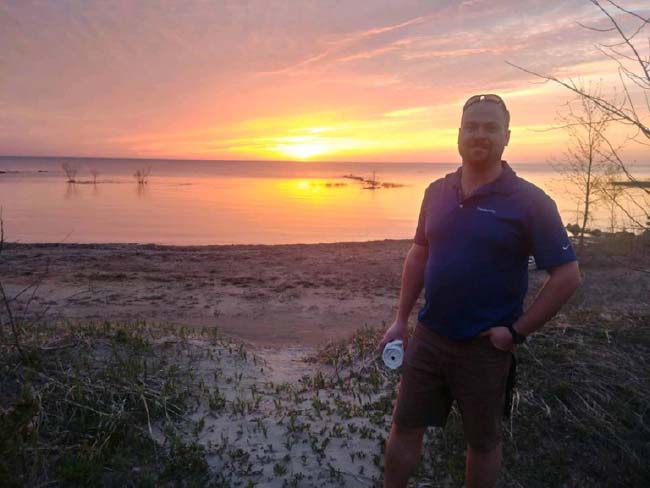 David at sunset at Brucedale Conservation Area, Saugeen Shores, Ontario (2018)
---
Reviewer of the Month Prizes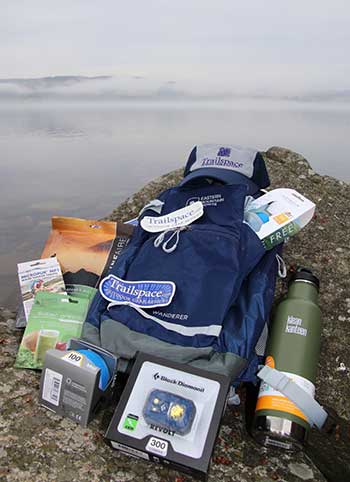 Congratulations, David!
To thank them for their essential contributions, we're giving David and every 2018 Reviewer of the Month more than $300 worth of gear, thanks to these generous brands: