Congratulations to Sean Van Cleve, our newest Reviewer of the Month!
Sean is a year-round hiker, Leave No Trace trainer, and bartender in Maryland. He's also a member of Trailspace's Review Corps volunteer gear testing program.
Some of the gear Sean recently reviewed includes the Backpacker's Pantry Granola with Milk and Blueberries and Charros Beans & Rice and the SlingFin CrossBow 2 StormPak and CrossBow 2 Mesh shelters.
Members like Sean are essential to the Trailspace community. In thanks for his contributions, he wins a 10 Essentials prize pack worth more than $300.
Sean, and every 2016 Reviewer of the Month, will receive examples of each of the 10 Essentials of outdoor gear, thanks to Adventure Medical Kits, Arc'teryx, Brunton, Good To-Go, Light My Fire, Mountaineers Books, Potable Aqua, Sawyer, The TentLab, UCO, and Ultimate Survival Technologies (check out the prizes below or see "The Year of Essential Outdoor Gear").
---
Please tell us a little about yourself.
My name is Sean Van Cleve, and I live in the Baltimore Highlands neighborhood of Baltimore City, Maryland. When I'm not spending time hiking, I'm either thinking about hiking, playing music in my home studio, or enjoying spending time with my wife and 17-year-old daughter. I work full time as a bartender in one of Baltimore City's vibrant neighborhoods, and also own a local art gallery with my wife where she displays her work, as well as other local artists.
What do you like to do outdoors?
I prefer to spend most of my free time outdoors on overnight backpacking trips. Although never out as much as I'd like, I try to at least spend an overnight every week to two weeks on the trail.
Any favorite stories?
My favorite stories are the ones I hear on the trail. Being so close to the Appalachian Trail, listening to the wild outlandish stories that hikers tell keeps me listening more than telling…
Describe your happiest moment outdoors.
Although I cannot remember where or when, I recall a time when I became aware of the fact that I was truly comfortable in the outdoors. Rather than being a visitor to a place, taking the responsibility as a caretaker of all places has helped me to grow as an individual, enjoying the world with many.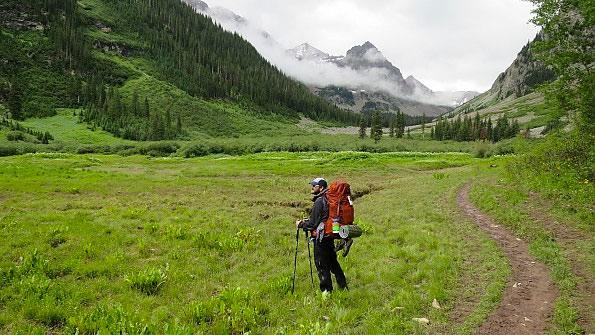 Sean backpacking the Four Pass Loop in the Maroon Bells-Snowmass Wilderness in Colorado.
Describe your ideal day outdoors.
My ideal day would begin waking up near the trail. The more I spend time in northern New England, the more I want to be there. I'd spend this day doing some backpacking, enjoying some great homemade meals, and watching the stars under a new moon.
What would be your dream outdoor adventure?
Although still completely out of reach, visiting the Barun Valley in Nepal. Considered one of the Shangri-Las, this land is where snow-capped peaks meet thousand foot waterfalls, feeding wildflower covered meadows. There are no permanent settlements in the Barun Valley, and one can only gain access over 10 to 14 days on foot.
Who or what has been the biggest outdoor influence on your life?
Traveling across the country, visiting many of the National Parks and Monuments at a young age really set the stage for my love of the outdoors. Shortly thereafter, backpacking as a Cub Scout began to set the mold.
What's your most essential piece of outdoor gear? Why?
My favorite essential is a Silva Explorer compass. It has been with me many places, and has helped me countless times!
What's your favorite piece of outdoor gear? Why?
Right now I am getting to know a pair of Arc'teryx Beta gloves and Atom glove liners. I've been saving up for this purchase for a long time, and am excited to put them to the test this winter!
Got any good, bad, funny, or epic gear stories?
I passed a guy on the AT last month with a cheese grater tied to the outside of his pack; I really hope that it was for making tinder…
What's in your backpack right now?
Other than my Rab 800 20-degree sleeping bag, Montbell down pants, food and water, my ULA Catalyst is packed and ready to go!
What's the best outdoor or gear advice you've been given or heard?
I can't remember where I read it, but somebody said "There's no such thing as bad weather, just bad gear."
What's your favorite book?
Right now, I'm going to have to go with the Textbook of Dendrology by Harlow, Harrar, and White. I'm always looking to get a better understanding of the flora around me.
What's your favorite quote?
"No one prospers unless he renders benefit to others." —Tadao Yoshida, founder of YKK
How did you get involved in Leave No Trace?
Always being interested in learning more, I was put in touch with a local LNT Master Educator via the Boy Scouts of America, where a local course was offered at the Broad Creek Memorial Scout Reservation in Maryland.
Can you tell us more about becoming a Wilderness First Responder and being licensed as a backcountry guide?
Education and knowledge are the single best skills one can have, and self rescue is one of the most important things taught as a first responder. I personally went through NOLS (National Outdoor Leadership School) for my certifications and recerts, but you can contact your local fire department or search and rescue for training options.
Certifications for guiding greatly vary depending on location and what kind of services that are being offered. For example, if one is interested in guiding in the High Sierra, the AMGA (American Mountain Guides Association) is one of the best organizations for mountaineering training.
What would Trailspace members be surprised to learn about you?
Although out on lots of trips, I struggle with a debilitating spinal injury from earlier in life. Working as a technician for SAAB, I fell in the shop in 2006 and fractured my pelvis. Consequently, my L5-S1 disc tore and ruptured, which puts me on my back for approximately two weeks a year. I'm doing my best to get out while I can!
Anything else you'd like to share with the Trailspace community?
I want to extend a heartfelt thanks to all here at Trailspace who do their part for reviews and valuable input on the forums. Keep up the good work!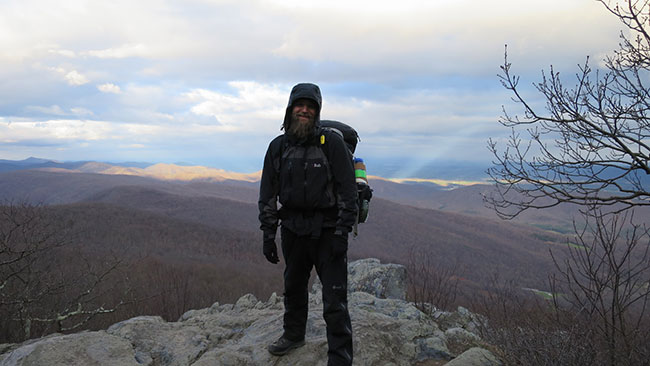 Sean hiking on the Appalachian Trail in Shenandoah National Park.
---
The Year of Essential Gear
To celebrate the classic 10 Essentials of outdoor gear, we're giving all of our 2016 Reviewers of the Month, like Sean, the following prize pack ($300+ value). For more on the 10 Essential prizes read "The Year of Essential Outdoor Gear.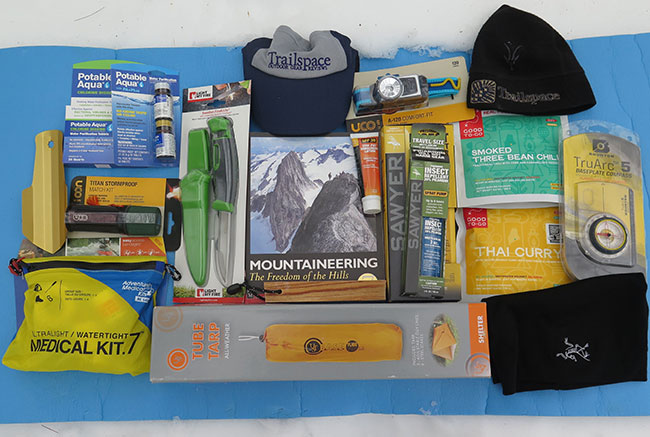 #1 Navigation


#2 Sun (and Bug) Protection


#3 Insulation

#4 Illumination


#5 First-Aid Supplies


#6 Fire

#7 Repair Kit and Tools

#8 Nutrition


#9 Hydration


#10 Emergency Shelter


#11 Know-How