Congratulations to Andrew Friedman, our newest Reviewer of the Month!
Andrew is a lawyer in Washington, D.C., and lives in Maryland with his wife and children. A Trailspace member since 2007 and volunteer member of our Review Corps product testing program, Andrew has reviewed his Icebreaker Oasis Crewe, Yeti Rambler Bottle, and Gregory Citro 25 pack, among other outdoor gear.
Members like Andrew are essential to the Trailspace community. In thanks for his contributions, he wins a 10 Essentials prize pack worth more than $350. Andrew, and every 2017 Reviewer of the Month, will receive examples of each of the 10 Essentials of outdoor gear, thanks to Adventure Medical Kits, Arc'teryx, Brunton, Good To-Go, Mountaineers Books, Potable Aqua, Sawyer, SOL, The TentLab, UCO, and Victorinox.
Check out the 2017 prizes below or see "Essential Gear for our 2017 Reviewers of the Month."
---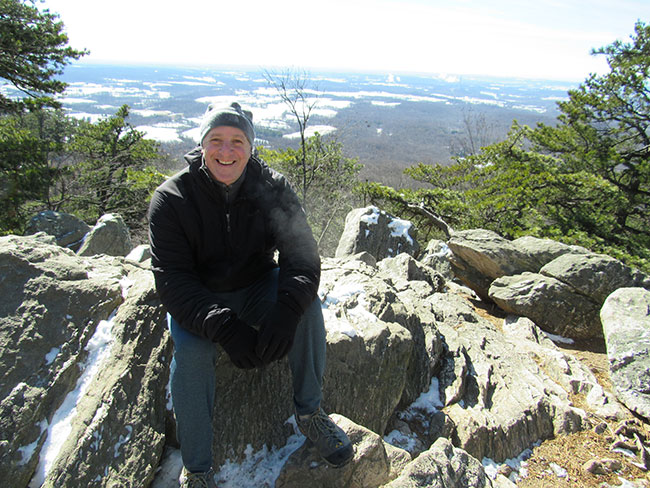 Please introduce yourself.
I live in Cabin John, Maryland, a suburb of Washington, D.C. Cabin John is about ten miles west of where the urban part of Washington, D.C., ends; it is also the west side of Bethesda, Maryland, right next to the Potomac River.
I have been married almost 21 years, we have one adult and two teenage children, and I am a lawyer who works in Washington, D.C.
You've been a member since 2007. How did you come to Trailspace?
I read some reviews and forum posts on Trailspace when I was evaluating a purchase. I found the site was helpful and wanted to contribute. I was initially interested in the reviews and posted some; a few years later, I started to participate a bit more in the forums.
What led you to start reviewing your gear on Trailspace?
I wanted to share some thoughts about gear I used and liked, and I could not find many (or any) other reviews of some of the gear.
What do you do when you're not at Trailspace?
When I am not working, I spend as much time outside as I can, I read and listen to music a lot, and I volunteer on some nonprofit boards of directors.
How would you describe the outdoor scene in the Washington, D.C., area?
Washington, D.C. has great access to the outdoors for an urban place. We have local and national parks with great hiking trails, a big river that offers great opportunities to kayak, canoe, and paddle, and lots of cycling trails, and there are amazing wilderness areas within a few hours drive.
All of these appear to be very popular pursuits for people. I do these activities with family and friends, not with any particular group or organization.
How do you spend your time outdoors?
I walk and hike on local trails and on longer trips to the Shenandoahs and the White Mountains in New Hampshire. I also try to find opportunities to hike while on work travel or vacations. I also canoe and cycle during the summer.
When and how were you introduced to the outdoors?
My parents were engaged and active hikers. I started hiking in the White Mountains and Green Mountains when I was in grade school. I started canoeing in summer camp in New Hampshire when I was in grade school too.
What's a typical outing for you?
The easiest outing is a morning or afternoon on local trails—the Billy Goat Trail (part A, B, or C) by the Potomac River or Sugarloaf Mountain in Dickerson, Maryland. Or, I'll stop by the Potomac after work and take the canoe out for an hour or more.
Do you prefer to go out solo or with partners?
I don't mind solo hikes or paddles if they are pretty short, but I prefer hiking with family or friends.
Any favorite stories?
My first lengthy winter hike in the Northern Presidentials in the White Mountains was an object lesson in being unprepared. I was nineteen years old. My boots and supergaiters didn't work well with my crampons, so my feet were perpetually cold and flirted with frostbite.
My sleeping bag wasn't quite warm enough for the very cold temperatures we encountered. My water froze in the bottles by lunchtime. My goggles fogged in whiteout conditions. I probably learned more about winter hiking and myself on that trip than any other time in my life.
Who (or what) has influenced your outdoor life?
My parents gave us a lot of opportunities to have fun outside; we have tried to do the same with our children. In turn, hiking and canoeing with the kids, with their interest, energy, and excitement, has made being outside a lot more fun for me as they have gotten older and more capable.
Working as a summer camp counselor who guided teens on canoe and hiking trips in the Adirondacks had a big influence on me. Being responsible for others when I was still pretty young myself made me focus a lot more on safety and using good judgment about weather and other external factors like trail conditions.
What's your favorite outdoor place?
The Northern Presidentials and the High Peaks in the Adirondacks are the most familiar, but I don't have a favorite place. I like the variety of seeing new mountains and hiking different trails.
Describe your happiest moment outdoors.
I remember my first summer trip in the White Mountains where my college roommate and I committed to hammock and tarp camping the entire trip—the freedom to camp anywhere that was far enough from a trail but clear enough to hang a hammock, the satisfaction of leaving no trace, the way we could hike all day over really rough terrain (we were both early 20s and very fit), and the amazing weather we had that week.
If you could go for a hike/run/ski/paddle with anyone, whom would you pick? Why?
Ansel Adams. I like taking photos while I am outside, but I am a rank amateur with amateur equipment. I enjoy his photography and would have loved spending some time following him around and learning.
Describe your ideal day outdoors.
From where I live, wake up early with one or two of our kids; drive to Old Rag, a great local hike a few hours away; spend the day ascending and descending; grab some barbecue on the way home.
What is your dream outdoor adventure?
I would love to trek to Everest Base Camp with my son.
Any plans on your horizon?
I would like to hike Mount Katahdin at some point in Maine.
Do you have any outdoor goals?
To continue to enjoy being outside on my own terms as I get older.
Do you have any outdoor regrets? Fears? Mistakes?
No regrets. My only fear is to unwittingly find myself between bear cubs and their mom. As for mistakes...plenty of those. My story about the first winter hike in the Presidentials has enough!
Do you have a piece of outdoor gear you consider essential? What? Why?
There is no particular piece of gear for me because conditions vary so much. I am usually very focused on appropriate boots/shoes and socks, though.
Do you have a favorite piece of outdoor gear? What? Why?
I have a ten-year-old pair of Limmer Standard boots that are pretty much the most comfortable shoes I own. I would wear them every day if I could.
What's in your backpack or canoe right now?
My favorite smaller pack right now is Wild Things Gear's Guide Pack. It has an extra shirt, a water bottle, a hat, some snacks, a rain shell, and a pair of Chacos. My big backpack is a Mystery Ranch G6000. We also have a Kevlar Stowe Canoe Company Allagash (made in the '80s) that is fabulous. It's upside down on a rack next to the Potomac River.
What's the best outdoor or gear advice you've been given or heard?
Try it on in person and make sure it's comfortable whenever possible.
What advice would you give other gear reviewers?
Keep a journal. I am not always in the mood to photograph gear when I'm out using it, but I find that tapping out a few words right afterward is pretty valuable when it takes a few months to use and evaluate gear.
What advice would you give other outdoor enthusiasts?
Make the time to get out and do it, and do it safely.
What's your favorite book?
The most idiosyncratic outdoor book I have read is Not Without Peril: 150 years of Misadventure on the Presidential Range of New Hampshire by Nicholas Howe. It should be required reading for hikers in the White Mountains.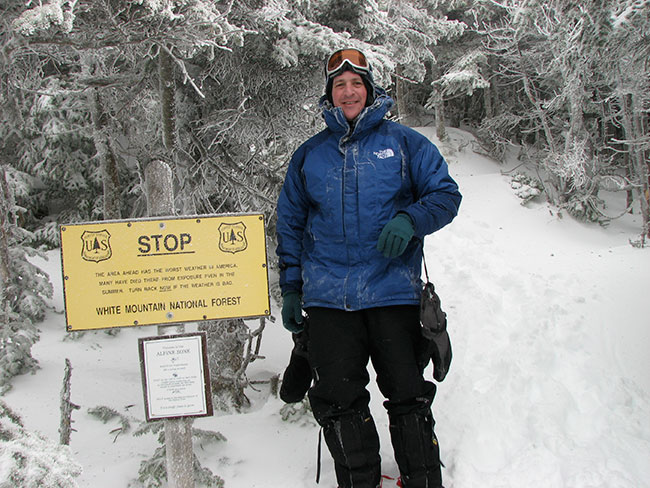 Do you have any gear regrets?
My first internal frame backpack was from Wilderness Experience. It was a big red and blue top-loader. It was swiped or lent and not returned not long after I graduated college. What a great product. I still miss that pack.
Do you have any interesting gear stories?
The best and worst sleeping pad I have ever used. A long time ago, I hiked up Mount Sinai in Egypt. I had a sleeping bag but no pad, and I expected the top to be pretty rocky. Near the base of the hike, I bought a crude camel hair rug from someone who was selling them for cheap. It was exceedingly heavy and reeked of what I could only conclude was camel odor, and it was not a good camel odor.
Despite its weight and unwieldy bulk, I strapped it to my pack and trekked it up to the top. When the night out proved to be a lot colder than anticipated, my friend and I wrapped our sleeping bags in that coarse camel rug. It worked out OK, but it was very hard to get that smell out of the sleeping bags.
What's your favorite quote?
It's on the wall of my office: "It could be that the purpose of your life is only to serve as a warning for others."
What's the one quality you feel best describes you?
Calm. I don't fluster easily.
How would others describe you?
You would have to ask them. My family thinks I am smart and logical and generally make good decisions, and they think I am weird because I really like hiking in bad weather.
Do you have a life philosophy?
Not that I have ever thought about at length. I think people should work hard, and I think people should do whatever they can, and whatever they think is important, to make the most of their life. I also think a life well lived should include spending healthy amounts of time outside.
What would Trailspace members be surprised to learn about you?
I'm not sure it would surprise anyone, but I love listening to jazz and have, for a very long time, primarily used fountain pens instead of the alternatives.
Where does your username (leadbelly2550) come from?
One of my favorite early blues artists.
What question would you ask other Trailspace members in a Q&A?
I would probably want to share a cup of coffee and a half-day hike. You learn a lot about people that way.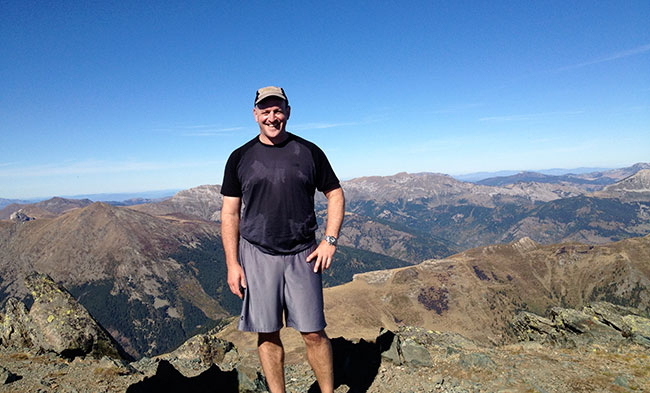 Wide Photo Captions Above:
Andrew on a winter hike up Sugarloaf Mountain in Dickerson, Maryland
Just below treeline on Mount Adams in the White Mountains during a February climb
Enjoying the summit view on Gjeravica in the Albanian Alps
---
Essential Gear for 2017 Reviewers of the Month
To thank them for their essential contributions, we're giving Andrew and every 2017 Reviewer of the Month the following prize pack, thanks to these generous brands. Worth more than $350, it's filled with examples of what to carry into the backcountry. For more on the 10 Essential prizes read "Essential Gear for our 2017 Reviewers of the Month."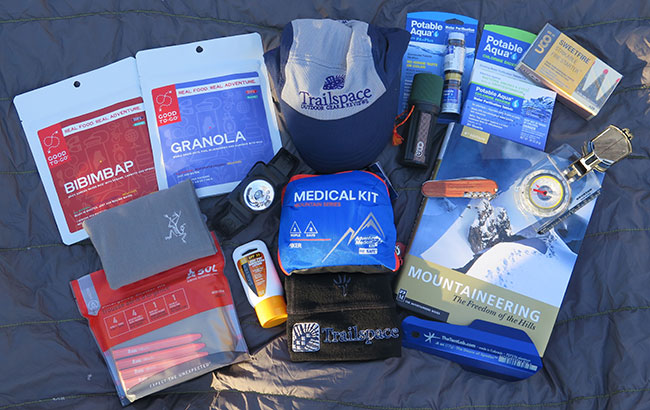 #1 Navigation


#2 Sun Protection


#3 Insulation

#4 Illumination


#5 First-Aid Supplies


#6 Fire

#7 Repair Kit and Tools

#8 Nutrition


#9 Hydration


#10 Emergency Shelter


#11 Know-How

Note: Noticed more than one Reviewer of the Month in the same month? Wondering if we can count? Despite the publishing schedule, there still will be 12 Reviewers of the Month in 2017.