Congratulations to Inga Aksamit, our newest Reviewer of the Month! Inga lives in Northern California where she is a Sierra Club backpacking trip leader, outdoor author, hiker, and skier. She recently published The Hungry Spork: A Long Distance Hiker's Guide to Meal Planning.
Inga has reviewed the Hydrapak SoftFlask, Oboz Sawtooth Low BDry trail shoes, Redwick's Preserves Freeze-Dried Food, and Sierra Designs Elite Rain Chaps.
She wins a 10 Essentials prize pack worth more than $350. She and every 2017 Reviewer of the Month, will receive examples of each of the 10 Essentials of outdoor gear, thanks to Adventure Medical Kits, Arc'teryx, Brunton, Good To-Go, Mountaineers Books, Potable Aqua, Sawyer, SOL, The TentLab, UCO, and Victorinox.
Check out the 2017 prizes below or see "Essential Gear for our 2017 Reviewers of the Month."
---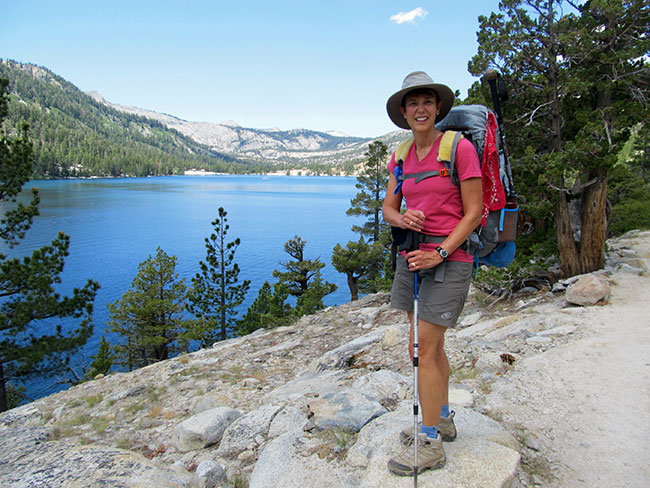 Please introduce yourself.
I live in Northern California in Sonoma County. I've always loved spending time outdoors in a variety of activities such as skiing, cycling, paddling, running, and rock climbing, but discovered the joys of backpacking relatively late.
I've been backpacking for about 15 years, eventually writing two books, starting a backpacking program at Sugarloaf Ridge State Park, and becoming a Sierra Club backpacking leader. I also lead hikes in a special program called Hiking for Fitness that is free for participants who get an actual written prescription for exercise from their physician.
How do you spend your time outdoors?
I hike a lot in the summer and ski a lot in the winter. To mix things up I do stand-up paddleboarding, snowshoeing, and some gym work, though I prefer being outdoors.
When and how were you introduced to the outdoors?
My parents were adventurous, though not in the same way as I am. They exposed me to lots of outdoor activity as we circled the globe for my father's international work as an irrigation engineer. Rather than playing traditional sports such as soccer, I rode camels in Pakistan, hiked to Machu Picchu before there was a train, and scoured the jungles of Indonesia with my mother searching for rare plants.
How did you became a Sierra Club backpacking trip leader and outdoor instructor?
When I hiked the John Muir Trail in 2014 I was at a crossroads and consciously spent time considering what I wanted to do with the rest of my life. I decided that I wanted to focus on helping to get people outside connecting with nature. One way to do that was to lead backpacking trips.
I like the training and support that the Sierra Club provides to their leaders. My interest is in teaching classes and leading introductory trips to help people get over whatever their barriers are to getting out there, whether it's intimidation over the gear or fear of bears or things that go bump in the night in the forest.
What's a typical outing for you (if you can describe one)?
I go on a lot of three to four day backpacking trips in the summer, mostly to the Sierra, and usually one long trip of 50 to 150 miles. In the winter I ski a few days each week at Squaw Valley.
Do you prefer to go out solo or with a partner(s)?
I like to hike solo but prefer to backpack with my husband, Steve Mullen.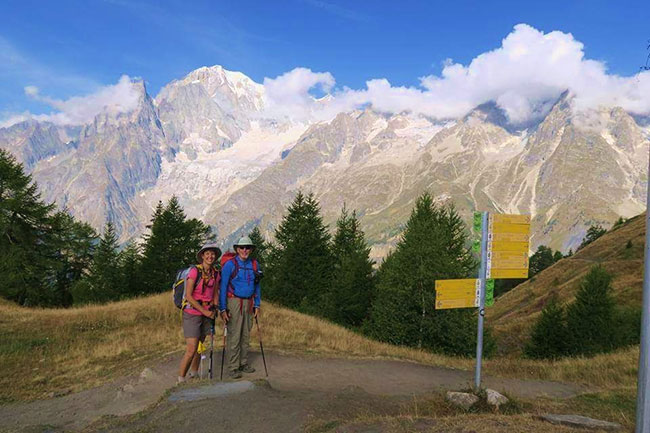 Why did you decide to write "Highs and Lows on the John Muir Trail"?
I wanted to share my experience as an everyday adventurer. I'm not a superhuman athlete who is breaking any records; I'm a regular person who overcomes the same fears and self-doubt that anyone else does. I thought that if I shared my ups and downs it might help others understand that you can overcome barriers and meet big challenges that you weren't sure you could accomplish.
Who has influenced your outdoor life?
I'm inspired by people like Reinhold Messner, who pushed the limits as the first to summit Everest without oxygen. I love John Muir's lyrical writing.
What's your favorite outdoor place?
I love the mountains and am most serene when I'm in an alpine environment with a lake or creek with sheets of smooth rock. Favorite places include the High Sierra, Alps, and Cordillera Blanca in Peru.
Describe your happiest moment outdoors.
I felt such a sense of accomplishment when I finished a 170-mile section of the JMT. I didn't know if I could make it for 23 days in the wilderness, but I did it. I feel the same sense of accomplishment each time I push beyond my comfort zone, including the time I summited Mt. Whitney (14,505 feet) and then the next year on the Santa Cruz Trail in Peru when I topped out at 15,600 feet.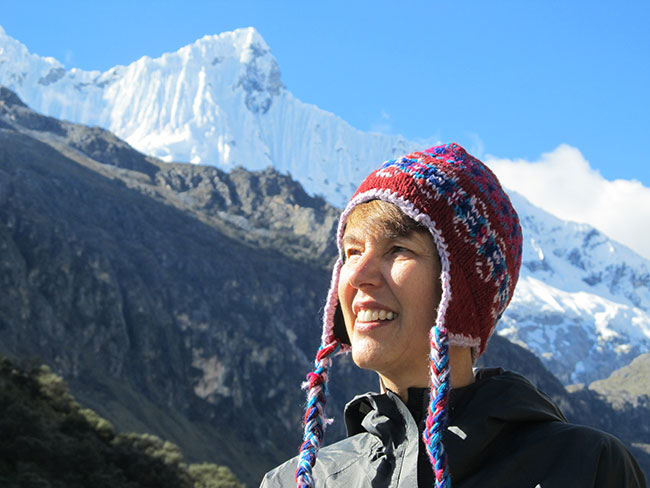 If you could go for a hike or ski with anyone, whom would you pick? Why?
I hiked one day with Elizabeth Wenk, author of the book John Muir Trail: The Essential Guide to Hiking America's Most Famous Trail, and I'd love to backpack with her because she shares her deep knowledge of the peaks, flowers, and geology so freely.
Do you have a piece of outdoor gear you consider essential? What? Why?
Good footwear is essential on the trail. I have a few favorites including the Merrell Moab Ventilator and Altra Lone Peak.
Do you have a favorite piece of outdoor gear? What? Why?
My inflatable ExPed UL pillow gives me great pleasure and a good night's sleep. This year I also loved my inexpensive Aleader water shoes since our creeks were running so high after the huge snow pack.
What led you to review gear on Trailspace?
I had been doing gear reviews for another site for a number of years. When it shut down I discovered the wealth of information at Trailspace and joined last year.
What's the best outdoor or gear advice you've been given or heard?
Go as light as you can afford.
What advice would you give other gear reviewers?
Be thorough and don't leave anything out. Go to the trouble of weighing gear on a digital scale because you can't always trust manufacturer listed weights.
What advice would you give other outdoor enthusiasts?
Gear is important, but you don't have to overthink it. If you're on a budget, scour the hiker flea markets online, look for sales on quality gear, and do the best you can. As you age, lighter gear becomes more important, but if you're young and strong you can get away with heavier gear.
Do you have any gear regrets?
I'm still struggling with packs. I miss my trusty REI Flash pack that wore out. I have a fancy Zpacks pack that is great with less than 25 pounds but for longer trips that require a lot of food weight, it's uncomfortable.
Do you have any interesting gear stories?
No, pretty boring but I will say that one reason I love doing gear reviews is the knowledge I gain by delving into the background and philosophy of companies, materials used, and design variations.
What's your favorite book?
Early Days in the Range of Light: Encounters with Legendary Mountaineers by Daniel Arnold
What's your favorite quote?
"Adopt the pace of nature: her secret is patience" —Ralph Waldo Emerson
What's the one quality you feel best describes you?
Generous (with time, information, and caring)
How would others describe you?
Open and friendly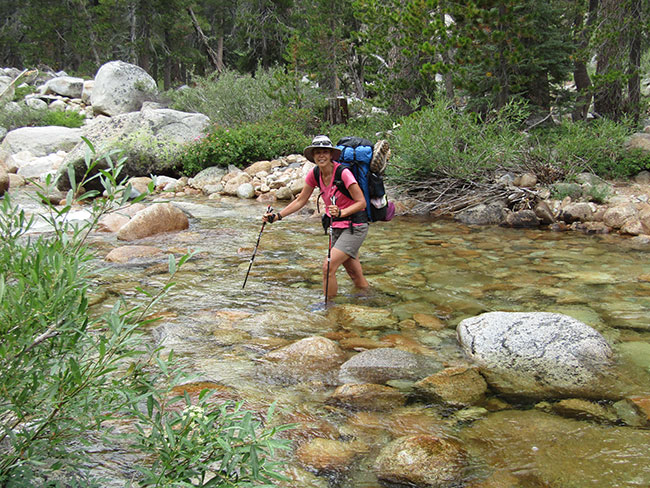 Photo captions above:
On the Pacific Crest Trail, Echo Lakes, Desolation Wilderness, near Lake Tahoe
Inga and husband Steve Mullen on the Tour of Mont Blanc
On the Santa Cruz Trail, with Mt. Pisco in the Cordillera Blanca, Peru
On the Pacific Crest Trail crossing Rancheria Creek in Kerrick Canyon, Yosemite National Park
---
Essential Gear for 2017 Reviewers of the Month
To thank them for their essential contributions, we're giving Inga and every 2017 Reviewer of the Month the following prize pack, thanks to these generous brands. Worth more than $350, it's filled with examples of what to carry into the backcountry. For more on the 10 Essential prizes read "Essential Gear for our 2017 Reviewers of the Month."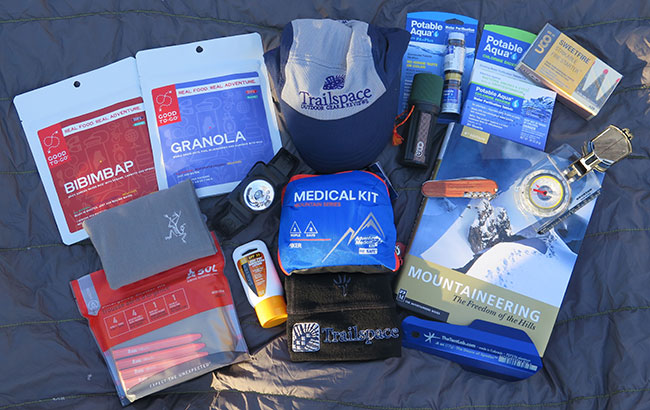 #1 Navigation


#2 Sun Protection


#3 Insulation

#4 Illumination


#5 First-Aid Supplies


#6 Fire

#7 Repair Kit and Tools

#8 Nutrition


#9 Hydration


#10 Emergency Shelter


#11 Know-How

Note: Noticed more than one Reviewer of the Month in the same month? Wondering if we can count? Despite the publishing schedule, there still will be 12 Reviewers of the Month in 2017.