Congratulations to Uriah Hon, an "avid backpacker and distance hiker" from the coast of Maine, and our latest Reviewer of the Month!
Uriah recently shared a number of helpful reviews of his outdoor gear, including his Kelty Salida 1 tent, Mountain Hardwear Castil Convertible Pants, Klymit Cush pillow, and Outdoor Research Crocodiles gaiters.
Members like Uriah are essential to the Trailspace community. In thanks for his contributions, Uriah wins a 10 Essentials prize pack worth more than $300.
He, and every 2016 Reviewer of the Month, will receive examples of each of the 10 Essentials of outdoor gear, thanks to Adventure Medical Kits, Arc'teryx, Brunton, Good To-Go, Light My Fire, Mountaineers Books, Potable Aqua, Sawyer, The TentLab, UCO, and Ultimate Survival Technologies (check out the prizes below or see "The Year of Essential Outdoor Gear" for more info).
---
Please tell us a little about yourself.
I am Uriah. I am originally from Presque Isle, Maine, and now live in Ellsworth, Maine, near Acadia National Park!
I am a father, brother, son, and lover of the outdoors. I work locally at Right Way Auto, a used automobile dealership. I am also a part of the city's Recreation Commission.
I enjoy spending most of my free time either exploring on foot or on my bicycle and have recently found a love for writing! I am fairly laid-back and I enjoy traveling and exploring other cultures.
What do you like to do outdoors?
Generally when I am outdoors, I either have a loaded pack and I am headed for the backcountry or I am trying to find the long lost path to glory on my mountain bike! I also love to lie by the lake and throw a couple horseshoes from time to time.
Any favorite stories?
One of my favorite stories: I was over on Poplar Ridge (on the Maine Appalachian Trail) doing an 80-ish mile section hike. I had gotten up early to get up in elevation to get the sunset, but I got fairly tired since I had chosen just to break camp and bolt without breakfast.
I stopped at this little pond to cook up some oatmeal and noticed a moose print. I heard some splashing and looked across the pond maybe 50 or 60 yards to see a moose throwing some grass about with his mouth, almost playing in the water like a dog, splashing at the water and shoving his nose down in to grab more grass to throw. I sat there, cooked, and ate my entire breakfast before he wandered off. It was amazing.
Describe your happiest moment outdoors (or proudest or hardest).
I love the true silence of the outdoors. The times when you cannot hear a single man-made noise. My proudest moment outdoors was completing my first section hike. I had chosen to hike north from Monson, Maine, to Katahdin—106 miles! The story is on my website, but it was the hardest, yet most rewarding thing I think I have done outdoors by far.
Describe your ideal day outdoors.
My ideal day outdoors... My daughter and I would catch sunrise on a summit, continuing over the range until lunch. I would cook up some Three Bean Chili (I love that stuff) and kick back. I would find a small little watering hole just big enough to get wet in. Finishing my day up beside a nice fire and with a good IPA, I would curl up under the stars and sleep my worries away.
What would be your dream outdoor adventure?
I dream of hiking in Patagonia. Just me and my backpack for a couple of months, learning the culture and nature in such a different place. Nothing fancy, I just want to walk around, and see everything.
Who or what has been the biggest outdoor influence on your life?
I think the biggest outdoor influence on my life would have to be people in general. Watching the world has taught me to appreciate simplicity. And that is something I seem to find out in the backcountry, not in the city, so I continue to go there every chance I get!
What's your most essential piece of outdoor gear? Why?
My most essential piece of outdoor gear is definitely my Sawyer filter. I take it everywhere I go, including the office. I know that if I have at least that, I can curb being thirsty. There is nothing I dislike more than being thirsty! As long as I can find water, I can drink it.
What's your favorite piece of outdoor gear? Why?
My favorite piece of gear is one of my luxury items, my Klymit Cushion pillow seat. I love being able to take it out, blow it up with one breath, and have a place to sit that is dry and comfortable. It is so easy to use and so light! I take it everywhere!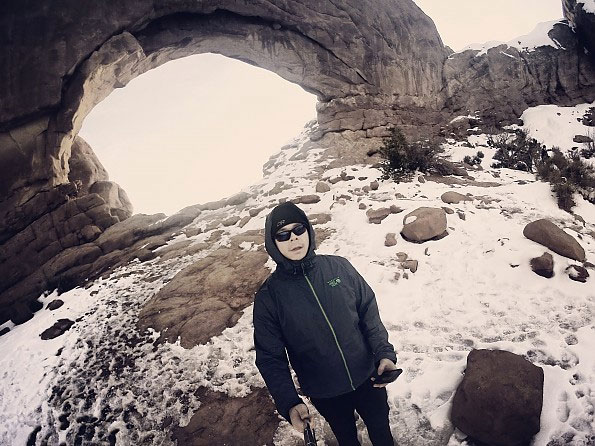 Got any good, bad, funny, or epic gear stories?
I don't know if this counts as epic, or good or bad for that matter, but the first trip I took, when I finally got a chance to weigh my pack it was 74 pounds!!!! I had enough gear for five people! I am now down to about 15 pounds without food, water, and clothes.
What's in your backpack right now?
Right now in my pack (Osprey Exos 48, although I'm getting ready to fill up an Osprey Atmos 50 AG for the first time), I have a Marmot Plasma 30, NeoAir Trekker, Klymit X pillow, Petzl Tikka, Sawyer Mini, Hyperlite Mountain Gear Square Flat Tarp, Leki Carbon Lite Poles, a small medical kit (a bandaid and some Tylenol), a small piece of Cuben fiber for a ground cloth, a Sea to Summit spoon, MSR PocketRocket, some toilet paper, a Sea to Summit pack towel, and a Snow Peak titanium mug. Oh, and a Smartwater bottle.
What's the best outdoor or gear advice you've been given or heard?
The best outdoor gear advice I have ever received was to try a lot of gear. What works for one does not work for another.
In your Trailspace profile you wrote "I started with all the wrong gear, and now I have found a love for detailing my journey towards the right gear." Can you explain?
As I mentioned before, I started with a pack that was toting 74 pounds! I had randomly decided one day that I wanted to hike longer distances. So on a whim, I took a very small budget and bought the cheapest things I could that I thought would suffice, with absolutely no knowledge or recommendations. That was nearly 10 years ago.
Now I LOVE gear! I love trying out the newest, lightest, greatest gear! I am constantly seeking out a good deal on another version of things I already have to get that "dream setup." (I think I am almost there, just gotta get me a HMG 3400 Wind Rider and I should be set!)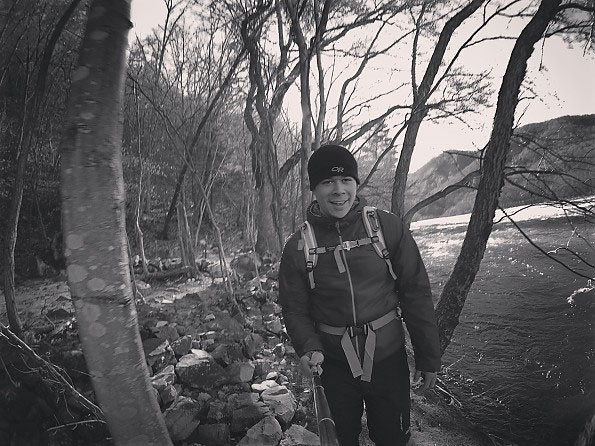 Tell us about your blog, please.
My blog is Mainerrisms, an intentional pun on mannerisms. My blog developed when I was inspired by my daughter to do a bit more reading. Although I never learned to like reading I decided that I did in fact enjoy writing.
On my website I try to do my best to explain to others what all the silly stereotypical words us "Mainahs" use mean, and chronicle my growth through hiking, taking readers on a journey from where I started to where I am in regards to my journey through the outdoors.
I also love incorporating the reviews that I do for this community as well! It's new and it is definitely a learning curve, but I am enjoying the adventure!
What's your favorite book?
I fell in love with the book The Outsiders (by S.E. Hinton) when I was in school. It is the only book I have read more than once, and I love it every time!
What's your favorite quote?
It seems to be a common one, but it seems to fit: "The mountains are calling and I must go" —John Muir
Where did you get your username?
My username is actually my name. Unoriginal I know. I'll work on that. My trail name is "Cheers" though, maybe that will be a good one.
What would Trailspace members be surprised to learn about you?
I think Trailspace would be surprised to know that I am the ONLY person in my family, besides my daughter, who does any sort of camping or backpacking.
Anything else you'd like to share with the Trailspace community?
If anything, I would like to thank the Trailspace community. The reason I give back to this community is because since I have found it, it has given to me so much!
This is the first place I come when I want honest opinions on anything outdoors related. Being in touch with opinions from all over has really helped me along my way!
---
The Year of Essential Gear
To celebrate the classic 10 Essentials of outdoor gear, we're giving all of our 2016 Reviewers of the Month, like Uriah, the following prize pack ($300+ value). For more on the 10 Essential prizes read "The Year of Essential Outdoor Gear.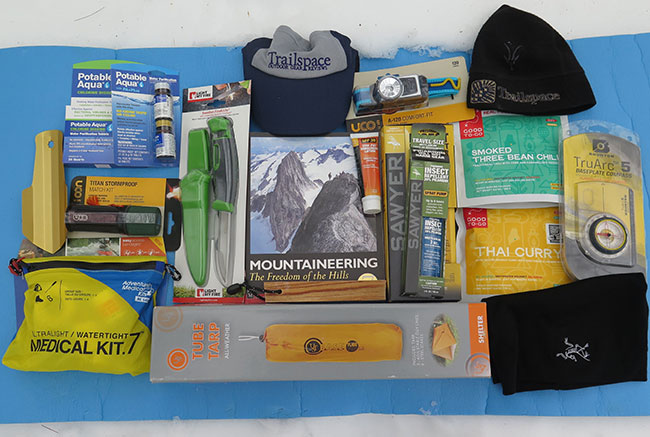 #1 Navigation


#2 Sun (and Bug) Protection


#3 Insulation

#4 Illumination


#5 First-Aid Supplies


#6 Fire

#7 Repair Kit and Tools

#8 Nutrition


#9 Hydration


#10 Emergency Shelter


#11 Know-How

Wide Photo Captions: 1) Uriah in Arches National Park in Moab, Utah, during a recent road trip traveling and backpacking around the country. 2) In Hot Springs, North Carolina, during his trip.