Congratulations to Patrick Mason (Patman), our newest Reviewer of the Month! Patrick, who lives in Knoxville, Tenn., is an avid backpacker and has been a Trailspace member since 2011.
A member of Trailspace's Review Corps gear testing program, Patman has reviewed the Sierra Designs Meteor 2 tent and BioLite CookStove, among other gear, and has written an impressive 100 Trip Reports and counting.
In thanks for his contributions, Patrick wins a $300 prize pack from AlpineAire, Black Diamond, EMS, Katadyn, Klean Kanteen, and Sea to Summit. Check out his prizes and get to know Patrick below.
---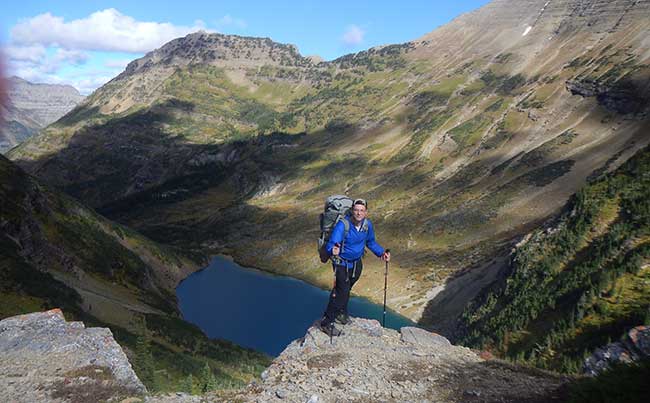 Please tell us a little about yourself.
I'm 45 years old, married with no children. I'm a self-starter in that my father died when I was 7 and my mother became critically ill by the time I was 10. I moved out on my own at 16 and started working and owning my situation. (Consequently, I can't relate very well to the recent generations that live with their parents into their 30s and beyond, lol.) My original career path was professional music, guitar, but I discovered that I liked stable income so I eventually moved on.
Now I work in Business IT support for a giant public company. Yes, I'm actually on-call 24/7 and take my chances with all these weekend backpacking trips. I know almost every peak and spot that I can get a good cellular data connection in the mountains near me.
Some are sad about the connectivity on the trails, but it allows me to have a stable career and still backpack! To date I've only missed one critical call in hundreds of trips. However, a major goal is to remove the on-call pressure from my life. I'm still working on the best way to do that.
How do you spend your time outdoors?
Mostly backpacking, but I also fish lazily, paddle from time to time, and try to at least sneak in a day hike if I can't go overnight. I've recently discovered peak-bagging, but it's a lot more fun in the big open mountains than it is here in the eastern woods.
How did you become a Trailspace community member?
It was either gear research or discovering Tipi Walters's trip reports.
What led you to start reviewing your gear?
Like others, I wanted to give back for all the helpful reviews that I benefit from.
What do you do when you're not at Trailspace.com?
I spend time with my wife, backpack, play guitar, backpack, day hike, and then I go backpacking.
What led you to start sharing your trip reports?
I so enjoyed reading others reports—and still do, even if I don't comment on them, I read every report posted here—that I decided to try and write one. It's fun to share and discuss with others of like mind.
And you've shared 100 so far!
I think there is some catharsis for me by posting all the reports, and I get encouragement from various people to keep doing it. This is a safe place to reveal my passion in this area. I don't always get favorable reactions when people find out how much I'm in the mountains (44 trips last year out of 52 weeks).
Also, Trailspace is such an unusual little corner of the Internet. I know the forums aren't a big part of the site in terms of usage, but through this connection, I've met many great folks online as well as in the mountains and learned much from the decades and decades of cumulative experience here.
It's a special place to me.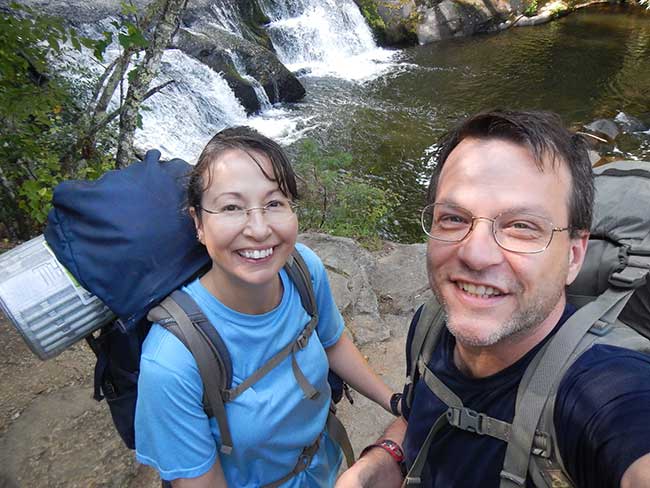 Any special trips or memories you'd want to highlight?
All my trips with my wife, Susan, are precious and go to the top of the list. My first trip to the western U.S. to backpack in the Sierra with Trailspace member lambertiana will always stand out. My face hurt from smiling so much on that trip. Before then I didn't know how awesome and fun those big mountains could be. Going across the country to pull that trip with John opened a new world of possibility for me. Since then, I've gone out west at least one week per year to backpack in some new place or mountain range.
What's a typical outing for you?
My typical trips are really part of a fitness lifestyle. I go nearly every weekend for a two-night, two-day backpacking trip and when I have no goal but to get a good workout, I like to trek between 25 and 45 miles across the weekend as the schedule allows. I have my pack ready to go on a Friday, drive to the destination, and try to be home by the afternoon on Sunday.
Do you prefer to go out solo or with partners?
Given my current frequency of trips, solo is the only practical way to go most times. But it's true that most everything is better when shared.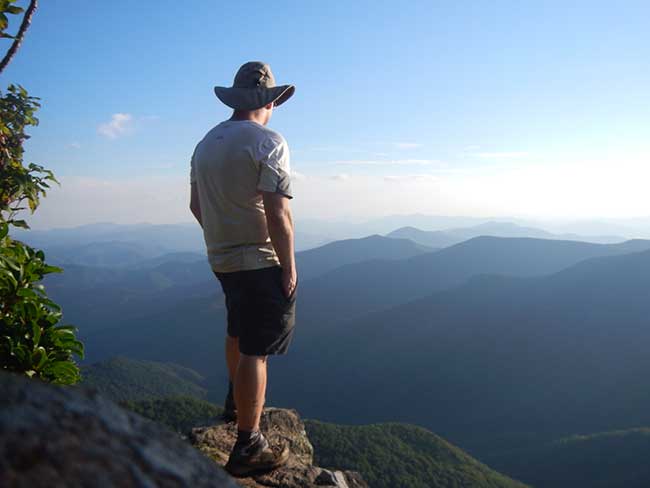 Who has influenced your outdoor life?
My love of the mountains came directly from my mom. She lived most of her life in Florida and when she would talk of the Tennessee mountains she was raised in, she had this wistful look in her eye that caught my attention and made a big impression on me. I've always thought of them through the filter of her love and it became my love too.
Any plans on your horizon?
I hope to get to the Wind River Range in Wyoming this year.
Do you have any outdoor goals?
My current outdoor goal is to master backcountry navigation with map and compass. I'm getting really interested in off-trail travel for the challenge and remoteness it allows. It seems like the next logical step after doing so much on-trail trekking.
Do you have any outdoor regrets? Fears? Mistakes?
It's not a major regret but I sometimes wish that I had discovered my interest in trekking earlier in life. Ever heard that line from Time in a Bottle (made popular by Jim Croce)? "There never seems to be enough time to do things you want to do once you find them."
Do you have a favorite piece of outdoor gear?
Right now I'm loving my Gossamer Gear Mariposa backpack. I'm really picky with packs and have always wanted to use a lightweight one but had never found one that worked for me until that one. I'm mystified at how well it supports a load with such a simple wire frame. Yep, I need to review it.
What's in your backpack right now?
It's summer so I'm sporting the aforementioned Mariposa, just started using a Tarptent Stratospire 1, a Therm-a-Rest NeoAir XLite, the Nemo Nocturne 30, and an MSR MicroRocket stove.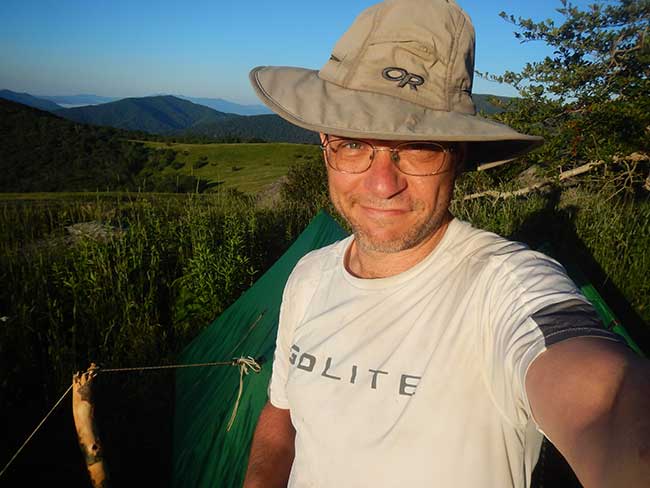 What's the best outdoor or gear advice you've heard?
One of the most practical pieces of advice given to me as a new exploring backpacker was to not press forward if you lose a trail, i.e., don't panic and make it worse or fool yourself into thinking you see a trail when you don't. Stop and backtrack to the last location you were sure you were on the path.
Anther really good bit of hiking advice is to be proactive when it comes to your body; if you feel a hot spot, stop immediately and address it. Take the time to keep your body as clean as you can. Remove the buildup of sweat and salt from all your areas as often as you can. The key to happy hiking is a clean bum. :)
What advice would you give other gear reviewers?
I got this from Seth, but he said, "what would you tell your best friend about that gear?"
That's what should be in the review; Be honest.
Do you have any interesting gear stories?
Well, I've gotten a lot comments about the time a bear stole my pack in the Smokies.
What's your favorite book?
I'm not a big reader now, but I was smitten with The Lord of the Rings trilogy as a young teen. The Return of the King was the first book that grabbed me emotionally and actually made me cry, which was pretty embarrassing for a 15-year-old.
Do you have a life philosophy?
Not really, but I believe in forgiveness. I once had an epiphany: I realized that almost anything anyone ever did to make me mad, I was guilty of doing to someone else.
So for example, when someone cuts me off in traffic I think of the times I cut off others, intentionally or not, and I don't have to be mad. It's very freeing to not have to carry such things around day to day. And truly, life is too short to waste time being torqued up about things you can't control.
What would Trailspace members be surprised to learn about you?
I'm not a gear-head. The gear is just a means to an end for me. In fact, I'm sort of anti-materialistic. I hate being burdened with the worry of "stuff".
And less surprising based on that: I'm a big proponent of living debt free. We've been completely out of debt for seven years now and hope to never incur more. We live small. I've still never purchased a flat screen TV; our CRTs from the '90s are still working.
Where does your username, Patman, come from?
It's a weird story. At a past job, a legacy mainframe system used a concatenation of your first and last name (along with an employee ID) as the user name; mine looked similar to PatMan and a coworker started playing on it as if it were Batman and would sing the tune from the old TV show when he saw me. The other IT folks picked up on it and started calling me Patman. It's not even a trail name and has nothing to do with the outdoors.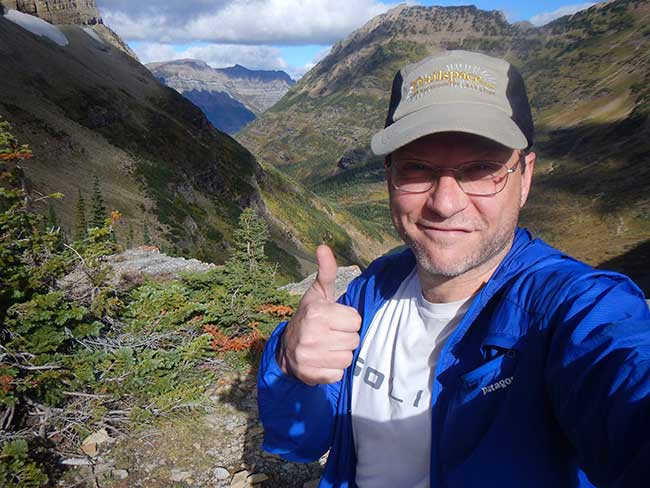 Wide Photo Captions:
At Stoney Indian Pass, Glacier National Park, Montana, 2016
Susan and Patrick on the Bald River Trail, Tennessee in 2017
On Standing Indian Mountain, North Carolina
On the Appalachian Trail in Tennessee with Little Hump Mountain behind
At Stoney Indian Pass, Glacier National Park, Montana
---
2018 Reviewer of the Month Prizes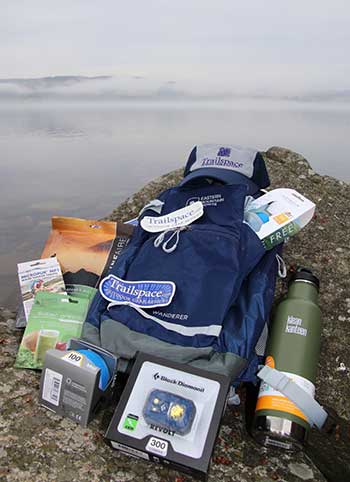 Congratulations, Patrick!
To thank them for their essential contributions, we're giving Patrick and every 2018 Reviewer of the Month more than $300 worth of gear, thanks to these generous brands: