Congratulations to Nick Mesarhakis, a hiker and backpacker from Greece, and our latest Reviewer of the Month!
A new Trailspace member, Nick recently shared a number of helpful reviews of his outdoor gear, including his Sawyer MINI Water Filter, Source Widpac hydration reservoir, and Zamberlan Trekking Socks.
Members like Nick are essential to the Trailspace community. In thanks for his contributions, Nick wins a 10 Essentials prize pack worth more than $300.
He, and every 2016 Reviewer of the Month, will receive examples of each of the 10 Essentials of outdoor gear, thanks to Adventure Medical Kits, Arc'teryx, Brunton, Good To-Go, Light My Fire, Mountaineers Books, Potable Aqua, Sawyer, The TentLab, UCO, and Ultimate Survival Technologies (check out the prizes below or see "The Year of Essential Outdoor Gear" for more info).
---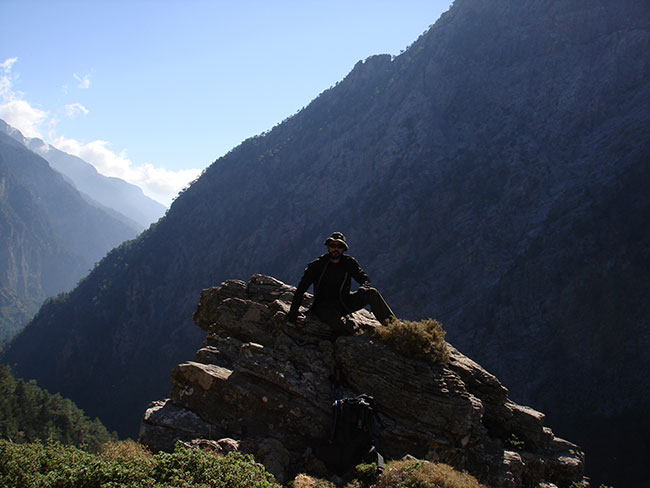 Please tell us a little about yourself.
My name is Nick Mesarhakis and I live in Hania on the island of Crete, Greece. I'm a neat, easygoing guy from Crete that enjoys the outdoors with the friends that come along and discovering myself though it. Every time I return home a better person and that's huge for me.
What do you like to do outdoors?
Mainly I like to hike and do some mild climbing when needed. I also enjoy scrambling when carrying almost no additional weight.
Any favorite stories?
Back three years ago when camping at Pahnes peak in the summer the wind was blowing so hard that I couldn't get any sleep in my flimsy tent. Plus I didn't have any ear plugs anyway and the temperature plummeted from almost 33 Celsius to 7 at night, finding me totally under-prepared for those kind of conditions.
Anyway, I "woke up" at 4 o'clock in the morning to a strong light against the front of my tent and me cursing whoever had his or her torch spotlighting me. Upon unzipping the entrance I was astounded to see that the source of light was the full moon in the most clear sky that I have ever seen reflecting in the sea!
Needless to say, I set up my camera and got to work!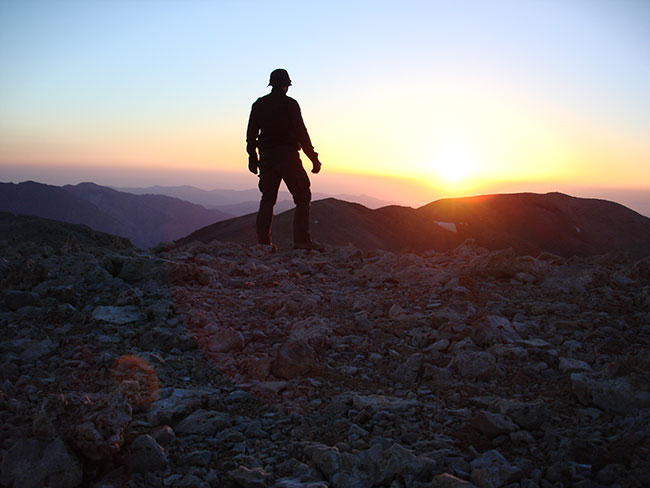 Describe your happiest moment outdoors (or proudest or hardest).
Back four years ago, in January, I got to Omalos Mountain late in the afternoon with my bike and with the intent to hike up to Kalergi Refuge. I'd never been there at that time. No piolet, no crampons, no gaiters, and generally not prepared. Just an old pair of hunting boots, a fleece jacket, and a half-fingered pair of gym gloves along with my motorcycle protective gear. Yeah, I know...
I was following the marks through soft snow terrain and fog accompanied with light rain at first. After I got to, at that time, the closed refuge I was soaking wet and visibility was shifting every two minutes. I rushed back down the trail, but my feet where starting to hurt from all the melted snow turned into a puddle of water inside my boots.
I was forced to make a stop 300 meters before the trail exit in the already heavy rain to rub my freezing feet and switch to my motorcycle boots without any socks on, just to make it to my bike. Utterly stupid, but so proud at the same time when I got home!
Describe your ideal day outdoors.
A trail through a thick forest, in November, with a couple of friends, temp 12 to 15 Celsius and 40 percent humidity. Is that too much to ask when living in Crete?
What would be your dream outdoor adventure?
When in the U.S. to walk the Appalachian Trail and when in EU the Way of Saint James. I've seen movies and read articles about them. Totally captivated to say the least.
Who or what has been the biggest outdoor influence on your life?
Definitely my father. I started going hunting with him at the age of 5. It wasn't so much about the hunt. He taught me the trail, the mountain, the smells and sounds of being outdoors. That fueled my desire.
I tried float and underwater fishing, but never got it under my skin. The mountain has won.
What's your most essential piece of outdoor gear? Why?
My boots. I own a pair of Zamberlan 1009 Vioz Top GT RR WL and I love it! These hunting boots are heavy and not so breathable as modern technical ones, but they will take the beating of "madara," as we call our mountains in Crete, when everything else fails. If you walked in Cretan mountains then you know what I'm talking about.
What's your favorite piece of outdoor gear? Why?
My Source Widepac bladder. It just makes things so much easier when it comes to hydration compared to stainless steel thermoses and canteens.
Got any good, bad, funny, or epic gear stories?
Funny story when in Pahnes. My tent was bent like a marshmallow from the strong winds and my team fastened it with ropes and putting rocks on the inside just to keep it from going airborne during, and after, the setup. It happened to another member of my team, seriously!
What's in your backpack right now?
Absolutely nothing! I set up and adjust my backpack roughly two days before depending on the difficulty of the excursion.
What's the best outdoor or gear advice you've been given or heard?
Best gear advice: Tighten the hip belt and loosen the back straps juuuust a little bit to take the weight off your shoulders and create a nice airflow. Also use the chest strap to avoid rolling the pack from side to side in order to reduce core fatigue from trying to stabilize and to create a better sense of balance. Huge boost when carrying heavy loads.
I was like, "I think I can carry almost double the load now!" Best advice ever!
What's your favorite book?
The Alchemist by Paulo Coelho. I was never a book guy, and I am still not, but this was a gift from a good friend so I gave it a try. Fascinating how much you can unravel about yourself by reading this masterpiece.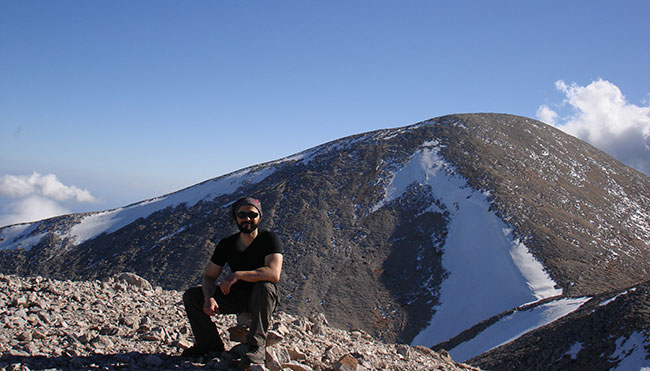 What's your favorite quote (if you have one)?
No quote. I just make them as I go (lol).
What would you recommend a Trailspace member check out in Greece?
When visiting Greece you get a wide variety of activities depending on the place. You can hike trails everywhere no matter the season, although some Cretan mountains can be sketchy when not with a local guide.
Also worth checking out scuba diving and paragliding (although not so popular), bungee jumping (Google Aradena — jumped twice) if you visit the islands, and ski+rafting+canoe kayak if you visit the northern parts in winter.
How did you discover Trailspace?
I was Googling for reviews about some Vango products and I stumbled upon Trailspace.
What prompted you to share your reviews?
Since all the kind reviewers saved me from a lot of time and money before buying, I felt that the least I could do in return was to offer my outdoor gear experience with all of you! Oh yeah, and the contests are a sweet bonus!
What would Trailspace members be surprised to learn about you?
That I ALWAYS wear full-fingered gloves when hiking, no matter the season. It improves grip, lessens the possibility of forming blisters from the constant friction with the walking sticks, somehow protects against thorny bushes, and does the job if a slip occurs on rough terrain. My "weapons of choice" are two pairs of Mechanix gloves that I use for multiple activities.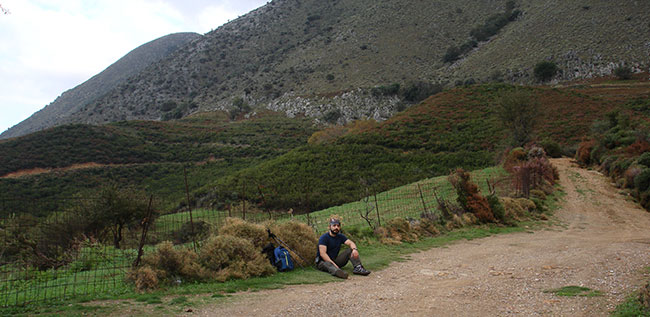 ---
The Year of Essential Gear
To celebrate the classic 10 Essentials of outdoor gear, we're giving all of our 2016 Reviewers of the Month, like Nick, the following prize pack ($300+ value). For more on the 10 Essential prizes read "The Year of Essential Outdoor Gear.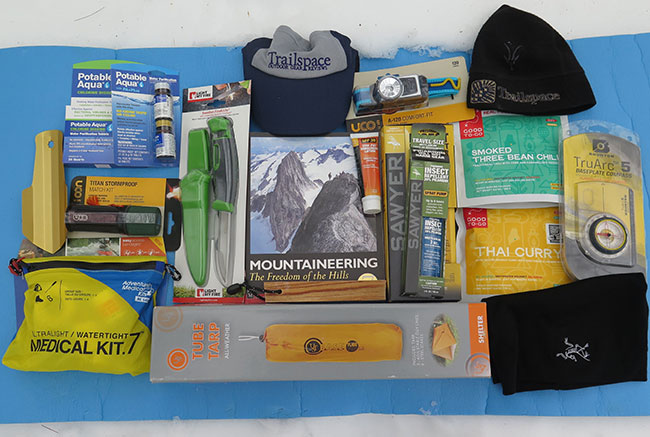 #1 Navigation


#2 Sun (and Bug) Protection


#3 Insulation

#4 Illumination


#5 First-Aid Supplies


#6 Fire


#7 Repair Kit and Tools


#8 Nutrition


#9 Hydration


#10 Emergency Shelter


#11 Know-How

Wide Photo Captions: 1) Nick in Samaria Gorge in Crete, Greece, in November 2015. 2) Nick on Pahnes summit in June 2013. 3) Nick on Fanari summit (elev. 2,134m) in March 2016 with Kastro peak (elev. 2,195m) behind. "I'm really proud of it! Almost 11 hours hiking from start to finish," said Nick of this recent hike. 4) Nick resting on the Atzilakas path in October 2015.