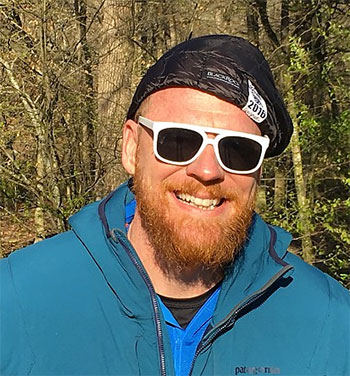 Congratulations to Andy Gotto, our newest Reviewer of the Month!
Andy lives in the St. Louis area, has been a Trailspace member since 2015, and is a member of our Review Corps program. His reviews include the HammockGear Incubator 20° quilt, Katadyn Vario Microfilter, MSR PocketRocket 2 stove, and Therm-a-Rest Slacker Super Snuggler.
Members like Andy are essential to the Trailspace community. In thanks for his contributions, he wins a 10 Essentials prize pack worth more than $350.
Andy, and every 2017 Reviewer of the Month, will receive examples of each of the 10 Essentials of outdoor gear, thanks to Adventure Medical Kits, Arc'teryx, Brunton, Good To-Go, Mountaineers Books, Potable Aqua, Sawyer, SOL, The TentLab, UCO, and Victorinox.
Check out the 2017 prizes below or see "Essential Gear for our 2017 Reviewers of the Month."
---
Meet Andy

Please introduce yourself.
I'm a geographer who works for a natural gas company mapping utilities.
How did you become a Trailspace community member?
I found myself researching quite a bit when purchasing my gear, and always found myself ending up here!
What led you to start reviewing your gear on Trailspace?
I've bought plenty of substandard gear based on manufacturers' claims or incomplete reviews and regretted it later. It's difficult to find good reviews based on real world uses and I wanted to save others some grief!
What do you do when you're not at Trailspace?
I try to convert friends and family into backpackers! I'm always looking for new and interesting local places to spend time outdoors, and scouting out trails for group hikes, when I'm not on a hike or leading one. I spend too much time reading about rocks, local features, and geology. I'm an organizer for a local backpacking group, so there's always a trip going on somewhere if I don't have a better idea.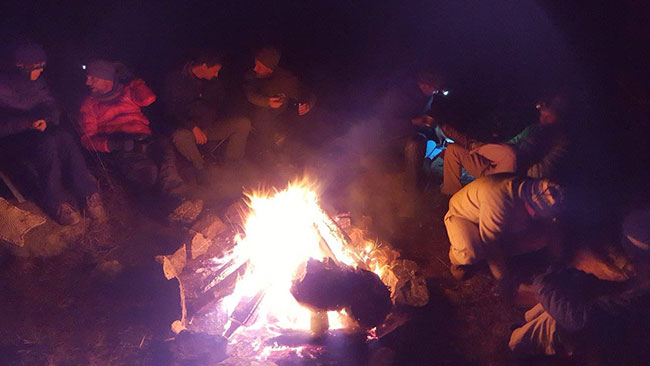 How do you spend your time outdoors?
Mostly hiking in and spending the night in the woods somewhere. I like day hiking but don't find it as fulfilling as overnighting. In the cold I spend a lot of time making things comfortable for the night and enjoying the views with the leaves off. In the warmer months it's all about finding great swimming holes! I have a side job that takes me all around southern and central Illinois, and I try to hammock car camp every opportunity that I get.
When and how were you introduced to the outdoors?
My family lived on rural, heavily wooded, karsted land on the bluffs of the Mississippi. My brothers and cousins spent tons of time roaming the creeks and hills when we were very young. It was a great way to grow up!
What's a typical outing for you?
At least one weekend a month I'll go on or lead a group hike. It usually involves a drive to the Mark Twain National Forest on Friday night, drinks around the campfire with good friends, gear talk, going over the route, and catching up. Saturday morning the rest of the backpackers show up and we hit the trail!
Usually Saturdays are anywhere from 10 to 18 miles, and we try to make a quick out on Sunday. My favorite hikes, though less frequent, are the multi-day hikes where it's a challenge to get done in time to get back to work!
Do you prefer to go out solo or with a partners?
I suppose I prefer to go with a group, though I do still backpack by myself. It's important to me to go solo once in a while.
Any favorite stories?
My best stories are comedies of errors. A few months ago I showed up to Sam A. Baker State Park with two right shoes, very similar looking varieties of ultra running shoes. So I wore my Birkenstocks that day for 13 miles while carrying my winter pack. Wouldn't recommend that!
The time a friend and I met up for a wet four-day winter hike with empty gas canisters? Nothing better than starting fires with icy wood! Waking one morning to find my hammock completely encased in spider webs? Wait, why do I backpack again!? Ha!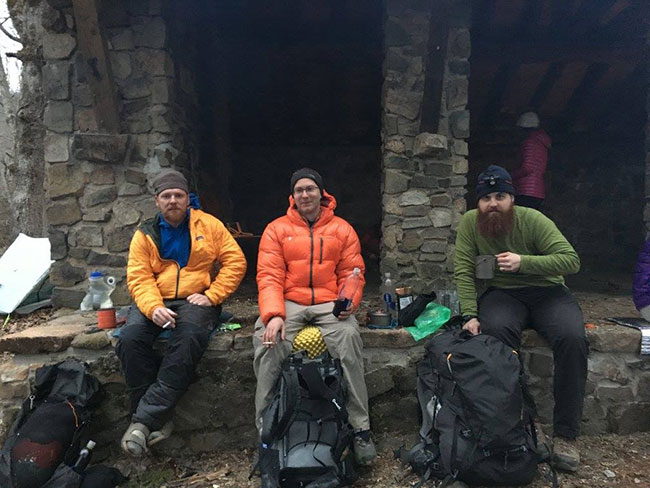 Who has influenced your outdoor life?
Many, many people that I've met on the trail have inspired me. It never ceases to amaze me how physically and mentally tough people can be outside, regardless of their age or fitness level. I love the peace of mind walking brings and the satisfaction after a long day.
What's your favorite outdoor place?
Bell Smith Springs in the Shawnee National Forest. It's a shut-in (so great for swimming) with very interesting rocks.
Describe your happiest moment outdoors (or proudest, hardest, scariest).
I had a panic attack midway up a false pass in Colorado. I hate heights, but had already been over a few passes, so I didn't think anything of it until it happened. I turned around and leisurely went back the way I came. I'd be a terrible mountain climber, I won't stand near edges!
Proudest moment was finishing the River to River Trail a few years ago. I set off to thru hike it not knowing much about backpacking and had terrible gear, but it was an awesome adventure!
If you could go for a hike/run/ski/paddle with anyone, whom would you pick? Why?
I'd like to ride horses with Alexander the Great. Besides being a physical anomaly, the guy had the inquisitive mind of a naturalist along with a keen eye for terrain.
Describe your ideal day outdoors.
I'd wake up to a chilly breeze just off a knob or bald somewhere in the early fall, make coffee from the hammock, and take off for a walk. It'd be an Indian summer kind of day with a river crossing and swimming hole, cap it off with a small fire, boxed wine, and friends to recap the day!
What is your dream outdoor adventure?
The TGO Challenge in Scotland would be awesome!
Any plans on your horizon?
Thru hiking the Ozark Trail. I've section hiked 80 percent of it, but I'd like to do it all in one go. I think I'll visit Isle Royale in late summer. Of course plenty of two- and three-day backpacking trips. Friends are trying to talk me into backpacking in the Tetons in August, but first I have to find a good hypnotist who can fix my fear of heights. Know any?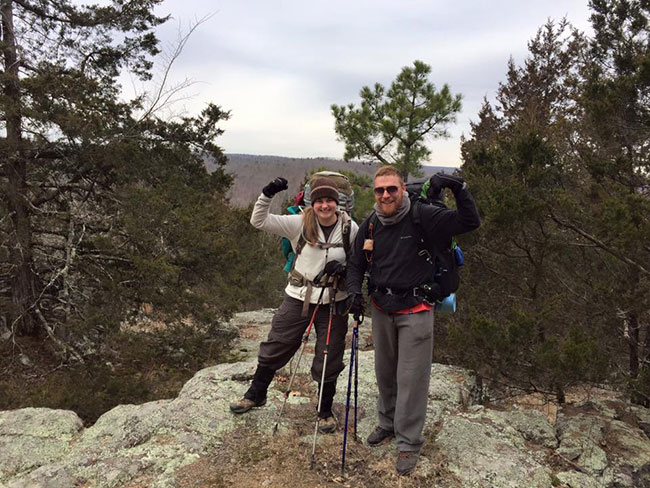 Do you have any outdoor goals?
I always strive to be in better shape, but life and the body can get in the way. An ultimate goal would be trail running a marathon.
Do you have any outdoor regrets? Fears? Mistakes?
I've made some bad gear purchases over the years, but it's only money. I fear that I might quit my job, cash in, and do the Appalachian Trail or the Te Araroa or something. I'll try to control myself. I'm very flexible about my outdoor experiences. As long as I'm in the woods I'm happy.
Do you have a piece of outdoor gear you consider essential? What? Why?
Leukotape. It's great for hotspots, gear repair, etc. Once on it never comes off!
Do you have a favorite piece of outdoor gear? What? Why?
Currently it's my Patagonia Nano-Air Hoody. I like the pockets and how well it breathes. It's very light and warm. AT-6 Carbon fiber trekking poles. Great value and performance. Haglofs power dry hoody. Great for blocking sun, warmth over a light base layer, and it dries in a snap.
What's in your backpack right now?
Hammock Gear cuben fiber tarp, a small compass tied to a zipper, and a half roll of CCF foam to sit/sleep on. Those three items always go. Everything else varies based on conditions, length, etc.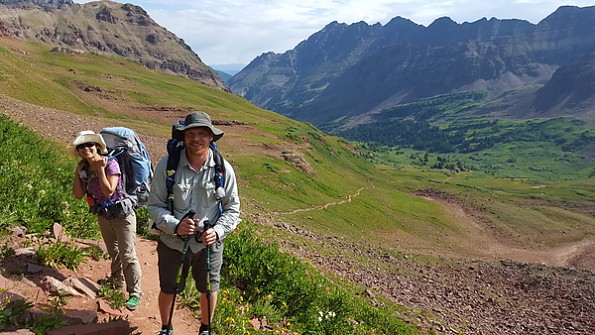 What's the best outdoor or gear advice you've been given or heard?
Treat feet issues immediately. Probably like everyone, I've ignored this advice before and suffered for it.
Also, a friend likes to say "polish your rearview mirror." Nether regions are important to keep extra clean for long distance comfort!
What advice would you give other gear reviewers?
Hit the major points of what the gear is designed to do. To do this one must use the gear often, in various conditions, and this is an excellent excuse to do your thing more often!
What advice would you give other outdoor enthusiasts?
Moisture is the devil. Learn the ways and forms of water.
Do you have any gear regrets?
Buying cheap only to have to buy correctly later.
What's your favorite book?
Remembrance of Things Past by Marcel Proust
What's your favorite quote?
"You're backpacking wrong" — a variation on HYOH
What's the one quality you feel best describes you?
Lazy
How would others describe you?
Lazy. And damn good looking.
Do you have a life philosophy?
Life is short, make the most of it always.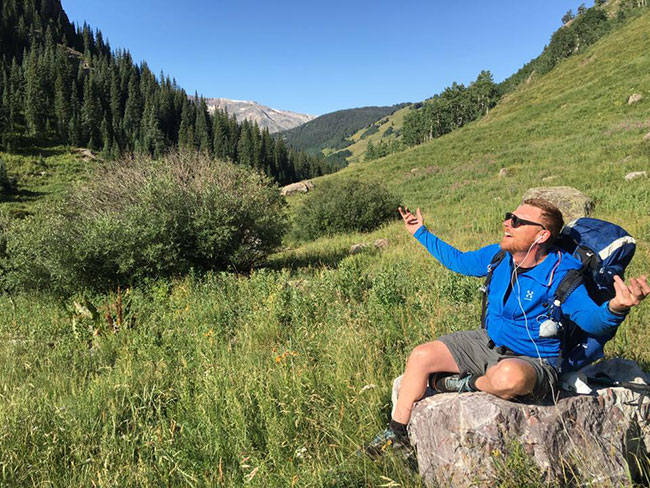 Wide Photo Captions (from top):
Group campfire at Bald Knob, Missouri
Andy (on left) forced to wear his Birkenstocks at a shelter in Sam A. Baker State Park.
Andy hiking the Ozark Trail in winter with his friend Brooke.
Andy hiking up Snowmass Mountain, Colorado, last August with his friend Joyce (trail name: "The Locust").
Feeling silly in Maroon Bells–Snowmass Wilderness, Colorado, last August
---
Essential Gear for 2017 Reviewers of the Month
To thank them for their essential contributions, we're giving Andy and every 2017 Reviewer of the Month the following prize pack, thanks to these generous brands. Worth more than $350, it's filled with examples of what to carry into the backcountry. For more on the 10 Essential prizes read "Essential Gear for our 2017 Reviewers of the Month."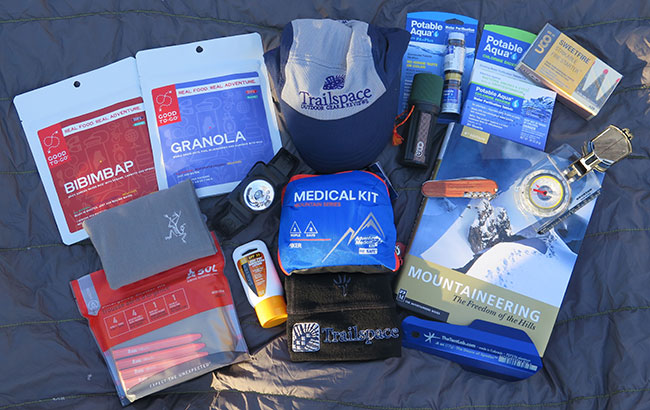 #1 Navigation


#2 Sun Protection


#3 Insulation

#4 Illumination


#5 First-Aid Supplies


#6 Fire

#7 Repair Kit and Tools

#8 Nutrition


#9 Hydration


#10 Emergency Shelter


#11 Know-How