Congratulations to Elizabeth McCoy, our newest Reviewer of the Month.
Elizabeth, who lives in Tacoma, Wash., is a Registered Nurse, mother of "two handsome young men," and an "outdoors enthusiast with tons of energy!" In August, she and her 18-year-old son Christopher will be hiking the John Muir Trail. "We are excited and have been planning for months," says Elizabeth.
Some of her gear Elizabeth recently reviewed included her BearVault BV400, GSI Outdoors Infinity Stacking Cup, and Adidas Terrex Swift R GTX trail shoes.

Members like Elizabeth are essential to the Trailspace community. In thanks for her contributions, she wins a 10 Essentials prize pack worth more than $300.
Elizabeth, and every 2016 Reviewer of the Month, will receive examples of each of the 10 Essentials of outdoor gear, thanks to Adventure Medical Kits, Arc'teryx, Brunton, Good To-Go, Light My Fire, Mountaineers Books, Potable Aqua, Sawyer, The TentLab, UCO, and Ultimate Survival Technologies (check out the prizes below or see "The Year of Essential Outdoor Gear").
---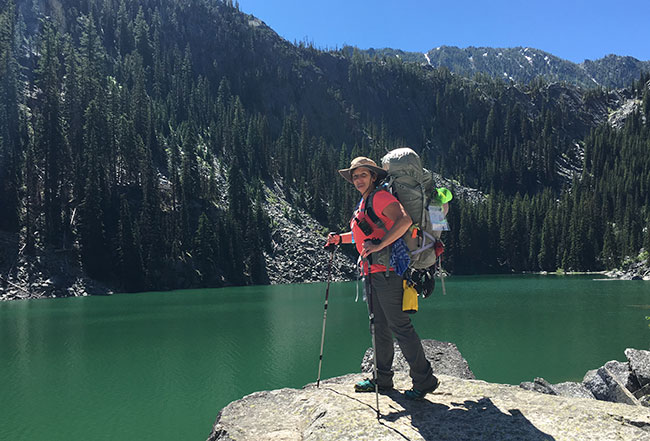 Please tell us a little about yourself.
My name is Elizabeth McCoy and I live in Tacoma, Wash. I was born and raised in rural Connecticut, then ventured off to college in Lexington, Ky. After graduating college I moved to the beautiful Gulf Coast of Florida where I raised my two sons, Sam and Christopher, for 12 years. Then we ventured off to the Pacific Northwest for a travel nursing assignment in Tacoma. My kids and I fell in love with Washington and decided to stay here permanently. We have been here nine years this past June.
I am a single mom and I am blessed with two beautiful sons who are 18 and 21 now. I am a Registered Nurse and have worked locally here for the past nine years at Franciscan Health. I have worked in many areas of nursing, including Emergency Nursing, Critical Care, and now IV Therapy.
I love what I do and was fortunate enough to know my career path at an early age. I love the world of medicine and taking care of people. I have a passion not just caring for patients, but teaching them as well.
What do you like to do outdoors?
I will start off by stating that I have been an outdoors type of girl my whole life—walking through the woods in Connecticut when I was little, and building forts with my brother, and camping in the backyard. I love being on trails! I get so excited to see where they lead to and explore new places I haven't been before.
My first big trip that wowed me as far as scenery is concerned was when my mother and stepfather took us to Acadia National Park in Maine. I was blown away to say the least. I couldn't believe the beauty of it all. From that point on I wanted to try to visit as many National Parks in my life as possible.
I like to day hike and go backpacking the most. I also like to go cycling and mountain bike riding, which I haven't done in a couple years now, mostly because I am consumed with hiking when I am not working. I also like to snowshoe.
Any favorite stories?
My first bear encounter was funny. I wrote about it in my trip report on the Wonderland Trail. I was coming out of Cataract Valley hiking towards Eagle's Roost, which is also the Mother Mountain Route of the Wonderland Trail. I was solo hiking and there were no other hikers around. I had really put in the miles and was on a mission to get to camp.
I looked up and saw the bear eating berries. I stopped so fast in my tracks. My heart was racing with fear and excitement. So many thoughts rushing through my head—Do I scream? Take a photo? Walk in the opposite direction? Get out my bear spray? Make noise? Well, I did most of that! I shook my bear bells up in the air. Then I blew my handy whistle on my pack a few times.
The bear looked at me and I swear he was grinning at me. I carefully took my pack off, got out my bear spray pulled the zip tie off, hooked the nozzle on, and held it in one hand and the bells in the other ready for action, threw my pack back on, and made my way slowly around the area. I blinked and he was gone.
I made the best timing that day on the trail. I kicked it into high gear and was in camp super early. I did catch a quick photo and I tested the bear spray, which ended up getting all over my pack and burned my eyes for a few hours when I went to unload my pack. I learned from the whole experience that being calm is the key, but also be prepared.

Describe your happiest moment outdoors.
I have so many! When I reach an area that has an amazing view that is just jaw dropping, those are the happiest moments for me. It's that feeling I get when I am staring out into some of the most remote places on Earth, and not everyone gets the chance to see it, to feel it, to embrace it! These are the moments I cherish the most.
A grueling climb with a big reward at the finish! I live for these moments and I will sometimes suffer through the pain to get there because it's all worth it at the end. I have actually hiked to some areas that literally brought tears to my eyes when I got there because of how beautiful they were.
I get so excited after every hike and instantly start planning the next one. I am always planning and making bigger goals for bigger hikes. It keeps me smiling and makes me feel ALIVE!
Describe your ideal day outdoors.
My ideal day outdoors would be to wake up on a sunny day and hike to a beautiful place with amazing views, put in some good mileage, have a prime tent spot for the night, go to sleep with a full belly, and stay warm, sleep well, and take amazing photos with my new camera, including night sky photos. Then wake up with no aches and pains and do it all over again and again and again!
What would be your dream outdoor adventure?
I have many in mind. I want to hike the Inca Trail to Machu Picchu soon. I also want to climb Kilimanjaro. I also plan to do the Pacific Crest Trail before I turn 50, while I still have my health. Let's just say I have a long bucket list and plan on checking all of them off.
I am checking another one off this August! I will be hiking the John Muir Trail from Yosemite to Whitney Portal and summiting Mt. Whitney as well. I am so excited! This has taken months to plan and lots of overtime to make it all happen.
What's your most essential piece of outdoor gear? Why?
Well, if essential means I must have it all the time, then I would have to say my water filter. I don't ever hike without it. I just upgraded from a Sawyer Mini to the MSR Auto Flow Gravity Filter. It is wicked fast! It is lightweight and rugged. I love it!
The Sawyer is great for ultralight hiking, but I gotta say that the MSR won me over on the first use because of how fast it is and it filters four liters in less than two minutes!
Who or what has been the biggest outdoor influence on your life?
The biggest outdoor influence on my life has been hands down my grandmother. She walked everywhere! She didn't have a car, and we walked all over town and to the lake to swim every day in the summer.
She was a big gardener as well and we worked in the garden with her all day in the summertime. I think that exploring the outdoors by foot gives you a chance to see nature in a way that would have been missed if in a car.
Also, my parents, because we were raised to be outdoors. We had horses and we had chores to do to help them with the horses when we were little. I am from the generation of kids that played outside from sun up until sun down. We got dirty and had a lot of fun exploring the outdoors.
What's your favorite piece of outdoor gear? Why?
My favorite piece of gear is my Goal Zero Torch 250. I never hike without this either! It is amazing! This thing does everything! It is a solar-powered flashlight with a USB charging port. It charges all my gear out in the backcountry. It also has a crank handle to charge it as well, if needed. It has several light options on it.
I love that it has a level of charge indicator via four little blue lights on the end. A lot of charging devices don't have a level of charge indication anywhere on them. If the sun directly hits it the blue lights automatically come on flashing. So when those lights come on I know it is in a place where the sun will fully charge it.
It is very rugged with a hard rubber-like outer shell. It has been dropped so many times down rocks and pavement and no harm done.
Got any good, bad, funny, or epic gear stories?
I have none. I spend so much time looking at gear reviews before I purchase anything and so far it has been very beneficial. I have had no epic gear fails as of yet. Keeping my fingers crossed.
What's in your backpack right now?
Everything but my sleeping bag. I just got home from an overnight trip to High Rock last night in the South Cascades. The first thing I do when I get home is take out my sleeping bag, shake it out, and hang it, then store it in a storage netting bag that came with it.
My backpack is literally ready to go on the next adventure! I take my bear vault out and replenish it with a few days of food so it's good to go. I immediately replace any essential gear as well. I used a few storm matches, so I replaced them, and Advil and Tylenol replaced immediately.
What's the best outdoor or gear advice you've been given or heard?
The best outdoor gear advice was actually from my brother, who used to race quads/dirt bikes for many years and camped a lot doing this. He said, "Do whatever you need to stay warm! Bring appropriate gear and stay dry! Hypothermia is no joke. Spend the money on a good warm bag. It's so worth it."
He was so right! Before I bought my Mountain Hardwear Phantasia 15F 850 fill down bag I had a cheap 45-degree bag and woke up shivering uncontrollably up in Rainier in the middle of July! I had to get up, put all my clothes that I brought on, and walk around and do jumping jacks and drink three cups of hot cocoa. Then I filled two Nalgene bottles with boiling water and put them in the foot box of my bag.
Being cold really sucks! It is scary when you can't stop shivering. Yes, you can become hypothermic in the summer too!
What's your favorite book?
My favorite book is a simple children's book that has deep meaning no matter what age you are: Dr. Seuss's Oh, the Places You'll Go! Very inspiring book with a lot of truth and reality.
What's your favorite quote?
"Where there is a will, there is a way."
I firmly believe that if you have enough determination to do something you will do whatever it takes to achieve it.
What would Trailspace members be surprised to learn about you?
Trailspace members would be surprised to know that I have butterflies in my stomach before I venture out on a long solo hike. It always takes me a night to settle into the outdoors alone. Then I am good. I think that it's a defense mechanism. If I didn't have any fear I would probably not be as cautious out there and I may find myself in a predicament.
I mostly hike alone because of my work schedule, and I don't want to wait for someone to finally say they can go. I won't put my life on hold because I'm going alone. So I just go.
I have found that solo hiking is so rewarding and it is a welcomed disconnect from the busy world we live in today. It's healthy to be alone and have self-reflection time. It is empowering to be out there in the elements alone and know that I have the ability to it!
There is something special about being alone and not lonely out in a beautiful area in the wilderness, and those of you who are out there solo hiking get it. It's good for the soul.
It's also nice to walk at my pace, whether it's fast one day and slow the next, and not disappoint a fellow hiking partner. To wake up three times to pee in the middle of the night and know that I'm not waking anybody up is nice too. There are a lot of positives about hiking solo. Don't get me wrong, I would love for anyone to join me if they could!
I always plan for the worst possible outcome so I am not surprised by something going wrong out there. Someone once said, "Do something every day that scares you." I believe there is something to this. Fear is a motivator for me.
Anything else you'd like to share with the Trailspace community?
Every day I encourage more people to get outside, to see our beautiful planet. We are here for such a short time, so go out and see the beauty!
"I went to the woods because I wished to live deliberately, to front only the essential facts of life, and see if I could not learn what it had to teach, and not, when I came to die, discover that I had not lived."
—Henry David Thoreau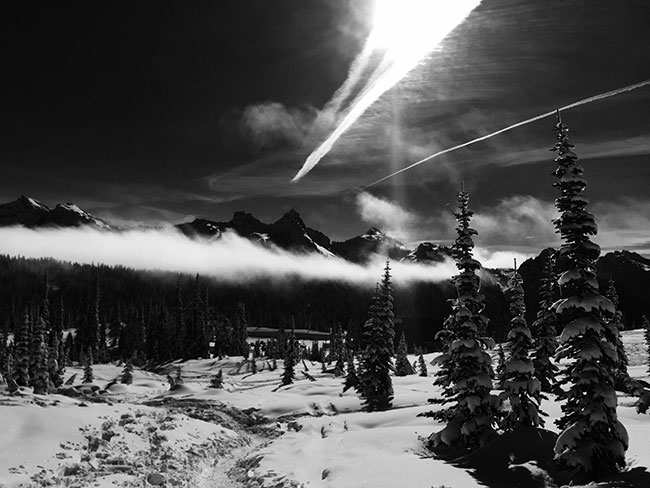 ---
The Year of Essential Gear
To celebrate the classic 10 Essentials of outdoor gear, we're giving all of our 2016 Reviewers of the Month, like Elizabeth, the following prize pack ($300+ value). For more on the 10 Essential prizes read "The Year of Essential Outdoor Gear.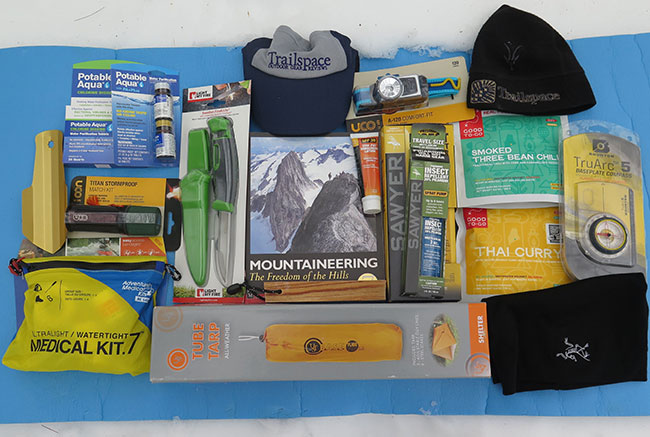 #1 Navigation


#2 Sun (and Bug) Protection


#3 Insulation

#4 Illumination


#5 First-Aid Supplies


#6 Fire

#7 Repair Kit and Tools

#8 Nutrition


#9 Hydration


#10 Emergency Shelter


#11 Know-How