Congratulations to Ashleigh McClary, our newest Reviewer of the Month!
Ashleigh has been a Trailspace member since 2012 and recently moved to Utah. A member of Trailspace's volunteer Review Corps, she's reviewed the Gregory Deva 70 GZ backpack, Backpacker's Pantry Chana Masala, and Columbia OutDry Ex Diamond Shell Jacket, among other products.
Members like Ashleigh are essential to the Trailspace community. In thanks for her contributions, she wins a 10 Essentials prize pack worth more than $350.
Ashleigh, and every 2017 Reviewer of the Month, will receive examples of each of the 10 Essentials of outdoor gear, thanks to Adventure Medical Kits, Arc'teryx, Brunton, Good To-Go, Mountaineers Books, Potable Aqua, Sawyer, SOL, The TentLab, UCO, and Victorinox.
Check out the 2017 prizes below or see "Essential Gear for our 2017 Reviewers of the Month."
---
Please introduce yourself.
I am an avid hiker and backpacker who loves doing anything outside. I am from one of the smallest towns in South Carolina, but I moved to Columbia to go to the University of South Carolina in 2004 to study athletic training. I stayed there until mid-June when my husband, Jay, and I moved to Utah to and I started a new job at Backcountry.com.
How did you become a Trailspace community member?
I first came to Trailspace when searching products on Google. Trailspace product reviews of almost any gear I searched for were almost always in the top results. From there, I became really fascinated with the trip reports and decided to participate myself.
What led you to start reviewing your gear on Trailspace?
After I did a couple of trip reports, I decided to do some gear reviews, as well.
What do you do when you're not on Trailspace?
I'm usually either working, going to concerts, or getting outside doing something. During the fall, if I am not hiking, you can find me glued to my couch watching college or NFL football. I'm a little obsessed!
How do you spend your time outdoors?
I get outside as much as possible, whether that be hiking, kayaking, skiing, snowboarding, golfing, disc golfing, or just playing with my dogs.
When and how were you introduced to the outdoors?
I started hiking with my parents in Western North Carolina on vacations when I was a toddler. When I was two, my dad had to make a daring rescue effort of my favorite teddy bear that I tossed into the river just above Hickory Nut Falls at Chimney Rock. There is a big fence there now. Oh, the eighties!
What's a typical outing for you?
I usually go on overnight hikes, long day hikes, or several short day hikes to really beautiful places if they are in clusters. There are lots of clusters of awesome day hikes in Western North Carolina.
Do you prefer to go out solo or with a partner?
Definitely with a partner. Jay has always gone with me. We are very much a team in the backcountry. When permitted our dogs, Brice and Hank, join us. We also try and bring friends with us whenever we can.
Any favorite stories?
One time, Jay, our friend Greg, and I went backpacking in Grayson Highlands State Park in Virginia. While we were sleeping, a wild pony came up to our tent and started chewing the grass from under our tent, right where Jay was sleeping. He was sleeping pretty hard and was snoring rather loudly.
Greg got out of his tent and had to work really hard to shoo the pony away from our tent. It was pretty hilarious! I have lots of other stories, but that one really makes me laugh when I think about Greg shooing that pony away while Jay was sawing logs!
Who has influenced your outdoor life?
Our friend Ryan took Jay backpacking for the first time and he loved it. They eventually convinced me to go, even though it sounded terrible to me at first because their first trip was really rough! One time was all it took and I was hooked. I always enjoyed sports and the outdoors, but the backpacking changed my life.
What's your favorite outdoor place?
That is a very tough question. If I have to say only one, I will say Yosemite National Park, but Glacier and Grand Teton National Parks are close seconds!
Describe your happiest moment outdoors (or proudest, hardest, scariest).
My happiest was definitely when Jay and I got married at Glacier Point in Yosemite. Hard to top that one.
My proudest, hardest, and scariest are all the same memory—our ascent of Half Dome via the cables route.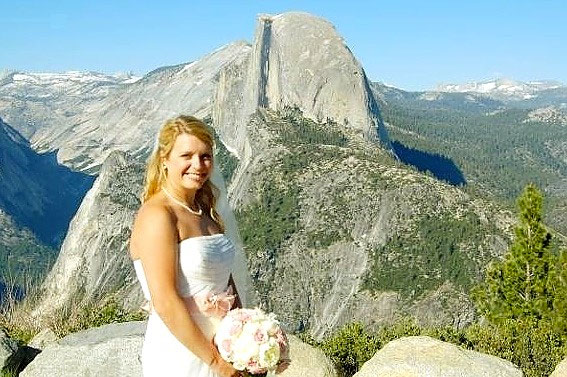 If you could go for a hike/run/ski/paddle/etc with anyone, whom would you pick? Why?
Even if I had the chance to go with anyone in the world, I would still choose going with Jay because he is my best friend, so we have the best time together. But I also know if we get in a bad situation, there's nobody I'd rather have with me because I know he is going to make sure we get out OK and that I am taken care of. We've been in some pretty sticky situations and I don't know what I would have done without him!
But, if I had to pick someone famous, I think it would be pretty entertaining to go on a hike with Bill Murray.
Describe your ideal day outdoors.
My ideal day in the outdoors would be to hike somewhere awesome in the fall with no rain or thunderstorms.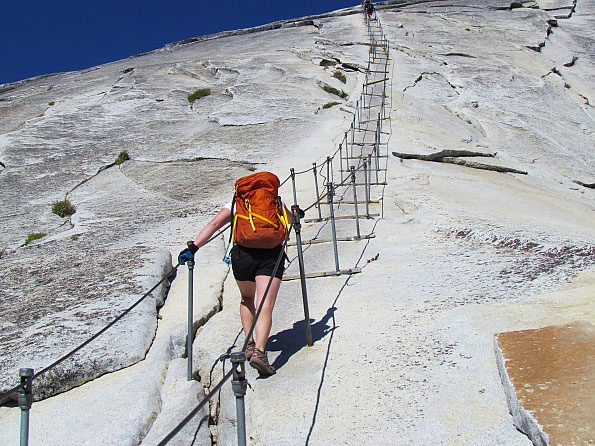 What is your dream outdoor adventure?
I have lots of dream adventures in my queue, but I think the top ones on the docket are going to Havasu Falls in Grand Canyon National Park, completing the Paintbrush Divide hike in Grand Teton National Park, and the Highline Trail in Glacier National Park.
Any plans on your horizon?
I really want to start exploring Southern Utah as soon as it cools off, but for now I have been getting out in the Wasatch as much as possible.
Do you have any outdoor goals?
I really want to start mountain biking and climbing sometime soon. I'd also like to improve my skiing and snowboarding this winter.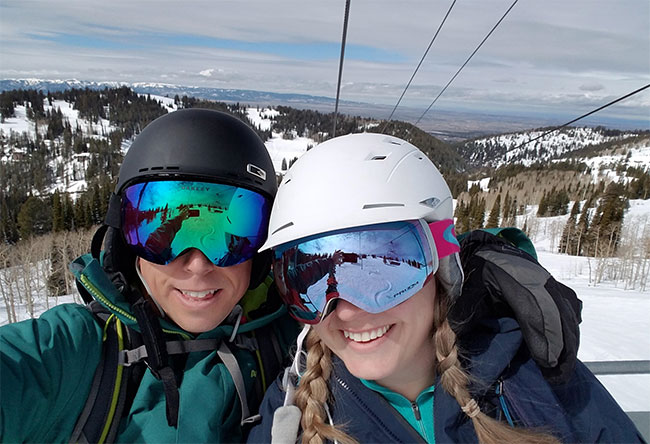 Do you have any outdoor regrets? Fears? Mistakes?
I plan most all of my trips around avoiding regret, but I regret not taking a different route in our attempt of the Paintbrush Divide in Grand Teton last year. If we had gone up Cascade Canyon first instead of Paintbrush Canyon, we could have at least made it to Lake Solitude, which I would really like to have seen.
As far as fears go, I only have three—lightning, grizzlies, and sharks. I have definitely made lots of mistakes, mostly those involved missing a crucial turn or not bringing enough water.
Do you have a piece of outdoor gear you consider essential? What? Why?
I have a lot of gear that is definitely essential, but the Yeti Colster is probably my most frequently used essential gear. Cold beer is really important to me!
Do you have a favorite piece of outdoor gear? What? Why?
My favorite piece of outdoor gear is probably my Arc'teryx Atom LT Hoody. It goes with me on almost every trip. I love that it can be used as a layering piece or as a stand-alone jacket. It is super comfortable, too!
What's in your backpack right now?
Big Agnes Copper Spur UL 2 mtnGLO tent, Montbell U.L. Super Spiral Down Hugger #3, Exped Winterlite pad, Sea to Summit X-Kettle, and Soto O.D. 1 Windmaster stove.
What's the best outdoor or gear advice you've been given or heard?
Be as prepared as possible. Always take more water and food than you think you will need in case there isn't water where you think it will be or if it is hotter or more humid than you anticipate.
I also always take a shelter, rain shell, and something to keep warm with every time I go out in case I get lost or in really bad weather.
What advice would you give other gear reviewers?
As far as overall reviews, just be as thorough as possible and really explain what you did and didn't like and why. Don't be too harsh on anything if you can avoid it. Just because it doesn't work for you doesn't mean it wouldn't be perfect for someone else and just because something really worked for you doesn't mean it would work for everyone.
What advice would you give other outdoor enthusiasts?
Go to as many places as you can. When in doubt go on that hike or outing and don't stay home. I've never regretted going when I was on the fence.
Do you have any gear regrets?
Lots—mostly involving buying a cheaper piece of gear and then having to upgrade later. I definitely wasted money. I also really regret not breaking in backpacking boots before I wore them on a long hike when I first got started backpacking. Last one, I also regret wearing trail runners on a really rocky trail in Glacier National Park. My feet got completely torn up and I was miserable the rest of my trip.
Do you have any interesting gear stories?
I guess a pretty interesting one would be when a pony at Grayson Highlands stole one of my trekking poles and wouldn't give it back because he liked the salty sweaty handle. It was pretty hilarious. Jay actually had to chase him down and snatch it out of his mouth!
What's your favorite book?
Into the Wild by Jon Krakauer
What's your favorite quote?
"Don't let your dreams be dreams"—Jack Johnson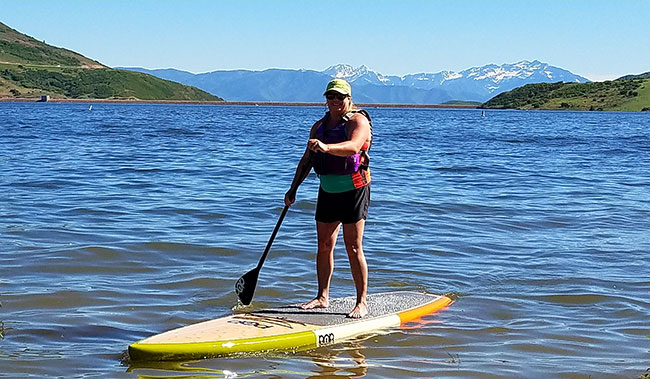 How would others describe you?
Tough question! I'd probably say people would describe me as outdoorsy and very friendly.
Do you have a life philosophy?
Life is too valuable to not be lived to the fullest.
What would Trailspace members be surprised to learn about you?
I have a really strong Southern accent!
What question would you ask other Trailspace members in a Q&A?
"What is the most awesome place you have ever been?" I always want to learn about new places.
Anything else you'd like to share with the Trailspace community?
I started getting outdoors on a regular basis about eight years ago and it totally changed my life. My advice is to get out often and see as many places as you can.
Wide Photo Captions (from top):
Ashleigh and Jay in Grand Teton National Park in 2016

Ashleigh on her wedding day at Glacier Point in Yosemite National Park in 2011

Hiking up Half Dome in Yosemite in 2013

Jay and Ashleigh on the chairlift at Grand Targhee in Alta, Wyoming

Paddle boarding at Jordanelle Reservoir near Park City, Utah
---
Essential Gear for 2017 Reviewers of the Month
To thank them for their essential contributions, we're giving Ashleigh and every 2017 Reviewer of the Month the following prize pack, thanks to these generous brands. Worth more than $350, it's filled with examples of what to carry into the backcountry. For more on the 10 Essential prizes read "Essential Gear for our 2017 Reviewers of the Month."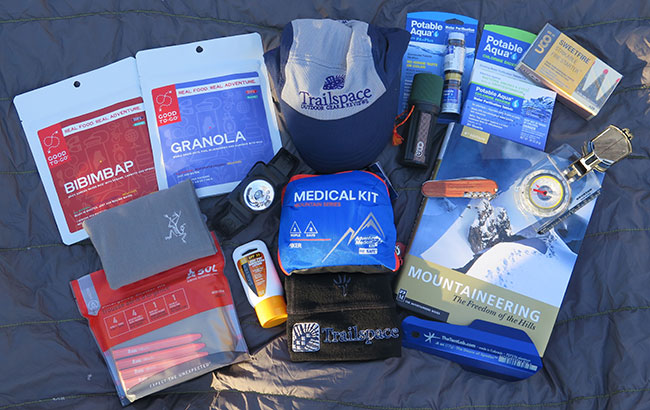 #1 Navigation


#2 Sun Protection


#3 Insulation

#4 Illumination


#5 First-Aid Supplies


#6 Fire

#7 Repair Kit and Tools

#8 Nutrition


#9 Hydration


#10 Emergency Shelter


#11 Know-How