Congratulations to Randy from Tennessee, our first 2016 Reviewer of the Month.
A Trailspace member since 2012, Randy (aka Cadenza) has been camping, backpacking, and hunting for more than 50 years (he's only 60 now) and carries a self-described "eclectic blend of gear" ranging from ultralight to bushcraft.
Randy most recently shared reviews of his Arc'teryx Altra 65 ("If I could only have one pack this would be it!"), Dream Hammock ThunderBird ("at the top of the food chain"), and Snow Peak GigaPower Auto stove ("compact, reliable, no-fuss.")
Members, like Randy, are essential to the Trailspace community. In thanks for his contributions, Randy wins a 10 Essentials prize pack worth more than $300.
He, and every 2016 Reviewer of the Month, will receive examples of each of the 10 Essentials of outdoor gear, thanks to Adventure Medical Kits, Arc'teryx, Brunton, Good To-Go, Light My Fire, Mountaineers Books, Potable Aqua, Sawyer, The TentLab, UCO, and Ultimate Survival Technologies (check the sidebar or "The Year of Essential Outdoor Gear" for more info).
---
Tell us a little about yourself.
I love the mountains of east Tennessee and western North Carolina. I go out for a couple of weeklong trips each year and four or five shorter trips, usually two or three days at a time. Someday I hope to retire to a cabin in the mountains and get out into the backwoods on a weekly basis.
Everybody has to die somewhere. For me, the mountains seem as good a place as any. I'll probably have my ashes scattered in a favorite campsite in the Citico/Slickrock/Joyce Kilmer combined wilderness areas.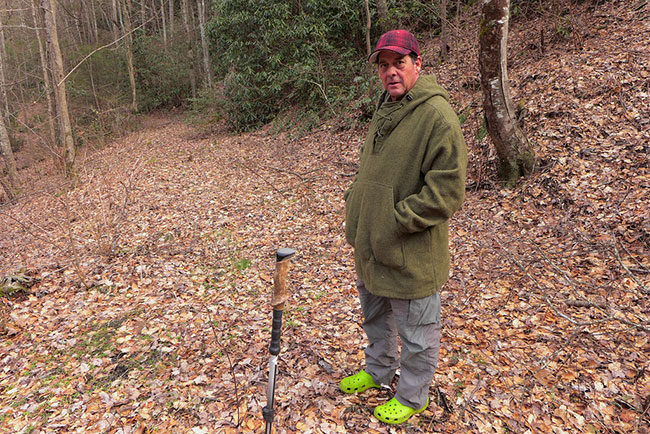 This photo was taken by fellow Trailspace member Tipi Walter at Warden Fields in the Citico Wilderness Area of the Cherokee National Forest.
What do you like to do outdoors?
My favorite thing is primitive backwoods camping, but I also enjoy hiking, canoeing, fishing, and occasionally hunting.
I love to cook real food on a campfire. Sometimes I dehydrate home-cooked meals that are reconstituted on the trail, but mostly I cook real food from fresh ingredients.
It's funny...I'm a pretty good cook on a campfire, but turn me loose in a kitchen and all I do is make a big mess. My kitchen results are usually not fit to eat.
Any favorite stories?
Back in the 1980s my buddy and I backpacked up Abrams Creek in the Smokies. We established camp, spent the night, then spent the next day fly-fishing for trout. At the end of a long day we were dining on grilled trout and roasting ears of corn on the cob. It was very dark and our only light was from the soft glow of a campfire.
I caught some sudden movement from my peripheral vision, but all I really saw was a loaf of bread take off across the ground...rapidly. It disappeared into the darkness. "What the hell was that?!?"
My buddy said, "Man, I don't know. It wasn't a bear. It wasn't a wild boar. It wasn't a dog. The best I can describe, it looked like a giant weasel!"
By now we both had our flashlights out and were scanning the area. We saw a pair of eyes reflecting back at us. We were still trying to figure out what kind of creature we were dealing with. While focused on this pair of eyes in the darkness we heard something behind us. We whirled around just in time to see one of our food bags fly off in a different direction.
Now we were seeing eyes glowing in two directions. Meanwhile, a third bandit silently came into camp and took off with yet another food bag! We were surrounded by a band of thieves, working in concert with one another to rob us blind. While one or two drew our attention, another would sneak into camp and scurry off with something else. We never could get a good look to see what kind of animal this was. All we saw were glowing eyes.
Out of food, we had to cut our trip short. The next day, we hiked out back to the Abrams Creek ranger station where we ran into a park employee. We recounted our story to him. He stood there listening patiently...with a knowing wry smile. Finally, he gave us the answer. "We released a bunch of river otters up there just this past week."
Many of our trips have been tagged with names. This became known as "The Otter Trip."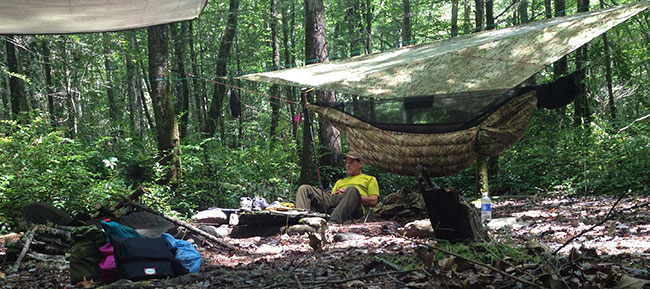 Randy relaxing in camp by Slickrock Creek.
Describe your happiest moment outdoors.
The most meaningful thing to me is that I have a longtime friend who sets aside time every year to do a backpacking trip with me. His real name is David, but his nickname has been "Nimble" for as long as I've known him. We met in college, and shared a house for a few years after college.
At some point he took a job playing piano on a cruise ship in Hawaii and had been away for a few years. While in Hawaii he spent time snorkeling, hiking the volcanoes, bird watching, etc. When he came back to Nashville to visit he asked me, "Man, what have you been up to?"
My reply was that I had developed an interest in fly-fishing.
He said, "That sounds great! I'd like to try that."
I responded, "Well, I'll take you fishing. Let's go!"
We started planning a trip. In those days we were young, had little money, and little camping gear. Actually, Nimble had no gear. What I had was inferior, cheap gear. Some of what I had was left over from my Boy Scout days! I managed to crudely and sparsely outfit us both for that first trip.
We both enjoyed the trip and spending time together after having not seen each other for the last few years. We decided to try it again the next year. And the next. Eventually, we realized we had done a backpacking trip together for seven years in a row. We determined that we should try to go for 10. Then it was 20. Then 30. We accumulated and refined our gear over the years.
He has been living and working, playing jazz piano in the NYC area ever since. His calendar is busy with gigs. But every year we get our heads together to mark off a week on the calendar. He doesn't accept any gigs that interfere with that week. I also refuse any work that week. We have both made time available, every year, for 32 years in a row!
We now have our upcoming 33rd year on the calendar. I consider myself a lucky man. There probably aren't many people in the world who have a friend who has for 33 years in a row marked off a week on his calendar and made consistent effort to keep a tradition unbroken.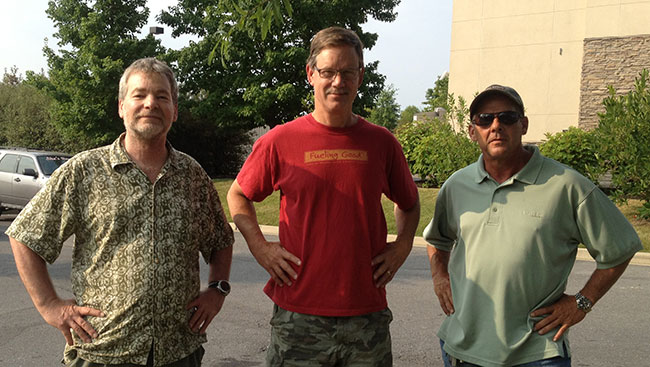 Nimble, Joe, and Randy, friends since college, after returning from a camping trip.
Describe your ideal day outdoors.
My ideal day is to wake up in camp, firewood cut and stored away, covered and protected by a tarp in case of rain, and nothing to do but enjoy the day. Maybe take a day hike, return to camp, and cook up a great meal.
But the days that I cherish most, and with the fondest memories, are the tough days. An unexpected storm suddenly zaps us with cold and blowing rain before we have had a chance to get camp settled and the scramble is on to deal with the fury.
"Miss Nature" can be a cold and heartless mistress. Some days she kicks your butt. Some days you get lucky. When you win due to your own skill and ingenuity it is a gratifying feeling.
How would you describe your "eclectic" gear style and choices?
"Scattered" or "diverse."
I have both modern, high-tech gear as well as classic gear with turn-of-the-century technology. I could be packing a small titanium cook pot or I might be planning to use a cast iron skillet. On some trips I might even have both!
Sometimes I have the latest sil-nylon or Cuben fiber tarp and a high-tech cottage industry hammock with down quilts. The very next week I may be using a traditional canvas Whelen lean-type shelter and a wool blanket. I enjoy both styles.
The Year of Essential Gear
To celebrate the classic 10 Essentials of outdoor gear, we're giving all of our 2016 Reviewers of the Month the following prize pack ($300+ value):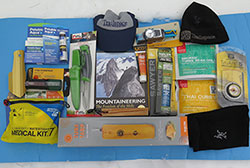 #1 Navigation

#2 Sun (and Bug) Protection

#3 Insulation
#4 Illumination

#5 First-Aid Supplies

#6 Fire

#7 Repair Kit and Tools

#8 Nutrition

#9 Hydration

#10 Emergency Shelter

#11 Know-How


For more on the 10 Essential prizes read
"The Year of Essential Outdoor Gear"
What's your most essential piece of gear?
This is really a tough question to answer. I consider several pieces to be "essential." If forced to name one I'd have to say a tarp.
What's your favorite piece of outdoor gear?
This one is easy. My Sling-Light Chair! It keeps my butt off the wet ground. I can vary my position to sit and cook on the stove, tend the fire, or I can even sleep in it.
Got any good, bad, funny, or epic gear stories?
Yes, but "The Dolly Trip" is too embarrassing to tell in public.
What's in your backpack right now?
I have several. I choose depending on the type of trip, time of year, duration, how much gear I need to carry, etc. Some gear gets rotated to whatever pack I'm using at the time: stove, grill, fire kit, water filter, hammock, etc.
My cold weather gear usually lives in my Mystery Ranch NICE 6500 pack: down pants, booties, Feathered Friends Icefall Parka, Hilleberg Keron 3 tent, etc. In my Arc'teryx Altra 65 I keep most of my lightweight summer gear: Cuben fiber tarp, etc.
I have over a dozen backpacks. Some are retired. My original Dana Design Terraplane and Bomb Pack are classics and collectors items. Maybe someday I will pass them down to my sons, or maybe I'll put them up for auction on Rand-yBay.
I really only use about five for backpacking: Arc'teryx Altra 65, Arc'teryx Naos 85, Mystery Ranch NICE 6500, Mystery Ranch Crew Cab, and Frost River Isle Royale. I have a couple of daypacks or three-day assault packs that usually live in my vehicle. The Direct Action Ghost is my "get home bag." The LEAF Arc'teryx Khard 30 is my carry-on bag for airplanes.
As I write this I am currently in Florida where I have been working. I have my canvas Frost River pack with me. It has my canvas Whelen lean from Tentsmiths as well as some other traditional gear. It's certainly not the lightest gear, maybe not even the best, but sometimes I enjoy the old classic ways the most.
What's the best outdoor or gear advice you've been given?
"You get what you pay for."
Good gear is not cheap. But it's cheaper than cheap gear that doesn't last. I have spent a fortune on high-end, quality stuff. Most of it will last the rest of my life.
What's your favorite book?
Camping and Woodcraft by Horace Kephart
What's your favorite quote?
"It's not a zero day when there is a mulberry tree in your campsite." —Nimble
Where does your username, Cadenza, come from?
Cadenza is a musical term. It's a solo within a piece of music whereby the accompaniment (orchestra or piano) drops out and leaves the soloist free expression to improvise or play out of time—much like a solo backpacking trip.
What would Trailspace members be surprised to learn about you?
I was originally born a country boy from McNairy County in rural west Tennessee. Early childhood was spent roaming the fields and woods, building huts and forts, fishing, and hunting small game.
When I was in junior high school my parents moved us to the big city of Nashville. I became involved in the school music programs, then continued on to college as a sax and clarinet major. Classically trained, I worked as a professional freelance musician through the first half of my life.
During those years I had a parallel interest, really just a hobby at that time, practicing martial arts. Fate dealt me a life-changing experience. I happened to be in the right place at the right time to suddenly find myself being asked to teach a martial arts class at the police academy. The transition from being a musician to working a stint as a police officer is perhaps an unusual evolution. That experience led to exposure and an intense interest in tactical training. Today I travel all over the country, and even the world, doing seminar training in the personal defense and security field.
What would be your dream outdoor adventure?
I'm living the dream. There is no unobtainable or exotic thing that I yearn for. The trips that I do are exactly the kind of trips that I want to do.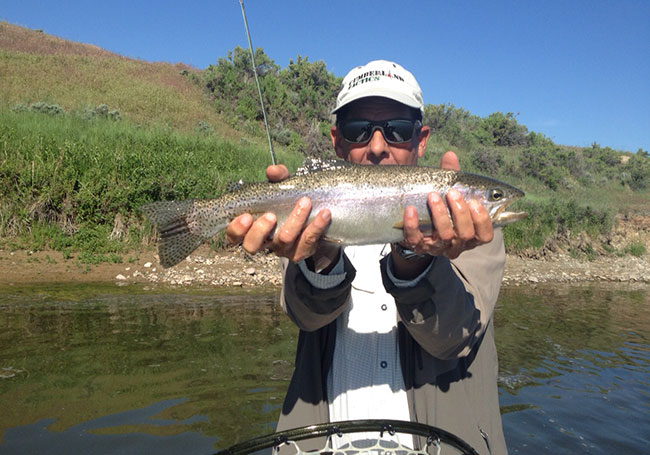 Randy (and his catch) on the North Platte River outside Casper, Wyo.