Congratulations to Daniel Oates from Tyndall Air Force Base near Panama City, Florida, our latest Reviewer of the Month! A Trailspace member since 2013, Daniel is a hiker, backpacker, trail runner, DIY gear maker, and Air Force Officer.
Daniel most recently shared reviews of his Toaks Titanium 850ml Pot and, as a member of Trailspace's Review Corps, tested the Arc'teryx Atom SL Hoody and Elaho Shirt LS and the Therm-a-Rest Z-Shield.
Members, like Daniel, are essential to the Trailspace community. In thanks for his contributions, Daniel wins a 10 Essentials prize pack worth more than $300.
He, and every 2016 Reviewer of the Month, will receive examples of each of the 10 Essentials of outdoor gear, thanks to Adventure Medical Kits, Arc'teryx, Brunton, Good To-Go, Light My Fire, Mountaineers Books, Potable Aqua, Sawyer, The TentLab, UCO, and Ultimate Survival Technologies (check out the prizes below or see "The Year of Essential Outdoor Gear" for more info).
---

Please tell us a little about yourself.
I just moved to Florida this past year where I am currently going through Air Battle Manager training. Before that I grew up in North Carolina. It was a great experience going to college near the Smokies, living in the Piedmont, and having relatives on the coast.
A trip to Glacier National Park with my college friends was a catalyst for me to reflect on my life. A month later I took the Air Force Officer Qualifying Test. Fast forward through applications and interviews and I'm now stationed at Tyndall AFB.
Do your outdoor experiences and interests ever factor into your Air Force Officer role?
Definitely. Two of the most important things that a service member can have, especially in my role, are situational awareness and an ability to adapt. Most of us have heard a million times in our life to "always be prepared." Before I get on the trail, I double-check my pack list. If I encounter an unexpected, impassable part of a trail then I will make alternate plans. These same tips apply to me in the USAF.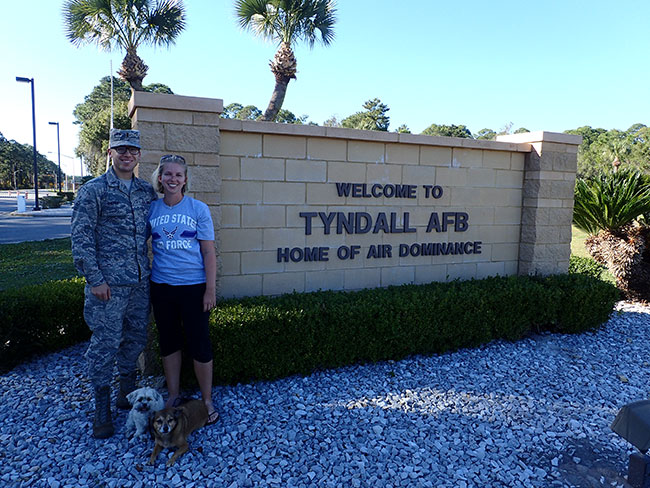 What do you like to do outdoors?
I enjoy trail running, backpacking, and geocaching. My wife and I got an Ocean Kayak Malibu Two before we came to Florida. We only had a chance to get out once since October, but are really looking forward to getting into it on a regular basis this summer.
Any favorite stories?
Something that's becoming pretty cool now is that I have seen different wildlife than I was used to in North Carolina. On a weekly basis, either while backpacking or simply running around base, I pass deer, alligators, and even bears. Yup, even while on base!
My first overnight trip in Florida last year at St. Joseph Peninsula Park had quite the encounter. There is a wildlife preserve with primitive campsite (I'd recommend it) and while on the trail I hear a loud flapping of wings.
I looked about 50 to 60 feet away and there was a bald eagle. Its talons looked interesting. Looking closer it was actually a fish clasped in its talons. Meanwhile I was standing there with my camera in my right hand, so much in awe that I didn't snap a photo.
I'm looking forward to summer getting out on my kayak too. I've been told that sea turtles and dolphins are very common to see paddling right off base. Being on the trail (or on water) is as important for me as seeing wildlife.
What would be your dream outdoor adventure?
I'd love to go on any number of distance backcountry trails in Canada. I like the reward of hiking miles on end to see beautiful sights up close and personal.
Who or what has been the biggest outdoor influence on your life?
Tyler Mann has by far influenced me the most in my outdoor life. We went to college together and that's where my outdoor escapades started. From hikes off of the Blue Ridge Parkway to hidden waterfalls with rope swings, he helped show me the sights.
It was he who invited me to go to Glacier National Park...and the rest is history. Thanks, Tyler!
What's your most essential piece of outdoor gear? Why?
No question, my most essential piece of outdoor gear is my Big Agnes Q-Core SL inflatable mat. It has a great R-Value to keep me warm and a height of 3.5" when inflated.
It is huge! I'm a side sleeper and this is super comfy. If I don't get a good night's sleep, it can throw my whole next day off. Anything that helps me get a restful night's sleep is top on my list.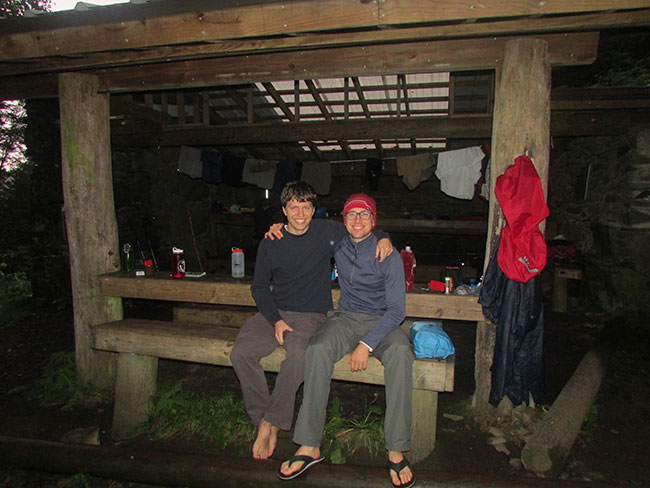 What's in your backpack right now?
My big three are: Osprey Exos 58, MSR Hubba Hubba NX, and a DIY top quilt. Other notables are my: Sawyer Squeeze, Toaks 850, Snow Peak Gigapower, and my sleep system is completed with a Big Agnes Q-Core SL (works well for near year-round use).
How did you get into DIY projects? Any favorites? Anything you still want to learn or try?
It's always fun to have some gear that you've made yourself and to take pride in your creation. I started looking into DIY projects as a way to lighten my pack weight.
One of my first, and so far favorite, DIY projects was a top quilt for ground use. Stuffing the down was an interesting process. Over the next few weeks, I'd randomly see a down cluster floating around. Tough to get all of that to stay in one place!
I've been without a sewing machine for several months, but my wife and I just bought one so I'm ready to get back at it. My next project is a tarp.
What's your favorite book?
Well, a fun combo my wife and I just read was Into the Wild by Jon Krakauer and Wild by Cheryl Strayed. She read one, I read the other, and then we switched. It's interesting to follow the journey each hiker takes and how the outdoors can change a person's life.
Anything else you'd like to share with the Trailspace community?
I want to thank Trailspace for offering such a great platform to share reviews and interact in the forums. I'd like to encourage folks to get involved in both of these aspects of the site!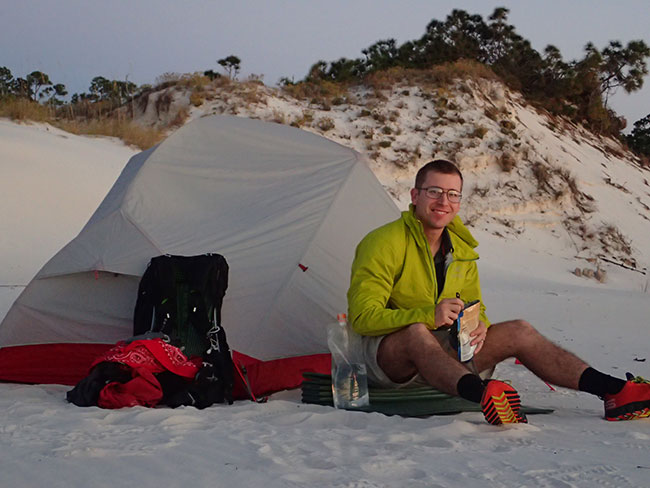 ---
The Year of Essential Gear
To celebrate the classic 10 Essentials of outdoor gear, we're giving all of our 2016 Reviewers of the Month the following prize pack ($300+ value). For more on the 10 Essential prizes read "The Year of Essential Outdoor Gear.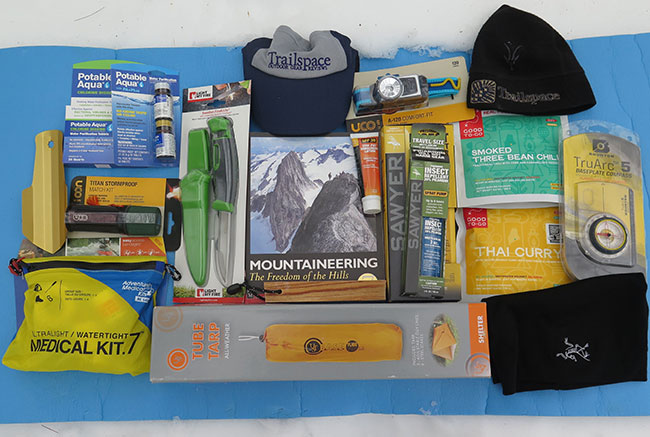 #1 Navigation


#2 Sun (and Bug) Protection


#3 Insulation

#4 Illumination


#5 First-Aid Supplies


#6 Fire


#7 Repair Kit and Tools


#8 Nutrition


#9 Hydration


#10 Emergency Shelter


#11 Know-How

Wide Photo Captions: 1) Daniel camping above the Apalachicola River in Torreya State Park, Florida. "One of the highest points in NW Florida...a staggering +200 feet above sea level." 2) Daniel and his wife Brittany at Tyndall AFB. 3) Daniel at Tri-Corner Knob shelter in the Smokies with friend Aaron Freeman. 4) Daniel camping at St. Joseph Peninsula Park, Florida.
Reviewer of the Month Eligibility: Do you remember meeting Daniel as our Reviewer of the Month back in June 2014? As of 2016, we've reset eligibility for members to be honored as a Reviewer of the Month, provided the member hasn't been recognized since January 2015.