Skurka's 7,000-Mile Global Warming Walk Hits Colorado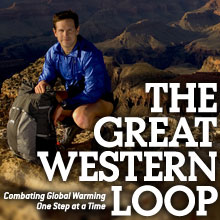 With less than a thousand miles to go, Andy Skurka, die-hard adventurer and environmental advocate, has traveled too far to let the elements slow him down. Since April 9, Skurka has been walking each and every day through some of America's wildest and most remote landscapes. His Great Western Loop walk, an effort to raise awareness about the effects of global warming on America's National Parks and wilderness areas, now enters Colorado where Skurka faces the new challenges of early-season snows and shorter days.

In total, Skurka will cover 6,875 miles, roughly the distance from Los Angeles to Istanbul, Turkey. His route will have taken him through 12 national parks, more than 75 wilderness areas and countless mountain peaks in the Sierra Nevada, Cascades and Rocky Mountain ranges. The odyssey is scheduled to conclude at the South Rim of the Grand Canyon on November 3.

"Because so few of us get chance to visit remote areas, the damage that global warming is causing on the America's crown jewels is 'out-of-sight, out-of-mind'," said GoLite Chief Executive Officer Kim Coupounas, whose company is supporting Skurka's endeavor. "The hope of Andy's journey is to bring the plight of the backcountry to the front of people's consciousness."

Many scientists believe that the American West is experiencing the effects of climate change faster and more severely than anywhere else in the USA. According to a report published in 2006 by the Rocky Mountain Climate Organization and the Natural Resources Defense Council, "a disrupted climate is the single greatest threat to ever face western national parks." The report states:
All the Glaciers in Glacier National Park could melt away by 2030.
Wildfires threaten to eliminate saguaro cacti from Saguaro National Park and Joshua trees from Joshua Tree National Park.
Warmer weather is increasing the beetle population in Yellowstone National Park, which in turn is endangering the enduring symbol of the American West: the grizzly bear. Beetles are destroying whitbark pines, a staple food source for the grizzly.
Higher temperatures and earlier snowmelt have contributed to a four-fold increase in western wildfires since 1987.
On April 9, 2007, Skurka set out to become the first person to complete the Great Western Loop, a 6,875-mile route that passes through the most cherished and pristine wild lands remaining in the United States including 12 National Parks and over 75 wilderness areas. The route links a network of five long-distance hiking trails and a self-made segment through the Sonoran and Mojave deserts. Skurka is hiking to promote the "less is more" lifestyle and to draw attention to the effects of global warming on America's most iconic wild lands. He began his hike at Grandview Point on the South Rim of the Grand Canyon; he expects to complete his loop in the same spot approximately 7 months later.
For more information on Skurka's trek and the Great Western Loop visit www.GoLite.com