Trailspace Joins 1% For The Planet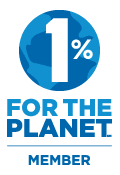 Here at Trailspace we're dedicated to helping hikers, backpackers, climbers, and other backcountry enthusiasts get outside to enjoy the natural world, just like we do. That mission comes with a responsibility to be good stewards of the very environment we encourage our readers to explore. That's why I'm happy to report that Trailspace has joined 1% For The Planet, an alliance of companies that each donate at least one percent of their annual sales to environmental organizations worldwide.
Trailspace's mission is to help outdoors people find the right stuff—information, experience, know-how, and gear—to get out and enjoy various forms of human-powered backcountry recreation. Being outdoors in nature is what our family loves to do, and I hope others find the same challenge, achievement, joy, and peace from trekking through a dark forest, standing atop a mountain peak, visiting an alpine lake, or skiing across a snow-covered field.
So, why did we join 1%? We already donate a portion of our own money and time to several environmental organizations, like our local land trust here in central Maine. But making a public commitment toward improving the health of our planet means we take our own environmental impact seriously and have made reducing it part of Trailspace's mission, responsibilities, and values. Joining an alliance of like-minded companies also shows we think it's time for corporations—and their leaders—to start having a positive impact on the environment and to recognize the true cost of doing business on our planet.
Because Trailspace is a community of backcountry recreationists, we aim to support organizations that work toward protecting and enhancing the wild lands we all cherish, specifically organizations that:
Protect land and water quality,

Maintain access to trails, parks, and wilderness areas,

Support alternative and renewable energy sources, and

Pursue other important environmental efforts.
In the coming weeks and months, we'll use this space to tell you about some of the organizations we support and the work they're doing.
1% For The Planet is out to prove that taking environmental responsibility is good for business. The organization was launched in 2001 by Yvon Chouinard, environmental activist and founder of Patagonia, and Craig Matthews, owner of Blue Ribbon Flies. The alliance now includes nearly 400 companies that together have contributed more than $10 million to environmental causes. As Chouinard wrote in his 2005 memoir/manifesto, Let My People Go Surfing, "Every time we've elected to do the right thing, even when it costs twice as much to do it that way, it's turned out to be more profitable."
If you haven't read Chouinard's book, go find a copy. He shows that it's possible, even advantageous, to do the right thing for the environment and people, while making quality products and running a successful company with values and vision.
And while none of us lives a completely sustainable or zero-impact lifestyle (yet), each of us can find ways to lessen our own footprint—on the trail and off. That's what we're trying to do here at Trailspace. How about you?