MSR Reactor: Delayed or Vaporware?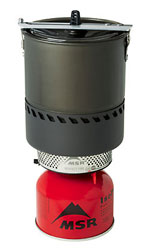 Since it debuted at last summer's Outdoor Retailer trade show, the MSR Reactor Stove System has generated a lot of buzz—facing off against other stoves, winning awards, and getting lots of media coverage in the bargain.
MSR has called the Reactor "the fastest-boiling, most fuel-efficient windproof stove system available." Trouble is, except for a few prototypes used by gear testers (including Trailspace), the Reactor has yet to be available. This has made a few of us wonder if the much-anticipated Reactor would instead turn out to be vaporware.
First, the Reactor was slated for availability April of 2007. Then it was spring 2007. Today MSR issued a statement formally announcing a delay in the Reactor's release. Up until today we'd been told the Reactor was in the final stages of MSR's "quality assurance validation" process. However, it seems its release has been held up due to some stoves producing higher than desired levels of carbon monoxide in a combustion test. (Read the statement>>)
This time around MSR is not giving an availability date for the Reactor. So, we'll just have to wait to see if the actual product lives up to its hype, if and when it reaches shelves.