Backcountry Gourmet: Mountain Hardwear Style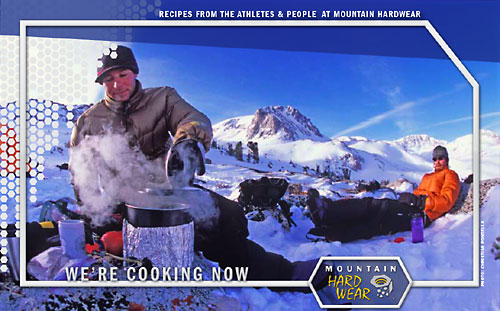 Want to expand your backcountry cooking repertoire? Check out the Mountain Hardwear cookbook, a "collection of bizarre and tasty recipes" (their words, not mine) from the athletes and folks at Mountain Hardwear. The free, 20-page PDF features recipes like Grease Bombs from Erik Weihenmayer (think spam, cheese, and bagels) and Super Fresh Tasmanian Shellfish from Jon Bowermaster (you'll need a rock to bang open the fresh oysters). There's a range of gourmet in here, but Ueli Steck's Mountain House Lasagna sounds quite tasty.

Download a copy for yourself on the Mountain Hardwear press site. Then casually mention to your friends that the salami, Swiss, and hot mustard on rye crackers they're enjoying is an Ed McMuffin courtesy of "Steady Eddie" Viesturs.