Skurka to Finish Great Western Loop Tomorrow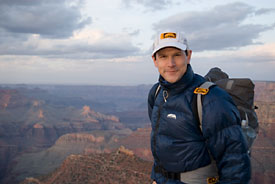 On April 9, super-distance hiker Andrew Skurka set off from Grandview Point on the Grand Canyon's South Rim, hoping to become the first person to complete the Great Western Loop, a network of five long-distance hiking trails and a self-made segment through the Sonoran and Mojave deserts. On his 6,875-mile route he's passed through 12 National Parks and more than 75 wilderness areas in an attempt to draw attention to the effects of global warming on America's most iconic wild lands.

Tomorrow, Saturday, November 3, Andy is expected to complete the loop back at Grandview Point, having walked an average of about 30 miles per day for the past seven months. According to andrewskurka.com he's expected to come out of the canyon between noon and 4 p.m. (probably closer to 4 p.m.) and supporters are welcome.

For more info on Andy's Great Western Loop visit www.andrewskurka.com or www.GoLite.com.